Burnt Meadow Mountain
Brownfield, Maine
Status:
Lost/Defunct
First Season:
1971-72
Last Season:
1981-82
Vertical Drop:
675 feet
Standing Lifts:
Surface lift
Past Lifts:
Left: An aerial view of Burnt Meadow Mountain ski area (2008)
Recent NewEnglandSkiIndustry.com News:
Located on the northern slope of the 1,575 foot north peak of Burnt Meadow Mountain, Burnt Meadow Mountain ski area operated as a surface lift facility periodically for about a decade.


Early Years

Situated a few miles southeast of North Conway, New Hampshire, the lumber town of Brownfield, Maine suffered a devastating fire in 1947, which reportedly burned 500 homes. With sawmills as a major employer, the loss of multiple square miles of woods was considered devastating. Two decades later, Brownfield was still one of Maine's most economically depressed towns.


Planning

Hoping to bring tourism to the town and create jobs, a group of locals formed the non-profit Brownfield Municipal Planning Board, Inc. on March 6, 1964, with Paul Beliveau serving as its president and Wellington Johnson soon becoming treasurer. In 1965, the group began lining up agreements to purchase land on the northern slope of Burnt Meadow Mountain. Obtaining financing was a larger challenge, as the town board reportedly could not negotiate with the federal government. As a result, Brownfield Municipal Planning Board, Inc. became Burnt Meadows Mountain Recreation Association in December 1966. That same month, Senator Edmund Muskie announced the Farmers Home Administration would insure up to $360,000 loan guarantee for a year-round recreational facility to be developed by the new non-profit. Around this time, the Housing and Home Finance Authority reportedly provided a $62,000 grant to study the project.

In June 1969, the Burnt Meadows Mountain Recreation Association announced the Farmers Home Administration had approved $425,000 in financing, and that the Maine Recreation Commission would guarantee $318,000 of the loan, with a proposed December 1970 opening for the ski area. In addition, the plans were to include a mid-mountain clubhouse, a beach on Burnt Meadow Pond, and a golf course. The local group decided not to proceed, as they believed the financing required too large a build-out.

In April 1970, treasurer Wellington Johnson loaned the company ten thousand dollars as planning continued.

On June 16, 1971, Burnt Meadows Mountain Recreation Association acquired multiple tracts of land. Nine days later, the organization's president Kenneth C. Walker announced the company had signed a $275,000 Farmers Home Administration loan and would begin construction immediately. With the smaller loan amount, plans for a golf course were postponed, but the ski area would move forward with hopes that it would generate enough funds to build the beach the following summer.


Burnt Meadow Mountain Finally Opens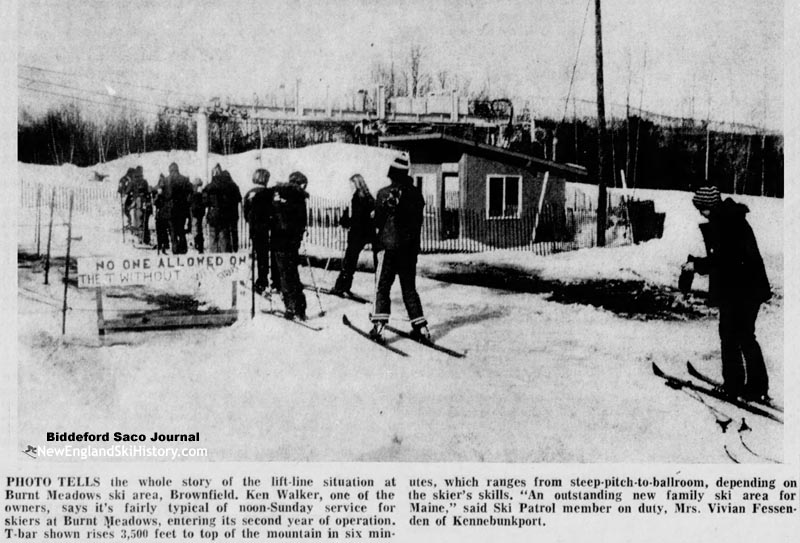 The T-Bar circa 1973

For the debut season of 1971-72, a 3,148 foot long Stadeli T-Bar was constructed, climbing 675 vertical feet (some 475 vertical feet below the open summit of the north peak of Burnt Meadow Mountain) and serving three trails up to one mile long. Carl Anderton served as general manager of the 28-acre alpine ski area, which also reportedly offered cross country skiing. Burnt Meadow Mountain debuted with free skiing on February 5, 1972, with natural snow likely keeping the area open into mid-April.

A 600 foot beginner pony lift and paved access road were constructed for the 1972-73 season, which got underway in mid-December. The Biddeford Saco Journal declared, "There's something for everybody here - even the hot-shots. Trails are sensibly labeled, from right to left as you face the mountain, A, B and C, and remain so-named all the way down. The challenge for the racers is Trail C from the top for one-third the way down the mountain - steep, bone-chattering and plenty-wide for windmills and other indelicate errors of judgement."

Around this time, future expansion plans were disclosed which called for two more peaks to be developed, served by separate lifts (possible chairlifts) and a second base lodge. Unfortunately, there weren't enough skiers to make ends meet with the current infrastructure. Meanwhile, not too far to the north, Evergreen Valley had opened and Pleasant Mountain had just built its East Area. In April 1973, the town of Brownfield placed a lien on Burnt Meadow Mountain.


Closure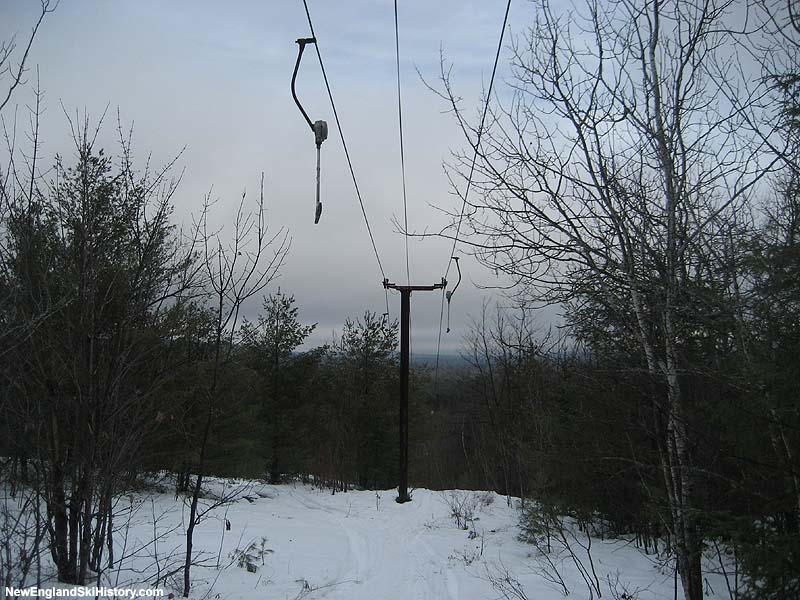 The T-Bar (2008)

The disastrous 1973-74 season was a knock-out punch for Burnt Meadow Mountain, as an energy crisis coincided with a very poor winter. With no snowmaking system, Burnt Meadow Mountain may have only operated for a few weeks in January. Unable to recover, Burnt Meadow Mountain closed. After unsuccessfully trying to bring in a developer, Burnt Meadows Mountain Recreation Association handed the property over to the Farmers Home Administration in 1977. The Farmers Home Administration then attempted multiple times to auction the properties (285 acre ski parcel and 65 acre pond frontage parcel) in the late 1970s.



Zodiac Skiway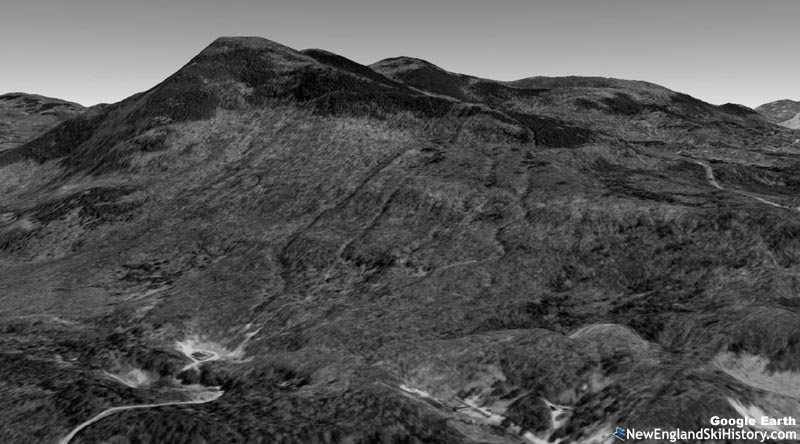 1998 Google Earth rendering of Burnt Meadow Mountain

Possibly during the 1979-80 season, the Pierce family, owners of Big Rock ski area in Mars Hill, took over Burnt Meadow Mountain, likely reopening it as Zodiac Skiway. A holding company named Brownfield Ski Area, Inc. was established on February 6, 1980. Perhaps due to the lean snow years in the early 1980s, the ski area shut down circa 1982.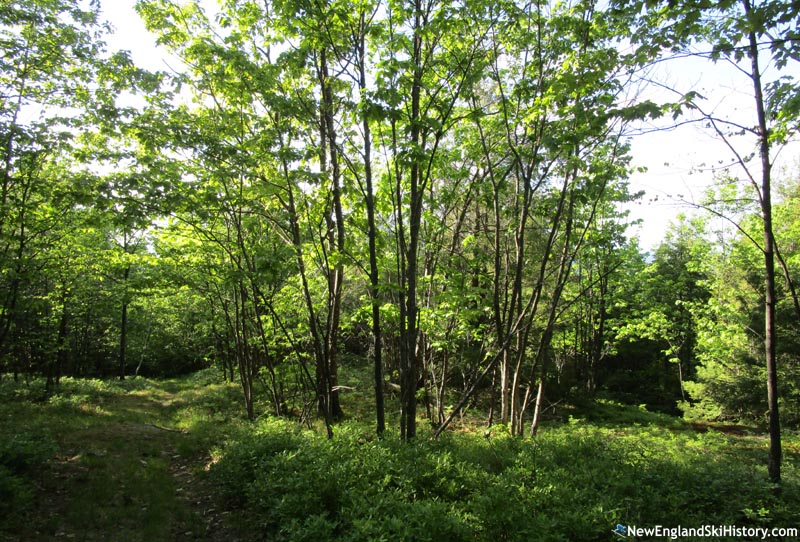 The top of the ski area (2021)

While there were rumors that the area would either reopen or be liquidated, neither has happened in the two decades following the closure. Rather than remove the T-Bar, the Pierces acquired a double chairlift from nearby Evergreen Valley and installed it at Big Rock. Meanwhile, forest has reclaimed Burnt Meadow Mountain ski area. The base lodge may have burned in April 1988. Circa 1990, a subdivision called Burnt Meadow Foothills may have been proposed.

Though the Pierces eventually sold Big Rock to Maine Winter Sports Center in 2000, it appears the family still owns portions of the Burnt Meadow Mountain property and Brownfield Ski Area, Inc. as of 2021. Tracts of property were sold to individual family members in 2019 and 2020.

Image Gallery

Lifts
Click on lift name for information and photos
Year by Year History
Adult Weekend Full Day Lift Ticket; Adult Full Price Unlimited Season Pass

1970s
Ticket Price
Season Pass Price

Pass Payback

Opening Day

Closing Day

Skier Visits

1973-74
$5.00
1972-73
$5.00
December 16
1971-72
February 5
Visitor Memories
---
External Links
Burnt Meadow Mountain/Zodiac Skiway - New England Lost Ski Areas Project
Burnt Meadow Mountain - FranklinSites.com Hiking Guide
Last updated: May 25, 2021