Baker Mountain Ski Area
Bingham, Maine
Status:
Open
First Season:
1930s
Vertical Drop:
460 feet
Standing Lifts:
Surface lift
Past Lifts:
Surface lifts
Left: The Main Trail in 2018
Recent NewEnglandSkiIndustry.com News:
Located just off US 201 north of Bingham and Moscow, Maine, Baker Mountain is one of the oldest ski areas in New England.


Rope Tow Years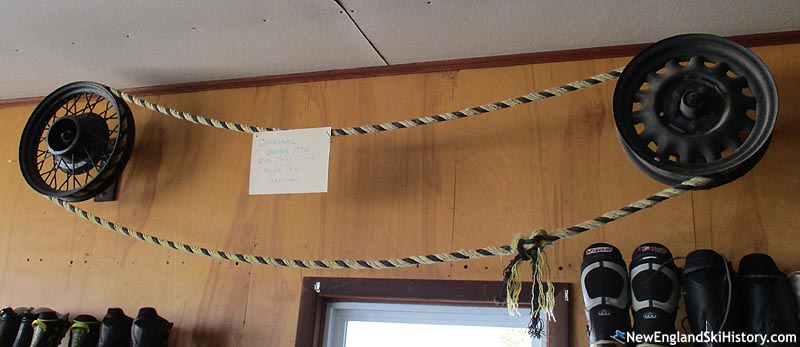 The wheels from the Baker Mountain rope tow (2018)

The roots of Baker Mountain date back to 1937 or 1938, when avid skiers Allen Quimby Jr. and Langdon Quimby logged the slopes of Baker Mountain. Employees of their veneer mill helped to construct a ski area, while a rope tow was likely installed circa 1938, powered by a Model T. Underpowered, the Model T was replaced with a Buick as soon as one year later. Not long thereafter, the tow was lengthened and the motor replaced with a Railton. The Railton was later replaced with an industrial engine.

While the area was closed during World War II, a second rope tow may have been added either immediately before or shortly following the war.

The non-profit Baker Mountain Ski Tow Club was formed in early 1959, taking over operations of the small ski area.


T-Bar Years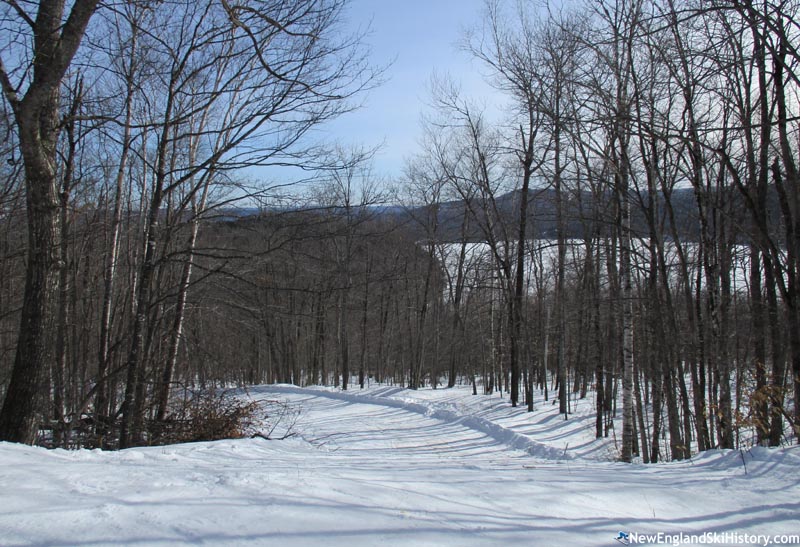 The Sluice trail (2018)

After years of operating as a small rope tow area, a major investment was made in the area in 1968. In April 1968, the original lodge was burned to the ground to make way for a new base lodge. Meanwhile, a new 2,170 foot long Poma T-Bar was installed, increasing the area's vertical drop to 430 vertical feet. In addition, two new trails were cut. The new lift and lodge were dedicated on February 2, 1969.

While the improved ski area enjoyed popularity, subsequent demographic shifts and the growth of other ski areas has resulted in Baker Mountain becoming a fairly low key, local operation in recent decades. The Baker Mountain Ski Tow Club continues to operate Baker Mountain ski area to this day, thanks in large part to volunteers, grants, and donations.

NewEnglandSkiConditions.com Reports

Image Gallery

Lifts
Click on lift name for information and photos
Maps

Year by Year History
Adult Weekend Full Day Lift Ticket; Adult Full Price Unlimited Season Pass

2010s
Ticket Price
Season Pass Price

Pass Payback

Opening Day

Closing Day

Skier Visits

2018-19
$12.00
$100.00
8.3 days
January 12
2017-18
$12.00
$100.00
8.3 days
January 7
March 25
2016-17
December 31
March 26
2014-15
January 31
March 22
2013-14
December 29
March 29
2012-13
December 29
2011-12
January 21
Visitor Memories
"I learned to ski at a young age on the small "bunny" slope and finally got my courage up to try the T bars. I was petrified. Robert Henderson walked me through the steps and for the next 20 times I tried I ended up on my butt. lol but then i realized u cant sit on it you just gotta let it push you. Great Great memories growing up in Bingham/Moscow and skiing Baker Mountain. Gave us kids something constructive to do. I hope it remains open and prosperous for generations to come.. I think Ill try and get my sons to try it out this year. Love to you all."
jennifer beane, Jan. 14, 2019
"I learned to ski on this mountain many moons ago. My grandfather was Dr Harry Lowell who used to be the town Dr for the area. I started skiing at a very young age and spent every February vacation on this mountain and loving every minute of it! The T-bar got me a few times but the memories I have of this mountain are forever in my heart!!"
Heather Pelletier, Nov. 29, 2018
---
External Links
Baker Mountain - SmallSkiAreas.com
Last updated: February 21, 2018