Bigelow Mountain Ski Area
Dead River, Maine
Partially constructed in the 1960s and 1970s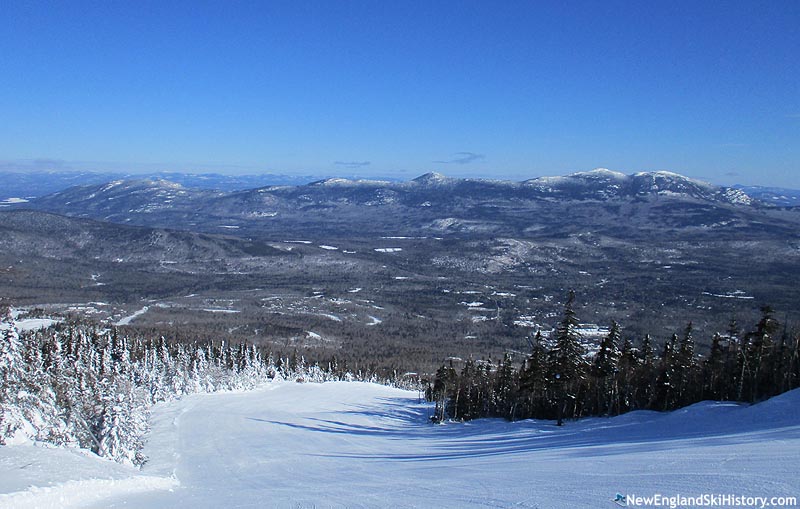 Bigelow Mountain as seen from Sugarloaf (March 2018)


Overview

Located north of Saddleback and Sugarloaf, Bigelow Mountain is one of the highest peaks in Maine, with a summit elevation of 4,145 feet. Though it is perhaps best known for being a scenic Appalachian Trail ridge walk, Bigelow Mountain was once seriously considered as an Olympic ski venue.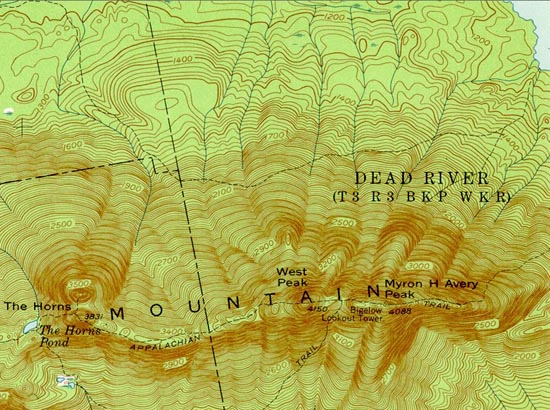 1956 USGS Topographic Map

The ski history of Bigelow Mountain dates back to at least 1948, when a ski trail was cut by the 'Bigelow Boys.' Two years later, Winter's Way was laid out on nearby Sugarloaf Mountain, which became the focal point of ski development in the area for years to come.



New England Olympics?

In late 1963, John O'Brien of the New England Council made headlines when he floated the idea of hosting the Winter Olympics in the group of states. O'Brien suggested that "The Olympic Games then would fit into the bicentennial observances of the Declaration of Independence."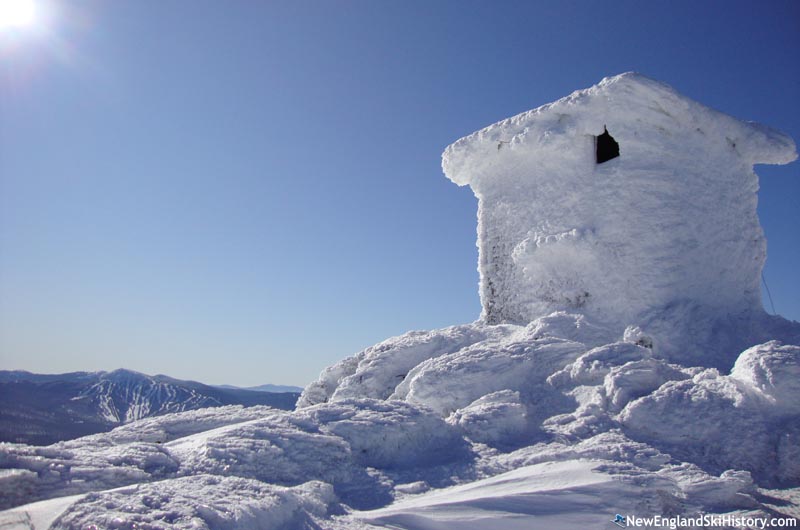 Avery Peak summit building (burned in early 2011) with Sugarloaf in the background (January 2010)

Olympic fever soon took hold, as New England's six governors discussed making a joint bid for the 1976 Winter Olympics. An early concept was to host hockey in Boston and skiing in Vermont. Discussions became more regionalized by 1965, when Olympic Ski Committee chairman (and Wildcat founder) Malcolm McLane named Burlington, Vermont, Laconia, New Hampshire, and Portland, Maine as being three hosts to consider due to their proximity to Olympic sized mountains and airports. The Maine bid received another boost in June 1965 when Willy Schaeffler chose the soon-to-be-expanded Sugarloaf as the location for the 1967 NCAA Ski Championship because of its terrain, vertical drop, and natural snowfall.

Meanwhile, in April 1965, International Design & Development Corp. reportedly offered 30,000 shares of stock at $10, which was used as seed capital.

In the fall of 1965, the New England governors received a report from the Winter Olympics for New England Committee, which recommended a $10,000 preliminary survey into what could be a $30,000,000 project. Among the 19 New England mountains deemed suitable for the ski events was Bigelow Mountain. Maine Governor John H. Reed spoke in favor of moving forward with the project, stating "Our ski industry is growing rapidly and it would be a tremendous boost if we could get this event."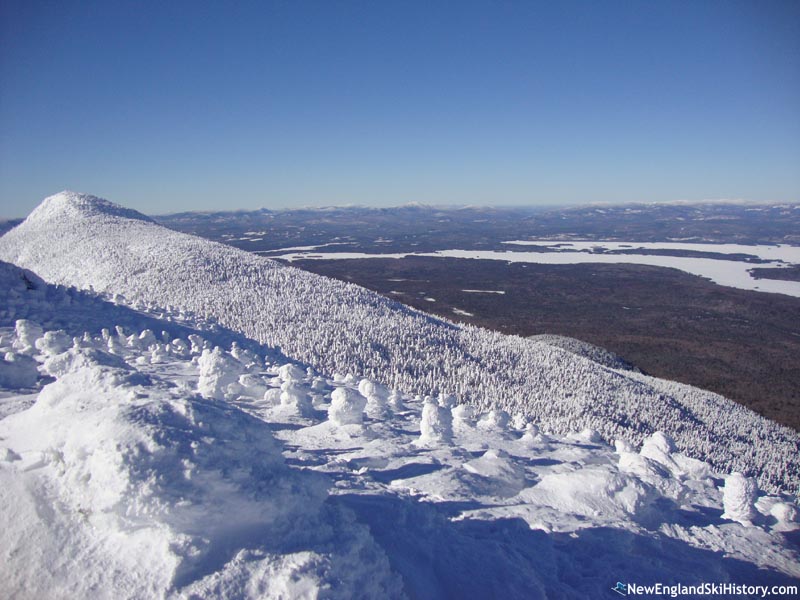 West Peak and northern slope as seen from Avery Peak (January 2010)

At a March 1966 conference, all six New England governors agreed to proceed with efforts to make a bid for the Olympics. Meanwhile, International Design & Development Corp. announced it had acquired 8,000 acres (possibly under its Flagstaff Corporation entity) on the Bigelow Range and was now seeking $2.5 million in private equity. In late March 1966, the company announced it would be developing a $50 million resort, which would include a self-contained recreational community, a ski area that could host 15,000 skiers, multiple golf courses, and several marinas on Flagstaff Lake. The first phase was expected to be completed in December 1968 with a price tag of $8.5 million. Governor Reed stated it was, "a project which holds great potential development for Maine." Sargent D. Nichols served as president of the corporation, which was registered in Delaware, but based out of Massachusetts.

Touted as the "Aspen of the East," the Bigelow Mountain development would have been Maine's third ski area to reach a 4,000 foot peak. 3,200 jobs were expected to be created by the end of the two-decade development.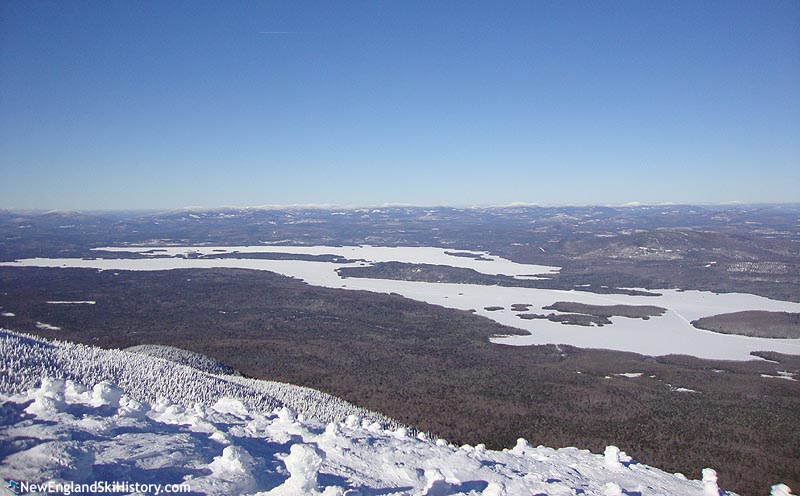 Northern slope of Avery Peak (January 2010)

In the fall of 1966, a feasibility study was underway, funded by the New England governors. Sno Engineering was hired to study the potential Olympic venues' terrain, highway access, and proximity to towns. That November, Democrat Secretary of State Kenneth M. Curtis defeated Reed in the gubernatorial race. Curtis became Governor on January 5, 1967 and continued Reed's stance of support, stating "this is a chance to sell Maine, and that's what we're interested in," adding that "this area would become a real ski capital from then for perhaps the next 50 years."

After viewing a Sel Hannah survey of possible sites (such as Glen Ellen, Vermont and Old Speck, Maine, the New England Governors Conference endorsed Bigelow Mountain on January 23, 1967. Maine Governor Kenneth Curtis ramped up promotion of the bid, suggesting it would only cost the state $5 million. Meanwhile, the Maine Recreational Authority announced it would guarantee $8 million in loans for the International Design & Development Corporation's now $12.5 million phase one plan.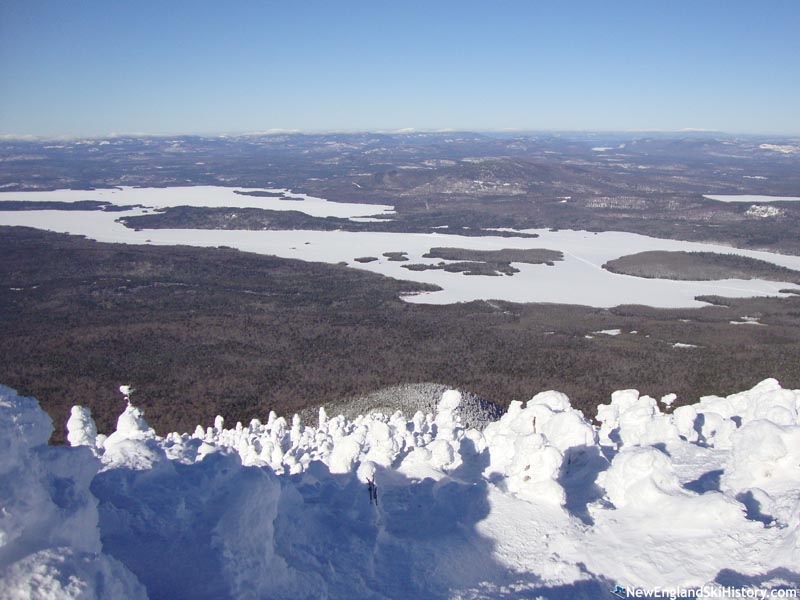 Northern slope of West Peak (January 2010)

Willy Schaeffler returned to the Carrabasset Valley area circa the spring of 1967, conducting a survey via air and on foot. Schaeffler reported that the mountains were impressive and that the alpine courses were "sufficient to carry out Olympic or world championship ski competitions."

On June 1, 1967, Sno Engineering's report was presented to the Governor and Executive Council. Sno Engineering estimated the cost of construction to be $24 million, of which only $3 million would need to come from the state. The report included a site plan that called for an Olympic village, an ice arena, primary and alternate alpine courses, cross country and biathlon courses, and bobsled and luge venues.

Meanwhile, trouble was brewing with state financing. In early June, the Maine Recreation Authority was taken to court by the developers of Evergreen Valley, who alleged they could not secure funding because the authority had pledged $8 million to the developer of Bigelow, which was an out-of-state company. Weeks later, the owners of Mt. Agamenticus claimed their area was facing bankruptcy because the Maine Recreation Authority would not back a loan due to its Bigelow position. In July, the Maine Recreation Authority settled out of court, granting Evergreen Valley a $3 million guarantee, claiming that Bigelow didn't need all of the funding at once.

As the bid evolved, the host city shifted from Boston to Portland to Augusta.



Olympic Bid Pulled





Upon returning from an international trip, Governor Curtis held a press conference on November 28, 1967, and announced Maine's Olympic bid had been withdrawn. As International Design & Development Corp. has struggled to raise the $4.5 million needed to unlock the $8 million in state financing, Curtiss cited the lack of private financing as the reason. He did add that the resort development was still alive and that it could potentially throw its hat in the ring for the 1980 Olympics. The 1976 Winter Olympic bid was awarded to Denver, Colorado. A subsequent voter backlash resulted in the games being moved to Innsbruck.

Though the Bigelow development seemingly went silent in the late 1960s, it still remained active. Circa 1968, John A. R. Marden likely acquired International Design & Development and Flagstaff corporations. A quote from Marden was published in the September 1970 edition of Ski magazine in which he stated, "our plan is to continue building our (access) road and to keep the land intact, making no sales to individuals until we are ready with an overall plan to offer the best experiences of both the Vail and Aspen complexes."



Flagstaff Corporation Letterhead

While the Flagstaff Corporation was able to build the $300,000 Flagstaff Lodge, it was unable to do much more. By 1973, the corporation claimed that it had $1.75 million tied up in the project, with carrying costs of $25,000 per year. While the group was hoping to proceed with development, major problems were brewing. In October of 1973, Sugarloaf's King Cummings, head of a state planning committee, appealed to the Legislature to halt mountain development in Maine, including Bigelow Mountain. Though the Maine Land Use Regulation Commission approved ski area plans on November 16, 1973, it reversed its decision ten days later, when it placed the mountain in a protected zone. The Flagstaff Corporation subsequently filed a lawsuit, noting the Maine Land Use Regulation Commission, despite blocking Bigelow Mountain plans, had approved an expansion at Sugarloaf.


Opposition

Meanwhile, the "Friends of Bigelow" waged a campaign claiming the development would result in increase crime, higher taxes, increased cost of living, no trespassing signings, and that the jobs would be given to out of staters.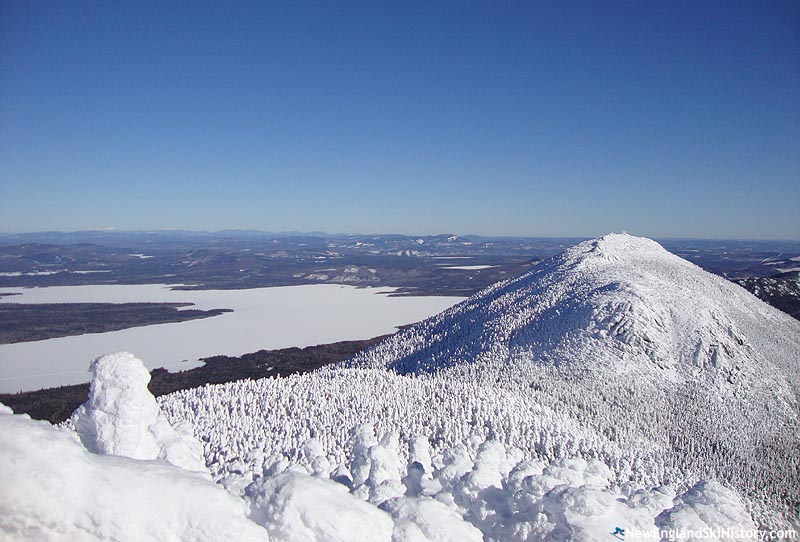 Avery Peak and northern slope as seen from West Peak (January 2010)

Unable to get zoning approval from the Maine Land Use Regulation Commission, the Flagstaff Corporation found itself in trouble. While it offered to put up to 7,200 acres in protection or preservation status in exchange for development approval of 800 acres, the corporation could not get cooperation from the state. Financing for the project became harder to obtain in the fall of 1975 when Maine voters passed a referendum to create a land preserve.

In the spring of 1976, Maine voters passed a referendum to acquire the land, leading to the Bigelow Preserve Act. As a result, the ski area proposal was cancelled and the Bigelow Preserve created.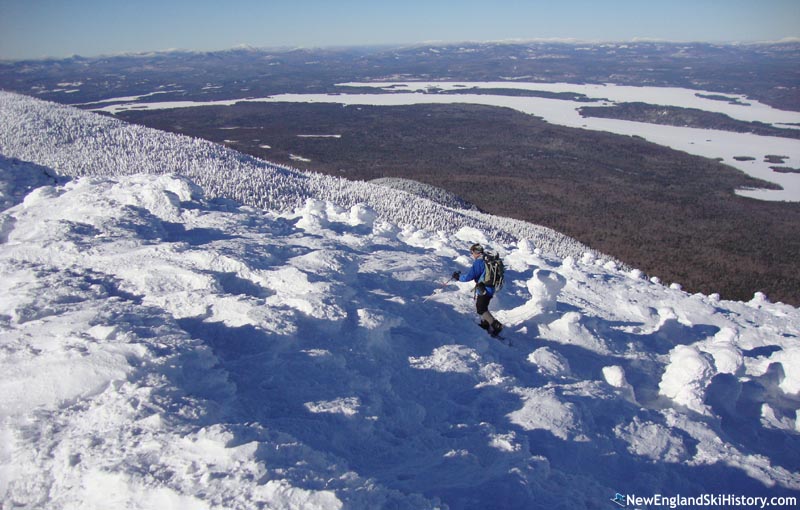 Northern slope of Avery Peak (January 2010)

On August 1, 1978, the State of Maine announced it had paid $3,294,500 to the Flagstaff Corporation and Flagstaff Lodge Corp for 8,375 acres of land and the Flagstaff Lodge. $2,108,500 of the funds came from Federal taxpayers, while $1,186,000 came from Maine taxpayers.

The preserve is composed of 10,540 acres as of 2012.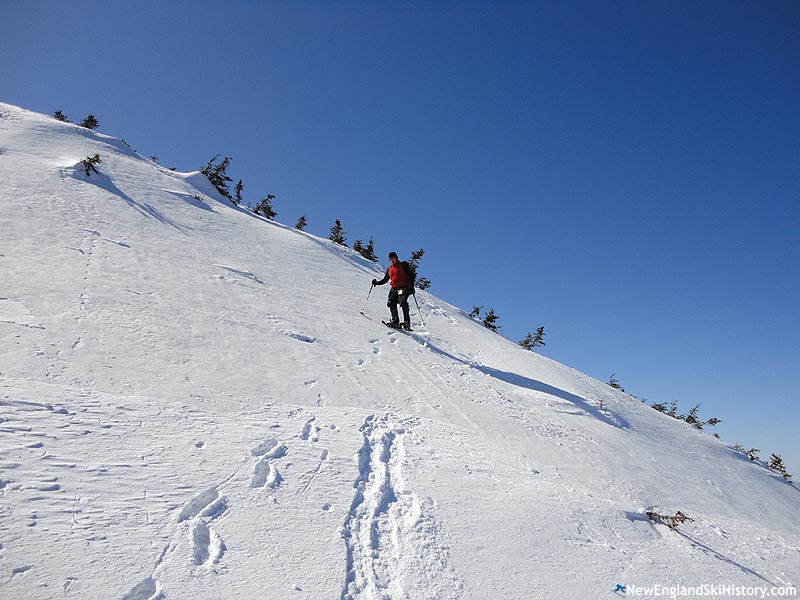 Northern slope of West Peak (March 2011)



Today
Other than a small ski lodge, there are no known remains of the Bigelow Mountain Ski Area.

Quotes

| | | |
| --- | --- | --- |
| " | Maine has an enormous ski resort at Bigelow to come, which will open some 3,000 acres of vacation land within yodeling distance of Sugarloaf, currently the Pine Tree State's largest development. | " |
| | Hartford Courant, 1966 | |
"
The Maine complex bidding for the Winter Games is now being planned for an area near the Sugarloaf - Bigelow - Abraham Mountain region adjacent to the Franklin county towns of Farmington and Wilton, and the Rangeley Lakes and Flagstaff Lake section.

A city will be designed in the near future by the state to act as host.
"
Hartford Courant, 1967
| | | |
| --- | --- | --- |
| " | 1976 Winter Olympics site? Map locates Flagstaff, Maine, mentioned as possible site for the 1976 Winter Olympics. New England Governors have agreed to support a State of Maine bid selection site by Olympic committee. A private developer plans a $12.5 million ski development in Bigelow mountain range next to man-made Flagstaff Lake. | " |
| | Hartford Courant, 1967 | |
| | | |
| --- | --- | --- |
| " | The group of Boston developers headed by John Marden already owned 6,000 acres of the mountain and had built a small lodge when the fight began. Envisioned was a $250 million project, including a resort village, downhill ski trails, condominiums and an airport, just down the road from Sugarloaf. Flagstaff Corp. said it would take 20 years to fully build out the resort and promised hundreds of year-round construction and service jobs. But all went down in flames, thanks to the opposition organized by Friends of Bigelow. | " |
| | Phyllis Austin, 2001 | |
| | | |
| --- | --- | --- |
| " | Ellicottville, New York, is known in skiing circles as the "Aspen of the East," a resort town drawing hordes of skiers each winter. This nifty tourism-whore nickname, however, almost belonged to a mountain range in Maine: the pristine Bigelow Mountains, in the northwest of the state. Developers were hot for Bigelow back in the 1960s and '70s; Flagstaff Corporation, from Massachusetts (where else?), wanted to turn it into one of the world's largest ski resorts. | " |
| | Jess Kilby, 2003 | |
Resources
Austin, Phyllis. "A 25th anniversary celebration of the Bigelow Preserve." The Maine Times. 14 June 2001. 3 April 2009. http://www.meepi.org/files/mt061401.htm.
Kilby, Jess. "Bigelow or bust." The Portland Phoenix. 13 February 2003. 13 April 2009. http://www.portlandphoenix.com/archive/features/03/02/14/feat_bigelow.html.
"Olympics of 1976 Sought by 16 U.S. Cities" Hartford Courant. 26 Feb. 1967.
"Skiing...It's a New Ball Game" Hartford Courant. 23 Jan. 1966.
Last updated: May 11, 2020