Powderhouse Hill
South Berwick, Maine
Status:
Open
First Season:
1939-40
Vertical Drop:
175 feet
Standing Lifts:
Surface lift
Past Lifts:
Left: Looking down the Powderhouse Hill slope (2015)
Recent NewEnglandSkiIndustry.com News:
Located near downtown South Berwick, Powderhouse Hill may be one of the oldest lift served ski areas in New England.

Powderhouse Hill's skiing history possibly dates back to 1939, when William Hardy reportedly installed a rope tow on Herbie Day's land. Other accounts have this happening as late as the 1950s or 1960s.

Powder House Ski Club was established as a non profit company in Maine in December of 1964, roughly around the same time as the development of nearby Mt. Agamenticus. The area may have shut down in the 1970s, again around the same time as Mt. Agamenticus.

In subsequent decades, the ski club was reinvigorated and the property purchased by the town of South Berwick.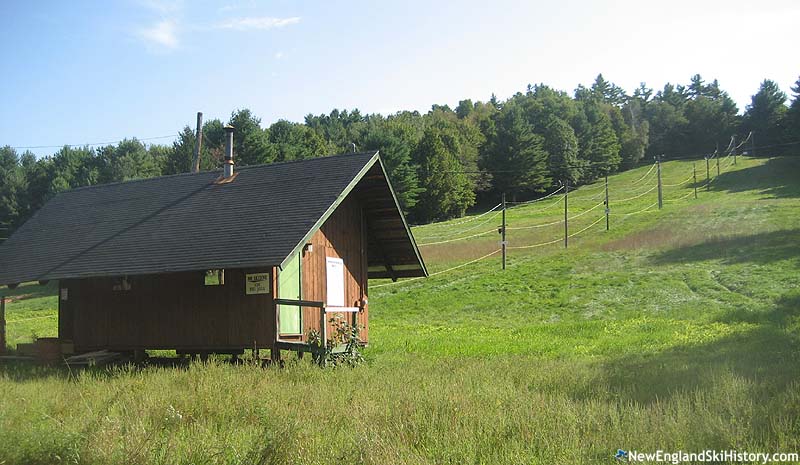 Powderhouse Hill (2008)

The area faced possible closure in 2009 when liability insurance concerns surfaced due to the area being operated by a non-profit organization. To keep the area open, it was absorbed into the town Recreational Department.



Powderhouse Hill (2015)

The rope tow was rebuilt for the 2010-11 season to improve reliability. In 2013-14, the ski area experimented with a small snowmaking system.

Powderhouse Hill continues to operate its 1938 Ford rope tow for both day and night skiing sessions.

NewEnglandSkiConditions.com Reports

Year by Year History
Adult Weekend Full Day Lift Ticket; Adult Full Price Unlimited Season Pass

2020s
Ticket Price
Season Pass Price

Pass Payback

Opening Day

Closing Day

Skier Visits

2020-21
December 19
2019-20
$5.00
December 4
February 23
2010s
Ticket Price
Season Pass Price

Pass Payback

Opening Day

Closing Day

Skier Visits

2018-19
$5.00
January 20
March 13
2017-18
$5.00
December 27
March 25
2016-17
$5.00
December 31
March 26
2015-16
$5.00
January 3
February 14
2014-15
$5.00
January 9
April 1
2013-14
$5.00
December 15
March 22
2012-13
$5.00
December 28
2011-12
$5.00
January 13
2010-11
$5.00
2009-10
$5.00
2000s
Ticket Price
Season Pass Price

Pass Payback

Opening Day

Closing Day

Skier Visits

2008-09
$5.00
Visitor Memories
"back when i was young myself and siblings use 2 look forward 2 slideing down that hill when we visited my cousins and my uncle herbie and aunt mary what a great time 2 grow up things were much slower then and you made your own fun outdoors know computers ans sitting on your but all day those memories are forever we really had some great times on that hill its a shame they cant slide there now it was so much fun"
matthew day, Sep. 5, 2015
"I stopped by Powderhouse Hill for an afternoon of skiing last winter. The main slope has great groomed conditions for carving, while the trees on skiers right added some variety. Well worth the whopping $5 ticket price!"
Jeremy Clark, Sep. 4, 2015
---
External Links
Powderhouse Hill - official site
Powderhouse Hill - New England Lost Ski Areas Project
Powderhouse Hill - SmallSkiAreas.com
Last updated: November 25, 2016