| | |
| --- | --- |
| | |
Located in southern Vermont, Magic Mountain has long been known for its steep terrain and unique trails. Started by Hans Thorner as a small surface lift ski area in 1960, Magic Mountain grew to briefly become one of the largest ski areas in Vermont when it absorbed nearby Timber Ridge in 1987. After an extended closure during the 1990s, Magic reopened with its core footprint and has since remained in operation.


A Swiss Concept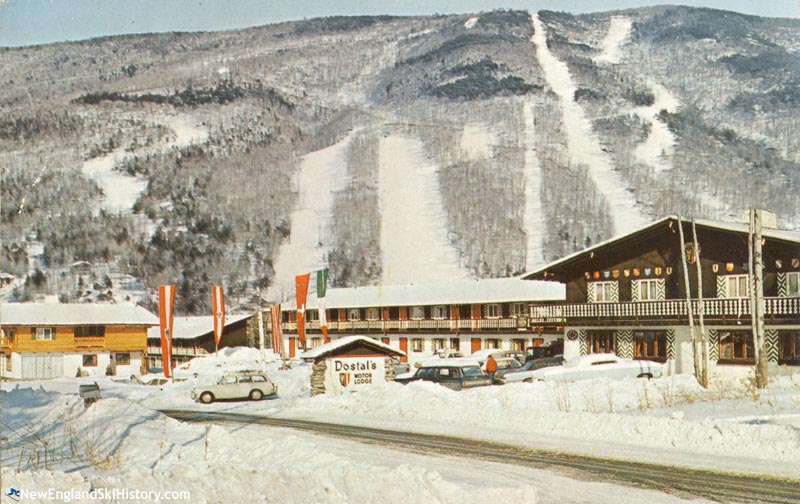 A 1960s Magic Mountain postcard

Swiss native Hans Thorner moved to the United States in 1932, becoming one of the first certified ski instructors in America. In addition to operating ski schools across the country, Thorner also owned an inn and made films. After spending decades in the ski industry, Thorner thought something was lacking when skiers left American ski areas following a day on the slopes. His vision was to develop a ski area with a Swiss-like village where guests could participate in apres-ski activities. Joining with William Ingraham, Thorner settled on Glebe Mountain in Vermont for his resort's location. Wanting to capture the dream-like feeling of the famous Thomas Mann book, the name "Magic Mountain" was chosen.

Word of the plans began to emerge in early 1960, as Thorner sought to raise $350,000 to develop the resort. A cornerstone of his plan was to sell acreage to stockholders, as he felt ski area landowners should have a vested interest in the operation.

The Magic Mountain Corporation was established on June 27, with Thorner contributing $3,134 for what would become 28.5% of the stock. Thorner's ski school would operate as a separate entity, contributing 10% of its gross to the Magic Mountain Corporation. Construction of two slopes, a T-Bar, and base lodge commenced in July. Though the initial build out was modest with a vertical drop around 500 feet, medium term plans called for a much larger ski area and associated village.

The area debuted on December 23, 1960, with the T-Bar and an incomplete base lodge. Ironically, a snowstorm postponed the delivery of equipment for the cafeteria, limiting base lodge services at the time of opening. Magic Mountain had 62 investors when it opened for business.

Just after opening on the morning of January 19, 1961, the bottom lift house of the T-Bar caught fire, putting Magic out of commission. The community quickly rallied, attending a Fire Dance fundraiser at the lodge later in the month. Operations resumed soon thereafter.

Though there were hopes a chairlift would be installed in 1961 (boosted by the already-cut lift line), the only visible improvement for the 1961-62 season was a new trail from the top of the T-Bar down to the base lodge. Instead, the young corporation was dealing with internal problems, as William Ingraham filed a complaint with the Securities and Exchange Commission (SEC), freezing sales of stock. Because of the requirement to be a shareholder in order to purchase land at the ski area, cashflow slowed. With an expansion plan on the horizon, the company received permission from the SEC to receive loans. Existing shareholders then lined up to lend the company money. Meanwhile, a major ski area opened at nearby Stratton Mountain.

Portending the expansion, Hans Thorner and his son Arthur travelled to Europe in April 1962, initially to attend the International Ski School Congress. After the event, the Thorners went to Cologne to visit with the Pohlig Company, where they inspected chairlift parts.



Big Mountain Skiing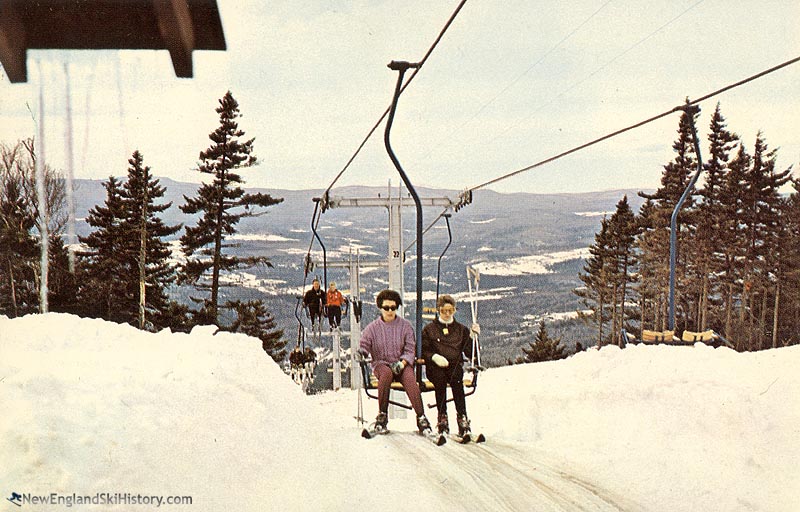 The top of the Black Chair in the 1960s

Magic Mountain finally started to live up to its potential when the $300,000 Pohlig double chairlift was installed for 1962-63, opening the Upper Mountain. In addition to the new lift and trails, the main lodge was expanded and a new parking lot constructed.

The lift installation was reportedly the first to use a helicopter for the pouring of concrete. With Sikorksy Aircraft officials on site to record the event on September 13, the helicopter reportedly suffered a mechanical issue and came crashing down onto the lift line. Though the helicopter was destroyed by fire, pilot Frank Minjoy survived. Construction resumed days later using another helicopter.

The 1962-63 season was a success, extending into April. Bolstered by the new chairlift, ski revenue jumped by 600%. Following the season, the corporation's board of directors named Arthur Thorner vice president. 1963 off season improvements included more parking, a maintenance building, and another snow cat. Meanwhile, William Ingraham started his own ski area on the other side of the mountain, initially called Glebe Mountain Farm. The ski area later became known as Timber Ridge.

A novice chairlift was installed at Magic for the 1964-65 season, serving the new Hocus Pocus beginner area. In addition, plans for a new mile-long chairlift were announced for 1965. Unfortunately, the winter of 1964-65 was rough, with in Magic posting a $27,000 loss. Faced with its fourth loss on ski operations in five years, Magic postponed the chairlift project and focused on minor improvements and real estate work. The 1965-66 season resulted in a $6,000 loss and thus a further postponement of investment.

Magic rebounded with a record 1966-67 season, allowing it to pour profits into off season improvements. Three new trails were added, including Lower Medium and Upper Wand. Base facilities were improved, including a base lodge addition and a new ski patrol building. To improve snow conditions, snow fencing was installed on the upper mountain, a new snow cat was purchased, and a "mobile whipped cream maker" chemcial foam snowmaker was tested.

Magic received a $240,000 Small Business Administration loan in 1968, which was to be used to install snowmaking and another chairlift. A $250,000 snowmaking system was installed under the supervision of Alois Betschart that year, covering the Hocus Pocus novice slope and the lower half of the main chairlift slope. To facilitate the latter, a mid-station was added to the lift. The chairlift's electrical system was also changed from European to American to allow for smoother operation. The snowmaking system saw little use in its debut season due to plentiful early snowfall.

A three story lodge addition (complete with new restrooms) was constructed and three trails added for the 1969-70 season. Located on the west side of the ski area, Wizard provided a new intermediate route from the summit, while Talisman and Slide of Hans added to Magic's slate of challenging trails.

After ten years, Magic Mountain was still a family affair with Hans serving as President, son Arthur as Assistant General Manager, and son Peter as Ski Patrol Director. Reflecting on the changes in the industry, Thorner remarked to the Bennington Banner, "I hope we don't commercialize the essence of skiing. There's probably been some closeness, some brotherhood lost between skiers [with the advent of chairlifts], but there's still nothing that will clear the cobwebs like a good run: you are your own challenger."

Dealing with the new Vermont Act 250 law, Thorner presented a 10 year plan in 1971 that called for four new lifts. That year, a big expansion took place when the so-called Summit Area was opened with the installation of a new Heron-Poma double chairlift. The new lift provided a slightly increased vertical drop, serving new trails and increasing the area's uphill capacity.

On the evening of February 22, 1973, a Cessna 310 crashed into Magic Mountain, killing both on board. Peter Thorner was later awarded a Gold and Green Merit Star by the National Ski Patrol for assisting in the search and rescue mission. Two years later, on the night of February 3, 1975, two Air Force F-111 bombers collided near the mountain. The four crew members ejected, landing unharmed on the upper slopes of Magic Mountain.

As was the case at ski areas across New England, 1973-74 was a horrible winter for Magic Mountain. When asked by the Bennington Banner the following year, Hans Thorner replied, "We try to forget about that nightmare." Diversifying its revenue stream, Magic hosted a national hang glider competition in September.

While the other lifts in the 1971 ten year plan did not come to fruition, snowmaking improvements did occur. Snowmaking was expanded to the Show Off slope for the 1977-78 season, and then to the summit for the 1981-82 season.


New Ownership and Growth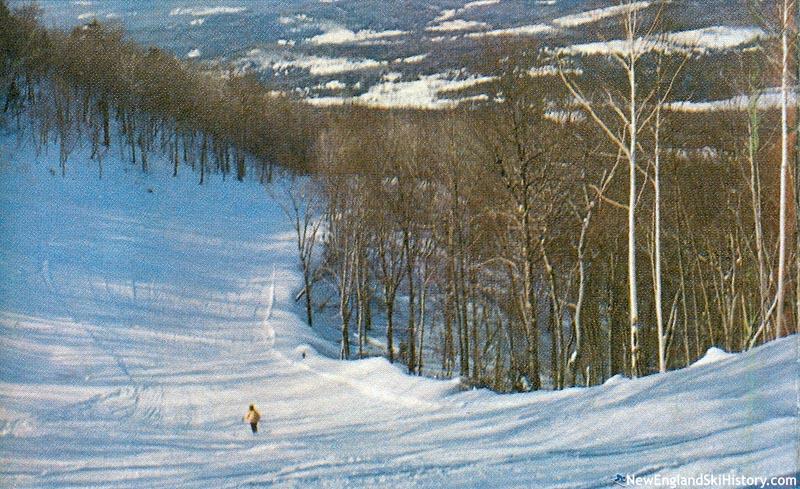 Skiing at Magic Mountain in the 1960s

In the midst of a string of bad winters in the late 1970s and early 1980s, Magic attempted to raise money for the top to bottom snowmaking project by selling 33 year season passes. In addition, a 50 foot wind turbine was installed atop the mountain.

After a quarter of a century of ownership, Hans Thorner sold Magic Mountain in 1985 to a group led by Simon Oren. For their first winter, the new ownership likely upgraded the aging Black Chair from a double to a triple.

The group purchased the defunct Timber Ridge ski area in 1986 and planned big changes for the following season.

For 1987-88, Timber Ridge was connected to Magic and renamed Timberside. The combined ski area, advertising 72 trails and 6 lifts, was called the Magic Mountains. In addition to the new terrain, a new Poma triple chairlift replaced the original Magic T-Bar, serving novice and intermediate terrain. Finally, as the season neared, the ownership group purchased nearby Bromley from Moore and Munger, Inc., the owners of Stratton.

Though Magic was being modernized, it wasn't fast enough. The winter of 1988-89 was so lean that the connecting trails between Magic and Timberside were seldom, if at all, open. In 1990, Oren sold his remaining interest in the company to partners Joe O'Donnell and Petros A. "Bob" Palandjian.



Closure and Liquidation

Following the 1990-91 season, the decision was made to shut down both Magic and Timber Ridge. In the spring of 1993, the owners decided to put Magic and Timber Ridge on the auction block. The Bank of Boston foreclosed on the resort that spring.

By the middle of the decade, both lifts at Timber Ridge were gone, along with the Sun Corner Triple and Little Chair at Magic.


A New Beginning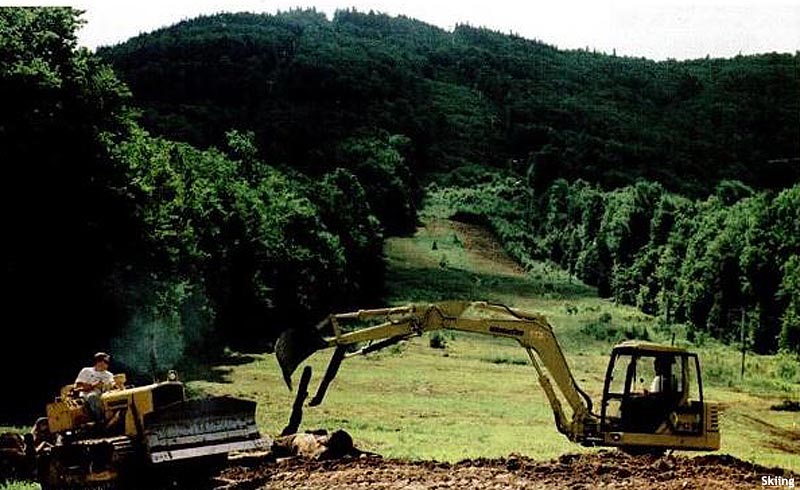 Reclaiming Magic circa 1997 or 1998

In August of 1995, Michael Boraski of Pennsylvania formed Glebe Mountain Ski Associates and purchased the ski area for a reported $350,000 in December of 1995. The group soon claimed it would be installing new lifts and investing $3 million into a 1996-97 reopening. That fall, however, the group postponed its reopening, citing clean up of leaking oil tanks as a last minute reason to postpone operations. No new lifts were installed

The area reopened without Timberside in December of 1997 with one triple chairlift, one double chairlift, and a new tubing park. While management was able to keep the ski area operating, it found itself unable to consistently make payroll or pay its bills.


Ownership and Management Changes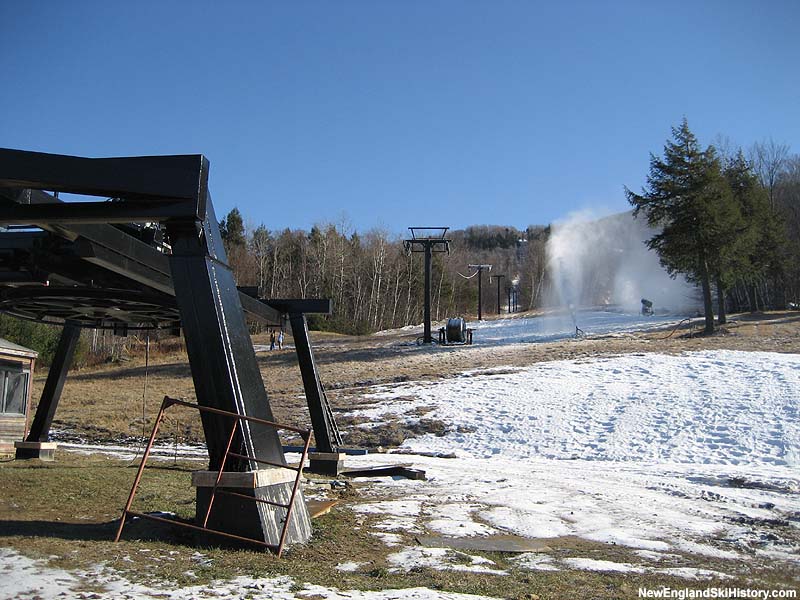 The partially installed Green Chair (2010)

Facing mounting debt, a new ownership company was formed in November of 1998, named Old Fashioned Skiing Company, LLC. The new company, with some 40 owners, soon amassed tens of thousands of dollars in back taxes and penalties, prompting a foreclosure auction.

John Nelson, whose family had owned a home at the mountain for decades and was reportedly owed $1 million, purchased the area with four partners in August 2002 for a reported $500,000. Around this time, two used chairlifts were acquired. One was partially installed in 2003, but never completed.

Founder Hans Thorner passed away on December 27, 2003 at the age of 95.

James Sullivan took over operations of Magic Mountain in September of 2006. In 2009, plans to transfer the area to a cooperative setup were announced. After much effort in fundraising, the co-op recorded its 333rd share purchased in 2012, unlocking nearly $1 million capital for improvements.

In June 2014, property owner Tom Barker took over operational control of the ski area from James Sullivan and JLS Magic, LLC. While a subsequent ownership change was announced during the summer of 2015, the deal initially fell through. Negotiations resumed in the spring of 2016 with Ski Magic, LLC finally acquiring Magic in the fall of 2016.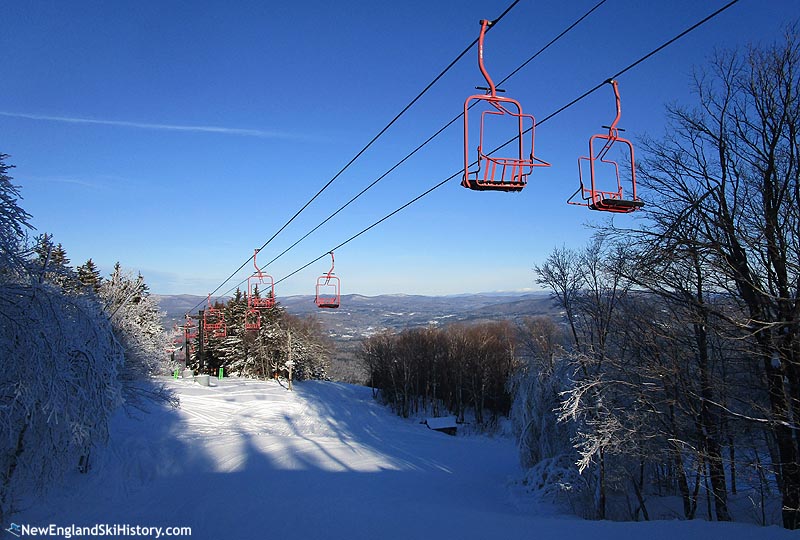 Upper Magic Carpet (2019)

Upon purchasing Magic Mountain, Ski Magic made significant investments in existing infrastructure, such as snowmaking and base facilities. The Green Chair was finally completed in January 2019. Following the 2018-19 season, the original summit chairlift was removed to make way for a fixed grip quad chairlift.



NewEnglandSkiConditions.com Reports

Month
Average Percent of Terrain Open
December
57% (5 reports)
January
66% (8 reports)
February
93% (8 reports)
March
43% (4 reports)
April
78% (3 reports)

-- start conditions table -->

Recent Conditions Reports

Apr. 2, 2023 by rocket21
Variable Conditions, Variable Conditions
Apr. 2, 2023 by brianna
Frozen Granular, Variable Conditions
Feb. 5, 2023 by alpinevillagepres
Packed Powder, Packed Powder
Jan. 22, 2023 by alpinevillagepres
Packed Powder, Frozen Granular
Dec. 29, 2022 by snowphoenix
Packed Powder, Variable Conditions

Magic Mountain Ski Area on NewEnglandSkiConditions.com
NewEnglandSkiIndustry.com News
Recent Articles
Lift Construction Continues as December Starts - Dec. 4, 2022
Southern Vermont Lift Construction in Home Stretch - Oct. 16, 2022
Lift Construction Continues Mid-Season - Jan. 17, 2022
New Bousquet Lift Opens; New Magic Lift Delayed Again - Feb. 18, 2021
Lift Construction Continues Mid-Season - Jan. 16, 2021
Lift Construction Season Heading into Home Stretch - Oct. 8, 2020
Lift Construction Progressing in Maine and Vermont - Jul. 1, 2020
Chairlift Chatter - Jan. 8, 2020
Lift Removals Already Underway in Vermont - Apr. 10, 2019
Two New Chairlifts Open in Southern Vermont - Jan. 5, 2019
Magic Mountain Ski Area NewEnglandSkiIndustry.com News Page
Expansion History
Image Gallery
Lifts
Click on lift name for information and photos
Maps
Year by Year History
Adult Weekend Full Day Lift Ticket; Adult Full Price Unlimited Season Pass

2020s
Ticket Price
Season Pass Price

Pass Payback

Opening Day

Closing Day

Skier Visits

2022-23
$94.34
$899.94
9.5 days
December 18
April 9
2021-22
$83.74
$846.94
10.1 days
December 18
March 27
2020-21
$78.44
$825.74
10.5 days
December 17
March 27
2019-20
$74.00
$779.00
10.5 days
December 7
March 15
2010s
Ticket Price
Season Pass Price

Pass Payback

Opening Day

Closing Day

Skier Visits

2018-19
$74.00
$749.00
10.1 days
November 24
April 7
2017-18
$69.00
$699.00
10.1 days
December 16
April 8
2016-17
$67.00
$679.00
10.1 days
December 27
April 9
2015-16
$67.00
$689.00
10.3 days
January 16
March 13
2014-15
$63.00
$639.00
10.1 days
December 20
April 18
2013-14
$63.00
$539.00
8.6 days
December 21
April 6
2012-13
$59.00
$489.00
8.3 days
December 26
April 7
2011-12
$59.00
$449.00
7.6 days
December 26
March 17
2010-11
$439.00
December 18
April 10
19,458
2009-10
$56.00
$429.00
7.7 days
December 19
April 3
19,037
2000s
Ticket Price
Season Pass Price

Pass Payback

Opening Day

Closing Day

Skier Visits

2008-09
$56.00
$439.00
7.8 days
December 22
16,725
2007-08
$56.00
$449.00
8.0 days
April 6
16,870
2006-07
$49.00
$349.00
7.1 days
December 31
16,377
2005-06
$49.00
$599.00
12.2 days
5,000
2004-05
$49.00
$549.00
11.2 days
December 23
10,000
2003-04
$46.00
$549.00
11.9 days
December 16
March 21
13,750
2002-03
$42.00
$499.00
11.9 days
March 30
2001-02
$42.00
$499.00
11.9 days
March 31
2000-01
$38.00
$595.00
15.7 days
April 8
25,000
1999-00
$38.00
$695.00
18.3 days
March 19
1990s
Ticket Price
Season Pass Price

Pass Payback

Opening Day

Closing Day

Skier Visits

1998-99
$35.00
$295.00
8.4 days
March 28
1997-98
$32.00
30,000
1990-91
$36.00
March 31
1989-90
$34.00
November 25
1980s
Ticket Price
Season Pass Price

Pass Payback

Opening Day

Closing Day

Skier Visits

1988-89
$32.00
November 24
1987-88
$30.00
1986-87
$28.00
1985-86
$24.00
1984-85
$24.00
$520.00
21.7 days
1983-84
$22.00
$520.00
23.6 days
1982-83
$20.00
$500.00
25.0 days
1981-82
$20.00
1980-81
$17.00
1970s
Ticket Price
Season Pass Price

Pass Payback

Opening Day

Closing Day

Skier Visits

1978-79
$15.00
1977-78
$13.00
1976-77
$12.00
1975-76
$12.00
March 21
1974-75
$10.00
December 21
1973-74
$10.00
1972-73
$10.00
1971-72
$10.00
$185.00
18.5 days
April 16
1970-71
$10.00
1969-70
$10.00
1960s
Ticket Price
Season Pass Price

Pass Payback

Opening Day

Closing Day

Skier Visits

1968-69
$8.50
1967-68
$7.50
1966-67
$7.00
$95.00
13.6 days
1965-66
$6.50
1964-65
$7.00
1963-64
$6.50
1962-63
$6.50
December 26
April 7
30,000
1961-62
$4.50
December 22
March 30
7,000
1960-61
$4.50
$50.00
11.1 days
December 23
7,873

2003-2004 through 2009-2010 visits include snow tubing



Visitor Memories


"My earlier submit was not enough info. Spent many years skiing there as a family from late 60's to late 70's. We owned a family vacation/rental home in East Jamaica on a dirt road off Rte 30 before crossing the west river. Maybe Howe Farm road now??? Then dad built a home on Nagic in the height of the Hans Thorner days. I was a junior ski patroler there 3 seasons with one of Trudie Dostals sons and a guy from the post horn. It was a great learning experience and providing assistance to skiers that unfortunately skied out of their ability! Many many fond memories, due in part, because they were the true wonder years. I was 4 '64 when dad was building home in East Jamaica and was probably 11 or 12 ('71/'72) when he started home at Magic. "
Douglas Mitchell, Dec. 27, 2022
"Shortest job I ever had was at the start of the 1962 season when I was between colleges. Arthur Thorner hired me as a Carpenter's Helper. First day I was just getting oriented at a work site expanding the base lodge. About an hour into the start of the day Hans Thorner came by, looked at me and growled, "Who the Hell are you?" I introduced myself, said I'd just started, and Hans said, "Who hired you?" Had no idea this was Arthur's father so I said, "Mr. Thorner hired me." At that he replied, "I'M Mr. Thorner and I never heard of you. Doesn't look like you're doing much. You're fired. Come to the office and pick up your pay. We'll give you half a day's pay." (two days later I had a better and longer job at Stratton.) "
Chip Taylor, Sep. 21, 2022
"I had the pleasure of working Winters in the Ski Shop for the Frank family 1963-1966. Loved skiing there and returned in 1967-68 when I was home. I loved working there and developing my people skills. I also got to ski the other side of the Mountain because I went to school with the Ingraham boys Ted, Dave, and Peter. I guess I was fortunate because I don't remember any of the years having a lack of snow."
Craig FEDOR, May. 20, 2018
"started skiing here in 1965 with my family of 7....it was an expensive sport for a family but my parents thought it was an important family activity. the best memories....we knew Hans and all the instructors. used to stay at the Snowden Motel....wonderful times!"
Penny Iatridis, Dec. 20, 2017
"I loved skiing here in the 1970's growing up-night skiing. I love the grand ol' two seater red lift to the top. At 6'4' hard to get the knees and legs on the bar. slow to top, maybe 10 minutes but great views to while the time away. A real `throwback' mountain that is a pleasure to ski even today! Love the `throwback' special days. Great job bringing back Magic!"
ed kobak, Dec. 7, 2017
"Been going here since I was 6. Always my favorite place to go. This year is gonna be LIT"
McHale Burgess, Dec. 11, 2016
"I was a ski instructor at Magic Mountain on weekends from 1964 to 1974. We had a house in Vt at Timber Ridge. I have wonderful memories of Hans Thorner and his family and all my old friends in Londonderry VT. Best time of my life!!"
jay shaw, Aug. 10, 2016
"William 'Bill' Ingraham was a partner with Hans Thorner in the founding of Magic. I recall their planning sessions in Bristol, CT. The fire in the first year of operation also took out the T-bar lift but they continued operations ferrying skiers to the top in the snowcat. Bill Ingraham spilt ways with Hans early on and started Glebe Mountain later to be Timber Ridge on the backside of Magic."
Wade Treadway, Jul. 8, 2015
"I skied Magic Mountain for the first time 3/1/2015. Me and my two sons. We are all good skiers. I loved the place. It reminds me of a old ski area. Very challenging and great snow. Not overly groomed and narrow trails. It is truly a skiers mountain. There were some snowboarders but they were into cruzing and we all got along great. I can't remember when I had more fun on the slopes. No crowds and very friendly operations staff. "
Paul Baldasarre, Mar. 4, 2015
"Fond memories."
Douglas Mitchell, Mar. 15, 2013
---
External Links
Magic Mountain Ski Resort - official site
Last updated: December 13, 2019