Berkshire Snow Basin
Cummington, Massachusetts
Status:
Lost/Defunct
First Season:
1949-50
Last Season:
1988-89
Vertical Drop:
550 feet
Standing Lifts:
0
Past Lifts:
Surface lifts
Left: The West T-Bar and College Highway slope in the 1980s
Recent NewEnglandSkiIndustry.com News:
7/25/2016: Berkshire Snow Basin Lift Demolished
Located in western-central Massachusetts, Berkshire Snow Basin operated for nearly forty years as a surface lift serviced ski area.

In the 1940s, ski racers and instructors Stan and Ruth Brown began looking for a place to build a ski area. After researching snow depths throughout Western Massachusetts, the Browns determined the north face of 2,080 foot Bryant Mountain in Cummington to be the ideal location for their development.

A 10th Mountain Division veteran of World War II, Stan Brown was involved in the establishment of the Springfield Ski Club and its Blandford ski area. In 1936, he and Ruth were hired to manage the Carlisle Hardware Company Ski Shop in Springfield, positions they held for nearly 30 years.

Circa 1949 or 1950, Stan, his wife, his sister Dorothy, his father Fred, and his mother Mabel moved to West Cummington to establish the ski area. Ski Slopes, Inc. was formed by the Browns as a Massachusetts corporation on June 16, 1949. Initial construction of the ski area reportedly spanned from the spring of 1949 into January 1950.


Berkshire Snow Basin Opens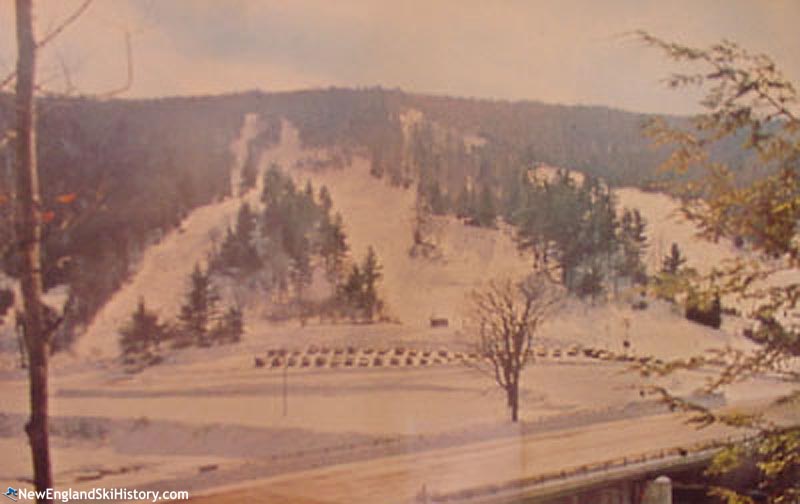 A Berkshire Snow Basin postcard

Berkshire Snow Basin was advertised as a 'new and outstanding' ski area for the 1949-50 season, with two rope tows serving a 350 foot vertical drop. Though trails were cleared for a 550 foot vertical drop, the upper tow wasn't completed in time. A pre-existing barn was converted into a ski lodge.

The ski area operated on weekends and holidays. Fred, a retired accountant, served as general manager. Stan handled outside duties and ran he ski school. Mabel and Dorothy operated the cafeteria, while Ruth sold tickets. Unfortunately, operations were limited during the first season due to a lack of snow.

The ski area was finally expanded upward for the 1952-53 season an when upper rope tow and slope were added. Following this expansion, the growing ski area sported four rope tows and a vertical drop of 550 feet. Meanwhile, word began to emerge about a relocation of Route 9.

A new, "long lift" was proposed during the 1957-58 season to help keep Berkshire Snow Basin competitive whilst areas around it were adding Poma lifts and T-Bars. In addition, a 400 vertical foot upward expansion was also discussed. While the 1957-58 season was Berkshire Snow Basin's biggest to date, the area was about to enter a multi-year struggle due to the relocation of Route 9.

Construction on the relocated highway began in the fall of 1958, placing the new roadway through the middle of the base area. As a result, the base lodge was cut off from the rest of the ski area and much of the parking area lost. The matter eventually landed in court, resulting in Ski Slopes, Inc. being awarded damages from the state in the winter of 1960. That winter, skiers were forced to climb 28 steps up from the slopes, over the guardrail, across the highway, and then descend 28 steps to get to the lodge.

The ski area finally emerged from its lull in 1960, when it was awarded a $30,000 Small Business Administration loan for a new lodge and T-Bar. Though the T-Bar was delayed, a new slopeside base lodge was constructed for the 1960-61 season. Constructed by Healy, Pittsinger, and Mason, the lodge was built "with no unnecessary trimmings" and included a crushed rock floor.



Rope Tows Phased Out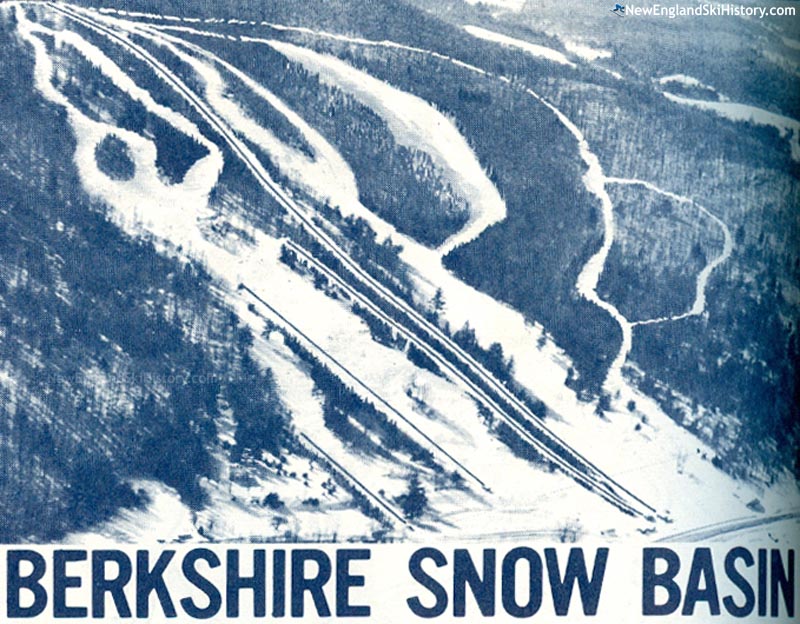 Berkshire Snow Basin circa the late 1960s

A "long lift" was finally added for the 1961-62 season, as a new Doppelmayr T-Bar was installed adjacent to the College Highway slope. The 2,750 foot long lift served 550 vertical feet. In addition, a new novice trail was cut. The new lift debuted in mid-January and was advertised as the longest T-Bar south of Vermont.

The new facilities coincided with the growth of skiing in the region, resulting in record breaking sales, including weekends with 1,500 skiers in 1963-64. Meanwhile, the Carlisle Hardware Company was sold to O. W. Siebert Co., which attempted unsuccessfully to convert it into a department store chain. As a result, stores shut down, and Stan and Ruth Brown decided to make the ski area their full time job. Operations were expanded from three to seven days per week, a ski shop was opened, and a snowmaking system was installed.

Though the winter of 1964-65 was a poor one for skiers, the transition to a full time ski area bolstered revenue. Around that time, Stan Brown commented on the evolution of skiers, "They are more interested in how they get up the mountain than how they get down."

The 1966-67 season was a big hit at Berkshire Snow Basin, as continued midweek growth boosted overall numbers by 15 percent. At the end of the season, Berkshire Snow Basin announced the purchase of two more T-Bar lifts, as well as the intention to eventually relocate one of the displaced rope tows to a new northeast bowl at the top of the mountain. Sadly, Dorothy Brown passed away in March at the age of 50.

For the 1967-68 season, the main and upper rope tows were replaced with a Mueller T-Bar, taking some stress off the West T-Bar. In addition, a short T-Bar was purchased from nearby Thunder Mountain and installed on the east side of the facility for novices. As a result of the new lifts and the strong previous winter, season pass sales increased by 15 percent. Berkshire Snow Basin had reached its peak.


Stan Brown Passes Away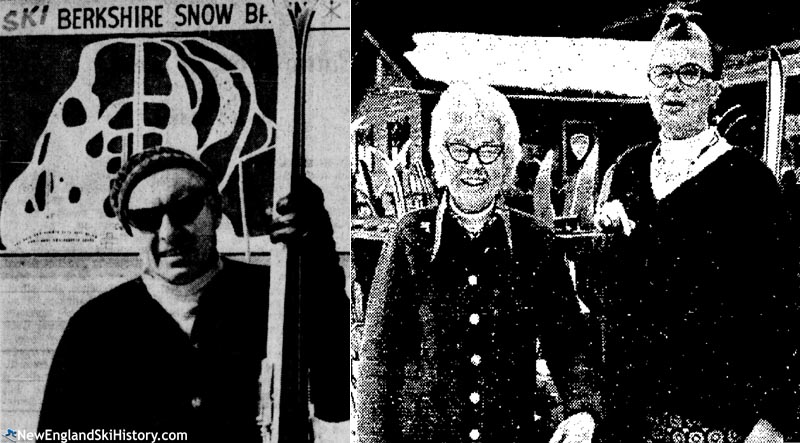 Stan Brown circa 1965; Ruth and Gladys Brown circa 1975

Early snowfall in November of 1968 resulted in the earliest known opening day in Snow Basin's history. While it appeared to foreshadow a good season, not all was well at Snow Basin. Stan Brown had cancer.

Stan Brown underwent a major operation in December and was subsequently grounded by the flu, resulting in the area switching to weekend only operations for a period of the 1968-69 season. In addition, Brown was told by doctors that he could no longer ski the mountain. Brown passed away on April 26, 1969 at the age of 60.

With the death of Stan Brown, Berkshire Snow Basin's future was in jeopardy. Ruth considered closing and or selling the ski area, concerned about how much of the work she could handle. In the end, she decided to keep Berkshire Snow Basin open with some changes, becoming one of the first female ski area general managers in the country. Operations were cut back to five days a week, while the snowmaking system, seldom used since installed, was discontinued. Her father-in-law Fred handled the books, while her sister-in-law Gladys Brown helped her with operations. Snow Basin traditions, such as Reverend Warren Wright's mountain top Easter sunrise service would continue. In addition, an annual race was dedicated to honor her late husband.

Though Brown had stopped making snow due to exorbitant rental and operational costs, she was still willing to invest in improving conditions. During the winter of 1969-70, she purchased one of the first hard pack pulverizers from Brodie's Jim Kelly. The machine was put to work in late February, making icy slopes skiable.

The unseasonable winter of 1973-74 kept the natural snow ski area idle until mid-January. Though there were still remnants of the snowmaking system in place, Brown told the Berkshire Eagle that "it would need a lot of work done on it to make it usable." Though other areas responded by creating off season offerings, Brown declined to follow suit, stating she thought area didn't "have anything to offer for the summer."

As she was one to avoid debt, Brown was able to keep the ski area going even after rough seasons. Minor projects were conducted, such as clearing of glades and the rebuilding of the main T-Bar in 1977.

As the end of the decade neared, Ruth Brown was in her 70s and looking for help in running the ski area. Operations were scaled back to weekends and holidays for the 1979-80 season, which did not start until mid-February. Around this time, Brown described the essence of Berkshire Snow Basin to Ski magazine, stating, "Skiers recognize other skiers. They take a personal interest in the area and make newcomers feel welcome. It's relaxed, friendly...The food here is unusually good, too. It has a home-cooked taste."



Nearby Ski Areas Lease Berkshire Snow Basin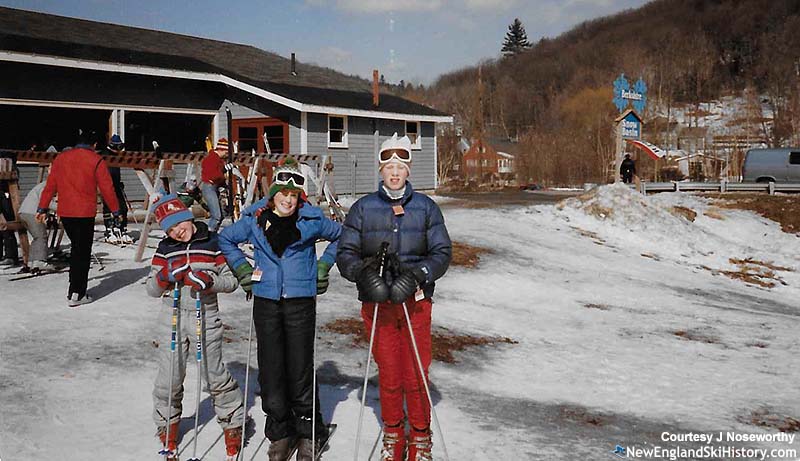 The base lodge in 1985

Help came from nearby in the form of operational leases, with Berkshire East operating Berkshire Snow Basin for two seasons. Lacking snowmaking, the 1980-81 season likely didn't start until mid to late January and may have only lasted for a few weekends. The 1981-82 season was much longer, running from mid-December to late March with successful Christmas and President's vacation weeks.

In October 1982, Jiminy Peak signed a purchase and sale agreement to operate Berkshire Snow Basin for the 1982-83 season with a planned April acquisition. A Jiminy Peak spokesperson saw it as "an alternative to all this expensive skiing if we keep snowmaking at a minimum," wanting to "keep Berkshire Snow Basin as a quaint, old, New England family oriented ski area."

Though no major changes took place that winter, snowmaking was considered in the event of a sale. James Van Dyke served as manager. Relying on natural snow, the season did not get underway until mid-January and likely did not make it out of February. Jiminy Peak did not proceed with the acquisition. Instead, Berkshire Snow Basin sat idle during the 1983-84 season.



The Browns Sell Berkshire Snow Basin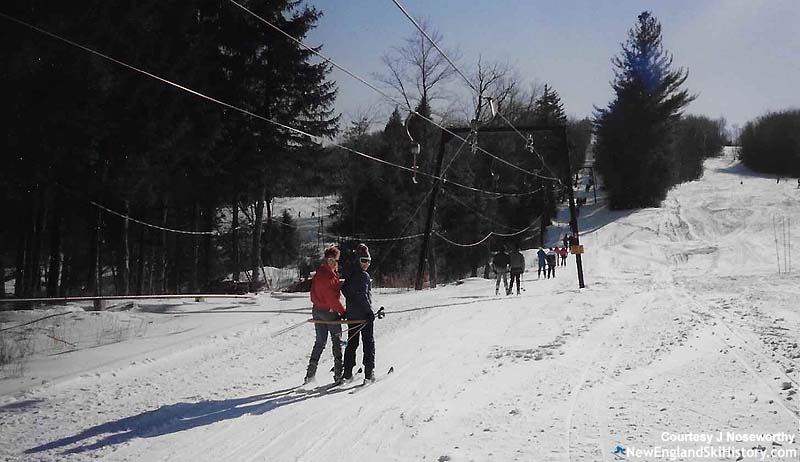 The West T-Bar circa the mid 1980s

In the fall of 1984, Ruth and Gladys Brown sold most of the ski assets to Edwin C. Waszkelewicz. A Navy veteran and owner of a Connecticut hair salon, Waszkelewicz was a lifelong skier who was attempting to get into real estate development. Allan Douglas was hired as manager of the ski area, while Reed Fuller directed the ski school.

Additional land was acquired in subsequent months with the hope of expanding to the top of Bryant Mountain, installing snowmaking, building a new lodge, and constructing a golf course.

Though snowmaking was reportedly installed for the 1984-85 season, skiing didn't start until early January. The season may have likely ended in February once again.

The 1985-86 season started just before Christmas and likely lasted until mid-March. Running out of money and not making much progress in getting town development approvals, Waszkelewicz shut down the ski area. He later reflected that, "the first year was terrible and the second year we had a lot of rain," noting that he should have focused on the year-round resort development instead of trying to operate the ski area in the interim.

Heritage/Northampton Institution for Savings forced an auction on June 19, 1987. Andrew Kelly of the Brodie Kelly family unsuccessfully bid on the lifts, as the bank managed to acquire the lifts, property, and related infrastructure. The bank's senior vice president Michael Smith noted he was "surprised at the lack of bidders." Waszkelewicz, who was hoping to avoid the auction, told a reporter that "the bank's going to have to eat it now. Too bad they wouldn't listen to me and wait a little while longer."



A House of Cards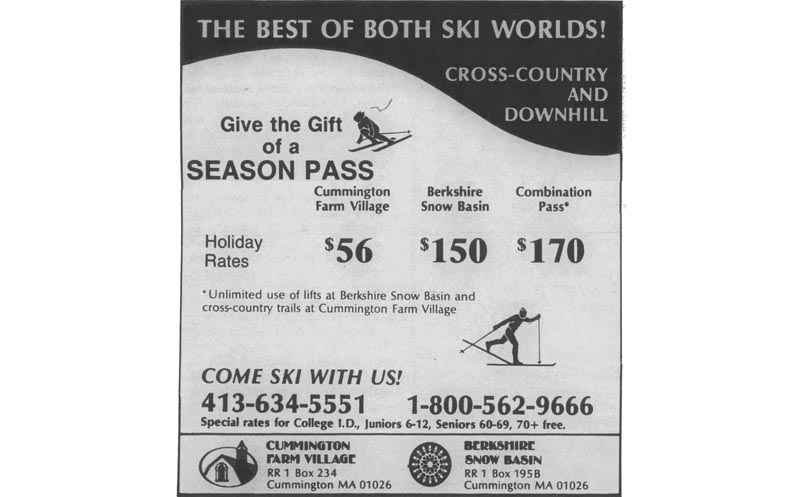 A Cummington Farm Village - Berkshire Snow Basin ad

In November of 1987, Cummington Farm Realty Trust purchased Berkshire Snow Basin from Heritage NIS Bank for Savings for $380,000 plus the Cummington Farms nordic ski area for a reported $630,000. Cummington Farm Realty Trust team included Heritage NIS Savings Bank, Patrick Goggins and Peter Whalen (Goggins and Whalen Real Estate and Insurance), and Patricia Lewis Sackery and Thomas Beggs (Sackery, Beggs Etc.). Allan Douglas was brought back as manager.

The 1987-88 season likely did not get underway until mid-January, lasting until late March.

Following the 1987-88 season, Cummington Farm released plans for the development of a year-round facility including nordic skiing, tennis courts, a pool, an inn, homes, and a performing arts center.

Now co-marketed with the Cummington Farm nordic ski area, the 1988-89 season at Berkshire Snow Basin featured a new trail from the summit of Bryant Mountain. Thomas Beggs stepped down from the company in January of 1989. Hoping to tap into emerging sports, Berkshire Snow Basin hosted telemark and snowboard events that winter. The season relied on snowmaking, as Allan Douglas to the North Adams Transcript, "If it wasn't for the snow guns, we'd all be down here saying 'Welcome to our restaurant.'" The last day of skiing was likely March 12, 1989.

Around this time, federal regulations resulted in Heritage NIS Savings Bank divesting from Cummington Farm. Due to losses during both seasons and unsustainable expenses, the company transferred Berkshire Snow Basin to the NIS Development Corporation in June of 1989 in exchange for more financing. The Cummington Farms group was to maintain the grounds of the alpine ski area while a lessee or buyer was sought. A 24 room Inn opened on the Cummington Farm grounds in September of 1989. Cummington Farms closed in January of 1990.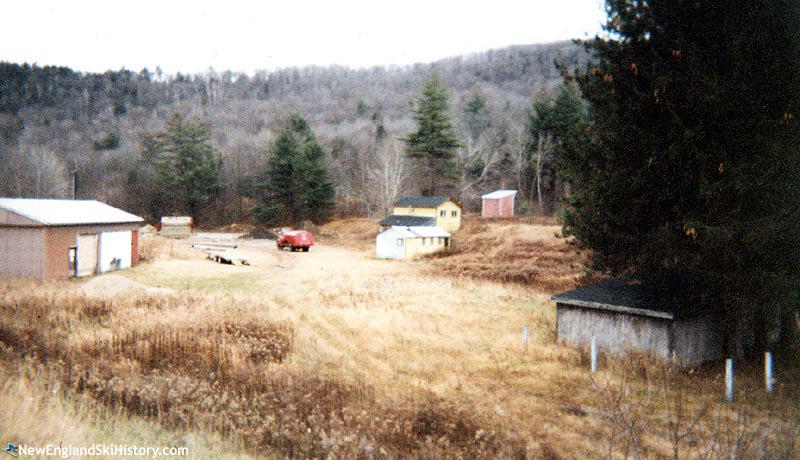 Berkshire Snow Basin in 2000

The Cummington Farms property was nearly sold to New England Adolescent Research Institute, Inc. as a school campus, however local opposition likely halted the sale. Instead, the company went bankrupt in June of 1990.

After losing an estimated $3.5 million in the Cummington Farms saga, the Heritage Bank for Savings failed in 1991 and was purchased by Fleet. As a result of the bank failure, the Federal Deposit Insurance Corp. (FDIC) took possession of Berkshire Snow Basin. Some equipment may have been auctioned off around this time.

The Cummington Farm Village nordic ski area was purchased by Peter Laird (co-creator of the Teenage Mutant Ninja Turtles) in 1991 for nearly $1.5 million and developed for the 1991-92 season as the Swift River Inn ski area. The nordic area saw investments of $1.5 million from Laird and featured a rare combination of snowmaking and night skiing. The area likely closed following the 1996-97 season, after which it became the campus of Academy at Swift River. The Academy at Swift River closed in 2014. Addiction Campuses subsequently purchased the property and opened the Swift River Drug And Alcohol Rehab Center in 2016.



Closure

The Berkshire Snow Basin alpine ski area never operated after the 1988-89 season. Though potential buyers were reportedly looking at the mountain during the summer of 1991, the base lodge burned to the ground on September 19, 1991.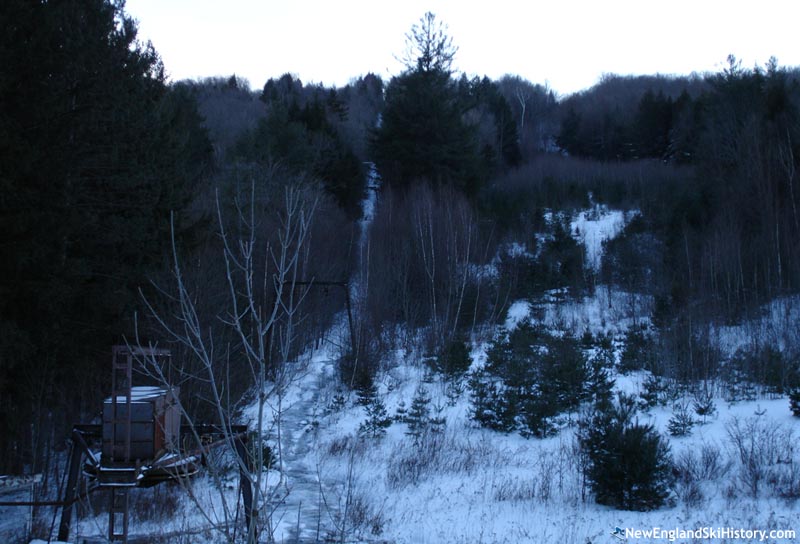 The Berkshire Snow Basin West Side in 2006

In early 1993, the Massachusetts Department of Environmental Management began negotiating with the FDIC to acquire the 456-acre Berkshire Snow Basin property, mainly to preserve it as a natural resource and open space. Commissioner Peter Webber told the Berkshire Eagle, "One thing to explore as we pull together management plans is the possibility of a small-scale ski operation being restored. We don't see our agency managing a ski area there. We certainly want to see if some other organization, public or private, is interested in putting in a proposal."

The Commonwealth of Massachusetts acquired the former ski area in early 1994 for $240,500. Though there may have been some interest in the use of the property, such as the formation of the Snow Basin Committee, Berkshire Snow Basin would not reopen.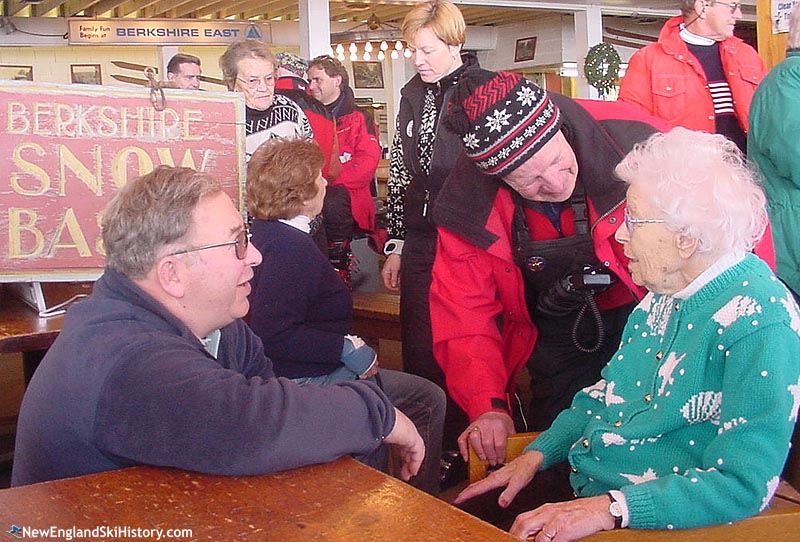 Ruth Brown at her 99th birthday party at nearby Berkshire East in January of 2004

Ruth Brown passed away in 2004, just months after celebrating her 99th birthday amongst friends at Berkshire East. Former owner Edwin C. Waszkelewicz passed away on January 16, 2017 at the age of 84.

One of the last visible parts of the ski area disappeared in 2016, when the West T-Bar was demolished. It is unlikely that the ski area will ever operate again.



Expansion History





Image Gallery





Lifts
Click on lift name for information and photos




Maps


Year by Year History
Adult Weekend Full Day Lift Ticket; Adult Full Price Unlimited Season Pass

1980s
Ticket Price
Season Pass Price

Pass Payback

Opening Day

Closing Day

Skier Visits

1988-89
$15.00
$150.00
10.0 days
December 17
March 12
1987-88
January 16
1985-86
$13.00
December 21
1984-85
$12.00
January 5
1982-83
$9.00
January 16
1981-82
December 19
March 28
1980-81
$9.00
1979-80
$9.00
February 17
1970s
Ticket Price
Season Pass Price

Pass Payback

Opening Day

Closing Day

Skier Visits

1978-79
$8.00
1977-78
$7.00
December 24
March 26
1976-77
$7.00
1975-76
$7.00
March 20
1974-75
$7.00
1973-74
$7.00
January 12
1972-73
$7.00
December 9
March 18
1971-72
$6.00
$65.00
10.8 days
November 27
1970-71
$6.00
1969-70
$5.00
1960s
Ticket Price
Season Pass Price

Pass Payback

Opening Day

Closing Day

Skier Visits

1968-69
$5.00
November 16
1967-68
$5.00
1966-67
$4.50
1965-66
$4.50
1964-65
$4.00
January 3
1963-64
$4.00
1961-62
$2.00
1960-61
$2.00
December 26
1959-60
$2.00
January 1
1950s
Ticket Price
Season Pass Price

Pass Payback

Opening Day

Closing Day

Skier Visits

1957-58
April 13
1953-54
January 9
1952-53
January 4
Visitor Memories
"I learned to ski here during the 1967-68 ski season. I was 14 years old and would drive up with my mother and best friend every Saturday from Longmeadow. This place has such sweet memories."
Peter Sutphen, Feb. 22, 2022
"What a wonderful place. Children in Cummington could ski for free. My daughter learned to ski there. Many of my friends in town would be there and we would take turns watching children. My only ski trophy is for The Stan Brown Race."
Brenda Arbib, Jan. 18, 2020
"Grew up next door. We used to put our skies on the porch, and ski over after school. Great place to grow up"
Danine Loehr, Jan. 17, 2020
"Living in Goshen I would drive my three kids up on Sat and drop them off to ski all day. I have a picture of my son sad that he couldn't make another run because the lift was shut down. I would ski there (I think it was Wends.). On ladies day. So many friends there. Great times, great memories."
Nancy E Grove, Jan. 9, 2020
"I grew up at Bryant farm in the 60,s and 70,s I would ride a snowmobile from the farm to the top of snow basin and visit friends that worked there"
Mike Sears, Jan. 8, 2020
"We started skiing at Snow Basin in 1977. It was our great misfortune that we didn't start skiing there much earlier. Skiing Snow Basin and spending time afterwards at the Remington Lodge were, and continue to be, our best ski memories. If Snow Basin was still operating we'd be there. If the Remington Lodge was still operating, we'd be there too. Some of the best of times were spent in West Cummington. The deepest snow I've ever skied was at Snow Basin and I was the only one there until 2 o'clock when Phil Cyr and Marty Seattle's showed up. We have very special memories of our time at Snow Basin and the Remington Lodge. Wish both were still operating. Nick & Kathy Flynn"
Nick Flynn, Jan. 7, 2020
"Aunt Ruthie is my Step-Great Aunt. Uncle Stan and Aunt Ruthie had a deal for us when we were kids. If we worked on the slopes during the summer for 40 hours, we received a Season Pass to ski during the winter months. I learned how to ski a BSB in 1966...and was a frequent visitor until we moved away from Massachusetts in 1974. I loved skiing there and working behind the food counter. I have often thought about Berkshire Snow Basin. I truly miss Uncle Stan and Aunt Ruthie...and thank them for all they did for me and my siblings...and for all the families who had the opportunity to visit BSB over the years."
James Kibbee, Nov. 24, 2019
"First off, I would like to thank my son, Justin, for his hard work in discovering the history of BSB and for finding and sharing the photos my parents had saved from when I was growing up. That is actually my older siblings and me pictured in some of the photos shared above! Oh, those were the good ol days, weren't they? BSB is a remarkably special and memorable place for me and my family. Not only did I learn to ski there in the late 1970s and early 1980s, but I had countless wonderful outings with my friends and family right up until it permanently closed. It was a place I couldn't wait to get to and then never wanted to leave. As a parent of two skiers, I now fully realize and greatly appreciate the time, effort, and money my parents put into each and every day we spent on the slopes in West Cummington. I remember so many things about that place including: the wonderful lodge with its rustic feel and its gravel floor, eating Snickers from the Snack Bar, enjoying my Mom's homemade lunches outside or inside by the fire, the freedom of the runs, the challenge of the lifts (I accidentally broke the arm of a ski buddy once when we both fell off the West T-Bar), the fun washboard bumps at the end of Sugar Run, the A Frame house at the top, the sound of the lift motors and bullwheels, the way the T's would slap against the ground if you let go of them in just the right way, and so much more. Of course, there is one memory that rises above them all. In early January 1986, I broke my leg (left tibia bone)on the Main Slope just below Midway. I remember going off a jump and when I landed, I felt the snap, slammed into the ground, and went into shock. Ski Patrol was on the scene in minutes, if not seconds, and I was expertly cared for by Jimmy Miller and his crew. My sister was on a nearby lift and she could see my distinctive hat from her vantage point. She immediately took off and remained at my side until I was taken down by sled. From there, I was transported by my Father in the back of our Chevy Impala station wagon to Cooley Dickinson wearing a large wooden splint (it was faster to take me directly there versus calling for an ambulance.) After that, I was in a heavy plaster cast for over 6 months and then a walking cast for many months after that. It would be nearly two full years before I the doctor said I could ski again. Two years of time at BSB that I was never able to recover. For any of you old ski patrol-ers who see this message, I thank you for taking such good care of me and ensuring that I was ok on that fateful day. I'm 43 now and I remember it all like it happened this morning. BSB never left my heart or memories. So, several years ago, my two boys and I started going back to explore the mountain. We have hiked it from top to bottom, catalogued it with photos and maps, recovered and restored abandoned artifacts and even dreamed about a plan to reopen it someday. And so, BSB continues to provide lasting memories and opportunities for families to bond. While there might only be a handful of us that still visit it, when we do, we can close our eyes and listen to the echoes of a thousand fun days spent in the winter sun and snow. Thank you. Thank you. Thank you so very much for keeping these memories preserved. "
Graeme Noseworthy, Mar. 7, 2019
"I was the last one to mow the slopes of the snow basin. Great views in the Fall."
Robert Aeschback, Jan. 22, 2019
"Does anyone have pictures of the old farm house across the street that was used as headquarters by the Hartford Ski Club? "
Tony Blair, Jan. 8, 2019
"I have fond memories of Snow Basin and the old Farm House across the road that the Hartford Ski club used as a headquarters. We had the annual club races there every year. I recognize some of the names above especially Linc and Marti."
Robert Widger, Aug. 31, 2018
"I lived just a few miles from the basin and enjoyed skiing there many times. Friendly people, good food, LOW prices. Miss it a lot"
Gary Ducharme, Mar. 11, 2017
"I was the Snow Basin babysitter on the weekends for all of the children whose parents wanted to SKI!! Changed diapers, fed them, played and prayed for no tears...winter of 1989!"
sandra powers, May. 30, 2016
"As a Hartford Ski Club kid, I logged in many days at The Snow Basin. Lots of friends, still in touch with a good number. Spent 25 years in the ski business, but some of my best memories are of 'Rat-Packing' as kids there. Great fun, and good times!"
Marti Austin (Cole), May. 29, 2016
"raced there on Ruthies Run in the western mass high school championships 68 thru 72, then again in the last 2 Stan Brown Memorial Races in the mid 80's (won them both) so my name was on the big trophy in the gravel floored, picnic tabled base lodge till it burned down"
bill chaffee, May. 29, 2016
"I skied Snow Basin during the 60's and maybe into the 70's. We were members of the Hartford Ski Club and my father was on ski patrol. I went though the USEASA instructors course taught by Bob Savard,John Bannish and others at the Basin. I also remember the numerous kids that I skied with: Janie, Dotty and others. We had so much fun especially on the jump near the bottom of the T-bar and in the glades to the west of the college highway. I have been patrolling at Mad River Glen, Vermont for 41 years and still have fond memories of the Snow Basin where it all started. "
Linc Prescott, Jan. 1, 2016
"Hello, Ginger. It's been a long time. Snow Basin was a family ski area, and I too was fortunate to have grown up skiing there in the 60's and 70's. Great snow, great trails, great ski club pot-lucks and great people. 'No I don't ski anymore. I'm retired'"
Rick Gowdy, Jan. 15, 2015
"Fifteen years ago I lived below the back side of Bryant Mountain in Cummington. A friend and I snowshoed over to the top of the old ski slope with our snowboards. Down below, there were some kids sledding near the lift base. When we emerged from the trees above them, riding down the old lift line, their eyes popped out of their heads!"
Paul Bissex, Aug. 12, 2014
"Too many wonderful childhood memories to list ! I was a lucky one to have had snow basin - my passion for the sport definitely developed there. For all those snow basiners, I must mention and who can forget ... Gladys' 'last call on the grill'! "
Ginger Skipton Wilson, Apr. 29, 2014
---
External Links
Last updated: March 29, 2022