| | |
| --- | --- |
| | |
Located on the north face of Potter Mountain near the Massachusetts-New York border, Jiminy Peak is one of the most popular ski areas in Southern New England.


Building a Ski Area on Potter Mountain

Much of the land in which Jiminy Peak is located was purchased by ski photographer and historian Bart Hendricks in the early 1940s. On July 29, 1947, John Clark, John Drummond, and Catamount's John Fisher formed Jiminy Peak, Inc. The trio leased Hendricks' land that year and planned to have a rope tow and T-Bar in operation. The steel needed for the T-Bar did not arrive in time, however, so the opening was postponed.


Jiminy Peak Opens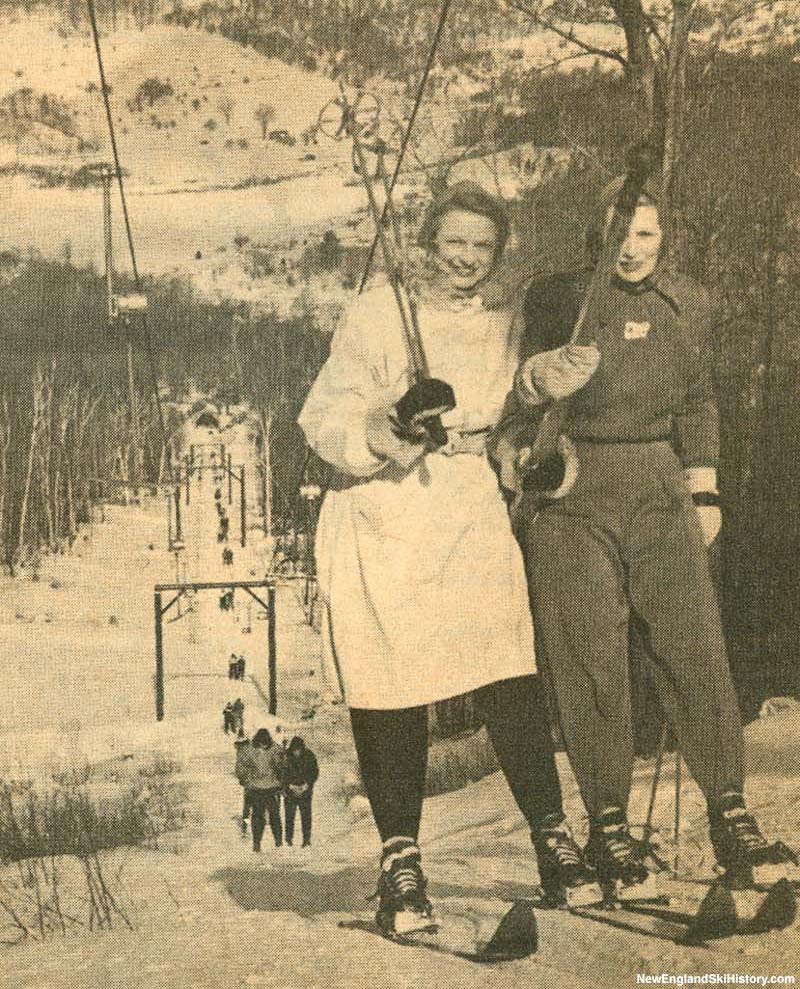 The upper T-Bar

Though the first winter was a non-starter, the $80,000 development was able to open for the 1948-49 season. The 750 vertical foot ski area's T-Bar was the first of its type in all of Southern New England. A pair of rope tows served the lower mountain and Jimmy Cricket slope. From the top of the tows, one could then cross over to a small lodge and the T-Bar. From the T-Bar, one could ski Merry-Go-Round, Whirlaway, 360 Slope, and Slingshot.

Another $80,000 investment was made for the 1959-60 season, helping to fix some fundamental issues. The Glasshaus Lodge was constructed at the base of the ski area, adjacent to a new lower T-Bar. In addition, an initial snowmaking system was installed.


Fred Crane Takes Over and Installs a Chairlift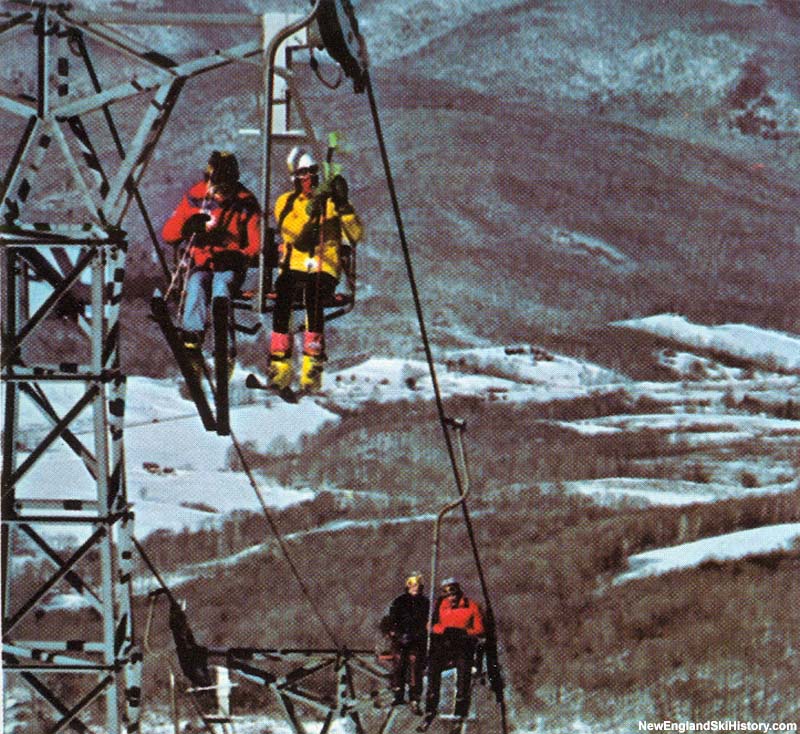 The summit double chairlift

While the 1959-60 improvements helped Jiminy, chairlifts were popping up throughout Western Massachusetts. In 1964, Fred Crane became principal owner and President of Jiminy Peak.

Jiminy Peak was dramatically expanded for the 1964-65 season, as a Mueller double chairlift was installed to the summit. In addition to the expansion of the vertical drop to 1,120 feet, a new base lodge was constructed. 1964-65 was also the season in which rival Brodie Mountain was opened just up the road by Jim Kelly.

Snowmaking was expanded to the top of the upper T-Bar at Jiminy Peak for the 1968-69 season, thus providing 750 vertical feet of coverage.


Brian Fairbank Takes Over and Installs a Chairlift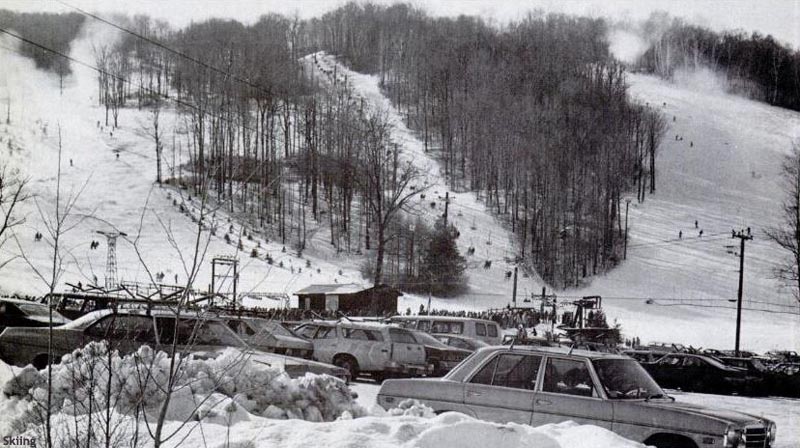 The Jiminy Peak base area in the 1970s

New York's Kissing Bridge, Inc. took over management of the area in 1969, installing 23 year old Brian Fairbank as Manager on July 7. A $350,000 loan was taken out to install the Grand Slam double chairlift and night skiing.

After back to back rough seasons, Jiminy Peak reorganized its ownership. Stock was sold, the land purchased, Brian Fairbank named President. A new focus was put on developing real estate.

An expert trail was added for the 1975-76 season, named after Jericho Valley (the original name of the town of Hancock). The Jericho trail is now legendary. Later in 1976, plans were made to install a summer attraction.

Tragedy struck on January 31, 1977, when a double chairlift rolled backward for 71 seconds, resulting in 12 injuries. In May of 1977, the fifth alpine side in the United States debuted at Jiminy Peak.

A $600,000 expansion took place in 1978, as the aging T-Bars were replaced. The new lifts were Riblet double chairlifts, one of which was constructed to the summit. A new lodge was also introduced.


A Four Season Resort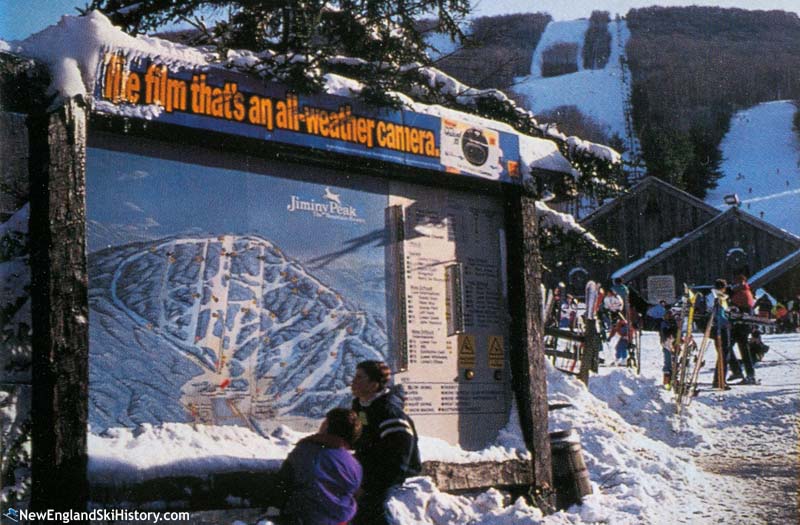 The Jiminy Peak base area in the 1990s

The Mueller summit chairlift was replaced for the 1983-84 season a new Riblet triple chairlift. 1984 also resulted in the creation of a 10 year master plan, aimed at making Jiminy Peak a year round destination resort. Joseph O'Donnell of Boston Concessions Group was brought into the ownership group around this time.

The Jiminy Cricket slope was expanded by 50 percent for 1987-88 when a new Borvig J-Bar replaced the novice rope tow. The West Way trail was significant widened for the following season.

While the 10 year plan was focused on real estate development and alternative activities, a major enhancement to the ski area was made near the completion of the campaign. The summit quad from recently closed Crotched Mountain was purchased by Jiminy Peak in 1992 and installed as the Q1 Quad. The first four person chairlift in Massachusetts, the new lift dramatically improved the uphill capacity.

The recently installed Jiminy Cricket J-Bar was replaced for the 1996-97 season with a realigned, longer triple chairlift, providing better access to the slopes for recent real estate developments.


Widow White's, Brodie, and Berkshire Express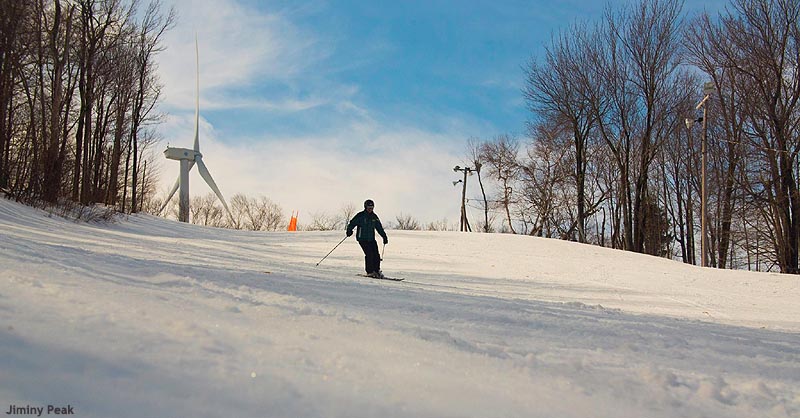 Jiminy Peak in 2015

With the ski area continuing to draw large crowds, additional terrain was opened for the 1998-99 season. The upper mountain area, named Widow White's Peak, was served by a new fixed grip quad chairlift.

A significant amount of additional terrain was briefly introduced to Jiminy Peak starting in 1999, when the ownership purchased nearby Brodie Mountain. Following the sale, Jiminy Peak co-marketed Brodie and considered modernizing it.

Meanwhile, the lower mountain at Jiminy Peak was still served by lower capacity lifts. This was addressed for the 2000-2001 season, when the Exhibition double chairlift was replaced with the Berkshire Express, Southern New England's first high speed detachable six person chairlift. The other half of the former double-double chairlift was upgraded to a triple.

While $5 million had been earmarked for improvements at Brodie, the area was deemed not viable following the 2001-2002 season. Instead, the money was invested in the Village Center at Jiminy Peak.

The three season was further improved in 2006 when the second mountain coaster in the United States was installed at Jiminy Peak. Its success led to similar installations across New England in subsequent years.

In 2007, a 4.6 megawatt wind turbine was installed near the ski area.

On January 27, 2009, co-owners Brian Fairbank and Joseph O'Donnell sold Jiminy Peak to CNL Lifestyle Properties, Inc. for $27 million, while obtaining a 40 year operational lease of the ski area. In subsequent years, Brian Fairbank and his son Tyler took over operational control of Cranmore and Bromley.

NewEnglandSkiIndustry.com News

Expansion History

Image Gallery



Lifts
Click on lift name for information and photos
Maps

Year by Year History
Adult Weekend Full Day Lift Ticket; Adult Full Price Unlimited Season Pass

2010s
Ticket Price
Season Pass Price

Pass Payback

Opening Day

Closing Day

Skier Visits

2018-19
$81.00
$1050.00
13.0 days
November 17
2017-18
$76.00
$1013.00
13.3 days
November 12
April 8
2016-17
$74.00
$1013.00
13.7 days
November 25
April 9
2015-16
$71.00
$965.00
13.6 days
November 27
March 20
2014-15
$69.00
$935.00
13.6 days
November 16
April 12
2013-14
$67.00
$910.00
13.6 days
November 16
April 6
2012-13
$61.00
$875.00
14.3 days
November 10
April 7
2011-12
$61.00
$875.00
14.3 days
December 10
March 18
2010-11
$59.00
$875.00
14.8 days
November 27
April 10
270,845
2009-10
December 12
April 3
2000s
Ticket Price
Season Pass Price

Pass Payback

Opening Day

Closing Day

Skier Visits

2008-09
$56.00
$849.00
15.2 days
April 5
270,951
2007-08
$59.00
$799.00
13.5 days
November 17
April 6
255,387
2006-07
$57.00
$799.00
14.0 days
November 24
2005-06
$55.00
$759.00
13.8 days
April 2
2004-05
$52.00
$759.00
14.6 days
April 17
2003-04
$52.00
$699.00
13.4 days
April 11
2002-03
$49.00
$699.00
14.3 days
2001-02
$48.00
2000-01
$46.00
1999-00
$44.00
1990s
Ticket Price
Season Pass Price

Pass Payback

Opening Day

Closing Day

Skier Visits

1998-99
$42.00
1996-97
$38.00
1995-96
$38.00
1992-93
$35.00
241,520
1991-92
$34.00
November 29
1990-91
$33.00
1989-90
$30.00
1980s
Ticket Price
Season Pass Price

Pass Payback

Opening Day

Closing Day

Skier Visits

1988-89
$30.00
1987-88
$28.00
1986-87
November 28
190,000
1985-86
$25.00
1984-85
$21.00
1982-83
$19.00
October 24
1981-82
$17.00
1980-81
$15.00
November 15
1979-80
$14.00
1970s
Ticket Price
Season Pass Price

Pass Payback

Opening Day

Closing Day

Skier Visits

1978-79
$13.00
November 23
1977-78
November 27
1976-77
$11.00
$160.00
14.5 days
November 6
1975-76
$10.00
November 23
1974-75
November 17
1973-74
$9.00
50,000
1971-72
$9.00
1970-71
$8.00
1969-70
$7.00
1960s
Ticket Price
Season Pass Price

Pass Payback

Opening Day

Closing Day

Skier Visits

1968-69
$7.00
1967-68
$7.00
December 2
1964-65
$6.00
1963-64
$4.00
1962-63
$4.00
1959-60
$4.00
1940s
Ticket Price
Season Pass Price

Pass Payback

Opening Day

Closing Day

Skier Visits

1948-49
$3.00
Visitor Memories
"Anyone remember Mr. 360? He was in a shack at the top of one of the trails and would ride down the mountain at the end of the day standing on a shovel."
Paul Larsen, Feb. 24, 2016
"On a trip from Delaware to New England a couple of years ago I stopped off on my way home and had a great day. I do not need a big mountain to have a great day. This resort is a great family resort. I will do this Mountain againJon OsbornOSBORN2SKI"
Jon Osborn, Aug. 19, 2014
"I would like to have the original history of the land sold. My Grandfather John Adams was the one who sold the land to the future owner of Jiminy Peak. If you look up original records you will find this true. My uncle continues to own land close to Jiminy Peak. We continue to be loggers in that area."
Shelly Ravenscraft, Apr. 14, 2013
---
External Links
Jiminy Peak Mountain Resort official site
Last updated: October 16, 2017