Arrowhead Recreation Area
Claremont, New Hampshire
Status:
Open
First Season:
1962-63
Vertical Drop:
120 feet
Standing Lifts:
Surface lifts
Past Lifts:
Surface lifts
Left: The Main Slope in 2014
Recent NewEnglandSkiIndustry.com News:
Located on 1,080 foot Flatrock Hill just south of Claremont, Arrowhead Recreation Area has offered lift served skiing off and on over the past century.


Early Years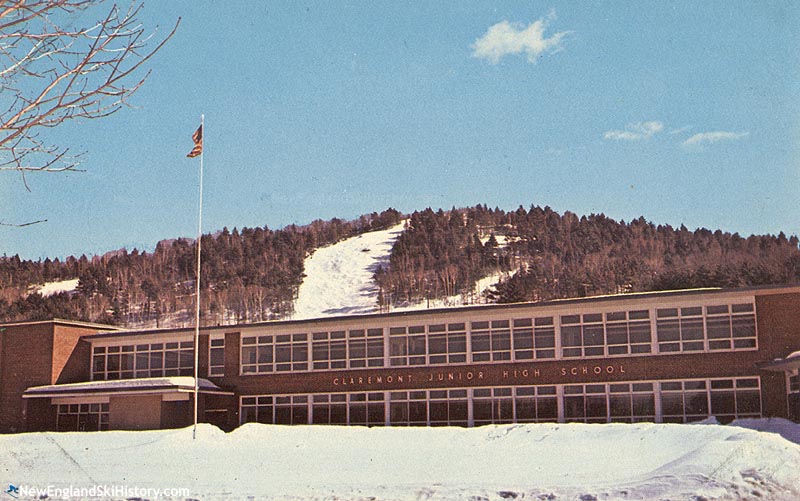 Arrowhead circa the 1960s

While Arrowhead was advertised as having two Poma lifts and 30 acres of terrain for the 1961-62 season, however the area did not open until 1962-63 with said features, as well as night skiing. Of note was the steep Face trail, giving experts legitimate terrain despite Arrowhead's small size.

While the area was reported to have "gained excellent acceptance," the area likely ended up on the auction block prior to the 1963-64 season.

Ken Olsen and Harry Snow purchased the ski area at auction and operated it during the mid 1960s. Some seasons were a struggle, particularly 1964-65 when the ski area closed for the season on February 24. Around this time, the snowmaking system was likely removed.


Multiple Closures

Arrowhead likely closed for one or more years following the 1967-68 season due to continued financial issues. Operations were sporadic during the 1970s and 1980s. The lower Poma lift may have been removed in the late 1970s. The area was closed for most, if not all, of the 1990s.


Claremont Locals Reopen Arrowhead Recreation Area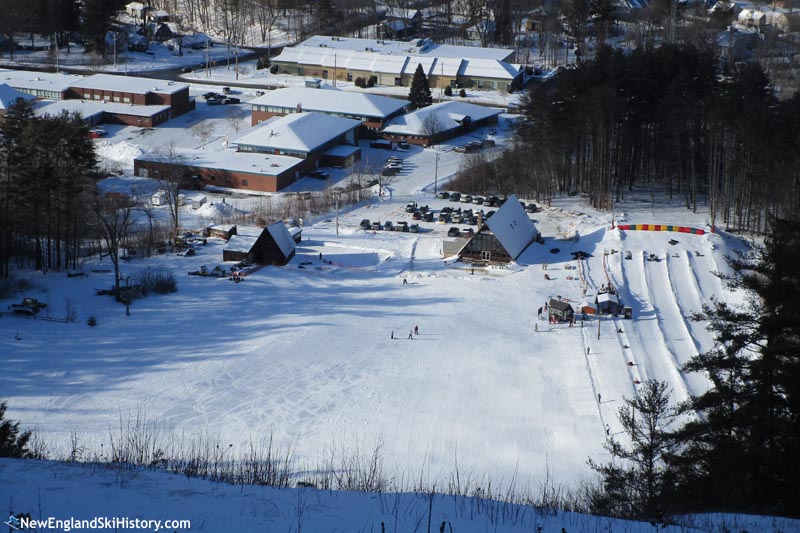 Looking down The Face (2013)

After years of closure, Spencer Allen led an effort to reopen the ski area. While an attempt was made to reopen the area late in the winter of 2001-2002, Arrowhead's return to operations finally happened in 2002-2003. While the area once sported a 600 foot vertical drop, only the lower 120 vertical feet currently have lift service. Upper mountain trails have been maintained and are used for those hiking for their turns.

Members of the Arrowhead Recreation Club have donated countless hours of work in rebuilding the ski area, which now features two lower mountain surface lifts, snowmaking, and tubing.

NewEnglandSkiIndustry.com News

Image Gallery


Lifts
Click on lift name for information and photos
Maps

Year by Year History
Adult Weekend Full Day Lift Ticket; Adult Full Price Unlimited Season Pass

2010s
Ticket Price
Season Pass Price

Pass Payback

Opening Day

Closing Day

Skier Visits

2018-19
January 4
March 16
2017-18
December 22
March 11
2016-17
$120.00
December 23
March 19
2015-16
$9.00
$120.00
13.3 days
January 8
February 21
2014-15
$9.00
$120.00
13.3 days
2013-14
$8.00
$120.00
15.0 days
2012-13
$8.00
$120.00
15.0 days
2011-12
$8.00
$120.00
15.0 days
2010-11
$8.00
$120.00
15.0 days
2009-10
$8.00
2000s
Ticket Price
Season Pass Price

Pass Payback

Opening Day

Closing Day

Skier Visits

2007-08
$7.00
2005-06
$7.00
2004-05
$7.00
2003-04
$7.00
2002-03
$7.00
1960s
Ticket Price
Season Pass Price

Pass Payback

Opening Day

Closing Day

Skier Visits

1967-68
$3.50
1964-65
February 24
1963-64
$3.50
1962-63
$3.50
Visitor Memories
"My buddy grew up in Claremont and worked as a ski instructor there in the late 70s and early 80s before going over to teach at Ascutney. If I recall correctly the area closed in the early to mid 80s. There was an attempt made by the Rotary to operate the area for a couple of years in the late 80s. I was there one day with my buddy when he skied it. I believe it was in Feb/March 1988. I unfortunately did not ski because I had hit a snow making hydrant the day before after a 4 foot dump at Killington. Good times. I know he has skied the front face."
Matt Severson, Oct. 9, 2016
---
External Links
Last updated: October 8, 2016