Arrowhead Recreation Area
Claremont, New Hampshire
Status:
Open
First Season:
1962-63
Vertical Drop:
120 feet
Standing Lifts:
Surface lifts
Past Lifts:
Surface lifts
Left: The Main Slope in 2014
Recent NewEnglandSkiIndustry.com News:
Located on 1,080 foot Flatrock Hill just south of Claremont, Arrowhead Recreation Area has offered lift served skiing off and on for over half a century.


Early Years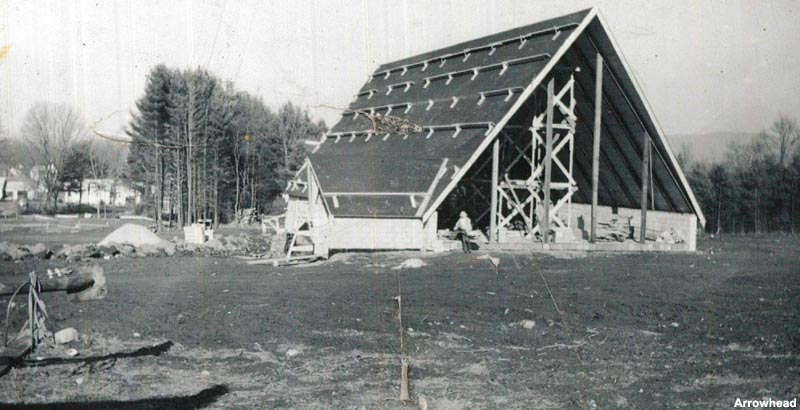 Construction of the base lodge

Circa 1961, F. Gardiner "Hank" Leland Jr. and Dorothy "Dody" Belski opened The Sports Shop at 97 Pleasant Street in Claremont. In early 1962, Leland and Bruce Learned acquired the Colonial Hotel and soon renamed it to King's Arrow Inn. Aligned with these two nearby businesses, Arrowhead Skiway was developed for the 1962-63 season with thirty acres of skiable terrain, including the steep expert Face trail. The area advertised snowmaking and night skiing (reportedly every night of the week) and was served by two Pomalifts. A lighted skating rink was also advertised. Art Keating served as director of the ski school.

It is not known when the 1962-63 season started, but skiing was underway by mid-January and made it least into late March, with the area reported as having "gained excellent acceptance."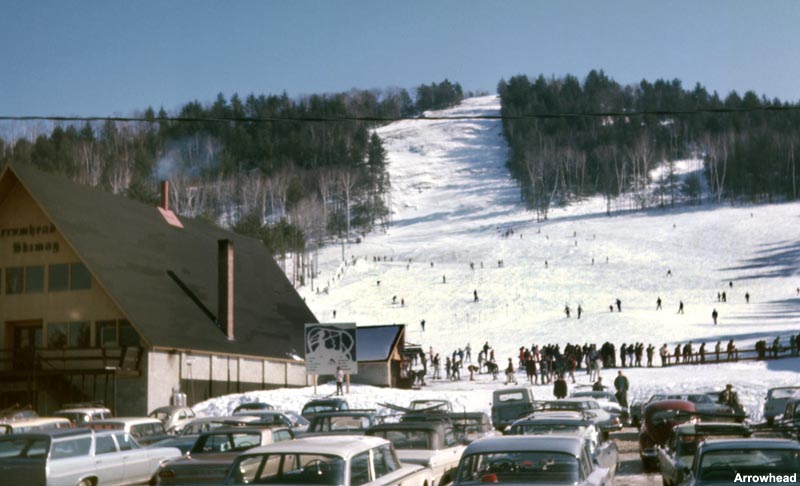 Arrowhead circa the 1960s

In December 1963, the Small Business Association (SBA) announced it would be hold a foreclosure sale for the three properties. Henry S. Anthony and Co. Auctioneers conducted the early January auction. With no successful bids, the SBA shut down Arrowhead and King's Arrow Inn. Massachusetts residents Ken Olsen and Harry Snow acquired the ski area later in the month for a rumored $75,000 and managed to reopen it for a portion of the 1963-64 season. Olsen stated that, "We intend to make this a ski facility with family appeal."

The 1964-65 season was a struggle, as Arrowhead closed on February 24. Around this time, the snowmaking system may have been removed. Operating as Flat Rock Skiway, Inc., the new owners formally acquired the property on November 30, 1965.



First Closure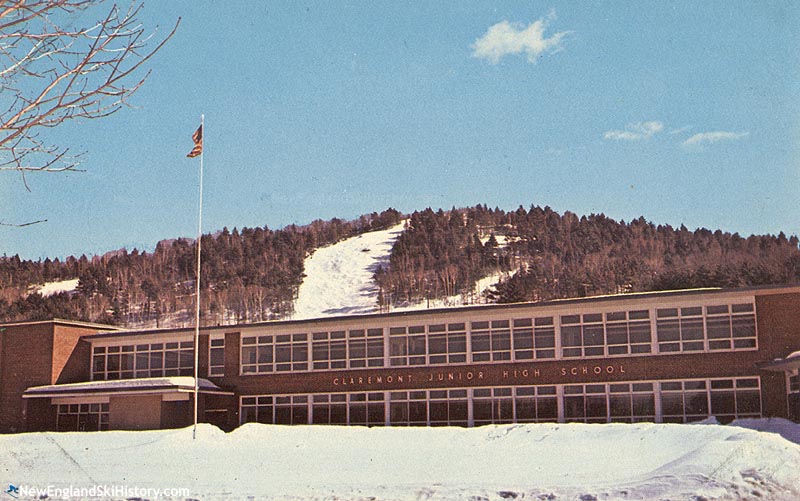 Arrowhead circa the 1960s

The area remained in operation seven days a week and five nights a week through the 1967-68 season. Citing bad weather and poor attendance, Snow and Olsen closed the ski area, likely sold the Pomalifts to Atlantic Forests, and put the property on the market.

Circa early 1970, the Small Business Administration foreclosed on the property, sending it to auction that spring. The Claremont Outing Club was established with the intent of reopening the ski area in conjunction with the City of Claremont, but was unable to raise adequate funds to acquire it on its own. On April 22, 1970 Albert and Helen Clements acquired the foreclosed property for $75,000.

The City of Claremont acquired the defunct ski area in September 1974. Arrowhead Recreation Association was formed as a non-profit that fall, led by Dody Belski. Belski had been previously involved with the ski area at Claremont Country Club and was ski coach at Stevens High School. Thousands of dollars were raised via donations and fundraisers to purchase a lower mountain rope tow and renovate the lodge. The ski school was named the "Gary Whipple Memorial Ski School." As the season approached, Belski was named general manager of the ski area.

The Arrowhead Recreation Association obtained an agreement to operate the area from the city on January. Following a successful lift inspection on January 10, the area opened with lift service for the first time in over half a decade. Initial hours of operation were Tuesday-Friday nights and weekend days. In addition to skiing, the facility also hosted various functions and even a summer play school.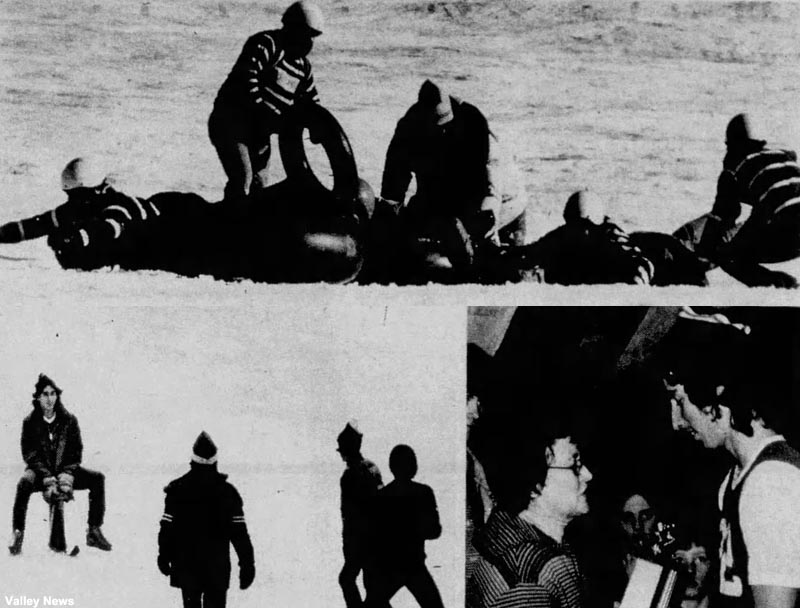 The 1976 winter carnival

In late February 1976, the area hosted Claremont's first winter carnival in decades, which included a giant slalom race, an inner tube race, a cookout, and a dance. Though a thaw cancelled skating portions and threatened ski events, the Valley News reported that "racers in ski events at Arrowhead Skiway swooshed down slopes bordered by strips of bare grass."

Projects in advance of the 1976-77 season included building a new stairway for the lodge deck and rebuilding waterbars. The 1977 winter carnival was held in January and featured additional events and many local sponsors. Around that time, Dody Belski discussed plans for installing a lift to open upper mountain terrain and the construction of a ski jump.

In April 1977, Dartmouth College donated its Pomalift to Arrowhead, contingent upon the group removing the lift (to make way for Dartmouth's new chairlift). Upper mountain trails were re-cleared in anticipation of having the lift installed, however it was not completed in time for the 1977-78 season due to new safety regulations.

On December 31, 1977, Arrowhead assistant manager Scott Wheelock was killed in a crash while skiing at Ascutney. In January 1978, Robert Brennan took over as general manager of Arrowhead, as Dody Belski wanted to "Have time to myself to ski and do a few things I wanted to do." Belski remained involved with instruction and race coaching at the area. The winter carnival later that month drew an estimated crowd of 1,000 over the course of three days.

Following the 1977-78 season, Dody Belski returned to her post as general manager.

In November 1978, the Arrowhead base lodge became a disco venue. Co-operator Bradley Yurek told the Valley News that, "Disco is really the thing right now as far as dancing goes. It's hard to define disco. It's a lot different than rock 'n' roll. High fashion follows disco and that's what we want." Though the Disco Inferno attracted hundreds, it quickly drew from neighborhood residents.

Construction of the Pomalift also took place in 1978, with an estimated 85% of the work being conducted by volunteers. Poma was brought in to complete the installation, which was completed a year later and dedicated in November 1979. Unfortunately for Arrowhead, the completion of the lift corresponded with a terrible winter. The 1980 winter carnival was snowless, resulting in the ski events being cancelled. Even the disco dance suffered from a lack of attendees. Due to the lack of snow, Arrowhead and its new lift did not operate during the winter of 1979-80.

Dr. Leo Abbott took over as general manager for the 1980-81 season, which saw the acquisition of a snowcat. Poor snowfall hampered the area again, with operations limited to 32 days. As a result, the Arrowhead Recreation Association accumulated $15,000 in debt and the City of Claremont assumed $60,000 in debt from the installation of the Pomalift and acquisition of the snowcat.



Second Closure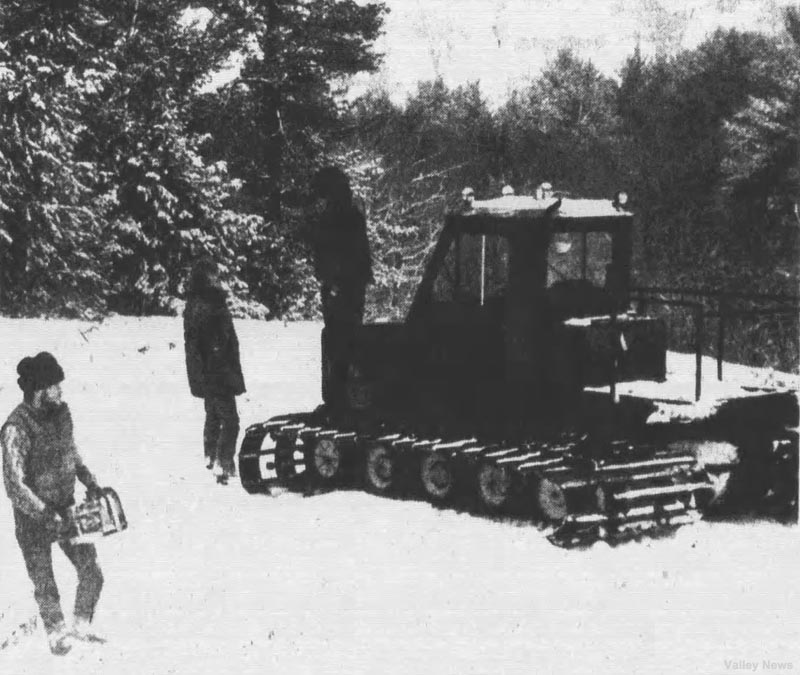 The new snow cat (1980)

In August 1981, Dr. Abbott proposed the formation of a corporation to run the ski area, seeking permission to log the mountain to pay down debt and operate Arrowhead that winter. The plan was not approved.

In November, a group named the Friends of Skiing (co-organized by Dody Belski) attempted to open the ski area. Arrowhead Recreation Association made an offer to transfer its assets to the city, but it was rejected. As a result of the situation, Arrowhead did not open for the winter of 1981-82.

In June 1982, the City of Claremont agreed to a $1 per year lease of the ski area to the Claremont Kiwanis Club, which was also authorized to log $12,000 to $15,000 of timber to generate funds. Frank MacConnell was hired as general manager. In addition to readying the lifts and slopes for operation, the new operating group remodeled the base lodge and added a basement rental shop.

In early October, the Chamber of Commerce hosted a Fall Festival at Arrowhead and the junior high school, drawing nearly 9,000 visitors.

After weeks of waiting for snow, the 1982-83 season finally kicked off after a mid-January storm. In its first season of operating Arrowhead, the Kiwanis recorded $29,339 in revenue against $38,357 in expenses, leaving the ski area heavily in the red. Fortunately, the logging activity kept the operation in the black overall. The area lost another $6,000 in 1983-84.

In November 1984, a woman was seriously injured at the top of a ski area when she was shot by a hunter on the lower mountain, some 500 yards away. The woman survived the shooting.

The 1984-85 season was another struggle, as Arrowhead was only open for three and a half weeks due to a lack of snow, resulting in an $8,000 loss. Compounding issues, the area's insurance policy was cancelled after the season when the insurance company cited the Kiwanis organization's lack of assets. In October 1985, the City of Claremont agreed to insure the ski area and provide a $10,000 grant toward operations.

For the first time of the Kiwanis tenure, Arrowhead ended up not losing money during the 1986-87 season.

Dody Belski served as manager for the 1987-88 season, while Rob Bicknell took over for the 1988-89 season. Bicknell died in an all-terrain vehicle accident at the age of 31 on February 11. By the end of the season, the Kiwanis recorded a $25,000 loss on operations.

Tom Penders took over as manager for the 1989-90 season. Facing a lack of natural snowfall yet again, Arrowhead borrowed two snow guns and planned to run hundreds of feet of hose from a city fire hydrant. However, warm weather halted the plans, leading Robert Easter to tell the Valley news that, "If things don't change this winter, I don't know if (the Kiwanis Club volunteers) will tackle it another winter. I thought there was no way this year could be as bad as the last couple of years, but it has been so far." Natural snow fell just in time for the annual Winter Carnival at the end of January. This was likely the final annual Claremont Winter Carnival.



Third Closure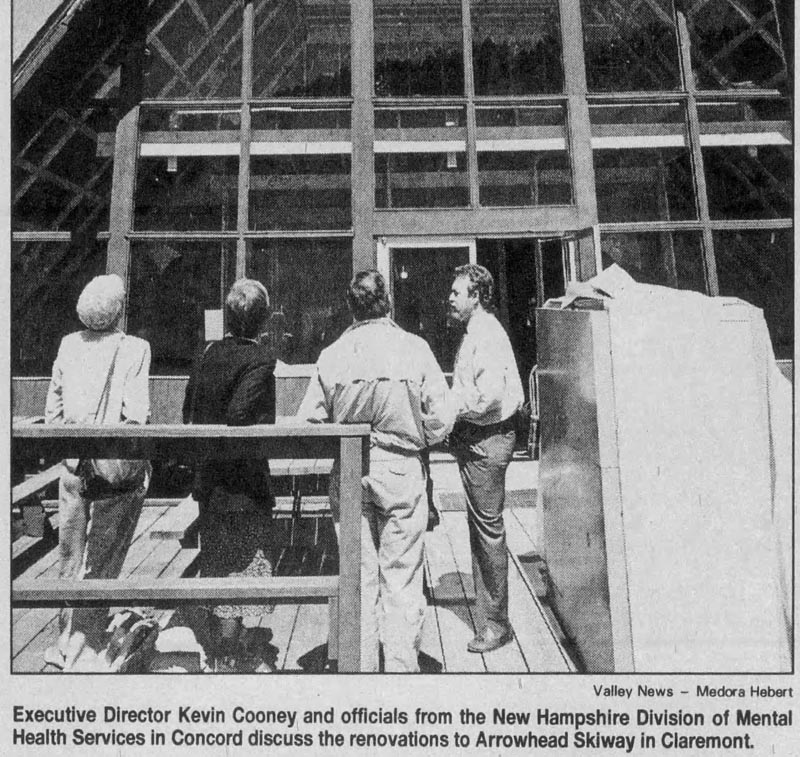 Renovation of the base lodge (1994)

Doug Schnyer was named manager for the 1990-91 season. It is not known if Arrowhead operated that season, but it was closed by the time the winter of 1991-92 arrived. Special events continued to held at the lodge thereafter.

Circa 1994, the Community Alliance of Human Services obtained a three-year rent-free lease of the area as a facility for children and families.

The Goodwin Community Center hosted an "All-Out" mountain bike weekend at Arrowhead in 1998 and 1999, which included downhill races on the former ski trails.

Night sledding operations took place at Arrowhead during the winter of 1998-99, including for the Claremont Winterfest. Former owner Harry Snow passed away on March 30 at the age of 66.



Claremont Locals Reopen Arrowhead Recreation Area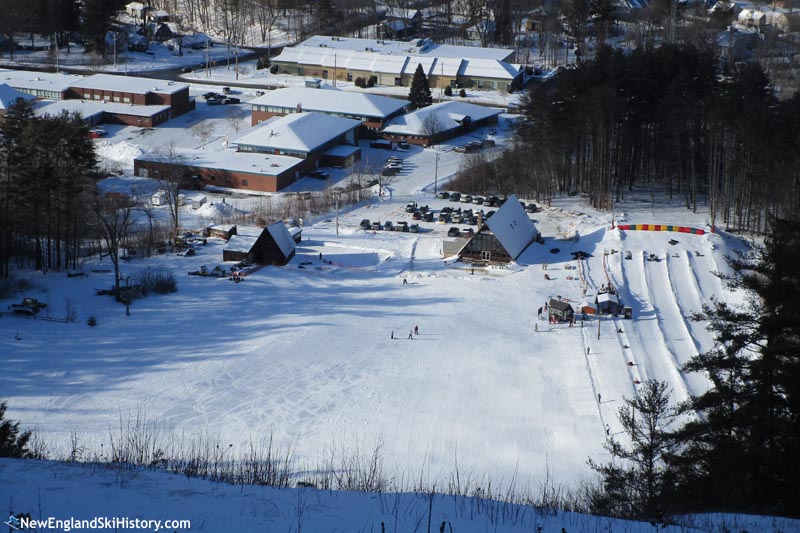 Looking down The Face (2022)

After years of closure, Spencer Allen led an effort to reopen the ski area. While an attempt was made to reopen the area late in the winter of 2001-2002, Arrowhead's return to operations finally happened in 2002-2003. While the area once sported a 600 foot vertical drop, only the lower 120 vertical feet currently have lift service. Upper mountain trails have been maintained and are used for those hiking for their turns.

Members of the Arrowhead Recreation Club have donated countless hours of work in rebuilding the ski area, which now features two lower mountain surface lifts, snowmaking, and tubing.



NewEnglandSkiIndustry.com News





Image Gallery





Lifts
Click on lift name for information and photos




Maps


Year by Year History
Adult Weekend Full Day Lift Ticket; Adult Full Price Unlimited Season Pass

2020s
Ticket Price
Season Pass Price

Pass Payback

Opening Day

Closing Day

Skier Visits

2022-23
$10.00
January 28
March 19
2021-22
$9.00
January 22
2020-21
January 10
March 7
2019-20
$9.00
$120.00
13.3 days
January 17
March 1
2010s
Ticket Price
Season Pass Price

Pass Payback

Opening Day

Closing Day

Skier Visits

2018-19
January 4
March 16
2017-18
December 22
March 11
2016-17
$120.00
December 23
March 19
2015-16
$9.00
$120.00
13.3 days
January 8
February 21
2014-15
$9.00
$120.00
13.3 days
2013-14
$8.00
$120.00
15.0 days
2012-13
$8.00
$120.00
15.0 days
2011-12
$8.00
$120.00
15.0 days
2010-11
$8.00
$120.00
15.0 days
2009-10
$8.00
2000s
Ticket Price
Season Pass Price

Pass Payback

Opening Day

Closing Day

Skier Visits

2007-08
$7.00
2005-06
$7.00
2004-05
$7.00
2003-04
$7.00
2002-03
$7.00
1990s
Ticket Price
Season Pass Price

Pass Payback

Opening Day

Closing Day

Skier Visits

1989-90
$10.00
1980s
Ticket Price
Season Pass Price

Pass Payback

Opening Day

Closing Day

Skier Visits

1983-84
$5.00
$90.00
18.0 days
1982-83
$5.00
$90.00
18.0 days
January 16
1980-81
$6.50
1970s
Ticket Price
Season Pass Price

Pass Payback

Opening Day

Closing Day

Skier Visits

1978-79
December 23
1977-78
December 11
1976-77
January 8
1974-75
January 10
1960s
Ticket Price
Season Pass Price

Pass Payback

Opening Day

Closing Day

Skier Visits

1967-68
$3.50
1964-65
December 12
February 24
1963-64
$3.50
1962-63
$3.50
$50.00
14.3 days
Visitor Memories
"My buddy grew up in Claremont and worked as a ski instructor there in the late 70s and early 80s before going over to teach at Ascutney. If I recall correctly the area closed in the early to mid 80s. There was an attempt made by the Rotary to operate the area for a couple of years in the late 80s. I was there one day with my buddy when he skied it. I believe it was in Feb/March 1988. I unfortunately did not ski because I had hit a snow making hydrant the day before after a 4 foot dump at Killington. Good times. I know he has skied the front face."
Matt Severson, Oct. 9, 2016
---
External Links
Last updated: January 10, 2023