Brickyard Mountain Ski Area
Weirs Beach, New Hampshire
Status:
Lost/Defunct
First Season:
1960s
Last Season:
Vertical Drop:
392 feet
Standing Lifts:
Past Lifts:
1 double, surface lift
Left: The old Brickyard sign on US 3 (2004)
Recent NewEnglandSkiIndustry.com News:
Located just off the shore of Lake Winnipesaukee in Weirs Beach, Brickyard Mountain was a short lived ski area tied to a popular lodging facility.


Shangri-La Motel Rope Tow

Brickyard Mountain's skiing origins date back to the Shangri-La Resort Motel. While the Weirs Beach area was booming in the summer time, winter business could not compare. In an attempt to provide on site skiing facilities, a rope tow and lighted slope were in place by the time 1967-68 rolled around.


Shangri-La Becomes Brickyard Mountain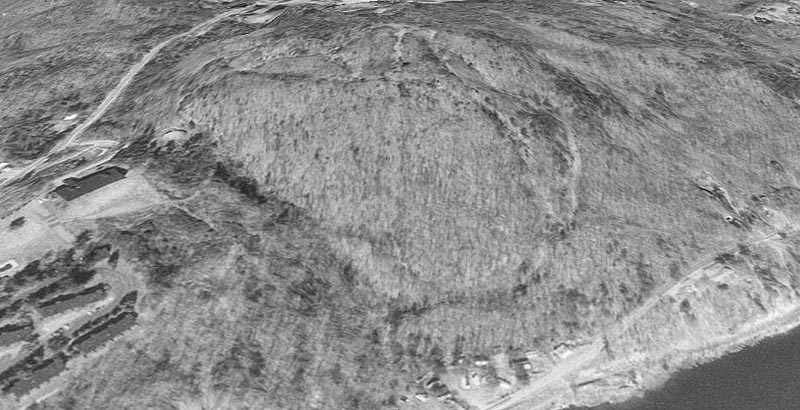 A 1998 aerial photo of the former Brickyard Mountain ski area

In early 1970, the Shangri-La was sold and renamed the Brickyard Mountain Inn. By the time 1976 rolled around, the Brickyard had two lounges, restaurants, an indoor poor, and cross country ski trails. At this point, Brickyard Mountain Inn began assembling a much larger ski area.

In June of 1976, the Brickyard acquired snowmaking pumps and lights at auction from the recently closed Dutchess ski area in New York. While the Brickyard had also placed bids on the lifts and snowmaking pipe, Pico submitted the winning bids.

Possibly as a result of losing the bid on the Dutchess chairlifts, a new 1,357 foot long Borvig double chairlift was installed, dramatically increasing the size of the ski area. Around half a dozen new trails were opened, all complete with night skiing and snowmaking. The area also featured a ski school, as well as rental equipment. A separate building housed day skiers. Terry Tyler, founder of Maple Valley, VT served as the ski area's first general manager.

The debut season was apparently successful enough to warrant a 67% increase in lift ticket prices, as well as a new 500-person limit on ticket sales for the 1977-78 season. A second double chairlift, serving additional terrain, was proposed.


Closure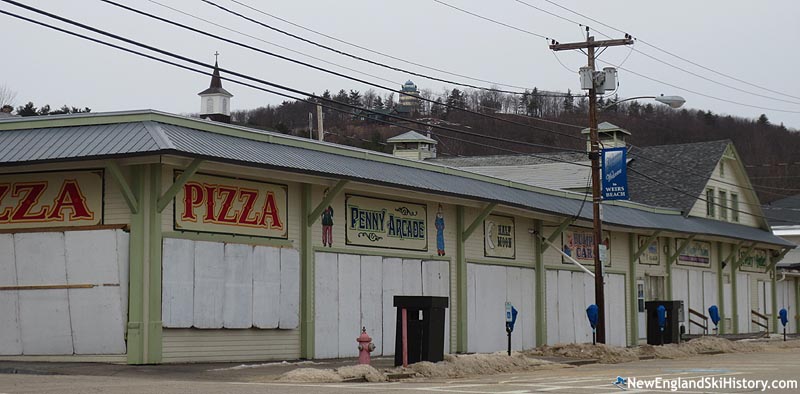 The top of Brickyard Mountain as seen in 2013

Unfortunately for Brickyard Mountain ski area, it had reached its peak. The ski area likely closed in the early 1980s.

In the early 2000s, the Meredith Bay real estate development was started on site. Little remains of the ski area. It is unlikely that it will ever reopen in any capacity.

Image Gallery



Lifts
Click on lift name for information and photos
Maps

Year by Year History
Adult Weekend Full Day Lift Ticket; Adult Full Price Unlimited Season Pass

1980s
Ticket Price
Season Pass Price

Pass Payback

Opening Day

Closing Day

Skier Visits

1980-81
$10.00
1970s
Ticket Price
Season Pass Price

Pass Payback

Opening Day

Closing Day

Skier Visits

1977-78
$10.00
1976-77
$6.00
Visitor Memories
"I worked here from 1975-1977 in the accounting office and front desk. It was a very busy place. The Country Terrace Restaurant and Silver Lining Lounge were extremely popular. Great memories."
Thomas Fowler, Sep. 24, 2020
"My father ran the Brickyard Mt. Inn and ski resort from 77 until it was sold in 79 I think. They were going to make timeshares out of it. They ran out of money and sold off all the ski area stuff. What a shame. I had my best years there."
Gregory Pappas, Aug. 24, 2019
"I ran the rope tow when I was a junior at Laconia High School in 1969, and lived on Lily Pond Road in Gilford. We used to use a SkiDoo with a piece of chain link fence to drag around after a snow storm to pack the snow. When I wasn't working on the ski tow I was either washing dishes or cutting grass for George and Mary Spanos. I loved working for them, and have many fond memories of my 4 years working at the Shangri La."
Richard Darling, Oct. 9, 2017
"I was hired by the Spanos family to teach skiing on weekends there when I was in High School in 68 & 69 and lived close by on Hilliard Rd; you;'re right the rope tow was difficult for many first timers - I believe it was connected to an old Ford V8! During one memorable snow storm, everyone got snowed in..I 'borrowed' a tractor and tried to get home, but broke a chain and got it stuck! Don know who was angrier - Mr Spanos or my Dad! "
Scott Robinson, Nov. 29, 2016
"This was a fun place to vacation. The ski slope behind the inn was pretty descent when your just a kid. I remember the pool was a pretty good size which was right next to a small bar/nightclub. Great memories."
Gary Spatcher, Aug. 14, 2016
"wow wow wow is all I have to say talking about reminiscing I spent my Winters skiing at the brickyard in the mid-to-late seventies every weekend my parents took us kids up to our timeshare condo which was called Evergreen and we were able to walk from our condo right to the Brickyard mountain and go skiing. that's why I learn to ski was at the Brickyard Mountain. I would love to hear from someone who was going there the same time 76 77 78 79 80 please email me..I am 46 now and those are my most memorable fascinating moments being a kid ....we went up there every weekend in the winter and on February vacation from school. God do I miss that and those memories..my parents are obviously a lot older now and do not ski they just recently got rid all their time sharing condo - Evergreen. to this day I still remember a number of the trails at the mountain. Howels-trowel, brick-a-bracket to name a few. so again please email me if you recall and was up there during that timeframe. Chrispayton00@hotmail.com "
Chris Payton, Apr. 3, 2016
"I use to go here on field trips from Ashland school. I learned how to ski here. The rope tow took some getting use to. Had to have 'Leather' gloves when using the rope tow as regular ski gloves would get shredded. Chairlift was fun and scenic to ride. They had a bunny slope, a beginners trail and an experienced trail. They closed down before I got good enough to ski the experienced trail. Great memories."
Rick Miller, Jan. 11, 2015
"I worked at Brickyard Mountain Inn the summer and fall of 1976. I averaged working 75 hours per week, six days a week. I worked both restaurants, in the lounge and my last gig was doing rentals for the ski slope. I earned enough money to get out of debt so I could go on an LDS mission. It was a fun time. "
Walter Balinski, Sep. 13, 2014
"My father is Clifford Jones an this was his vision. He moved us there as a young family and we grew up here. He recently passed away. And we're doing some reminiscing. My father put his heart and soul into the Brickyard Mountain Inn and everything it became. It was a magical place to grow up."
Clifford Jones, Jul. 11, 2014
"I was a part-time ski instructor in 1976-77 while attending the Laconia Votec. We had many fun times at the lounge...."
Robert Lodge, Jun. 24, 2014
---
External Links
Last updated: November 28, 2016