King Pine
Madison, New Hampshire
Status:
Open
First Season:
1962-63
Vertical Drop:
350 feet
Standing Lifts:
3 triples, surface lifts
Past Lifts:
2 doubles, surface lifts
Left: The base area (2014)
Recent NewEnglandSkiIndustry.com News:
2/26/2020: Longtime King Pine General Manager Bob H...
Located between the New Hampshire Route 16 corridor and the Maine border, King Pine has long been a popular destination for local skiers and Purity Spring Resort guests.


Early Years at Purity Spring

Prior advent of lift served skiing, the establishment of three entities paved the way for the creation of King Pine. Circa the late 1800s, Edward Hoyt created the Hoyt Natural Spring Water Company, which shipped bottled water to regional cities. By 1902, Edward Hoyt and M. H. Hoyt were advertising Purity Spring Farm vacation cottages in Boston papers with the claim of the "purest water in the world."

In 1932, Hoyt's son Milt opened a boys camp on the property, which would eventually be named Camp Tohkomeupog ("Camp Tohko").



Camp Tohkomeupog Tow

Downhill skiing was added as an activity for Camp Tohkomeupog in 1938, when a small rope tow was installed below Bald Ledge. Initially a rope tow powered by Ford Model A work trucks (reportedly tied to trees and put on blocks for the winter), the ski operation grew from a part time endeavor to a larger, multi-tow operation after Purity Spring Resort became a full time, year round operation in the mid 1940s. Up to 4 tows may have operated at the same time, with one reserved for family and friends.



King Pine Opens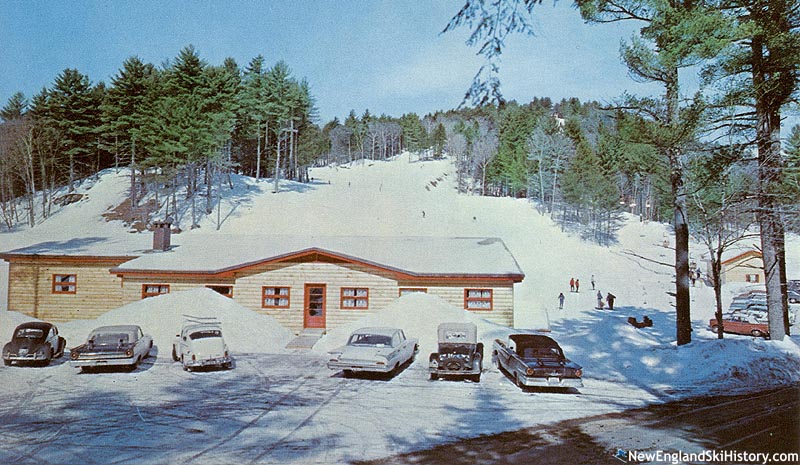 King Pine during the 1960s

In the midst of the lift served skiing boom of the 1960s, Purity Spring Resort constructed a larger ski area on the opposite side of East Madison Road in 1962. Serviced by a double chairlift, the new King Pine ski area initially consisted of 3 trails and an open slope. The Purity Spring rope tow operation overlapped with King Pine for one season. A remaining rope tow may have operated for guests periodically into the 1970s.

The King Pine facility was improved in 1964, when a J-Bar was added for beginners. Business grew during the 1960s, including a 15% jump in 1966-67.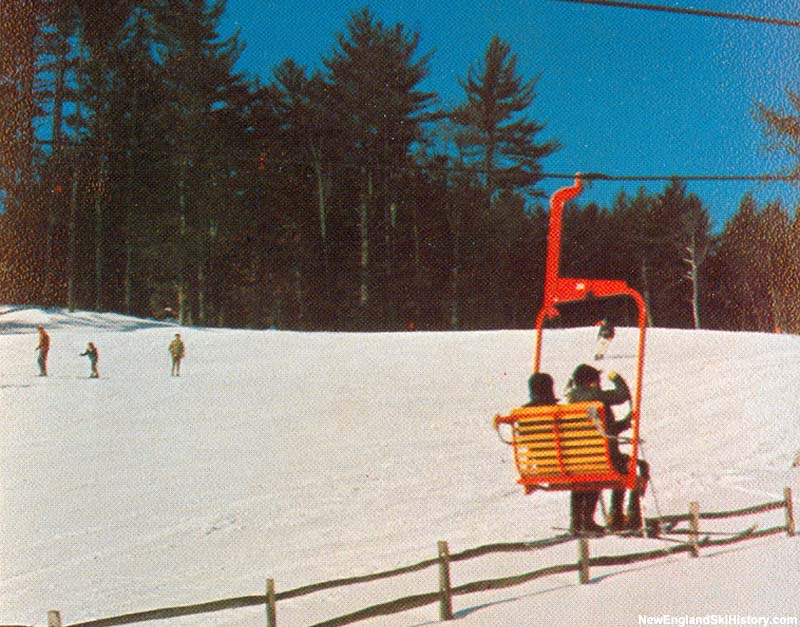 The Polar Bear double chairlift (1960s)

The King Pine was nearly doubled in size in 1968 when the North Side area was developed. The expansion was a challenging one, as Milt Hoyt nearly drowned in a swamp where the base of the chairlift was to be constructed. Then, after much of the lift was installed, the project was halted due to delays in delivery of the electronics. Things finally came together in January 1969, when the new complex opened. In addition to boosting overall skiable acreage and uphill capacity, the new complex gave King Pine legitimate steep expert terrain.

Snowmaking was likely added in the mid 1970s. In 1976, Milt handed the day to day management duties down to his children, Ted, Laura, Bob, and Susie.

Chairlift served night skiing may have commenced in 1982-83, initially on weekends and vacation weeks. In subsequent seasons, night skiing was expanded to more trails and nights and has become a key part of operations.


Staying Modern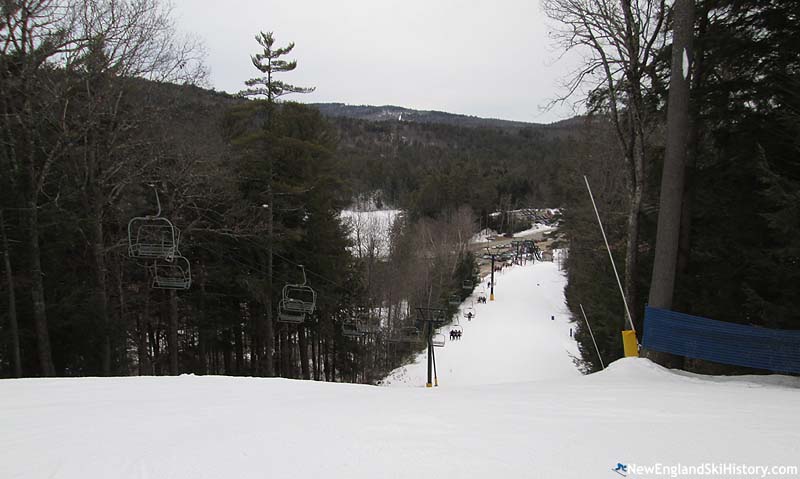 White Pine (2016)

Starting in 1987 with the installation of the Polar Bear triple chairlift (and expansion of the base lodge), King Pine underwent a steady campaign of modernizing its infrastructure. Following the closure of King Ridge, King Pine acquired a modern CTEC triple chairlift. Portions of it were used to install the Powder Bear Triple in 1996, followed by the Black Bear Triple in 2006. At that point, each main lift had been upgraded to a modern, higher capacity triple chairlift.

Night skiing was also expanded, as lights were installed on Scotch Pine for the 1996-97 season.

Non skiing offerings were expanded for the 1997-98 season, when a snow tubing facility opened.

For the 2017-18 season, King Pine replaced nearly a mile of 3" snowmaking pipe with new 4" pipe, providing additional water to an enlarged fleet of snowguns.

NewEnglandSkiConditions.com Reports

Month
Average Percent of Terrain Open
December
59% (4 reports)
January
89% (8 reports)
February
100% (7 reports)
March
98% (9 reports)
April
100% (1 report)

-- start conditions table -->

Recent Conditions Reports

Mar. 4, 2022 by skiit
Packed Powder, Loose Granular
Jan. 6, 2022 by newenglandskier13
Packed Powder, Frozen Granular
Dec. 18, 2021 by newenglandskier13
Loose Granular, Frozen Granular
Jan. 30, 2021 by amicus
Packed Powder, Frozen Granular
Jan. 12, 2021 by amicus
Packed Powder, Packed Powder

King Pine on NewEnglandSkiConditions.com

NewEnglandSkiIndustry.com News

Expansion History

Image Gallery

Lifts
Click on lift name for information and photos
Maps

Year by Year History
Adult Weekend Full Day Lift Ticket; Adult Full Price Unlimited Season Pass

2020s
Ticket Price
Season Pass Price

Pass Payback

Opening Day

Closing Day

Skier Visits

2021-22
$72.00
December 17
March 27
2020-21
$65.00
$600.00
9.2 days
December 18
March 27
2019-20
$59.00
$595.00
10.1 days
December 13
March 15
2010s
Ticket Price
Season Pass Price

Pass Payback

Opening Day

Closing Day

Skier Visits

2018-19
$58.00
$595.00
10.3 days
December 8
March 31
2017-18
$55.00
$560.00
10.2 days
December 15
April 1
2016-17
$55.00
$560.00
10.2 days
December 16
March 26
2015-16
$52.00
$560.00
10.8 days
December 26
March 27
2014-15
$52.00
$560.00
10.8 days
December 12
March 29
2013-14
$49.00
$560.00
11.4 days
December 13
2012-13
$47.00
$545.00
11.6 days
March 31
2011-12
$47.00
$545.00
11.6 days
December 16
62,000
2010-11
$45.00
$525.00
11.7 days
December 10
March 27
62,000
2009-10
$44.00
$525.00
11.9 days
December 11
March 21
2000s
Ticket Price
Season Pass Price

Pass Payback

Opening Day

Closing Day

Skier Visits

2008-09
$42.00
$498.00
11.9 days
December 12
2007-08
$39.00
$498.00
12.8 days
December 14
2006-07
$498.00
December 16
2005-06
$36.00
$498.00
13.8 days
December 16
March 26
58,900
2004-05
$34.00
$498.00
14.6 days
December 17
March 27
58,900
2003-04
$32.00
December 12
March 28
2002-03
$498.00
December 13
March 30
2001-02
$29.00
$498.00
17.2 days
December 21
March 24
2000-01
$29.00
December 15
April 1
1999-00
$29.00
December 20
March 26
1990s
Ticket Price
Season Pass Price

Pass Payback

Opening Day

Closing Day

Skier Visits

1998-99
$29.00
December 18
1997-98
December 12
1996-97
March 30
1995-96
December 15
March 24
1994-95
December 16
March 26
1993-94
April 3
1992-93
$23.00
April 4
1991-92
$22.00
March 22
1990-91
$20.00
December 14
March 24
1989-90
$20.00
December 15
1980s
Ticket Price
Season Pass Price

Pass Payback

Opening Day

Closing Day

Skier Visits

1988-89
$19.00
December 16
1987-88
$17.00
1986-87
$15.00
1985-86
December 13
1984-85
$13.00
$240.00
18.5 days
1982-83
December 18
1970s
Ticket Price
Season Pass Price

Pass Payback

Opening Day

Closing Day

Skier Visits

1977-78
$7.00
1976-77
$7.00
$90.00
12.9 days
1974-75
$6.00
1973-74
$6.00
1970-71
$6.00
1969-70
$5.00
1960s
Ticket Price
Season Pass Price

Pass Payback

Opening Day

Closing Day

Skier Visits

1968-69
$5.00
1967-68
$4.50
1964-65
$4.00
1963-64
$4.00
1962-63
$4.00
Visitor Memories
---
External Links
Last updated: January 27, 2020