Maple Valley
Dummerston, Vermont
Status:
Lost/Defunct
First Season:
1963-64
Last Season:
1999-00
Vertical Drop:
1000 feet
Standing Lifts:
Past Lifts:
2 doubles, surface lifts
Left: The North Double (2004)
Recent NewEnglandSkiIndustry.com News:
Located northwest of Brattleboro, Maple Valley was a mid-sized ski area that operated for nearly 40 years. While there have been attempts to reopen it, the ski area has remained closed since 2000.


Terry Tyler Develops Ski Areas in Dummerston

During the 1950s, Dummerston native Terry Tyler developed two rope tow areas in town, Little Prospect and Big Prospect (not to be confused with Prospect Mountain near Bennington). Bigger prospects existed for this skier and competitive ski jumper, however.

In 1963, Tyler teamed with brothers Angelo, Joe, and Frank Pirovane of North Haven Construction Company to develop a larger ski area in West Dummerston. Maple Valley Ski Area, Inc. was incorporated that May. Tyler and the construction company designed and built the ski area.


Maple Valley Opens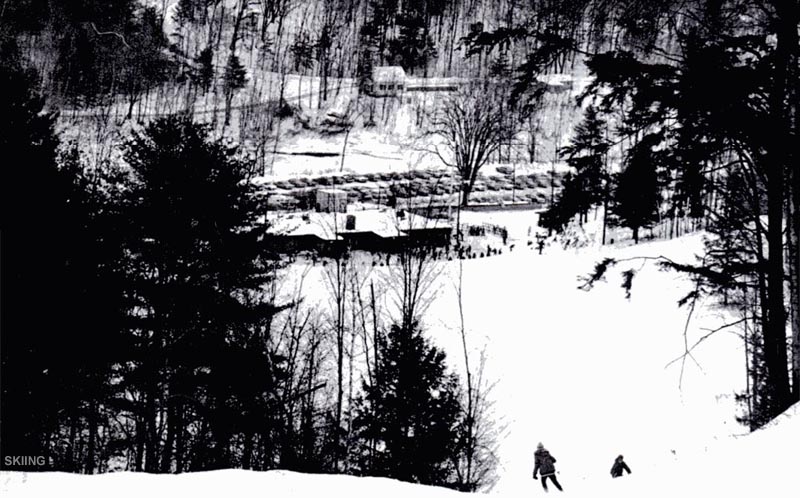 Maple Valley in the 1960s

For its debut season of 1963-64, Maple Valley featured a lift network consisting of a pair of Hall brand installations - a 3,038 foot long double chairlift and a 775 foot long T-Bar. In terms of terrain, the ski area debuted with 5 trails of all abilities. In addition to the downhill facilities, the area also sported 25 and 45 meter ski jumps. Terry Tyler served as General Manager for the first few seasons.

To help reduce lift lines, a shorter Hall, the North Double Chairlift, was added for the 1964-65 season.



New Management

Big changes took place at Maple Valley in 1966, as Connecticut banker Charles "Chuck" Purinton became General Manager of the ski area. Efforts were made to spread out Maple Valley's revenue generating potential by adding night skiing. In addition, with a relatively low elevation, as well as the less than optimal microclimate created by the West River, the lack of natural snow was finally addressed with the installation of a snowmaking system on the lower mountain.

Corresponding with a real estate development, more changes took place for the 1969-70 season, as an expert trail was added, the main lodge expanded, and other base area buildings constructed. In addition, the ski jumps were removed for that season, making way for a larger practice slope.

For 1972-73, a cross country ski course was added, as was a novice surface lift. Unfortunately for Maple Valley and the rest of New England, the following season was terrible weather-wise, resulting in the worst financial results in years.


Financial Woes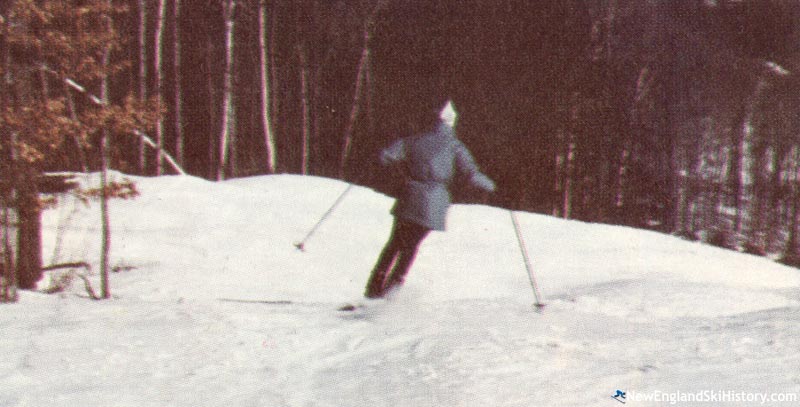 Maple Valley circa the 1960s or early 1970s

While big mountain resorts were growing and Interstate highways were being completed around New England, Maple Valley became somewhat stagnant. Over the next decade and a half, the ski facilities neither grew nor were significantly updated. By the end of the 1980s, Maple Valley was on the ropes.

On June 13, 1989, the 370 acre Maple Valley ski area was sold via a satellite auction for $1.2 million. Due to financial issues, much of the area's infrastructure was run off diesel generators.

Trying to capitalize on the emerging snowboarding market, Maple Valley advertised a lighted snowboard halfpipe circa the mid 1990s.


Foreclosure and Closure

The cafeteria in the shuttered Maple Valley base lodge (2002)

Maple Valley once again found itself on the auction block circa 1995, this time not selling. As a result, the ski area closed following the 1995-96 season.

In February of 1997, Maple Valley was purchased at a foreclosure auction by Winchester Stables, Inc. and Frank Mercede & Sons, Inc. owner Nicholas Mercede.

Maple Valley reopened in early 1999, then operated for skiing and snow tubing on weekends and holidays during the 1999-2000 season. The ski area then ceased operating and was put up for lease or sale.

On December 3, 2010, Maple Valley founder Terry Tyler passed away at the age of 78.


Recent Activity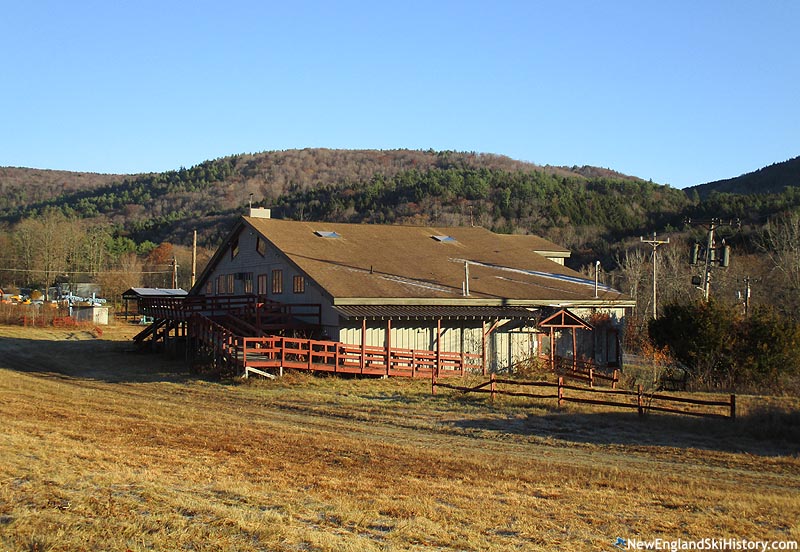 The Maple Valley base lodge in 2015

After sitting idle for a decade, the ski area started to receive some attention in 2010. In June of 2011, the Dummerston Development Review Board reviewed a permit filed by Mercede, proposing possible year round activities, such as mountain biking and music concerts. After complaints about what other activities might occur, as well as concerns about light and noise pollution from skiing and snowmaking, the board requested more information before considering the application.

In December of 2011, Mercede withdrew his permit application. Around this time, lifts were repainted and the base lodge was used for some small functions.

It is not known if or when Maple Valley ski area will reopen.

Image Gallery


Lifts
Click on lift name for information and photos
Maps

Year by Year History
Adult Weekend Full Day Lift Ticket; Adult Full Price Unlimited Season Pass

2000s
Ticket Price
Season Pass Price

Pass Payback

Opening Day

Closing Day

Skier Visits

1999-00
$28.00
1990s
Ticket Price
Season Pass Price

Pass Payback

Opening Day

Closing Day

Skier Visits

1989-90
$25.00
1980s
Ticket Price
Season Pass Price

Pass Payback

Opening Day

Closing Day

Skier Visits

1988-89
$22.00
1987-88
$19.00
1970s
Ticket Price
Season Pass Price

Pass Payback

Opening Day

Closing Day

Skier Visits

1976-77
$8.00
$90.00
11.3 days
1970-71
$7.00
$90.00
12.9 days
1969-70
$7.00
1960s
Ticket Price
Season Pass Price

Pass Payback

Opening Day

Closing Day

Skier Visits

1968-69
$6.00
1967-68
$6.00
1966-67
$80.00
1964-65
$6.00
Visitor Memories
"In the early 70s used to go skiing with college friends at MV. This one time we stayed after skiing a full day and saw the band Boston play in the lounge. A year later they hit it big time."
Bob Forrest, Mar. 7, 2018
"I learned how to ski here.."
J C, Dec. 27, 2016
"Not sure what the years were but my Dad "Pat" Patenaude work with Mr. Tyler getting the cafeteria running in the black. I learned to ski there. My instructor was Mr. Taylor (Shortie Ski, inventor I think). So sad that it has closed. "
Dave Patenaude, Oct. 1, 2016
"Our family traveled to Maple Valley from western MA fairly regularly during the ski seasons (1965-1970). Lots of great family memories. My brother broke his leg there. I snapped a pair of Hart skis...there was a trail that ended with a lot of big, humpback moguls. We used to go for air and I came down off-balance and landed on the tips. It was a great place for intermediates and families!"
Doug Finck, Aug. 10, 2016
"I worked for Steve Miller as a ski instructor ay MV. He gave me my start in that industry."
Tony , Mar. 10, 2016
"I remember when I was in the 7 - 10 year old range sking Maple Valley. That would have ended in the winter of 1967-68. My fathers cousin Charlie Purinton owned Maple Valley at that time. We would go stay with my mothers aunt, whom had a no longer dairy farm in Brattleboro. I have a remembrance of falling off the chair lift while trying to get on with my dad. Another remembrance was an early morning ride up the slope with 'Uncle Charlie' on the Snow Cat to check snow making guns before the sun had come up. It seemed like we were driving straight up. When I saw the pictures of the lodge I thick I remember it. It brings back the memories of clomping down the food line in ski boots and ordering french fries and a hamburger. Back then they were a special treat, but is so common place now.I think our last visit was the weekend of the '68 winter olympics. I remember it being very cold. We could only ski a little bit because of the cold. At Aunt Hilda's house, which if i recall was still heating with fire places we watched the olympics. My mother made me take a bath in which I froze. I remember Aunt Hilda heating my bed with a 'bed warmer' which was a covered pan filled with coals out of the fire place, that had a long handle. That following summer my family moved to Beaufort SC, a town on the salt water.I took up water sking and became a 'river rat' We made family trips winter trips annually to Catalooche Mt, NC but the snow was iffy. I have only been snow skiing twice since graduating college."
Howard Hart, Jan. 12, 2016
"I was the ski school director there for the 89/90 season. It was a great, small mountain that catered to the local kids, especially at night. I drove by there last week and it was sad to see everything growing in on the trails where we had so much fun. Too bad all of these wonderful learning areas are going by the wayside."
John Cossaboom, Nov. 17, 2015
"I tried to hike up the mountain today. At first I tried the main trail in front of the base lodge and got stuck about 300 feet up. Then we tried the trail if you're looking up the mountain to the right, and made it almost to the top but got stuck there too. It's ashamed how such a beautiful mountain could be so overgrown."
Katie S, Sep. 18, 2015
"It so saddens me to read about M/V and its woes. At age 39 I first learned to ski at M/V, placing a pillow inside my snow pants to cushion the falls. Eventually I learned there and will always hold these memories even though we no longer ski. Those first days were in 1964."
Richard Davison, Feb. 8, 2015
"My Father Steve Miller ran Maple Valley when I was a kid, I loved trail 4 and 5 and jumping off the little lift. I had a red ski bike I would take down trail two and three and got yelled at for taking it down that trail and not using trail oneGood days as a kids skiing on that mountain!"
Sheri Miller-Bedau, Jan. 31, 2015
"One of the most memorable visits I had at Maple Valley was the summer Emmy Lou Harris played a most fantastic concert outside with all her faithful followers having a most spiritual experience! Heaven in the Green Mountains! Thank you."
leigh dakin, Oct. 31, 2014
"I actually like this mountain better then Mount Snow or Haystack. The trails like Buggaroo Bonzi and One other black diamond were surprisingly steep and challenging. One also had big bumps in it's steeps section. Comparable to Hayburner and Skidder at Sugarloaf Maine. Then the twisty narrow trail to the far right was classic New England."
Eric Moss, May. 5, 2014
"My father's welding business did a lot of work for Terry Tyler both personally and at Ski Maple Valley. I also worked there during the 99-00 season before it closed. I cleared trails during the fall, helped make snow at night, helped get the bar upstairs up and running,I was the dj on the weekends i designed, built, and painted all the character cutouts for the kids tube lift. I was the very last person to go down the slope right at midnight on new years eve. I went down sitting on a big aluminum shovel. Had a great time working and playing there. I live in PA now but would love if they reopened. I'd be there in a heartbeat. The owners were awesome as well as everyone I worked with. "
Brian Newton, Mar. 28, 2014
"my first ski in vermont. family had a place in east jamaica and we went here as a family for the first vt ski. felt like real skiing, being from ct. been skiing 35 years or so now. wish i could go back, buy it, and make it happen again for other families. just went to berkshire east for the first time. fun ! have a great season. 2/3/2014 bill, stonington ,ct. bye."
william cripps, Feb. 3, 2014
"From 1964 to 1969 Maple Valley was the Cunninghamfamiy (6) mountain destination for Sunday get-aways.We would drive up Fridays (sometimes Thursdays)fromsouthern New York to stay with friends in Brattleboro and ski Magic,Haystack or Mt Snowone or two days and go Maple Valley on our Sunday getway day. A lot fun and memories. "
mack cunningham, Feb. 25, 2013
---
External Links
Last updated: August 10, 2016