American Skiing Company
New England Ski Presence: 1996-2007


American Skiing Company Overview and History:
The groundwork for The American Skiing Company name dates back to the mid 1990s, when S-K-I Ltd. decided the best action for its shareholders would be to sell its assets. Meanwhile, LBO Resort Enterprises Corp was growing at a fast clip.

On February 13, 1996, the Board of Directors of S-K-I Ltd. recommended a $104.6 million (plus $58.5 million of debt assumption) merger offer from LBO Resort Enterprises Corp. The shareholders of S-K-I Ltd. approved the offer on June 10, 1996. The following day, the United States Justice Department ordered the new company to sell Cranmore and Waterville Valley due to anti-trust concerns.

According to Pres Smith, "[t]he lawyers decided that the first step in designing the buyout structure would be to have a preliminary merger (two-thirds vote). This step would bring 100% cash over to S-K-I after which we would distribute that to stockholders. When the ink dried LBO had a bundle of assets but there was no longer an S-K-I Ltd." On June 28, 1996, the merger of LBO Resort Enterprises Corp. and S-K-I Ltd. formally closed, resulting in the formation of American Skiing Company. Leslie B. Otten of LBO became President and Chief Executive Officer of the new company.

At the time of the merger, LBO Resort Enterprises was composed of Attitash Bear Peak, NH, Cranmore, NH, Sugarbush, VT, and Sunday River, ME, while S-K-I Ltd. was composed of Haystack, VT, Killington, VT, Mt. Snow, VT, Sugarloaf, ME, and Waterville Valley, NH.





Pursuant to the Justice Department order, American Skiing Company sold Cranmore and Waterville Valley to Booth Creek Ski Holdings, Inc. for $17.2 million on November 27, 1996.

On December 9, 1996, American Skiing Company purchased Pico for $5 million.

On July 3, 1997, American Skiing Company purchased Wolf Mountain Resort in Utah, which would then be renamed to The Canyons.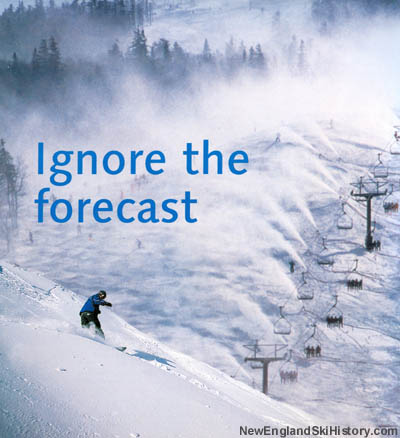 On November 6, 1997, the company had an Initial Public Offering (IPO) of 14,750,000 shares (New York Stock Exchange ticker symbol "SKI") at a par price of $18.00 per share.

On November 12, 1997, American Skiing Company purchased the stock of Kamori Combined Entities, resulting in the acquisition of Steamboat in Colorado, Heavenly in California/Nevada, and Sabal Point Golf Course in Florida for $300.5 million.

On August 9, 1999, American Skiing Company announced it had closed a deal to receive $150 million in capital from Oak Hill Capital Partners.

In May of 2000, William "B.J." Fair. Fair had previously worked in the theme park industry for Disney and Universal Studios, joined the American Skiing Company as Chief Operating Officer.

On March 28, 2001, American Skiing Company announced Les Otten was resigning as CEO and was being replaced by Chief Operating Officer William "B.J." Fair.

On September 28, 2001, American Skiing Company sold Sugarbush to Summit Ventures NE, Inc.

On January 24, 2002, Triple Peaks, LLC entered into a Stock Purchase and Merger Agreement with American Skiing Company to purchase Steamboat for $91.4 million. American Skiing Company then withdrew from the deal on March 26, 2002, instead deciding to sell Heavenly. Triple Peaks, LLC subsequently sued American Skiing Company. On July 8, 2004, the two firms settled the lawsuit with American Skiing Company agreeing to pay Triple Peaks, LLC $5.14 million.

On March 14, 2002, American Skiing Company and its ticker symbol, "SKI," were delisted from the New York Stock Exchange due to 30 day averages of market capitalization sinking below $50 million, stockholders' equity sinking below $50 million, and share price sinking below $1.00. The company moved to the Over-the-Counter Bulletin Board as "AESK."

On May 9, 2002, American Skiing Company sold Heavenly to Vail Resorts, Inc. for $102 million.

On November 29, 2004, American Skiing Company announced it had restructured $320 million in senior debt, subordinated notes and preferred stock.

On June 30, 2005, American Skiing Company sold Haystack to Tyringham Ridge, Inc. for $5 million.

On February 27, 2007, American Skiing Company announced Les Otten had resigned from the Board of Directors.

On March 1, 2007, American Skiing Company sold Steamboat to Intrawest for $265 million.

On April 5, 2007, American Skiing Company sold Attitash and Mt. Snow to Peak Resorts for $73.5 million, plus $2 million of debt assumption.

On May 11, 2007, American Skiing Company sold Killington and Pico to SP Land Co. for $85.2 million, with Powdr Corp. taking over operations.

On July 16, 2007, American Skiing Company announced the sale of The Canyons to Talisker Canyons Finance Co. LLC for $100 million, with an estimated closing date of September 2007. With the sale of Sunday River and Sugarloaf pending, American Skiing Company prepared to be dissolved. Vail Resorts, which had offered $110 million for The Canyons, then filed suit. In addition, Wolf Mountain filed multiple lawsuits, including a claim that American Skiing Company had missed lease payments. These lawsuits would hold up the sale of The Canyons for nearly a year, until Talisker Canyons Finance Co. LLC agreed to assume responsibility for the suits.

On August 8, 2007, American Skiing Company sold Sunday River and Sugarloaf for $77 million to Boyne USA Resorts, which immediately sold the assets to CNL Properties Inc. while procuring a lease agreement to operate the areas.

On June 30, 2008, American Skiing Company sold The Canyons to Talisker Canyons Finance Co. LLC for $123.1 million. With its final ski area sold, American Skiing Company dissolved.

American Skiing Company Related Press Releases:


American Skiing Company Resources on NewEnglandSkiHistory.com:


American Skiing Company External Links:


Last updated: August 27, 2017