| | |
| --- | --- |
| | |
The Tale of Two Mountains

Located deep in the Green Mountains, Sugarbush is one of the largest ski areas in New England by most measurements. The northern peak, Mt. Ellen, is one of the highest peaks in Vermont at 4,083 feet in elevation. While today Sugarbush is composed of two ski areas connected by a transport chairlift, it was originally two separate entities.



The Original Sugarbush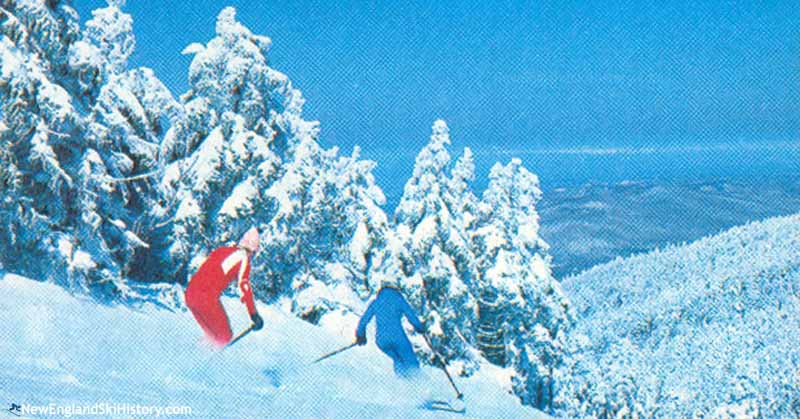 Sugarbush in the early 1980s

Sugarbush Valley ski area was initially developed on 3,975 foot Lincoln Peak for the 1958-59 season by the Sugarbush Valley Corporation. With a T-Bar and a 9,300 foot gondola covering 2,400 vertical feet, the new ski area immediately made a splash, advertising the longest lift in the continent and the greatest vertical rise in the east. The ski area debuted on Christmas Day that season with former Mad River Glen General Manager Jack Murphy in charge and part of an ownership team that also included Damon and Sarah Gadd.



The Legendary Castlerock Area Opens

While some ownership groups spend their funds up front and then settle into stagnation, Sugarbush kept the ball rolling as it headed into its sophomore season. A new Carlevaro & Savio double chairlift was installed on a peak located between Nancy Hanks Peak and Cutts Peak. Called Castlerock, the new complex quickly developed a reputation for excellent expert skiing.

The Valley House Double was installed for the following season, serving three new trails. In addition, the access road to the ski area was rebuilt.

With scores of celebrities vacationing at the resort in the 1960s, Sugarbush earned the nickname Mascara Mountain.



A Competitor Opens Next Door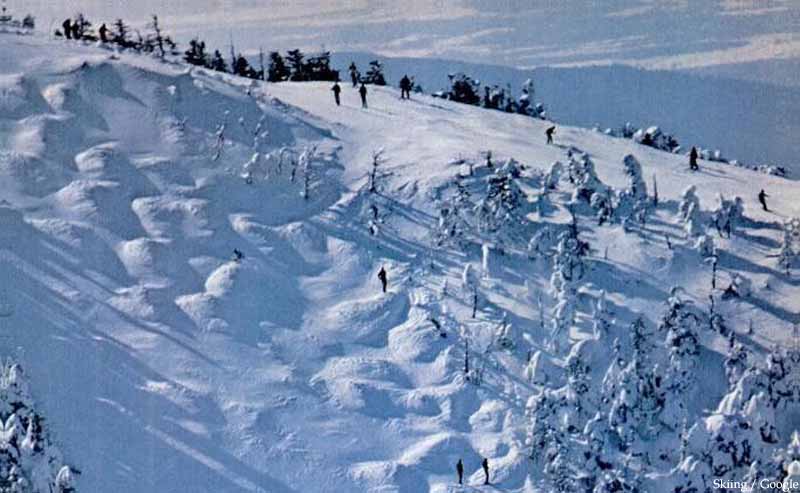 Upper FIS at Sugarbush North in the early 1980s

Sugarbush's next big expansion took place in 1963 when the new Gatehouse Area debuted. Served by a double chairlift, the new area took stress off the gondola, while also helping work the ski area closer to a new real estate development.

Also that year, Glen Ellen ski area debuted on nearby Mt. Ellen. Taking a not so subtle jab at Sugarbush's greatest vertical rise slogan, Glen Ellen claimed the "Greatest Vertical Descent in East" via its network of double chairlifts.

1967-68 saw a massive growth in snowmaking capacity, as well as the expansion of the base lodge. During the winter of 1969-70, a young college student named Winthrop Smith skied in the Sugarbush Valley for the first time. He would return.



Sugarbush and Glen Ellen Become One

In 1977, the Gadds sold Sugarbush for a reported $4.2 million to Roy Cohen, president of coin-operated-laundry-equipment supplier Solon Automated Services. Shortly thereafter, circa the fall of 1978, Solon Automated Services purchased Glen Ellen ski area for a reported $2.4 million and renamed it Sugarbush North. By the turn of the decade, the enormous resort was recording nearly a half million skier visits per year. Initially connected only by shuttle service, the United States Forest Service endorsed a massive expansion campaign in 1982 which would have connected the two areas. The full extent of this proposal was never achieved.

Following the 1982-83 season, ARA Services Inc. (the food services company which later became Aramark) purchased Solon Automated Services, with Cohen initially remaining as Sugarbush's CEO. The aging but still famous Sugarbush gondola was removed following the 1983-84 season, replaced with two new Poma triple chairlifts.

Following the 1985-86 season, ARA Food Services sold Sugarbush to Claneil Enterprises (a holding company for heirs of Tylenol creator MacNeil Laboratories Inc.) for a reported $14.5 million. Claneil embarked upon the next big lift infrastructure change for the 1990-91 season, as three aging double chairlifts at Sugarbush North were replaced with new Poma quad chairlifts. The Green Mountain Express was Sugarbush's first high speed detachable chairlift.



Enter Les Otten

In October of 1994, Les Otten's LBO Resort Enterprises Corp. purchased Sugarbush for a reported $9.1 million. Following that season, massive changes were about to take place.

For the 1995-96 season, a staggering four new quad chairlifts were installed at Sugarbush, three of them detachables. Perhaps the most eye-catching of the new lifts was the 11,000 foot Slide Brook Express chairlift, which allowed skiers to go from Sugarbush South to Sugarbush North in only a few short minutes, without having to take off their skis.

In addition to the Slide Brook, Sugarbush South saw the installation of its first detachable chairlifts, with the Gatehouse and Super Bravo quads providing high speed service to the lower portion of the mountain. Not only that, but a 63 million gallon snowmaking pond was constructed. Overall, Sugarbush received an estimated $17 million in improvements that year.

The following summer, LBO Resort Enterprises Corp. was rolled into American Skiing Company. Large scale capital investments were focused elsewhere.



Exit American Skiing Company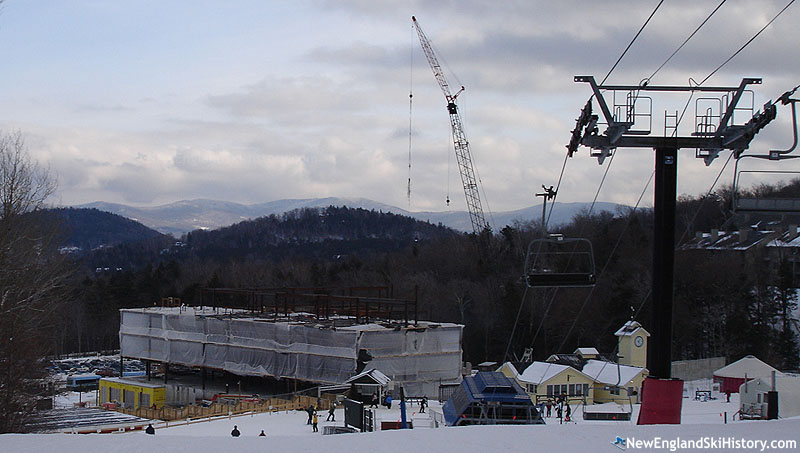 Construction of the new Lincoln Peak base area in 2006

During the 2001 off season, American Skiing Company sold Sugarbush to Summit Ventures NE, Inc., headed by Win Smith (son of Merrill Lynch partner Winthrop H. Smith Sr.). The new ownership wasted no time in improving the area, as it replaced the legendary Castlerock double chairlift that same year.

The following season, an inconvenience on Sugarbush North was corrected. With the relocation of the Green Mountain Express in 1995, the bottom of the mountain was left without a high speed lift. To fix the skier flow, a new Green Mountain Express was installed for the 2002-2003 season, replacing its short lived fixed grip counterpart.

In 2005, the Lincoln Peak Village was commenced at Sugarbush South. Phase 1 was completed in 2006 at cost of $40 million and included Clay Brook Residences, Timbers Restaurant, and the Gate House Lodge.

In 2007, the Vermont EB-5 Regional Center was rechartered. Under the EB-5 program, a foreigner can invest $1 million in an approved United States business (which must then create jobs), in exchange for a green card. With the Northeast Kingdom labeled a Targeted Employment Area, the minimum investment is cut in half to $500,000, making participating rural businesses such as Sugarbush more attractive. Using this program, Sugarbush looked to find the second phase of its base area development.

The aging Valley House Double was replaced with a new quad in 2015, marking the first new chairlift at Sugarbush in over a dozen years. The replacement of old chairlifts continued in the spring of 2017, when Sugarbush announced the Village and Sunnyside doubles would be replaced with fixed grip quads.

NewEnglandSkiConditions.com Reports

Month
Average Percent of Terrain Open
December
13% (2 reports)
January
70% (3 reports)
February
75% (5 reports)
March
68% (2 reports)

-- start conditions table -->

Recent Conditions Reports

Feb. 16, 2017 by nordicgal
Packed Powder, Frozen Granular
Mar. 16, 2016 by mrv1516
Spring Snow, Variable Conditions
Mar. 7, 2016 by mrv1516
Wet Powder, Variable Conditions
Feb. 26, 2016 by mrv1516
Powder, Variable Conditions
Feb. 23, 2016 by rocket21
Loose Granular, Packed Powder

Sugarbush Resort on NewEnglandSkiConditions.com
NewEnglandSkiIndustry.com News
Recent Articles
RFID Ski Pass Technology Growing in Popularity - Nov. 14, 2017
Lift Construction Continues as October Arrives - Oct. 1, 2017
Construction Ramps Up as Ski Season Nears - Sep. 3, 2017
Doppelmayr to Install New Sugarbush Chairlifts - Apr. 18, 2017
Lift Construction Projects Already Underway - Apr. 9, 2017
Sugarbush to Install Two New Quad Chairlifts - Mar. 13, 2017
Vermont Construction Projects in Full Gear - Aug. 9, 2015
Sugarbush Announces Valley House Chairlift Replacement - Mar. 28, 2015
REPORT: Sugarbush Moving Ahead with Valley House Chairlift Replacement - Mar. 2, 2015
Lift Woes Still Affecting Sugarbush - Nov. 21, 2014
Sugarbush Resort NewEnglandSkiIndustry.com News Page

Expansion History

Image Gallery


Lifts
Click on lift name for information and photos
Maps

Year by Year History
Adult Weekend Full Day Lift Ticket; Adult Full Price Unlimited Season Pass

2010s
Ticket Price
Season Pass Price

Pass Payback

Opening Day

Closing Day

Skier Visits

2017-18
$124.00
$1149.00
9.3 days
November 16
2016-17
$97.00
$1779.00
18.3 days
November 23
May 1
2015-16
$95.00
$1729.00
18.2 days
November 26
May 1
2014-15
$91.00
$1679.00
18.5 days
November 22
May 3
2013-14
$89.00
$1629.00
18.3 days
November 22
May 4
2012-13
$89.00
$1599.00
18.0 days
November 17
May 4
2011-12
$88.00
$1569.00
17.8 days
November 24
April 8
2010-11
$84.00
$1499.00
17.8 days
November 25
May 1
2009-10
$82.00
$1469.00
17.9 days
December 6
April 18
2000s
Ticket Price
Season Pass Price

Pass Payback

Opening Day

Closing Day

Skier Visits

2008-09
$72.00
$1399.00
19.4 days
May 3
2007-08
$69.00
$1399.00
20.3 days
November 17
May 4
2006-07
$66.00
$1259.00
19.1 days
May 6
2005-06
$63.00
$1319.00
20.9 days
April 30
2004-05
April 22
2003-04
November 30
April 17
2002-03
$57.00
$1350.00
23.7 days
November 20
2001-02
$55.00
November 23
April 14
2000-01
$55.00
November 20
April 29
359,000
1999-00
April 23
352,000
1990s
Ticket Price
Season Pass Price

Pass Payback

Opening Day

Closing Day

Skier Visits

1998-99
$1299.00
May 2
368,000
1997-98
$47.00
388,000
1994-95
$42.00
1992-93
$29.00
1991-92
$38.00
1990-91
$36.00
1989-90
$35.00
1980s
Ticket Price
Season Pass Price

Pass Payback

Opening Day

Closing Day

Skier Visits

1988-89
$33.00
November 24
April 24
1987-88
$32.00
1984-85
$26.00
1983-84
May 22
1982-83
$23.00
November 15
1981-82
$21.00
May 24
1980-81
450,000
1979-80
$17.00
1970s
Ticket Price
Season Pass Price

Pass Payback

Opening Day

Closing Day

Skier Visits

1978-79
$16.00
November 26
1977-78
November 28
1976-77
$13.00
November 20
1975-76
$12.00
November 29
1974-75
November 30
1971-72
$10.00
1969-70
$9.50
October 25
1960s
Ticket Price
Season Pass Price

Pass Payback

Opening Day

Closing Day

Skier Visits

1968-69
$7.00
November 7
1967-68
$7.00
1966-67
$8.00
$150.00
18.8 days
1965-66
November 20
1964-65
$7.00
1963-64
$6.50
1962-63
$6.50
1961-62
December 2
April 23
1959-60
$6.50
1950s
Ticket Price
Season Pass Price

Pass Payback

Opening Day

Closing Day

Skier Visits

1958-59
$5.50
December 25
Visitor Memories
"I remember my amazing mother, Esther J. Shropshire, teaching skiing to hundreds and hundreds of children at the Valley Day Care in the Village. Nice added feature for a daycare! She was riddled with arthritis, yet when she skied, she was so graceful and elegant - you would never even imagine she had any joint stiffness.What a powerful memory to retain from many years ago. (1976 was the year she started teaching there.)"
Cherwyn Ambuter, Aug. 11, 2015
"I remember a family trip to Sugarbush in February 1971 when I broke my leg on the second day of what was to be week long trip. My Dad and I were coming down Middle Earth after lunch and were about halfway down when I turned poorly in some heavy snow and broke my tibia. I remember it seemed like the ski patrol got to me so fast. The ride down on their sled seemed forever. Then I was off to a local doctor's and had a full cast put on and we drove home the next day getting into a pretty bad snowstorm. I felt badly to cut my sister out of a ski holiday ... I skied Sugarbush, Glen Ellen and Mad River for years after ...Best,Danny"
DT Teaze, Dec. 29, 2013
---
External Links
Sugarbush Resort - official site
Mt. Ellen - FranklinSites.com Hiking Guide
Last updated: April 30, 2017