| | |
| --- | --- |
| | |
Located between Bristol, Waterbury, and New Britain, Mt. Southington is a popular local ski area.



Early Surface Lift Years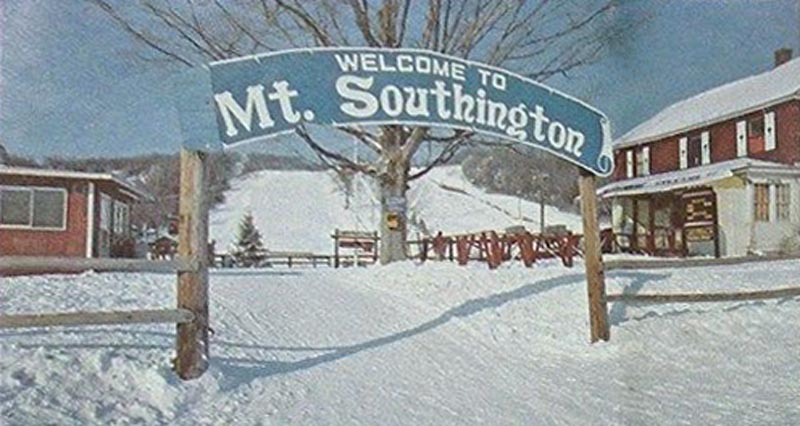 The base area (1970s)

Circa the early 1960s, Dr. Harold Richman and his wife were inspired to start a local ski area after a trip to Vermont. Soon thereafter, the Richman and Palmisano families pulled together a group of investors to purchase a dairy farm and construct a ski area on it.

Mt. Southington debuted as a 300 vertical foot surface lift area on December 10, 1964, managed by Walter Avre. Initial offerings included two T-Bars, multiple rope tows, snowmaking, and night skiing. A third T-Bar was added for the 1965-66 season.



Upper Mountain Expansion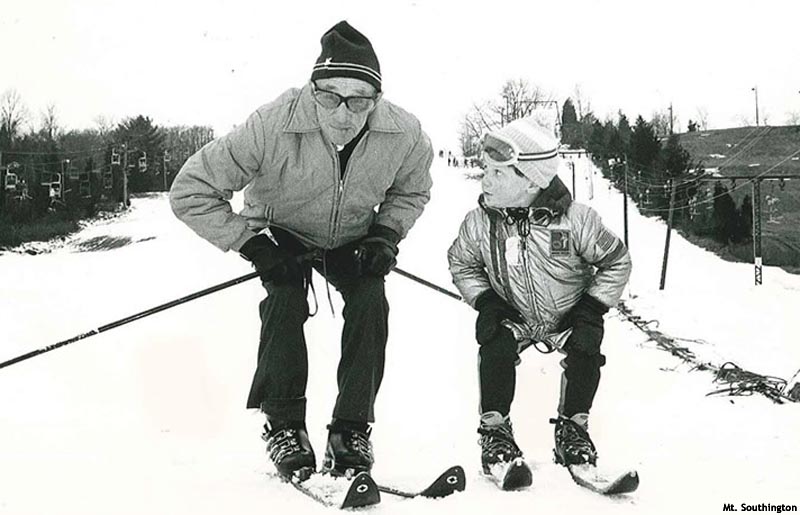 Mt. Southington circa the 1970s

After three years of operating with the lower slopes, Southington began its expansion upward in 1967 by cutting five new trails. While a chairlift line was surveyed at the time, the upper mountain was served by a rope tow for the 1967-68 and 1968-69 seasons. In order to develop more skiers, Southington had special programs such as Ladies Day, in which free babysitting was offered.

The Avalanche double chairlift was installed for the 1969-70 season, giving the mountain its first top to bottom lift.

NASTAR racing was added circa 1973-74, reportedly claiming the second highest participation rate in New England.

Southington's next expansion build up took place in the late 1970s, starting with the installation of a J-Bar for the 1977-78 season. The following year, Mt. Southington's first triple chairlift, Stardust, was installed, giving the mountain its second top to bottom lift.

Growth continued in the 1980s, including the night skiing business when a liquor license was procured at the start of the decade. Trails were improved, as were snowmaking capabilities. The expert Tester trail had lights and snowmaking infrastructure installed for the 1982-83 season.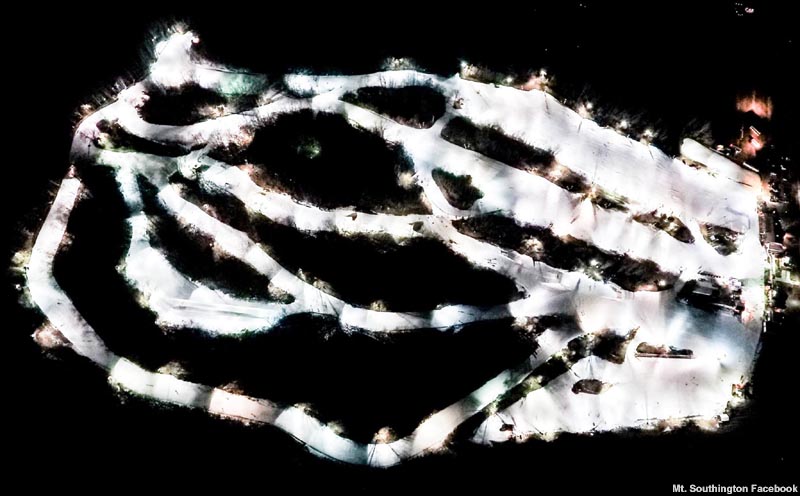 Night skiing at Mt. Southington circa the mid 2010s

Lift improvements resumed in the 2000s, as the Avalanche double was rebuilt and the Northstar double chairlift and Thunderbolt double chairlift were installed.

By the mid 2010s, all of Mt. Southington's trails were lit for night skiing, while the area also featured 100% snowmaking with a 1,800 gallon per minute system served by a million gallon reservoir.

NewEnglandSkiConditions.com Reports
-- start conditions table -->
NewEnglandSkiIndustry.com News

Image Gallery


Lifts
Click on lift name for information and photos
Maps

Year by Year History
Adult Weekend Full Day Lift Ticket; Adult Full Price Unlimited Season Pass

2020s
Ticket Price
Season Pass Price

Pass Payback

Opening Day

Closing Day

Skier Visits

2022-23
$68.00
$725.00
10.7 days
December 17
March 19
2021-22
$64.00
$675.00
10.5 days
December 26
March 20
2020-21
$62.00
$650.00
10.5 days
December 18
March 27
2019-20
$62.00
December 12
March 8
2010s
Ticket Price
Season Pass Price

Pass Payback

Opening Day

Closing Day

Skier Visits

2018-19
$60.00
$660.00
11.0 days
December 1
March 24
2017-18
$59.00
$580.00
9.8 days
December 16
March 25
2016-17
$58.00
$560.00
9.7 days
December 17
March 26
2015-16
$58.00
$560.00
9.7 days
January 5
March 11
2014-15
$56.00
$550.00
9.8 days
December 7
March 29
2013-14
$55.00
$550.00
10.0 days
December 1
March 29
2012-13
$54.00
$540.00
10.0 days
December 30
March 30
2011-12
$53.00
$540.00
10.2 days
December 20
March 11
2010-11
$52.00
$535.00
10.3 days
2009-10
$50.00
$535.00
10.7 days
2000s
Ticket Price
Season Pass Price

Pass Payback

Opening Day

Closing Day

Skier Visits

2008-09
$48.00
$535.00
11.1 days
2007-08
$44.00
$524.00
11.9 days
2006-07
$42.00
$499.00
11.9 days
2005-06
$37.00
$469.00
12.7 days
2004-05
$35.00
$459.00
13.1 days
2003-04
$32.00
$449.00
14.0 days
2002-03
$30.00
$439.00
14.6 days
2001-02
$30.00
$429.00
14.3 days
2000-01
$30.00
$389.00
13.0 days
1999-00
$29.00
1990s
Ticket Price
Season Pass Price

Pass Payback

Opening Day

Closing Day

Skier Visits

1998-99
$28.00
1995-96
December 9
1994-95
December 17
1992-93
$26.00
1991-92
$26.00
1989-90
$24.00
$440.00
18.3 days
1980s
Ticket Price
Season Pass Price

Pass Payback

Opening Day

Closing Day

Skier Visits

1988-89
$23.00
1987-88
$22.00
100,000
1986-87
$20.00
$357.50
17.9 days
1985-86
$19.00
1984-85
$17.00
1982-83
$15.00
December 16
1980-81
$12.00
February 18
1979-80
$12.00
1970s
Ticket Price
Season Pass Price

Pass Payback

Opening Day

Closing Day

Skier Visits

1978-79
$10.50
1977-78
$9.50
1976-77
$9.00
$160.00
17.8 days
1975-76
$8.75
$165.00
18.9 days
1974-75
$8.50
November 27
1973-74
$8.00
1972-73
$7.50
November 18
1971-72
$7.50
$140.00
18.7 days
1970-71
$6.50
March 21
1969-70
$6.50
29,000
1960s
Ticket Price
Season Pass Price

Pass Payback

Opening Day

Closing Day

Skier Visits

1968-69
$4.00
1967-68
$4.50
1966-67
$4.50
21,871
1965-66
December 22
1964-65
18,000
Visitor Memories
---
External Links
Mount Southington - official site
Last updated: December 10, 2018