American Skiing Company
New England Ski Presence: 1996-2007


Founded by Les Otten, the American Skiing Company started as the largest New England ski area company before unravelling under debt.



Formation


The catalyst for the American Skiing Company could be considered the acceptance of recent Ithica College graduate Les Otten into the Killington management trainee program in 1971. During his brief tenure at Pres Smith's Killington, Otten learned about the resort and the industry and was soon offered a role at newly acquired Sunday River. Otten became General Manager of Sunday River in 1973, but felt he was not getting enough financial support from the Sherburne Corporation.

Otten went out on his own in 1980, buying Sunday River with financing from the Sherburne Corporation. Otten achieved massive success at Sunday River, expanding the resort into one of New England's largest and most popular destinations.

As the mid 1990s arrived, Otten and his former boss went on competitive spending sprees. Smith's company, now known as S-K-I Ltd., picked up Haystack, Sugarloaf, and Waterville Valley in rapid succession, while Otten's LBO Resort Enterprises Corp responded by acquiring Attitash, Cranmore, and Sugarbush. By the end of 1994, S-K-I's areas accounted for 3.4% of all North American skier visits, while LBO represented 1.5%.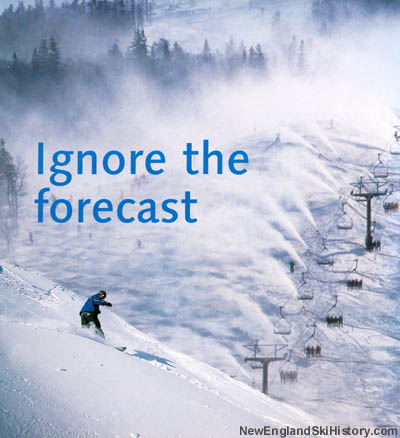 While it seemed like the competitive spending sprees would continue, S-K-I's management questioned their future as a publicly traded company without real estate expertise or further acquisition targets at a reasonable price. Management eventually decided the best action for its shareholders would be to sell its assets. Meanwhile, Les Otten was willing to pay a premium for his former employer's holdings.

On February 13, 1996, the Board of Directors of S-K-I Ltd. recommended a $104.6 million (plus $58.5 million of debt assumption) merger offer from LBO Resort Enterprises Corp. The shareholders of S-K-I Ltd. approved the offer on June 10, 1996. The following day, the United States Justice Department ordered the new company to sell Cranmore and Waterville Valley due to anti-trust concerns.

According to Pres Smith, "[t]he lawyers decided that the first step in designing the buyout structure would be to have a preliminary merger (two-thirds vote). This step would bring 100% cash over to S-K-I after which we would distribute that to stockholders. When the ink dried LBO had a bundle of assets but there was no longer an S-K-I Ltd." On June 28, 1996, the merger of LBO Resort Enterprises Corp. and S-K-I Ltd. formally closed, resulting in the formation of American Skiing Company (ASC). The deal was reportedly back by Fleet Bank, using high interest bonds. Otten became President and Chief Executive Officer of the new company.

At the time of the deal, both companies only had New England ski areas, with LBO Resort Enterprises' portfolio composed of Attitash Bear Peak, NH, Cranmore, NH, Sugarbush, VT, and Sunday River, ME, while S-K-I Ltd. owned Haystack, VT, Killington, VT, Mt. Snow, VT, Sugarloaf, ME, and Waterville Valley, NH.

Pursuant to the Justice Department order, the new company sold Cranmore and Waterville Valley to Booth Creek Ski Holdings, Inc. for $17.2 million on November 27, 1996.

The new company's main strategy was to capitalize on its vast size to limit risk, maximize marketing, achieve economies of scale with costs, and leverage specialized talent and technology. ASC planned to increase revenue per skier by tapping into non-lift ticket sales, such as lodging, food and beverage, and retail. ASC also planned to use its size to secure national marketing partners. In addition, ASC planned to leverage its access to capital by expanding existing properties, acquiring additional resorts, and developing real estate.

On December 9, 1996, American Skiing Company purchased Pico for $5 million, foreshadowing a proposed interconnection with the company's marquee area, Killington.

Like S-K-I before it, ASC was looking to reduce its reliance upon regional weather and economic conditions by entering the western market. On July 3, 1997, ASC purchased Wolf Mountain Resort in Utah for $8.3 million, while spending an additional $4 million on related land. The acquisition garnered immediate headlines, as the area was renamed the Canyons and plans were announced to expand the resort to be on par with nearby Park City Mountain Resort and Deer Valley. The 2002 Winter Olympics were seen as a way to garner international attention for the growing resort. To finance the initial Canyons project, American Skiing Company issued $17.5 million in Preferred Stock and $17.5 million in notes at a 14% interest rate.



To Wall Street


Despite a heavy debt load, American Skiing Company had more spending planned. In August 1997, ASC announced it would acquire Heavenly, Steamboat, Sabal Point Golf Course in Florida, and the outstanding ownership interest of Sugarloaf, for a total of nearly $303 million. To fund its latest spending spree, ASC had an Initial Public Offering (IPO) on November 6, 1997 of 14,750,000 shares (New York Stock Exchange ticker symbol "SKI") at a par price of $18.00 per share, providing the company with $244 million after expenses.

On November 12, 1997, American Skiing Company completed the acquisition of Heavenly, Steamboat, and Sabal Point Golf Course when it purchased the stock of Kamori Combined Entities for $300.5 million. The golf course was sold three months later for $5.7 million and closed a few years thereafter.

With the acquisitions, American Skiing Company claimed 9.8% of the country's skier visits during the 1997-98 season, as well as 25% of the Northeast United States market share. While the company claimed $73.8 million in earnings before interest, taxes, depreciation, and amortization on $344 million in revenue, debt was a huge problem. $34.5 million in interest expense was recorded in the 1998 fiscal year, while long term debt hit $383 million. Overall, the company posted a net loss of $12.2 million.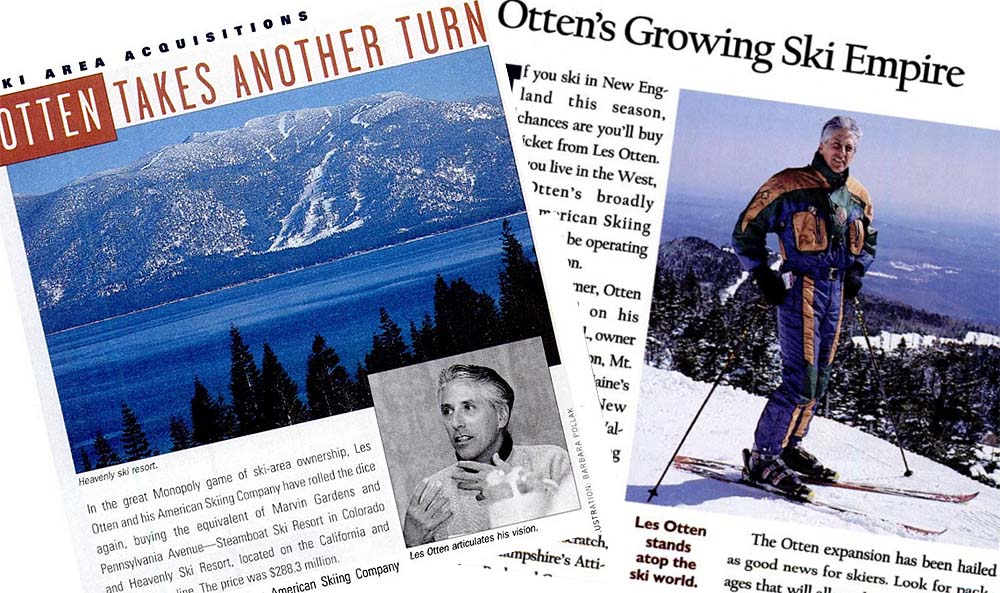 While American Skiing Company's western business saw an uptick during the 1998-99 season, the Northeast areas struggled with bad weather, as ASC's market share dropped from 25.1% to 23.8%. Revenues dropped to $317 million, while EBITDA plummeted to $40.6 million. Long term debt soared to $502 million, while the net loss nearly tripled to $32.3 million.

Shortly after 1998-99 results were announced, changes in the organization were made. On August 9, 1999, ASC announced it had closed a deal to receive $150 million in capital from Oak Hill Capital Partners, to fund real estate projects and offset debt. Two months later, ASC's corporate headquarters was relocated from Maine to Delaware.

American Skiing Company's Northeast market share continued to erode with the 1999-00 season, dropping to 23.6%. 1999-00 revenues increased to $424 million, while EBITDA recovered slightly at $47 million. However, the company's net loss soared to $51 million, attributable to interest costs.

In May of 2000, William "B.J." Fair joined the American Skiing Company as Chief Operating Officer. Fair previously worked in the theme park industry for Disney and Universal Studios. That December, ASC announced it would be merging with Meristar Hotels and Resorts, Inc.



Unwinding


American Skiing Company's fortunes continued to slide in 2000-01, as its Northeast market share dropped to 22.8%. Meanwhile, the company's stock was hitting the $1 per share threshold, a steep fall from its $18 IPO less than four years earlier. On March 23, 2001, ASC terminated its merger with Meristar, resulting in a $3.6 million charge. Days later, on March 28, 2001, Les Otten resigned as CEO, accepting a two year severance package including salary, medical, office space, an executive assistant, and a vehicle. Otten was replaced as CEO by Chief Operating Officer B.J. Fair.

While American Skiing Company's 2000-01 season saw revenue climb to $493 million, comprehensive $76 million restructuring resulted in losses soaring to $144.8 million. As part of the plan, ASC announced it would be selling Steamboat and Sugarbush, while entering into a new securities agreement with Oak Hill Capital Partners.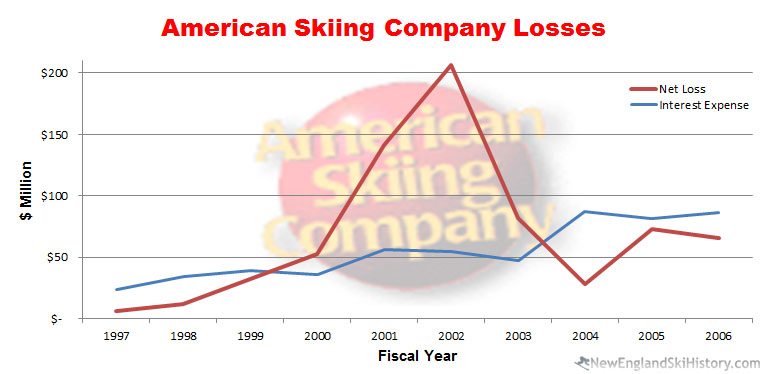 On September 28, 2001, American Skiing Company divested its first ski area when it sold Sugarbush to Summit Ventures NE, Inc.

Following the September 11, 2001 attacks, American Skiing Company announced the subsequent economic impact "has resulted in a very constrained liquidity position as we approach the ski season." The company expected to receive an infusion with the sale of Steamboat by the end of the year.

On January 24, 2002, Triple Peaks, LLC entered into a Stock Purchase and Merger Agreement with American Skiing Company to purchase Steamboat for $91.4 million. However, two months later, things changed.

On March 14, 2002, American Skiing Company and its ticker symbol, "SKI," were delisted from the New York Stock Exchange due to 30 day averages of market capitalization sinking below $50 million, stockholders' equity sinking below $50 million, and share price sinking below $1.00. The company moved to the Over-the-Counter Bulletin Board as "AESK."

On March 26, 2002, American Skiing Company backed out of its Steamboat transaction, instead deciding to sell Heavenly. Four days later, ASC missed a debt payment to Fleet, placing it in default. Soon thereafter, Triple Peaks sued ASC for backing out of the Steamboat deal.

On May 9, 2002, American Skiing Company sold Heavenly to Vail Resorts, Inc. for $102 million.

2001-2002 season results were again dire, as the net loss ballooned to $200 million. Interest costs once again topped $50 million. Accumulated losses resulted in all common shareholder equity being wiped out by this point.

American Skiing Company continued to fade with the 2002-03 season, as its Northeast market share dropped to 18.6%. The company posted a net loss of $82 million with interest costs exceeding $47 million.

On July 8, 2004, American Skiing Company settled the Steamboat lawsuit with Triple Peaks, agreeing to pay $5.14 million.

On November 29, 2004, American Skiing Company announced it had restructured $320 million in senior debt, subordinated notes and preferred stock.

On June 30, 2005, American Skiing Company sold Haystack to Tyringham Ridge, Inc. for $5 million to pay down debt. Despite recognizing a gain of $822,000 on the sale of Haystack, ASC posted a loss of $73 million for the 2004-05 season, with its interest expense soaring to nearly $82 million.

American Skiing Company attempted to transform its revenue model for the 2005-06 season when it slashed season prices at its East coast ski areas by introducing the All-For-One pass. With prices as low as $349, the company projected the multi-resort product "reduces our seasonal borrowing needs and alleviates some of the effects of weather related challenges." Nevertheless, its Northeast market share dropped to 17.6%, while its US share was down to 6.3%. By the end of the 2005-06 season, ASC declared $588.6 million of total indebtedness, as well as a loss of over $65 million, despite a $6.3 million gain in season pass revenue as a result of All-For-One.

Time had run out on the debt ridden company. While it retained the All-For-One pass for the 2006-07 season, a selling spree was about to start. In December, ASC announced it was selling Steamboat. In February, ASC announced it would be selling Attitash, Killington, Pico, and Mt. Snow. On February 27, 2007, American Skiing Company announced Les Otten had resigned from the Board of Directors.

On March 1, 2007, American Skiing Company sold Steamboat to Intrawest for $265 million. On April 5, 2007, Attitash and Mt. Snow were sold to Peak Resorts for $73.5 million, plus $2 million of debt assumption. On May 11, 2007, ASC sold Killington and Pico to SP Land Co. for $85.2 million, with Powdr Corp. taking over operations. Soon thereafter, ASC announced it would be selling Sunday River and Sugarloaf.

On July 16, 2007, American Skiing Company announced the sale of The Canyons to Talisker Canyons Finance Co. LLC for $100 million, with an estimated closing date of September 2007. With the sale of Sunday River and Sugarloaf pending, American Skiing Company prepared to be dissolved. Vail Resorts, which had offered $110 million for The Canyons, then filed suit. In addition, Wolf Mountain filed multiple lawsuits, including a claim that ASC had missed lease payments. These lawsuits would hold up the sale of The Canyons for nearly a year, until Talisker Canyons Finance Co. LLC agreed to assume responsibility for the suits.

On August 8, 2007, American Skiing Company sold Sunday River and Sugarloaf for $77 million to Boyne USA Resorts, which immediately sold the assets to CNL Properties Inc. while procuring a lease agreement to operate the areas.

On June 30, 2008, American Skiing Company sold The Canyons to Talisker Canyons Finance Co. LLC for $123.1 million. With its final ski area sold, American Skiing Company dissolved.



American Skiing Company Related Press Releases:
American Skiing Company Resources on NewEnglandSkiHistory.com:
American Skiing Company External Links:
Last updated: July 26, 2018