| | |
| --- | --- |
| | |
Located east of Skowhegan, 715 foot Eaton Mountain has been home to skiing off and on for decades.



Early Years

Organized skiing on Eaton Mountain likely dates back to the winter of 1936-37, when the Skowhegan Outing Club was formed with Dr. Alvah Appleby serving as president and Edward Merrill as "second director." The club's first big skiing outing was held in February 1937 on Eaton Mountain via a trail accessed from the Captain Neil Olsen farm. Olsen had granted the club permission to use his land and remove fences for skiing. The location was described in the Waterville Morning Sentinel as "an ideal slope for skiing and tobogganing, about a mile in length. Near the foot of the mountain are two small ponds, excellent for skating. According to information given Mr. Merrill by an out of town expert, these facilities could be developed into one of the outstanding winter sports headquarters in the state. There are ample facilities for a ski tow 3,000 feet in length, two ski trails a mile long and two long winding toboggan slides."

Wallace Lovell, affiliated with the Maine Development Commission, visited the area at the end of February, skiing the "mile-long ski trail in one minute and 45 seconds." Lovell noted his positive opinion of the location and that Eaton Mountain would be an ideal skiing destination if a ski tow were installed.

For the winter of 1937-38, the lineup at Eaton Mountain was described as the East Trail, West Trail, and South Slope. One trail was described as being 20 to 30 feet wide and having a 400 foot vertical drop.

It appears the Skowhegan Outing Club and skiing on Eaton Mountain may have faded away after the 1938-39 season.



Rope Tow Service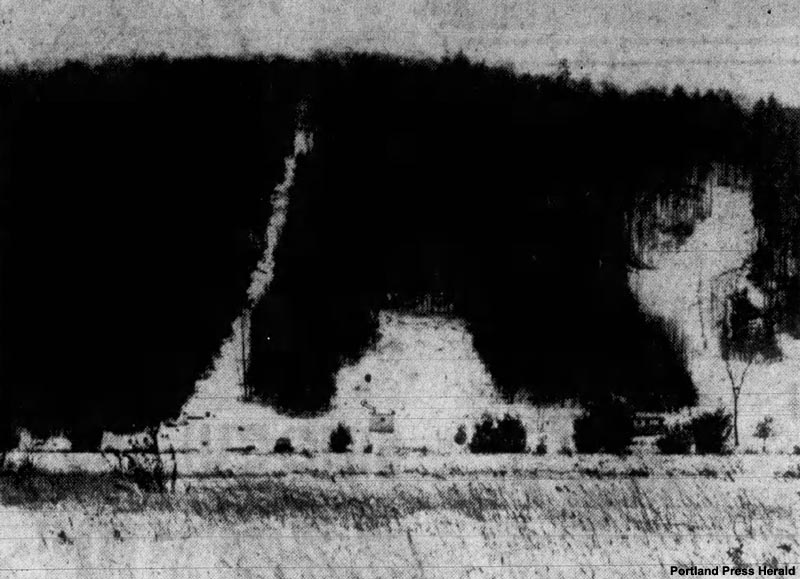 Construction of Eaton Mountain (fall 1961)

In October 1961, Paul Sylvain and his sons Paul and Lawrence acquired a 100 acre plot of land from Evie Davis and announced they were constructing a ski area on Eaton Mountain. Working for their father's construction business, the 22- and 25-year-old brothers had minimal skiing experience, but were looking for "something to do in the winter."

Plans for the 1961-62 season included a T-Bar serving an intermediate trail, plus a novice slope and a lodge. The brothers stated that "It's a good hill and somebody has to do it." Though the planned trails and lift line were subsequently cleared, the brothers announced the opening would be postponed due to wet weather and late November snowfall.

Additional construction took place in 1962, resulting in a total of three trails, served by a 1,200 foot rope tow. The area likely debuted on January 12, 1963.

Trail widening took place for the 1963-64 season, while plans for night skiing were also announced.

The area was listed for sale in 1964, but remained operational. A 2,400 foot rope tow was installed for the 1964-65 season, while one of the trails was improved. A lack of natural snow likely prevented the season from starting until mid-January. Following the 1964-65 season, Lawrence Sylvain acquired his father's and brother's share of the property.



Expansion to the Top

Expanding Eaton Mountain in 1966

New ownership was set in motion in December 1965, as the town of Skowhegan pursued an option to buy the ski area.

In February 1966, the Somerset Recreational Development Corporation was formed, with Skowhegan High School ski coach Francis Knute Paul serving as its president. Plans were announced to purchase the ski area from Lawrence Sylvain, acquire upper mountain land for expansion, cut more trails, and install more lifts. The group started selling stock that month, with Knute Paul telling the Bangor Daily News that "We felt reasonably certain that if we do not buy this area and keep it open for public use that the area will be brought [sic] by private interests and the area will lose its only public skiing facility." Stock sales soon exceeded an early spring $20,000 goal.

The Somerset Recreational Development Corporation acquired the ski area from Lawrence Sylvain on May 27, 1966. The company also acquired an upper mountain tract from Harry Jewell the same day. In July, Somerset Recreational Development Corporation transferred the land to the non-profit Somerset Recreational Development Company. Subsequently, the corporation agreed to lease the ski area from the company for fifteen years. Knute Paul was named manager.

Trail clearing was completed ahead of schedule in early August. With $30,000 in stock purchased by 200 county residents, the Somerset Recreational Development Corporation decided in September to accelerate its plans and announced the installation of a double chairlift. Plans were subsequently released for the installation of lights to reportedly offer the largest night skiing facility in the state. A rope tow and two ski jumps rounded out the planned facilities.

Preparation for tower footings was taking place in mid-November for the "first of its kind" chairlift that was "completely designed, fabricated, manufactured and constructed by Maine firms." Cianbro Manufacturing fabricated the lift, while affiliate Cianchette Brothers Construction Company handled the installation. Meanwhile, the foundation was poured for a 70 by 40 foot base lodge.

Though chairlift construction was still in progress, natural snow likely enabled a December 31st opening with rope tow service. The chairlift debuted in February.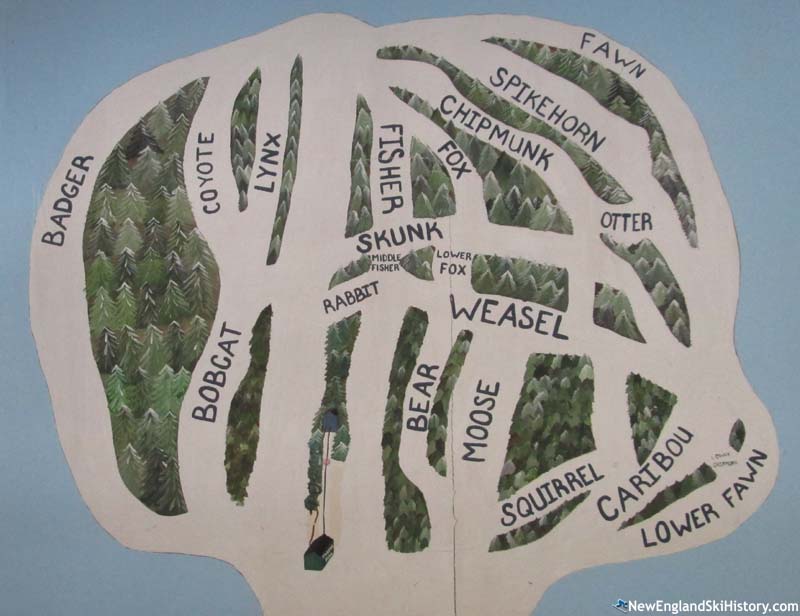 A trail map painted on the lodge wall (2015)

Circa 1973, there was talk about Saddleback taking over and improving Eaton, however this likely did not advance beyond initial negotiations. Instead, George Lebrecque purchased the area that fall. Due to a foreclosure, the ski area did not open for the 1975-76 season. Two additional owners came aboard, allowing Lebrecque to reopen the area the following season. Lebrecque would assume sole ownership again in 1980.

Taking advantage of a Development Opportunity Fund Grant, a new snowmaking system was installed for the 1984-85 season.

Perhaps to hedge against issues with the double chairlift, a T-Bar was obtained from Sugarloaf circa the 1980s. Installation was not completed.

The ski area's main lodge and maintenance garage burned in January 2005. Regional areas helped provide equipment to keep the area operational.


Closure

The ski area closed after the 2007-08 season.

In the fall of 2008, David and Donna Beers purchased Eaton Mountain. While they had hoped to continue ski operations, the area's lifts and infrastructure was in a state of disrepair, resulting in no winter operations for multiple years.

After significant work, they were able to open a snow tubing area in 2010 with hopes to resume ski operations soon thereafter. A major setback occurred in December 2011 when David Beers was seriously injured while working on a snowcat. As a result of the accident, the area cancelled 2011-12 winter operations.

After a long recovery, Beers was able to reopen the tubing facility for the 2012-13 season. Meanwhile, efforts to resume ski operations continued.


Skiing Resumes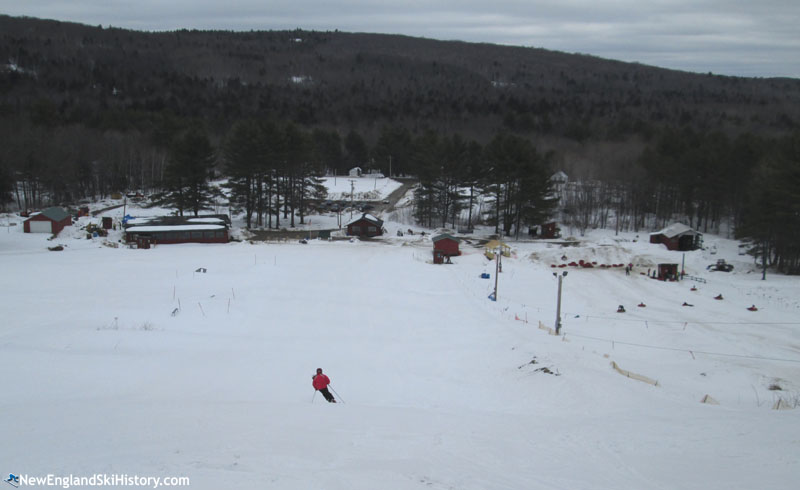 The lower mountain (2015)

Two handle tows were purchased and installed to serve limited skiing operations for 2014-15. Eaton reopened for skiing on January 10, 2015 with the two tows serving a terrain park and novice terrain.



Closed Again

After the rough winter of 2015-16, Eaton Mountain suspended ski operations, but continued tubing for 2016-17. Future plans for the ski area called for a lift to the top of the mountain, serving the network of idle trails that were still maintained. However, all operations were suspended prior to the 2019-20 season. It is not known if or when Eaton Mountain will reopen.



NewEnglandSkiConditions.com Reports

NewEnglandSkiIndustry.com News

Lifts
Click on lift name for information and photos
Maps

Year by Year History
Adult Weekend Full Day Lift Ticket; Adult Full Price Unlimited Season Pass

2010s
Ticket Price
Season Pass Price

Pass Payback

Opening Day

Closing Day

Skier Visits

2018-19
$15.00
January 5
2017-18
$12.00
$100.00
8.3 days
January 27
March 25
2016-17
$15.00
February 11
March 25
2015-16
$15.00
$125.00
8.3 days
January 30
February 15
2014-15
$15.00
$150.00
10.0 days
January 10
March 29
2000s
Ticket Price
Season Pass Price

Pass Payback

Opening Day

Closing Day

Skier Visits

2006-07
$23.00
$310.00
13.5 days
2005-06
$23.00
$310.00
13.5 days
2004-05
$22.00
$310.00
14.1 days
2003-04
$22.00
$310.00
14.1 days
2002-03
$22.00
$310.00
14.1 days
2001-02
$20.00
$310.00
15.5 days
2000-01
$19.00
$300.00
15.8 days
1999-00
$18.00
1990s
Ticket Price
Season Pass Price

Pass Payback

Opening Day

Closing Day

Skier Visits

1996-97
November 29
April 6
1993-94
April 3
1980s
Ticket Price
Season Pass Price

Pass Payback

Opening Day

Closing Day

Skier Visits

1987-88
December 19
1985-86
$12.00
1970s
Ticket Price
Season Pass Price

Pass Payback

Opening Day

Closing Day

Skier Visits

1976-77
$5.75
1974-75
$5.50
1973-74
$4.00
1972-73
$4.50
1971-72
$3.50
1970-71
$3.50
1969-70
January 31
1960s
Ticket Price
Season Pass Price

Pass Payback

Opening Day

Closing Day

Skier Visits

1968-69
$3.50
1967-68
$3.00
1966-67
$3.00
December 31
1962-63
January 12
Visitor Memories
---
External Links
Eaton Mountain Ski Area - official site
Eaton Mountain - SmallSkiAreas.com
Last updated: August 16, 2022