| | |
| --- | --- |
| | |
Located on the same ridge as Mount Snow, Haystack is a mid-sized ski area that has struggled to find a place in the competitive Southern Vermont ski market. After attempts at an upscale independent ski area and a satellite ski area, Haystack has moved to a private club model.


Initial Buildout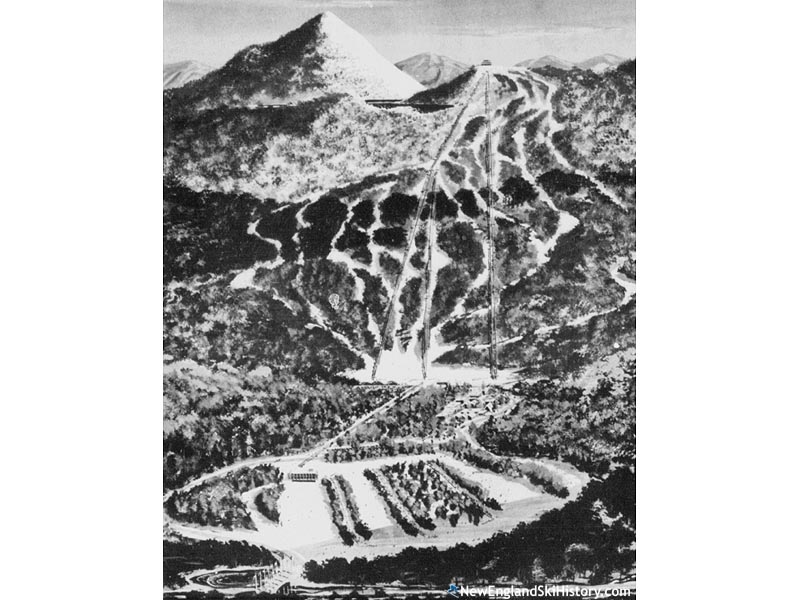 Haystack concept map (circa 1964)

The earliest known talk of developing Haystack Mountain as a ski area dates back to 1957, when a group of Wilmington area businessmen reportedly applied for a lease of Green Mountain National Forest property. Plans called for the installation of a $300,000 enclosed cabin lift, to be funded by a small denomination stock issue. At least one Wilmington selectman supported the concept due to concerns that timber supply was dwindling and that the town needed to replace forest products employment with something new. Though there was momentum that spring, by the fall the Forest Service determined the proposal shouldn't move forward until there was public need for the ski area.

Haystack Mountain Ski Area, Inc. was reportedly established in September 1961 with the aspiration to construct a ski area on the mountain. In late 1962, word emerged that former Mt. Snow general manager Winston Lauder was looking into developing Haystack. The Bennington Banner reported that the Green Mountain National Forest had started another study to see if a ski area was feasible.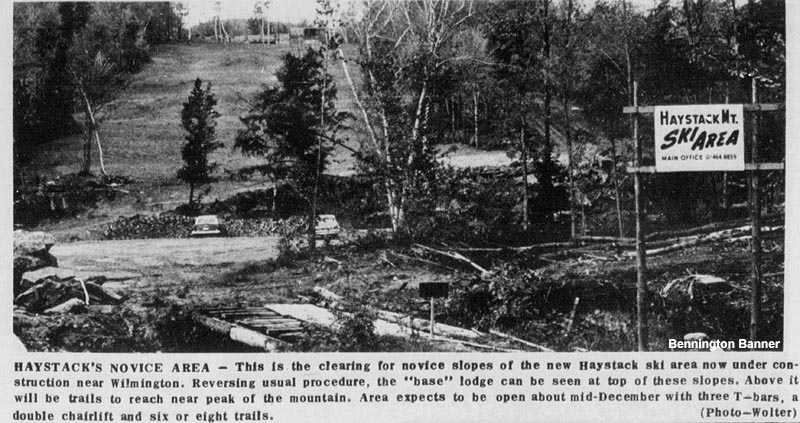 Haymaker during construction in 1964

Word of a potential new ski area on 3,445 foot Haystack Mountain spread in early 1964, when the Haystack Corporation applied for a use permit with the United States Forest Service. Two permits were issued on July 27, 1964, including a 30 year agreement on a 10 acre plot and an annual agreement on 307 acres. The corporation also reportedly had 800 acres of private property, as well as glebe lands leased from the town.

Designed by Everett Lord-Wood, construction progressed quickly that summer under the management of Bruce Gavett, who was subsequently named director of the ski school. Architectural designs were provided by Bruce Campbell Graham. Herbert Hart served as the president of the corporation, while Jack Manton was named general manager.

The initial rollout included a three story lodge atop the beginner area, three T-Bars, and a double chairlift on the lower part of the main mountain, serving some 75 acres of terrain. A shuttle service carried folks throughout the fragmented base area, with busses named Hoot, Too, and Whistle. The area was "designed to give American skiers an exciting sample of the continental approach to skiing." One beginner trail was named Fanny Hill, related to a hot button censorship case. The name landed on the pages of many newspapers, with lines such as "after being hushed in Boston, Fanny Hill will be schussed in Vermont."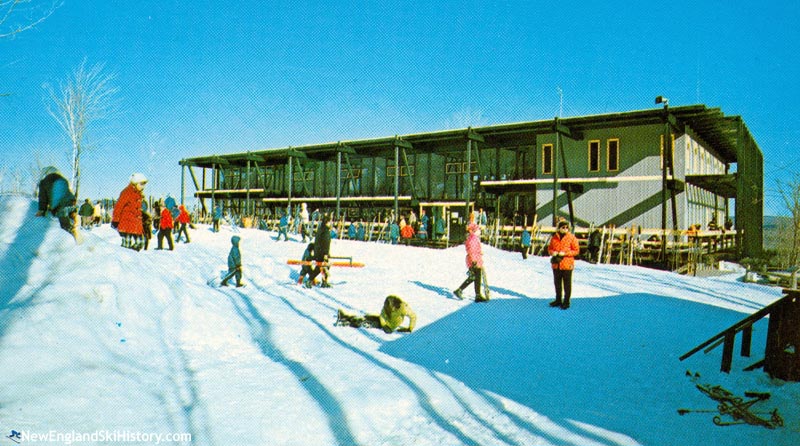 Haystack's lower base lodge in the 1960s

Using a slogan of "Ski Haystack Before Everyone Else Does," a grand opening was planned for Christmas of 1964, with Senator George D. Aiken and Lieutenant Governor John F. Daley set to attend. Unfortunately, as described by the Bennington Banner, mild weather "made a morass of the area's ski access road," cancelling the festivities. Operations may have quietly commenced in late December.

With the debut coinciding with perhaps the worst winter of the decade, Haystack hired Larchmont Engineering to install a snowmaking system on the Haymaker slope below the lodge. Haystack was unable to operate the system or rescue the ski season, resulting in Haystack suing Larchmont for $200,000. Haystack posted a loss of $119,800 with its debut season. In an investors prospectus issued following the season, Haystack disclosed it was "in a precarious financial condition" with significant debt and minimal revenue.



Expansion to the Ridge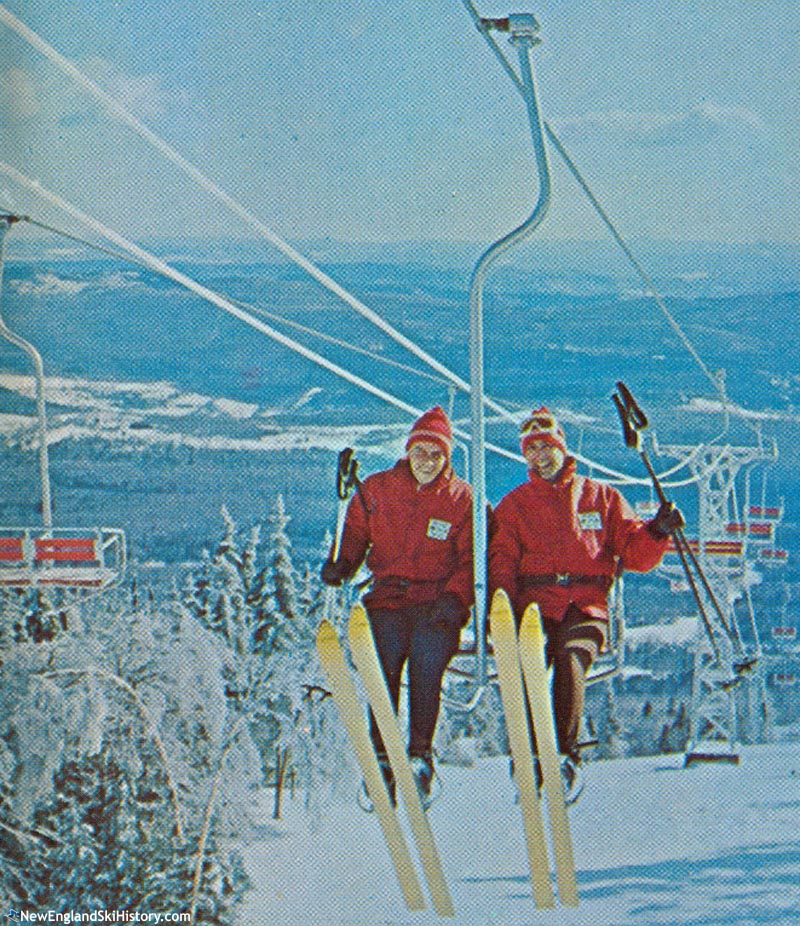 The Oh No double chairlift

Haystack expanded upward for the 1965-66 season with the installation of the Oh No double chairlift and the addition of 50 acres of terrain. The expansion coincided with real estate development, including the sale of 57 building lots. While plans for a gondola and three story summit lodge were announced, they were not meant to be. The new chairlift debuted in late January, helping to usher in larger crowds including a Sunday in February that drew 2,700 skiers. Spring operations were hampered by an impassible access road.

Following the 1965-66 season, Jack Manton returned to New Jersey while William Palumbo was promoted to general manager. Transportation was addressed for the 1966-67 season, as a access road from Route 100 was built by the state. Meanwhile, the issue of having two somewhat detached ski complexes was resolved when the Transfer double chairlift was constructed from the lower base lodge to the upper mountain base area. The unique lift included a road crossing with safety netting.

Dr. Arthur Ellison started his association with Haystack later in the year, operating a medical and research facility at the area. Ellison's proximity was crucial in March 1967, when a Haystack employee was severely injured in a bullwheel maintenance accident in March 1967. Ellison was able to provide emergency treatment to the employee, who suffered a crushed leg.

The 1966-67 season also saw the start of a handicapped ski school at Haystack, bolstered by the success deaf ski racer Tammy Marcinuk. After developing her skilss at Haystack, Marcinuk won two gold medals in the 1967 International Winter Games for the Deaf in Germany. Seeing the need for such a program, ski school director Bruce Gavett decided to champion the concept. Soon, Haystack had handicapped students and instructors alike. One year later, an estimated 20% of Haystack's instructors were teaching handicapped ski lessons each weekend.

In September 1965, Mr. and Mrs. Herbert Brooks crashed their rented Cessna plane into the side of Haystack Mountain. The Civil Air Patrol discovered the plane in July 1967, which resulted in a recovery mission launched from the ski area. Crews were transported up the chairlift, from the top of which they hiked an hour through thick woods to the crash site.

A new medical center designed by Bruce Campbell Graham was constructed for the 1967-68 season, hosting Ellison's federally funded ski research project. Meanwhile, bold plans were released for a massive base area development, including a 9 story hotel.


1960s Haystack base area development map

Attention then turned to developing real estate and amenities. An early snowstorm resulted in a November opening in 1968, followed a few weeks later by the opening of a hip, new night club called "Sgt. Peppers." That season, Haystack partnered with Glen Ellen, Magic, and Pico on a joint season pass. Bad luck continued to affect the area, when a reported electrical fault caused the transfer chairlift terminal to catch fire on February 28, 1969. An emergency crew of electricians was able to rebuild the lift's electrical system in just over a day.

While Haystack was selling a hip Beatles image, behind the scenes it was financially struggling with fixing a hole. As a result, there was a change of management in 1969, with Chimney Hill developer and former Central Intelligence Agency operative W. Thompson Cullen taking over Haystack.

Aggressive plans were made for three new chairlifts, new trails, and a 6,000 foot long gondola. Parking was to be more than doubled, while 2,200 home lots, 200 condos, a golf course, and a convention center were planned. Local and state approvals were in place by early 1970, predating the full rollout of Vermont Act 250.

After serving as general manager for half a decade, William Palumbo resigned at the end of the 1970-71 season to work full time for the Mueller Ski Lift Corp. Soon thereafter, problems began to mount, as the resort began seeing opposition from various levels of government. In the fall of 1971, the developers halted construction of a new sewer system reportedly due to the new Vermont Act 250 standards. The Town of Wilmington moved to retract Act 250 permits in 1972, then the Forest Service halted further ski area expansions in early 1973.

Despite the growing number of issues, Haystack was able to open its 18-hole golf course during the summer of 1972. Tragedy hit again that summer when a contractor made contact with a power line while working on a T-Bar and was killed instantly.

Though Haystack had planned the installation of a gondola and snowmaking in 1973, it was about to unravel. In early 1973, a group of landowners filed suit, claiming Haystack Corp. had misrepresented its sewer approvals, hadn't built promised amenities, hadn't constructed a transport system to Mt. Snow, and had misrepresented its financial position. Soon thereafter, Haystack's Old Ark Lodge burned.


Bankruptcy

With development halted due to an expensive incomplete sewer system, Haystack attempted to work out an agreement with the Town of Wilmington for the resort to build the system, then turn it over to the town. Haystack's primary lender, Associated Mortgage Investors (AMI), told the Bennington banner that if the government couldn't work out an agreement, it would foreclose on the resort and "never again invest a cent elsewhere in the state."

With no sewer deal worked out and a disastrous 1973-74 season, the weight of Haystack reportedly contributed to AMI filing for bankruptcy in March 1974. AMI in turn foreclosed on Haystack in September, citing $5 million in debt. Haystack also reportedly had over a million dollars in back taxes and liens. AMI decided to keep Haystack open, hiring long time ski school director Bruce Gavett as general manager of the ski area.

In the spring of 1975, William L. Banberger Associates and Burgess & Casavini Construction Co. were identified as potential buyers of the incomplete resort. Both prospective deals fell through.

The foreclosure process was halted in June 1976 when Haystack Corp. was declared bankrupt with liabilities of nearly $7 million. As the development unraveled, word emerged that 867 residential lots had been sold without deeds. In addition, without a completed water or sewer system, two of the three developments were without water. The one development that had water was fed by water stored in an unfinished house's foundation.

Snowmaking was first attempted at Haystack in early 1977, when hoses and other equipment were borrowed from the local fire department to help get the ski area open on at least some sort of frozen surface. At actual snowmaking system was installed at Haystack in either late 1977 or 1978.

Haystack made regional headlines on March 12, 1977, when a swinging chair caused one of its shorter double chairlifts to derope that morning. Though there were fortunately no fatalities, 11 skiers were hospitalized, some with serious injuries. The incident was significant enough that the local hospital had to activate its disaster plan to handle the mass influx of injuries.


Closure

Starting around 1979, the owners of Round Top likely leased Haystack for two winters. In the midst of poor natural snowfall winters, Haystack closed following the 1980-81 season. Though there were plans to operate on a weekends-only basis in 1981-82, the foreclosed ski area sat idle for three winters.


"The Stack Is Back"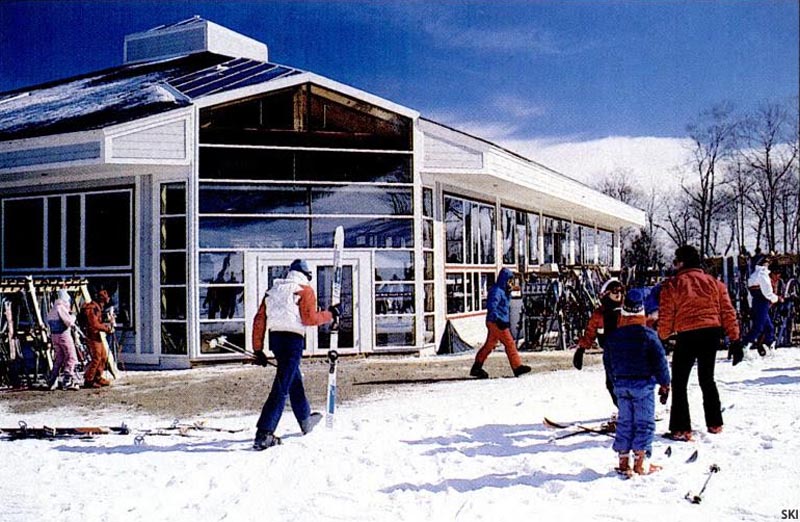 The then-new upper base lodge circa the late 1980s or early 1990s

In January of 1984, former Stratton General Manager Don Tarinelli, Vermont State Representative Mike Kimack, and Bill Wylie formed a group to reopen Haystack. The group took control of the idle ski area in July and had it operational in time for the 1984-85 season.

Big changes took place in 1985 when $2.5 million was invested in the ski area. The original Hayfever chairlift on the lower main mountain was removed, giving way to two new Poma triple chairlifts, the longer of which reached the top of the ski area. Snowmaking now reached to the top of the ski area.

The former Hayfever chairlift was then moved to the beginner mountain for the 1986-87 season, replacing two T-Bars.

Over a decade after it was first proposed, the The Witches area finally opened for the 1987-88 season, served by a new triple chairlift and snowmaking. The $2 million , 22,000 square foot upper base lodge was constructed for the following season.


Bankruptcy and Acquisition

While it appeared to be on the upswing from an infrastructure improvement standpoint, Haystack ended up filing for bankruptcy in August 1991. At that point, Mount Snow's parent company S-K-I Ltd. leased Haystack for three seasons and then subsequently purchased it in July of 1994 for $4.5 million. In addition to providing a nearby area for weekend and holiday overflow, the acquisition also allowed Mount Snow to pump water from Haystack's snowmaking water supply.

Along with most of S-K-I Ltd.'s other areas, Haystack was rolled into the American Skiing Company in 1996. It operated less and less frequently during its time as Mt. Snow's sister mountain, eventually becoming a weekend and holidays area.


Sale and Restrictions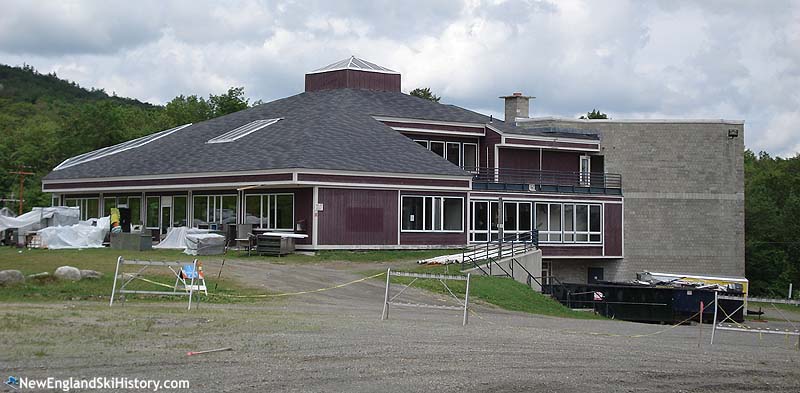 The idle upper base lodge in 2006

Haystack wrapped up what would be its final public season with a snowmobile race in March 2005. Drowning in debt, American Skiing Company sold Haystack to Tyringham Ridge, Inc. for $5 million on June 30, 2005. As part of the agreement, Haystack was prohibited from opening to the non-local general public. Up to 250 local residents per day would allowed to ski at Haystack, in addition to private club members.

Following the sale, plans were put in place to develop an upscale, private ski area. Real estate sales and capitalization issues plagued the company as the project estimate soared to $450 million. The project at the idle ski area was put on hold in 2007.


Haystack Privately Reopens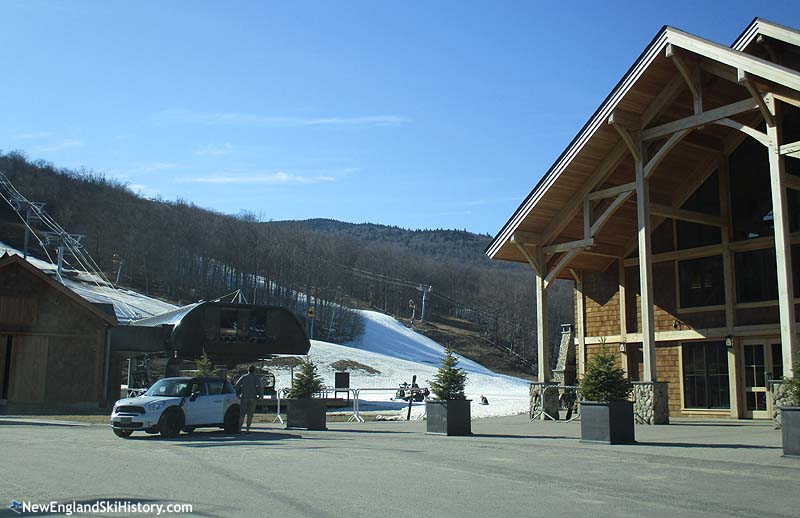 The new six pack and lodge in 2016

After being closed for four seasons, Haystack briefly reopened in December of 2009 with the shorter Hayfever triple chairlift. Mt. Snow then successfully sued over the use of snowmaking water per the 2005 sales agreement, therefore pushing the ski area back into closure after two days of operation.

The upper base lodge was demolished in 2010, to ease current tax liabilities, as well as to open up the area for redevelopment.

Haystack was sold in October of 2011 to Jim Barnes of the Hermitage Inn. The area reopened on a limited basis for the 2011-2012 season with snowmaking and one triple chairlift. Development of a connection to the inn started in 2012, resulting in the opening of a new quad chairlift on January 19, 2013.

Delivery of a second quad chairlift took place in fall 2013. Named Stag's Leap, the new lift connected the lower mountain to the main mountain for the first time since the removal of the Transfer Double over two decades earlier.

A massive new 80,000 square foot main lodge opened for the 2014-15 season, providing a centerpiece for the private resort. Many big name musicians were hired for private concerts over the next few years, such as America (2015), Blues Traveler (2016), Cheap Trick, Counting Crows (2016), the Doobie Brothers (2015), Hall and Oates (2015), Huey Lewis and the News (2017), Jackson Browne (2015), Kenny Loggins (2014), Natalie Merchant (2016), Rob Thomas (2014), and Train (2015). Trails were renamed for songs of the various artists in conjunction with their concerts.

One year later, a heated, high speed detachable six person chairlift was installed from the new lodge to the top of the ski area, replacing the Barnstormer triple. The new lift debuted on December 30, 2015.


Closure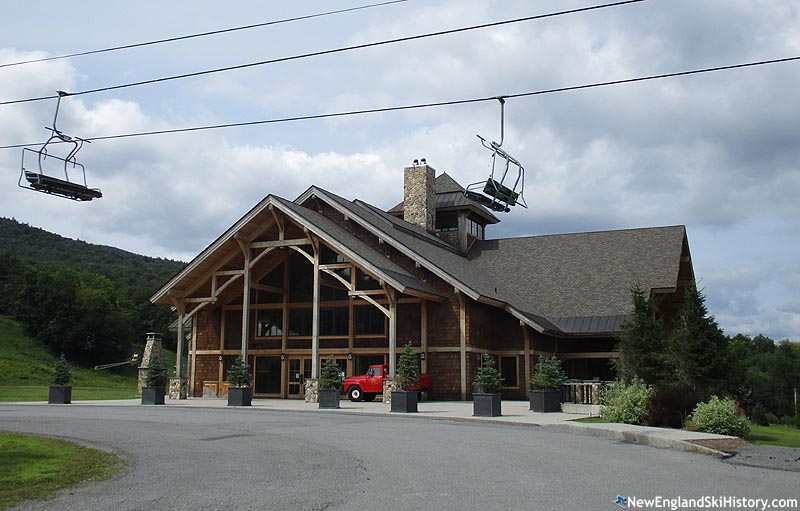 The idle base lodge in 2018

Though the Hermitage Club appeared to be growing at a fast clip, financial problems were mounting. Prior to the 2017-18 season, members were hit with a $10,000 fee to help reduce debt. Weeks later, word emerged that the water district was threatening to shut down the resort's water and sewer due to non-payment. In February 2018, Berkshire Bank filed a foreclosure complaint, citing $16.5 million in debt relating to the new lodge. Weeks later, the State of Vermont closed the resort due to unpaid taxes. The resort was placed in receivership in the spring of 2018. The resort did not operate during the 2018-19 season.

The Hermitage Club filed for Chapter 11 bankruptcy in May 2019. Liquidation moved forward, with a fleet of snowguns being sold to Vail Resorts later that year. In March 2020, a group of members acquired the ski area and related assets for $8 million. That summer, the redundant Hayfever Triple was removed and sold to Bousquet.

In October 2020, the new ownership announced trails would revert to their original names, reversing the music scheme put in place in the 2010s.



NewEnglandSkiIndustry.com News


Recent Articles
Ski Areas on the Bubble - Oct. 29, 2020
Hayfever Triple at Haystack to Be Removed - Jul. 27, 2020
Haystack Sold at Auction - Mar. 20, 2020
Hermitage Club Liquidation Moving Forward - Aug. 29, 2019
Hermitage Club Facing Liquidation - Jul. 29, 2019
Hermitage Club Files for Bankruptcy - May. 31, 2019
Haystack Could Head to Auction Block This Summer - May. 15, 2019
Multiple Ski Areas Remain Closed as the New Year Approaches - Dec. 27, 2018
Judge Denies Hermitage Request for Lift Inspections - Oct. 30, 2018
Hermitage Club Claims to Have Restructuring Deal Pending - Jul. 28, 2018
Haystack Mountain NewEnglandSkiIndustry.com News Page




Expansion History





Image Gallery





Lifts
Click on lift name for information and photos




Maps


Year by Year History
Adult Weekend Full Day Lift Ticket; Adult Full Price Unlimited Season Pass

2020s
Ticket Price
Season Pass Price

Pass Payback

Opening Day

Closing Day

Skier Visits

2020-21
December 12
2010s
Ticket Price
Season Pass Price

Pass Payback

Opening Day

Closing Day

Skier Visits

2017-18
November 25
March 25
2016-17
November 26
April 16
2015-16
December 30
March 27
2014-15
April 12
2000s
Ticket Price
Season Pass Price

Pass Payback

Opening Day

Closing Day

Skier Visits

2004-05
$48.00
$369.00
7.7 days
December 25
2003-04
$45.00
$369.00
8.2 days
2002-03
$43.00
December 21
2001-02
$38.00
December 22
2000-01
$35.00
1999-00
December 24
March 19
1990s
Ticket Price
Season Pass Price

Pass Payback

Opening Day

Closing Day

Skier Visits

1998-99
$39.00
$635.00
16.3 days
December 24
1997-98
$37.00
$599.00
16.2 days
December 20
1996-97
$37.00
December 21
March 30
1995-96
$35.00
December 15
March 17
1994-95
December 21
1993-94
$37.00
December 18
April 3
1992-93
$33.00
April 4
1991-92
$32.00
1990-91
$32.00
1989-90
$29.00
1980s
Ticket Price
Season Pass Price

Pass Payback

Opening Day

Closing Day

Skier Visits

1988-89
$29.00
November 24
1987-88
$25.00
April 3
1985-86
$22.00
December 14
1984-85
$20.00
$425.00
21.3 days
1980-81
$16.00
1970s
Ticket Price
Season Pass Price

Pass Payback

Opening Day

Closing Day

Skier Visits

1978-79
$13.00
1977-78
$12.00
December 10
1976-77
$10.50
January 8
1975-76
$9.75
$195.00
20.0 days
December 21
1974-75
$8.50
1973-74
$8.00
1972-73
$8.50
December 16
1971-72
$8.00
$160.00
20.0 days
December 18
1970-71
$8.00
December 19
1969-70
$8.00
1960s
Ticket Price
Season Pass Price

Pass Payback

Opening Day

Closing Day

Skier Visits

1968-69
$7.00
1967-68
$7.00
1966-67
$7.00
1965-66
$6.50
December 18
1964-65
$5.50
Visitor Memories
"I grew up skiing at haystack in the early seventies, having moved to the area when I was 7. I was a local who lived nearby and the mountain was our playground. On weekends our parents would drop us off at the Haymaker T-bar at the bottom of the mountain in the morning and pick us up at the end of the day in the same place. We knew every inch of the mountain and skied everywhere and when it was cold we spent our time in the lodge. We brought brown bag lunches because of course the prepared food was too expensive. But on days when we found money or coins we would splurge on the cinnamon sugar fried dough, which was legendary! We stored our skis in the base lodge and would slide down Haymaker on our backsides. Sometimes we grabbed cafeteria trays - what fun! In 1977 in March on what became the last day of that season my sister, mother and I were skiing on a warm, sunny, windless spring day. My sister who was 8 was alone on the chair that hit the tower and caused the lift derailment. My mother and I were behind her and we watched it happen and fell with the other chairs that were between the towers. It was awful. Luckily the local doctor Dr Harry Haratunian identified my 8-year old sister as the most grievously injured and she was whisked away to Bennington hospital immediately. We all recovered thank goodness but I am the only person who kept skiing of our family. It took me at least 20 years to not silently panic when riding a chair that was swinging, which used to happen a lot more than it does now. My kids all grew up skiing at Mount Snow but I will always cherish the authenticity and low-key nature of the Haystack of the 1970s - maybe we all see our favorite childhood haunts through rose-colored glasses but surely others had a similar wonderful experience."
Fiona Watt, Feb. 3, 2023
"I learned to ski at Haystack in1971 while spending weekends with my lifelong buddy Jimmy McGovern…who's Dad Jim (aka in CT as Pete) owned the Hermitage Inn during the hay-days of the 70s 80s and 90s. Old-Toad-Jim offered to one of the waiters, Hippie-Guy-Pie, cash to teach me to ski, only to abruptly split just as we hit the upper top. It was a tough walk down the mountain, but I learned my "lesson" the hard way and took ski-week lessons through the Haystack ski school each year to sharpen my skills. I have Many fond memories of those years with Jimmy Kathy and Sheila. Jimmy and I continue to ski together weekly over 50 years later. "
Sean Hart, Feb. 21, 2022
"The Stack was where I learned to ski. In fact, I first started learning to ski right before Haystack closed in 1980/81, over in the lower base area on Cascade and Fanny Hill. Fun times, great memories. For the 1981-1984 seasons, I kept learning to ski over at Mt.Snow and Stratton. I vividly remember returning to ski at Haystack after it had been re-opened, because I first skied the upper mountain then via the transfer lift. I remember Haystack back before The Witches opened, before there was an upper base lodge, and before ANY of the new lifts were installed. I'm sad to see that Haystack isn't open to the public any longer, because it truly was a great mountain. "
Ben Schaeffer, Feb. 12, 2019
"I remember hiking here during the summer of 2006, whilst the ski area was in one of its defunct phases. The lower base lodge had been somewhat recently demolished. The upper base lodge was still standing, but curiously had a bunch of equipment sitting outside. The Haymaker Double was still standing, as were towers from the Transfer and Oh No Doubles. The trails were still relatively clear."
Jeremy Clark, Jul. 15, 2015
"I grew up skiing at Haystack in the 60's..before the transfer lift we were shuttled by vans with the license plates 'HOOT' 'TOOT' & 'WHISTLE'. I joined my father and sister teaching in the ski school and taught Rosie Greer, many blind, deaf, and amputee skiers, as well as others from 5-90 years old. It was a wonderful place to ski and work."
Jane MacKugler, Jul. 14, 2015
---
External Links
Hermitage Club - official site
Last updated: November 1, 2020