Klein Innsbruck
Franklin, Massachusetts
Status:
Lost/Defunct
First Season:
1967-68
Last Season:
1999-00
Vertical Drop:
200 feet
Standing Lifts:
0
Past Lifts:
2 doubles, surface lift
Left: Klein Innsbruck aerial from the 1970s
Recent NewEnglandSkiIndustry.com News:
A small ski area in southeastern Massachusetts, Klein Innsbruck provided local skiers a facility with chairlifts, snowmaking, and night skiing for three decades. Located on the northeastern face of Oak Hill, the lower portion of the ski area has since been redeveloped into senior housing.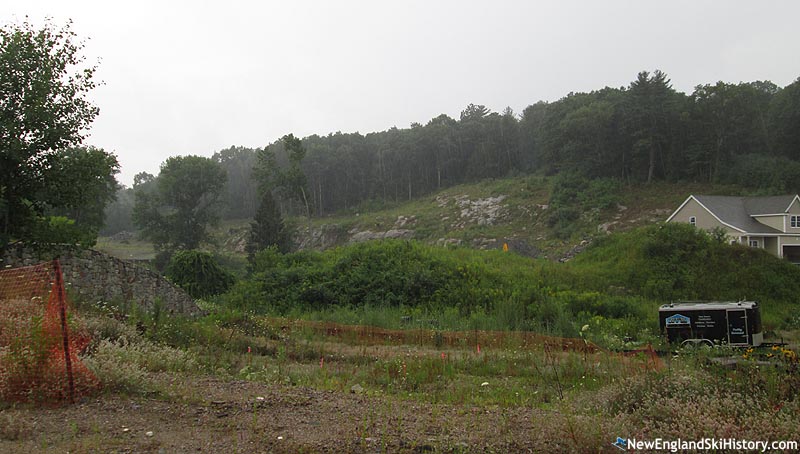 The former base lodge location in 2014

Klein Innsbruck Opens

Rhode Islander Stanley Marszalkowski began laying the groundwork for Klein Innsbruck in the mid 1960s, originally planning to install a double chairlift in 1967. The area likely opened either in February of 1968 or the following winter, with a half dozen trails, snowmaking, and most likely night skiing. To this day, Klein Innsbruck is one of the last new chairlift served ski areas to be built in Massachusetts.

A second, slightly shorter Hall chairlift was installed for the 1972-73 season. Unfortunately for Klein Innsbruck, the energy crisis reaped havoc on the ski area, as gas and snow shortages coincided.

With financial issues looming, starting in 1982-83, Klein Innsbruck leased out the main lodge lounge to Paxton, Inc. for a few seasons.

Klein Innsbruck attempted to diversify in the mid 1990s, with Kenneth Leavitt's Whitewater Mountain Resorts intending to build a water park. By 1995, the deal was off, amid strong local opposition. The company would instead buy Powder Ridge in Connecticut, where its four season plans also failed to gain local support.


Closure and Redevelopment

The former Right Chair lift line in 2014

While Klein Innsbruck continued to operate for the balance of the decade, financial pressures would soon overtake it. The area ceased operations in February of 2000.

On May 30, 2000, Klein Innsbruck was sold to Marinella Development LLC for $1.175 million. Later in the 2000s, construction started on the 114 unit The Villages at Oak Hill. Both chairlifts were removed, as well as the main lodge. In addition, the lower slopes were blasted to make for a level building surface. Franklin Mews, LLC took over development of the complex in early 2012.

With the facilities gone, development taking up the lower slopes, and 25 other acres being put into preservation, it is unlikely that Klein Innsbruck ski area will ever reopen.

Image Gallery


Lifts
Click on lift name for information and photos
Maps

Year by Year History
Adult Weekend Full Day Lift Ticket; Adult Full Price Unlimited Season Pass

1980s
Ticket Price
Season Pass Price

Pass Payback

Opening Day

Closing Day

Skier Visits

1983-84
$15.00
1970s
Ticket Price
Season Pass Price

Pass Payback

Opening Day

Closing Day

Skier Visits

1971-72
$6.00
1970-71
$6.00
1969-70
$6.00
Visitor Memories
"This is where I learned to ski age 17. With a group of work friends. I sniw plowed my way down lol. Good memories."
Dee Wojcicki, Feb. 2, 2022
"We used to have race practice every Thursday night at Klein Innsbruck in the mid 1970s. We were on the Buddy Werner ski team and did all of our practices at Kleins. So many good memories making what felt like 100 runs on Thursday nights riding the short chair lift. Our races were all over eastern MA like Ward Hill, Jericho in Marlboro and a bunch of other little ski hills. Many great memories and still skiing today because of that..."
Peter Delaney, Jan. 22, 2020
"My mother Pamela Tracy class of 75 took us there alot to watch people ski she grew up going there lived on forest st RIP grampy Grammy and Karen damn seeing this sparked so many memories "
Justin Mitchell , Nov. 16, 2019
"My family and myself worked as Ski Patrol from the mid 70s to early 80s. Stanley and his son Butch taught me how to drive the snow cat, work the chair lift , and make snow. We watched the 1980 Olympic Hockey team beat the Russians on the small black and white TV on the ski rental counter. Great memories !!"
David Piscione , Aug. 19, 2019
"My late father was a ski patroller there for several years. I grew up skiing there at least once a week, from being held between my dads legs to going down the 'black diamond'.. good memories."
Tim Daneau, Mar. 21, 2016
"my dad worked as ski patrol and unfortunately it closed before the year I was even born. He told me he had a great time working for ski patrol."
Popo , Apr. 19, 2015
"My dad would take me here if blue hills was iced out. Some great memories."
joey Kolbe, Feb. 26, 2015
"In 1973 and 1974, my high school buddies and I would take advantage of any half days of school ofr snow days and ski Kein Innsbruck. It was a short easy drive from Taunton. I was a novice at best but always enjoyed myself. I moved out of Massachusetss at the end of 1989 and only recently learned of the closing. Many good memories."
Larry Pratt, Jan. 25, 2015
"Friday night skiing was the jump off in jr. high and high school."
Andrew Drowne, Sep. 22, 2014
"My parents would take me to Klein Innsbruck Ski Area in the summer months as we never did ski. I can remember running up and down the slopes with my brother. We had a blast."
Paula Liberty, Aug. 14, 2014
"When I was in elementary school, a group of friends and I would go night skiing every Friday night. Those were some good times. Not sure why we stopped going there. Might make a quick stop by this weekend."
Charlie Zrike, Feb. 27, 2014
"Last place I skied in Ma. It was snowing like crazy that day and the place was nearly deserted. What a great time I had."
Bill Chace, May. 13, 2013
---
External Links
Klein Innsbruck Ski Area - New England Lost Ski Areas Project
Last updated: November 6, 2016