Alpine Ridge Ski Area
Gilford, New Hampshire
Status:
Lost/Defunct
First Season:
1965-66
Last Season:
Vertical Drop:
400 feet
Standing Lifts:
Past Lifts:
1 double, surface lifts
Left: The overgrown Bombers Ridge slope (right) (2004)
Recent NewEnglandSkiIndustry.com News:
Located on the northeastern face of 1,680 foot Mt. Rowe, Alpine Ridge provided skiing and/or summer activities for nearly a quarter of a century.


Mt. Rowe Ski Area

Mount Rowe ski area debuted for the 1965-66 ski season as a small, T-Bar operation literally in the shadow of Gunstock. With an initial vertical drop of less than 200 feet, the area was far from posing any threat to its larger neighbor.

Mount Rowe was nonetheless growingly popular in its segment, notching a decent increase in business during its second season. Heading into its third season, the area announced it would be pursuing a sizable expansion, including a new chairlift and skating rink.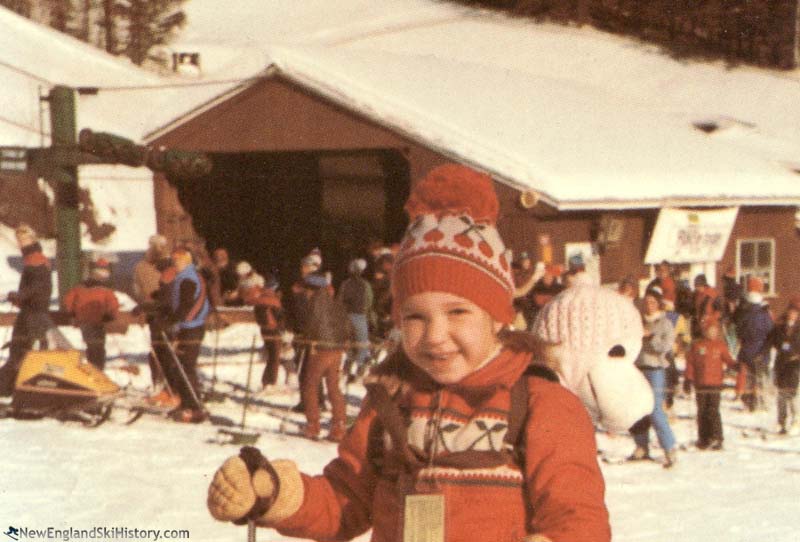 The Alpine Ridge chairlift circa the 1970s

Mt. Rowe Expands, Becomes Alpine Ridge

The new chairlift was finally installed for the 1971-72 season, more than doubling the area's vertical drop. The top terminal of the chairlift was located a short distance from the top of the original single chairlift at Gunstock.

The area likely underwent changes in ownership in 1973 and 1976. Also in 1976, Mt. Rowe announced it would be installing an alpine slide.

With the installation of the alpine slide, Mt. Rowe changed its name to Alpine Ridge circa 1977. Given its proximity to Weirs Beach, the summer attraction was so popular that the ownership hinted at shutting down winter operations altogether.

Ski operations were reportedly improved for the 1982-83 season with the expansion of night skiing to the top of the ski area, as well as the clearing of new trails.


Ski Operations Cease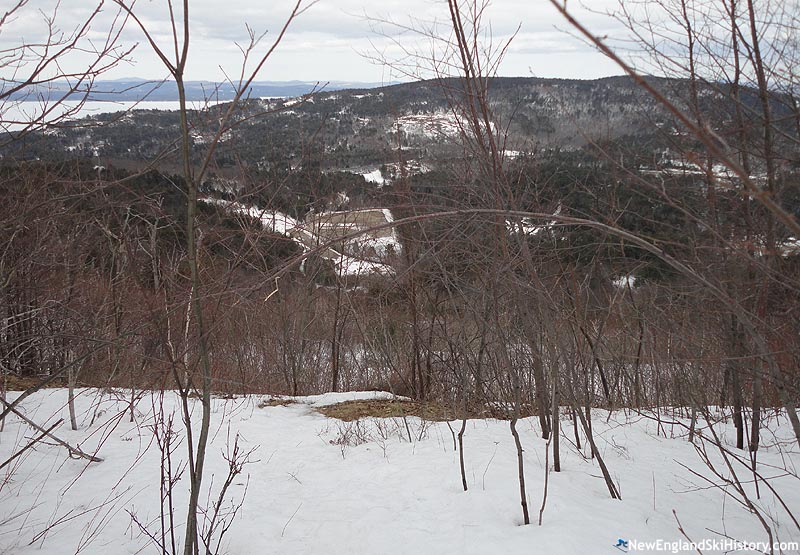 The top of the defunct Alpine Ridge ski area (2011)

Ski operations at Alpine Ridge may have ceased following the winter of 1985-86. The alpine slide, as well as water slides, continued to operate as late as 1988.

In early 1989, Rowe Ridge Corporation was formed by Milo Pike, husband of local Olympic Silver Medalist Penny Pitou. Alpine Ridge likely operated for a final summer in 1989. The lifts and slides were likely removed in the early 1990s.



Closure and Possible Reopening

Alpine Ridge gradually grew in during the 1990s. In 1997, Penny Pitou sold the former ski area to Belknap County. With the addition of the Alpine Ridge tract, Gunstock is hoping to expand to that side of Mt. Rowe, perhaps tying in the project with the development of a hotel.

Image Gallery

Lifts
Click on lift name for information and photos
Year by Year History
Adult Weekend Full Day Lift Ticket; Adult Full Price Unlimited Season Pass

1980s
Ticket Price
Season Pass Price

Pass Payback

Opening Day

Closing Day

Skier Visits

1982-83
$13.00
1981-82
$13.00
1970s
Ticket Price
Season Pass Price

Pass Payback

Opening Day

Closing Day

Skier Visits

1974-75
$60.00
1969-70
$4.00
Visitor Memories
"skied and worked at the mnt for many years loved the small mnt feal sorry to see it go "
donald hurd, Jan. 16, 2019
"Saturday with the Ellis School!"
Cecile Baranowski, Mar. 30, 2018
"i worked at Alpine Ridge thru my high school years.. i loved it.... "
Patrick McKenna, Sep. 25, 2017
---
External Links
Mount Rowe/Alpine Ridge - New England Lost Ski Areas Project
Last updated: September 25, 2017