Campton Mountain Ski Area
Campton, New Hampshire
Status:
Open
First Season:
1969-70
Vertical Drop:
313 feet
Standing Lifts:
1 double, surface lift
Past Lifts:
Left: The base area (2011)
Recent NewEnglandSkiIndustry.com News:
12/7/2016: New Hampshire Lift Ticket Prices Up 3%
Located in the middle of Waterville Estates near the Waterville Valley ski area exit of Interstate 93, Campton Mountain ski area is a small, semi-private operation. Over the years the ski area has also been known as Locke Waterville and Mad River Run.


Waterville Estates Development

One of the key amenities of the Locke family's 863 acre Waterville Estates development, the Campton Mountain Ski Area was built in 1969 with a new 1,481 foot long Stadeli double chairlift. Three runs descended from the top of the chairlift, with one of the trails having a novice rope tow on its lower portion. To promote the area during its debut season, free skiing was offered on March 21 and March 22, 1970, with the Challenge Cup race being part of the festivities.



2000s Closure

The base area during its idle years (2007)

While the area had grooming and night skiing, it did not have snowmaking. As a result of the lack of snowmaking and a lack of funding, the ski area likely closed after the 2003 season (though there were plans to operate as late as February of 2006).


Grand Reopening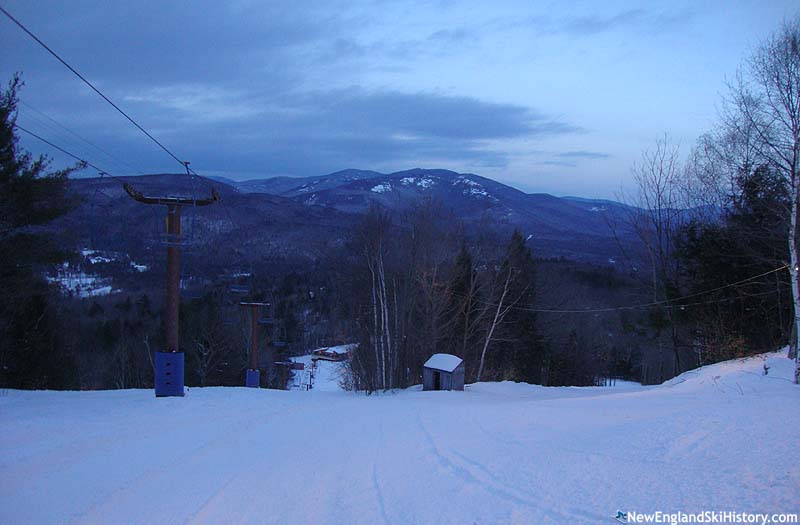 The top of the chairlift (2011)

After years of not operating, the ski area had a grand reopening on February 19, 2011 with a rebuilt base lodge. Thanks to plentiful snowfall, the season was considered a success.

Though the lifts and lighting were improved for the 2011-12 season, a lack of snow and high insurance costs resulted in the area not opening.

Routine maintenance and inspections were conducted in the fall of 2012, allowing for operations following the February 2013 Nor'Easter. The ski area was able to operate for 28 days on natural snow.

In March of 2013, the Waterville Estates Board of Directors formed a Snowmaking Exploratory committee. The group started a feasibility study with Maverick Management and Design Group that spring.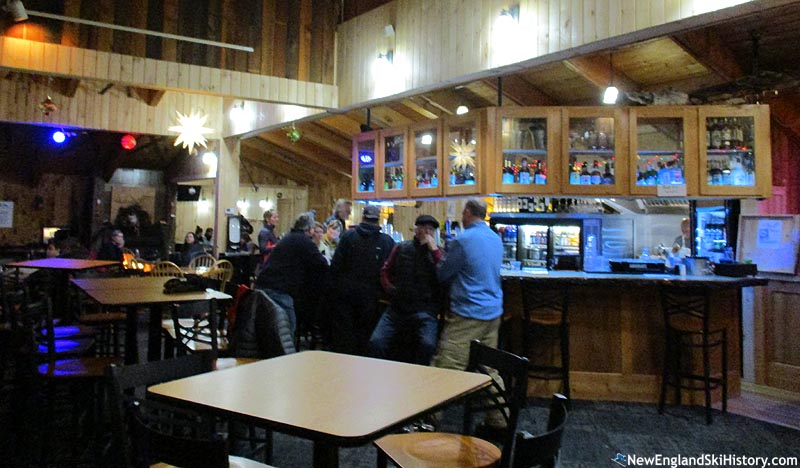 The renovated lodge (2017)

With the food and beverage business booming, the main lodge was renovated and expanded for the 2017-18 season. A demo snowgun was put into service for the 2018-19 season, in which the rope tow began operating in November.

NewEnglandSkiConditions.com Reports

Month
Average Percent of Terrain Open
December
100% (4 reports)
January
68% (2 reports)
February
92% (3 reports)
March
48% (2 reports)

-- start conditions table -->

Recent Conditions Reports

Feb. 19, 2019 by rocket21
Packed Powder, Loose Granular
Mar. 16, 2018 by rocket21
Powder, Variable Conditions
Mar. 9, 2018 by rocket21
Packed Powder, Packed Powder
Dec. 26, 2017 by rocket21
Packed Powder, Packed Powder
Jan. 22, 2017 by beccam
Spring Snow, Ice

Campton Mountain Ski Area on NewEnglandSkiConditions.com

NewEnglandSkiIndustry.com News

Image Gallery

Lifts
Click on lift name for information and photos
Maps

Year by Year History
Adult Weekend Full Day Lift Ticket; Adult Full Price Unlimited Season Pass

2010s
Ticket Price
Season Pass Price

Pass Payback

Opening Day

Closing Day

Skier Visits

2018-19
$20.00
November 24
April 6
2017-18
$20.00
December 22
March 24
2016-17
$15.00
$100.00
6.7 days
December 26
March 19
2015-16
$15.00
$100.00
6.7 days
December 31
2014-15
$15.00
2013-14
$12.00
2012-13
$12.00
2011-12
$12.00
2010-11
$20.00
February 19
2000s
Ticket Price
Season Pass Price

Pass Payback

Opening Day

Closing Day

Skier Visits

2002-03
$16.00
2001-02
$16.00
Visitor Memories
"David, I remember those early 70's also. We owned the slopes. Torch light parades, tubing on the slopes,Ski racing. Those times were a big part of my youth. Fond fond memories. What I would give for those times again."
Ken Kurkjian, Mar. 1, 2015
"Wow!!!! What great memories...I remember the lift in the 'old days' even going backwards once! Yikes,that was scary. We were among the founding families. Could not have asked for a better life growing up."
David Cleary, Jan. 19, 2014
"I night skied here shortly after the grand re-opening in February of 2011. Recent snowfall resulted in nice packed powder skiing on the two trails open at night (Lazy Eights and Glide Path). While the slopes were practically deserted, the base lodge was packed with folks having dinner and beverages."
Jeremy Clark, Jan. 20, 2013
---
External Links
Campton Mountain Ski Area - official site
Campton Mountain - SmallSkiAreas.com
Last updated: January 8, 2019