| | |
| --- | --- |
| | |
Located on the northeast face of Craney Hill in Henniker, New Hampshire, Pats Peak is one of southern New Hampshire's most popular ski areas. While many areas large and small have come and gone in the region over the past half century plus, Pats Peak has been able to gradually improve its facilities, attributing much of its success to a business model that avoids debt whenever possible.


Early Years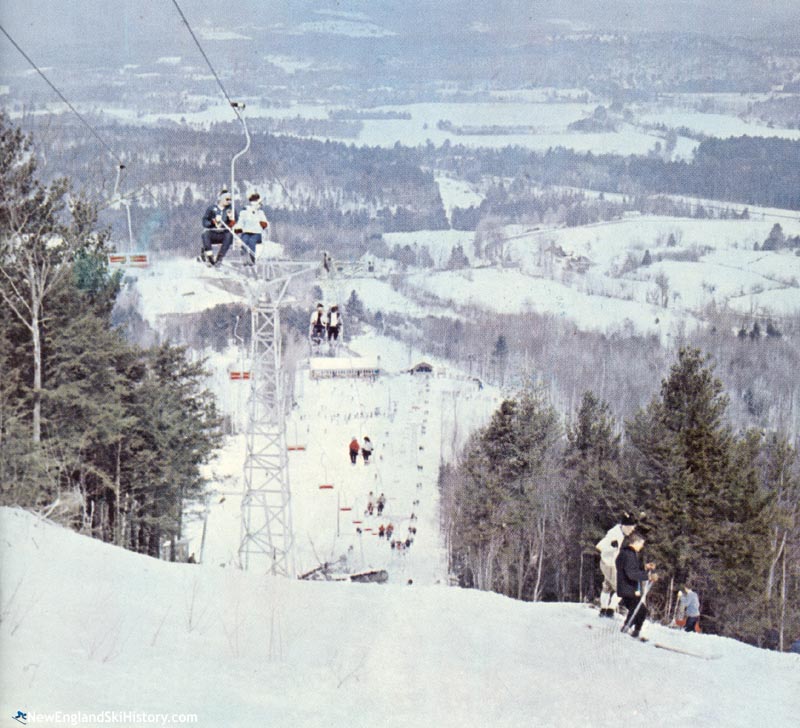 The Peak Double circa the early 1960s

The roots of Pats Peak date back to circa 1961, when Dave Patenaude began thinking about building a small ski area on the side of Craney Hill. After his brother Joe joined the project, plans were expanded an additional land was procured. The development soon became a family affair, as their brother Stuart and father Merle joined the do-it-yourself effort to keep costs down. According to the Concord Monitor, Merle was responsible for building the base lodge, Joe helped with carpentry and trail cutting, Stuart was "the mechanical one" involved in lift construction, and Wayne handled the well drilling with his Contoocook Artesian Well Company.

Four trails and two slopes, spanning 613 vertical feet, were cleared with some of the resulting timber used for constructing a 30 foot by 80 foot lodge uphill from the present day base area. Henry Crowninshield Jr. was hired as business manager.

Merle later discussed his sons' efforts with the Concord Monitor, stating, "This is just what they did. They laid out their own trails, did their own surveying and cutting. They installed the steel towers needed for the chairlift and T-Bars. They ran the bulldozers, graded, back filed [sic] - performed every construction job there was until it was built."

Pat's Peak, Inc. was incorporated on December 20, 1962 by attorneys John Barto and Ronald Snow and Loralee Jackson. Merle Patenaude Jr. (Joe) was treasurer, while David Patenaude and Stuart Patenaude served as directors.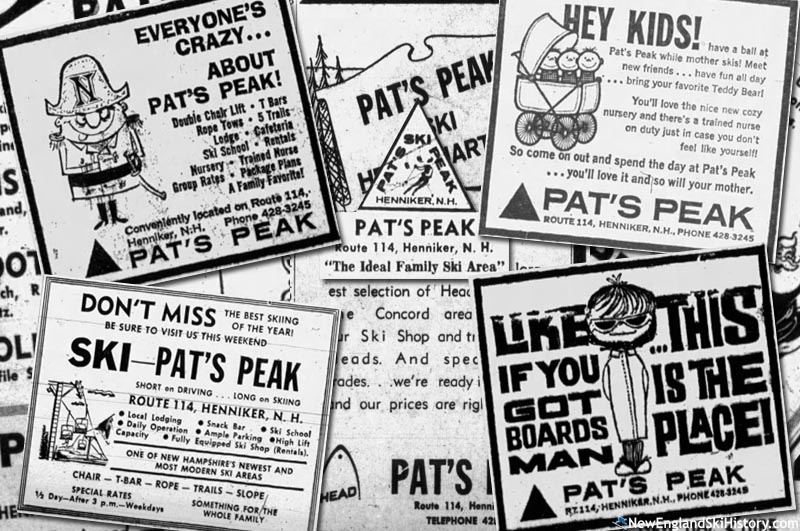 1960s Pat's Peak Ads

Pat's Peak ski area opened on January 5, 1963 on a thin natural snow base with a T-Bar and rope tow. Night skiing was available on a semi-private basis. Two weeks later, the double chairlift to the summit debuted. Bill Coolidge's A. W. Coolidge Ski Schools, Inc. operated the ski school, which had plenty of business as Pat's Peak quickly cultivated its regional school programs. Snowpack was reportedly scant until mid-February, as Pat's Peak billed itself as "short on driving, long on skiing." The season likely lasted until late March or early April, when warm rain arrived.

That off-season, Pat's Peak held numerous events, such as an Easter church service, cook outs, and at least one wedding.

In July, the ski area acquired land from David and Merle Patenaude as expansion plans were developed. The main part of the $50,000 expansion was the new novice Valley area, served by a 1,900 foot T-Bar. A 325 foot rope tow was constructed between the lodge and the parking lot, designated as a "courtesy tow" to help skiers get to the lodge. The ski shop was expanded and leveraged a franchise agreement for Head skis. On the main mountain, the novice Breeze trail was constructed, while Duster was reclassified as intermediate. Ralph Amsden was named area manager. A World War II era Navy veteran, Amsden had previously worked at Carroll Reed Ski Shop and Mt. Whittier.

The 1963-64 season got underway in mid-December with the original T-Bar operating, as snowpack was insufficient to ski the main mountain or new novice slope at the time. In February, Pat's Peak made headlines when power was lost during peak time on a Saturday. After shutting down the ski area, it was discovered that hunters had shot the main electric line in three different places.

Following the 1963-64 season, area manager Ralph Amsden departed to manage the new Mt. Agamenticus ski area in southern Maine.

A children's nursery was likely added for the 1964-65 season. Douglas Nelson likely served as director of the A. W. Coolidge Ski School. The season likely had an early December opening, thanks to natural snowfall. Snow was meager thereafter, as the area only had a base of 0 to 3 inches by mid-January. Nevertheless, the season managed to last into the beginning of April.

The 1965-66 season had another slow start, as January saw some missed operating days and weeks of reports of bare spots with scant base. Shortly after the newly formed Pat's Peak Ski Club (co-founded by Harvey and Sandy Chandler) held a sanctioned race, an end of the month storm gave the season a significant boost. Warm rain threatened the Washington's Birthday weekend, however a few inches of snow fell just in time to preserve operations. The New England College Winter Carnival continued to build, as the 1966 festivities started when Governor John King lit a torch in Concord, which was then run to Pat's Peak to start a fireworks display and torchlight ski run.

The 1965-66 season likely ended at the end of calendar winter, with business improving over the previous season.

During the 1966 off-season, Pat's Peak hosted dancing to live music on Saturday nights.

Improvements were made to the base lodge and slopes for the 1966-67 season. The seven trail, three slope trail network continued to be served by the chairlift, two T-Bars, and two rope tows. A modest snowstorm allowed the ski area to open on December 15 with limited terrain. Snow was plentiful that winter, as base depths grew to 2 to 3 feet by mid-March.

An early season snow storm allowed the 1967-68 season to start in mid-November on limited terrain. The season likely ended in mid to late March.



New Base Area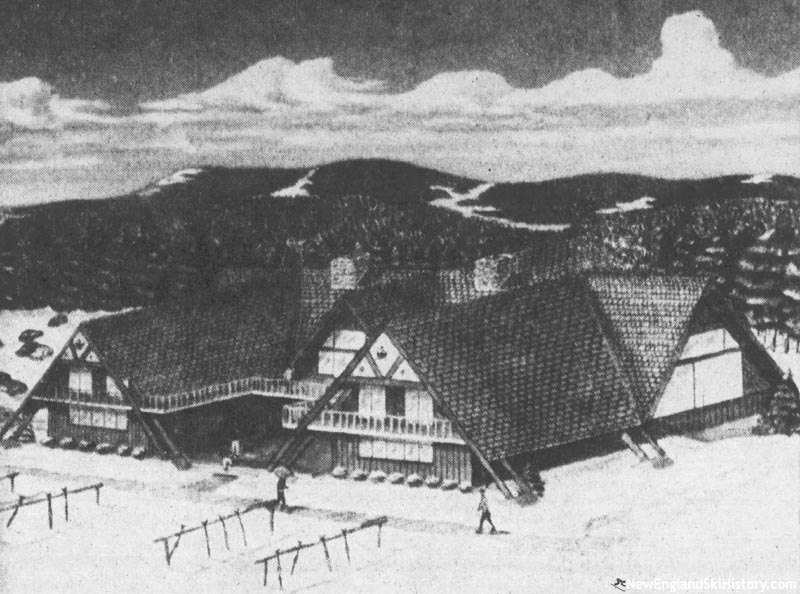 A 1968 rendering of the new base lodge

Pat's Peak owners Joe and Wayne Patenaude broke ground on a $250,000 expansion program in August 1968. The first phase saw the base area relocated downhill, which involved moving the 120-ton base lodge 600 feet downhill and doubling it in size. The double chairlift was extended 700 feet downhill and a new parking lot was constructed adjacent to the base terminal. The advanced Cyclone and novice Zephyr trails were also cut. In addition, the Knight J-Bar was reportedly installed with night lighting and snowmaking. Plans were also announced for a phase two expansion, which would include further additions to the Doug Wilkie-designed lodge, a new novice chairlift, two new trails, a second J-Bar on the Knight slope, and snowmaking to the top of the Knight T-Bar.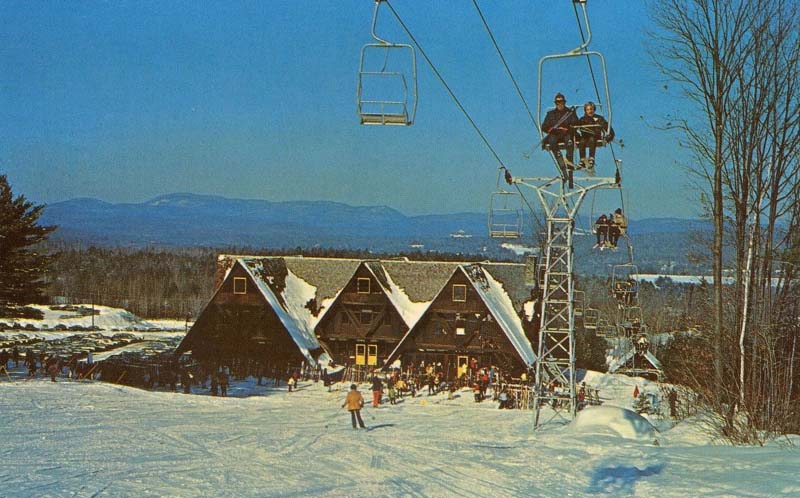 The base area circa the 1970s

After some untimely wet weather in January, snowpack quickly grew, resulting in base depths of two to four feet in mid-February 1969. By mid-March, Pat's Peak was reporting base depths of four to seven-and-a-half feet, allowing the season to continue through at least the first weekend of April.

A double chairlift was added to the Valley area for the 1969-70 season as base lodge expansion work continued. Skier visits exceeded 50,000.

For the 1970-71 season, Pats Peak reportedly limited ticket sales to 1,500 per day and was still "experimenting" with snowmaking, according to Joe Patenaude. James Sanderson served as manager. The area increased its racing offerings, including a "national ski racing camp" during Christmas vacation week, a junior racing program with Jim Wolf serving as a full-time coach, and hosting the first "New England Collegiate Cup Races" in conjunction with New England College. The season kicked off in mid-December and was reported as the strongest to date, notching "60,000 to 70,000" skier visits according to the Concord Monitor.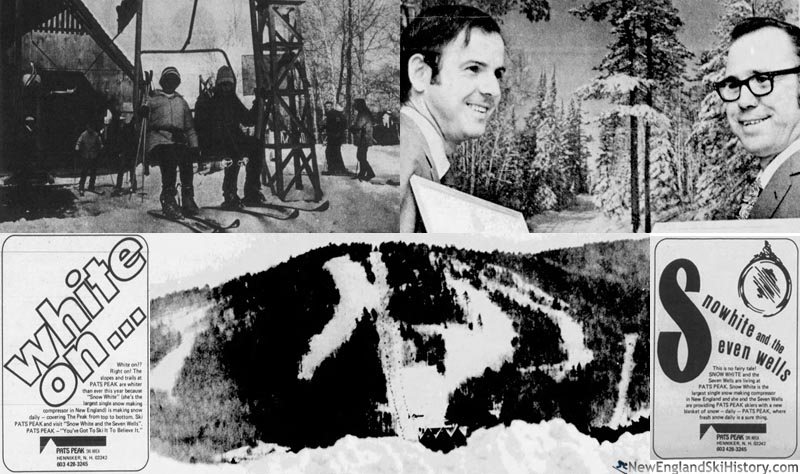 Pats Peak in the early 1970s

In May 1971, Pats Peak was named "Small Business of the Year" by the New Hampshire Small Business Administration.

The 1971-72 season kicked off in November and had a decent Christmas week, but slumped with a weekend rain pattern in January. Manager James Sanderson lamented in the middle of the month that most of the skiers were season ticket holders. Later that month, Ruedi Wyrsch presented a showing of Warren Miller's "The Sound of Winter" at Pats Peak, featuring a scene with Wyrsch at Pleasant Mountain. Following the screening, Wyrsch organized stunts on the slopes of Pats Peak (but could not participate due to an injury). The season lasted until at least April 1.

In June 1972, an attorney filed a $350,000 federal lawsuit against Pats Peak, claiming he was over-charged by $4 when he was refused a half-day ski rental rate. After making front page news, the attorney's lawsuit was dismissed.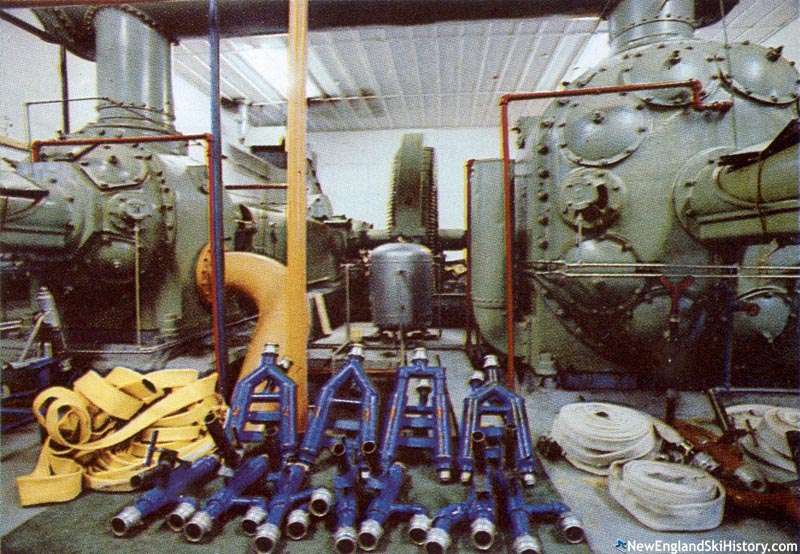 The snowmaking plant circa the 1970s

After struggling during periods of lean snowfall, Pats Peak installed a large-scale snowmaking system for the 1972-73 season. Covering seven trails and two slopes spanning 55 acres, "Snow White and the Seven Wells" referred to what was then considered the largest air compressor in New England (made in the 1930s and found by Joe in Maine), and the series of wells providing water (likely drilled by Wayne's Contoocook Artesian Well Company). The system likely kicked into gear around Christmas, but was unable to rescue January business due to warm weather, nor was it able to prevent the season from melting away before the middle of March. Nevertheless, when operating, the new snowmaking system made for "delightful skiing," according to general manager James Sanderson.

David Currier was likely named manager of the ski area for the 1973-74 season. The weather struggles continued, as the season kicked off with limited manmade snow just before Christmas. Nevertheless, Pats Peak remained in operation that winter when many other areas were bare. Featuring top-to-bottom coverage while many other areas were idle, Pats Peak hosted the United States National Slalom Championships on February 22 and 23, which were won by future Olympians Cary Adgate and Susan Patterson.

Thanks to snowmaking, Pats Peak operated 75 days during the 1973-74 season. Though not in financial trouble, David Currier said "poor is the word for the financial picture," as the area considered seeking Small Business Administration loans to get through the off-season.

Circa the 1975-76 season, Pats Peak Academy was launched, providing racers with slope time while teaming up with New England College and New Hampton School for academics.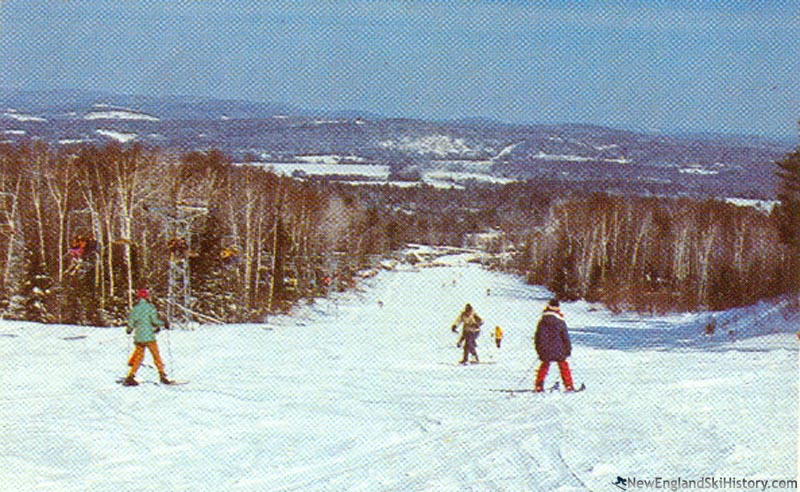 The Valley Area in the early 1970s

For the 1977-78 season, Pats Peak constructed the Valley Lodge and installed one of the state's first triple chairlifts. A Borvig model, the Hurricane served as the main lift at Pats Peak for the next four decades. Parking was again expanded in conjunction with the lodge and lift projects.

While many other areas shut down in the 1970s and 1980s, Pats Peak chugged along. Not only was it a regional racing destination, but it also hosted school programs with an estimated 5,000 children in 1986.

Base area improvements were made for 1987-88, as Pats Peak celebrated its 25th anniversary season. Base area projects continued for the 1988-89 season, as well as improvements to the Zephyr trail and the learn to ski slope. The Valley double received a new drive terminal for the 1989-90 season, while other trails were widened to improve skier capacity.

Lights were added to the Cyclone trail for the 1993-94 season, followed by Breeze for the 1995-96 season.



Lift and Base Area Improvements

As the mid 1990s arrived, Kris Blomback was promoted to general manager. Blomback later told SkyTrac, "first and foremost I consider myself a caretaker of this facility and want to make sure I leave it like a Boy Scout - better than I found it."

Snow tubing was added for the 1997-98 season, while a J-Bar was relocated from the recently closed King Ridge. The following year, a double chairlift was purchased from the recently closed Norwich University ski area and installed on the main mountain, providing racers and experts with a short, fast ride.

By the turn of the millennium, Pats Peak had grown its learn to ski program to serve more than 8,000 children each season. The night lighting system had been replaced, chairlift drives upgraded, and snowmaking system optimized to put out more snow with less energy consumption and labor. Also around the turn of the millennium, glades were cut over a multi-year period off Hurricane, Zephyr, FIS Race Trail, and Puff.Snowmaking and lighting was installed on Zephyr for the 2001-02 season, improving night skiing for novices.

Pats Peak announced a massive five year base area expansion in 2002, including an additional 8,000 square feet of lodge space. The improvements helped the area to become a popular location for off season banquets and weddings. The 2002-03 season also saw the debut of the Saturday night Pay One Price ("POP") program, bundling a lift ticket, rentals, lessons, and snowtubing for $21.

Pats Peak's second triple chairlift was installed for the 2003-04 season. Named Turbulence, the Partek-Borvig triple chairlift took some stress off the Valley Double. Meanwhile, the snowmaking system was gradually improved, allowing Pats Peak to consistently be amongst the first areas in the region to operate each season, as well as to get 100% of its terrain open.

Lights were added to Blast for the 2004-05 season, which, coupled with the Zephyr addition three years prior, provided a continuous top to bottom run for beginners at night.

Pats Peak established itself as a go-to for bump skiers in 2006-07, when it installed lights and a new snowmaking system on the Hurricane trail. The fully-automatic SMI fan gun installation was the first of its type in New England, allowing for frequent resurfacing of the moguls. Night skiing was added to the adjacent Vortex trail the following season.



Cascade Basin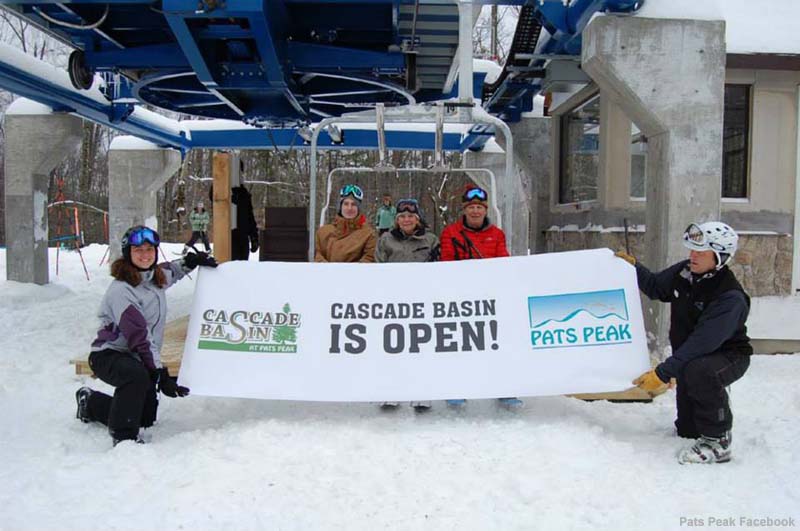 The debut of Cascade Basin on December 19, 2013

The Backdraft trail debuted for the 2012-2013, previewing development of the new $1 million Cascade Basin area. The new isolated trail pod opened on December 19, 2013, featuring a triple chairlift and new intermediate terrain. Two more trails were added to Cascade Basin for the 2014-15 season, providing terrain for all abilities.



The final day of the Peak Double and debut of the Peak Triple (2017)

In late spring 2014, Pats Peak purchased and removed the remaining lifts at Ascutney, VT, retaining the Snowdance Triple. Three years later, the lift was refurbished, upgraded, and installed as a replacement to the original Peak Double. Meanwhile, a long term main lodge expansion continued, as well as the installation of additional snowmaking equipment.



NewEnglandSkiConditions.com Reports

Month
Average Percent of Terrain Open
November
15% (1 report)
December
53% (55 reports)
January
93% (60 reports)
February
100% (43 reports)
March
97% (29 reports)

-- start conditions table -->

Recent Conditions Reports

Mar. 25, 2023 by indyskier29
Loose Granular, Spring Snow
Mar. 23, 2023 by nordicgal
Loose Granular, Spring Snow
Mar. 23, 2023 by brianna
Loose Granular, Spring Snow
Mar. 16, 2023 by rocket21
Wet Packed Powder, Wet Powder
Mar. 16, 2023 by nordicgal
Wet Packed Powder, Wet Packed Powder

Pats Peak on NewEnglandSkiConditions.com
NewEnglandSkiIndustry.com News
Expansion History
Image Gallery
Lifts
Click on lift name for information and photos
Maps
Year by Year History
Adult Weekend Full Day Lift Ticket; Adult Full Price Unlimited Season Pass

2020s
Ticket Price
Season Pass Price

Pass Payback

Opening Day

Closing Day

Skier Visits

2022-23
$92.00
$589.00
6.4 days
December 2
March 26
2021-22
$79.00
$569.00
7.2 days
December 3
March 27
2020-21
$79.00
December 11
March 27
2019-20
$75.00
$559.00
7.5 days
November 29
March 15
2010s
Ticket Price
Season Pass Price

Pass Payback

Opening Day

Closing Day

Skier Visits

2018-19
$72.00
$559.00
7.8 days
November 23
March 31
2017-18
$70.00
$549.00
7.8 days
December 2
April 1
2016-17
$68.00
$549.00
8.1 days
December 10
March 26
2015-16
$66.00
$539.00
8.2 days
December 5
March 27
2014-15
$64.00
$529.00
8.3 days
November 22
March 29
2013-14
$62.00
$519.00
8.4 days
November 30
March 30
2012-13
$60.00
$499.00
8.3 days
November 30
March 31
2011-12
$58.00
$469.00
8.1 days
December 17
March 23
160,000
2010-11
$56.00
$449.00
8.0 days
November 27
March 27
160,000
2009-10
$54.00
$429.00
7.9 days
December 11
March 28
2000s
Ticket Price
Season Pass Price

Pass Payback

Opening Day

Closing Day

Skier Visits

2008-09
$52.00
$419.00
8.1 days
November 22
March 28
2007-08
$49.00
$389.00
7.9 days
December 1
April 6
2006-07
$48.00
$369.00
7.7 days
December 9
March 25
2005-06
$47.00
$349.00
7.4 days
November 26
March 26
150,000
2004-05
$43.00
$349.00
8.1 days
December 11
March 27
146,000
2003-04
$42.00
$349.00
8.3 days
December 6
March 28
2002-03
$40.00
$495.00
12.4 days
December 7
March 30
2001-02
$40.00
$495.00
12.4 days
December 21
March 17
2000-01
$39.00
December 9
April 1
1999-00
$39.00
$495.00
12.7 days
December 22
March 26
1990s
Ticket Price
Season Pass Price

Pass Payback

Opening Day

Closing Day

Skier Visits

1998-99
$38.00
December 19
March 28
1997-98
$36.00
December 13
March 29
1996-97
December 14
March 30
1995-96
December 9
March 31
1994-95
$33.00
March 19
1993-94
March 27
1992-93
$28.00
1991-92
$28.00
December 7
1990-91
$28.00
March 10
1989-90
$25.00
1980s
Ticket Price
Season Pass Price

Pass Payback

Opening Day

Closing Day

Skier Visits

1988-89
$24.00
March 19
1987-88
$22.00
December 19
1986-87
$20.00
1985-86
$19.00
1984-85
$18.00
$265.00
14.7 days
1983-84
$17.00
$250.00
14.7 days
1982-83
$17.00
1981-82
$16.00
1980-81
$15.00
1979-80
$12.00
1970s
Ticket Price
Season Pass Price

Pass Payback

Opening Day

Closing Day

Skier Visits

1978-79
$12.00
1977-78
$11.00
$150.00
13.6 days
1976-77
$10.00
$140.00
14.0 days
1975-76
$10.00
1974-75
$10.00
November 29
1973-74
$9.00
December 22
March 24
1972-73
$9.00
December 2
March 11
1971-72
$8.00
November 27
1970-71
$8.00
December 17
April 4
1969-70
$7.00
March 29
1960s
Ticket Price
Season Pass Price

Pass Payback

Opening Day

Closing Day

Skier Visits

1968-69
$6.00
$75.00
12.5 days
April 6
1967-68
$5.50
November 18
1966-67
December 15
1963-64
$5.00
$65.00
13.0 days
December 13
1962-63
$5.00
$65.00
13.0 days
January 5
Visitor Memories
"I love working at Pats Peak. I love it so much I am beginning my 25th season as the Peak celebrates its 60th this year."
Bruce Lavoy, Nov. 7, 2022
"I worked for Pat's Peak for 12 straight years in the kitchen. To this day, it's the best job I ever had. Made a ton of friends from the exchange student program. Miss working there every day."
Brandon McIlvene, Dec. 27, 2019
"I joined the Pat's Peak Ski Patrol as a volunteer in 1980 and retired 25 years later. I learned so much about skiing, first aid and community service during my career! My son grew up from nursery to racing and we made many wonderful lifetime friends. "
Judith Nicholson, Dec. 26, 2019
"As a hometown resident....when Pat's Peak was first developed, we learned to ski there and spent many, many hours on all the slopes. We were blessed to have this area so near and so reasonably priced. Many memories."
Gail Crane, Dec. 20, 2019
"I went to Academy at the peak and later on started my ski instruction career at the peak, this place is near and dear to me"
Olga Spanhoff, Mar. 14, 2017
"Had the privilege to start my coaching career at the Peak with a fabulous group of adults and kids. I remember working with Olga, I trust al is well with you."
Terry Leonard, May. 8, 2015
"i spent a few of my winters there going to a awesome small racing academy and getting great coaching from some of the best I love the Peak"
olga spanhoff, Jan. 10, 2014
---
External Links
Pats Peak - official site
Last updated: April 25, 2023