| | |
| --- | --- |
| | |
The northernmost chairlift served ski area in New Hampshire, Balsams Wilderness operated from 1966 through 2011. Since the closure, major redevelopment has been proposed.

A Grand Hotel

Located in Dixville Notch in remote Northern New Hampshire, the Balsams Grand Resort's tourism history likely dates back to the 1860s, when the Dix House opened to guests. In 1895, longtime Dix House guest Henry S. Hale purchased the property and renamed it the Balsams. The Balsams grew into a sizable resort over the next few decades, adding a Donald Ross golf course in 1912 and growing to a capacity of 400 guests in 1918.

Meanwhile, a young Beecher Falls, Vermont high school drop-out named Neil Tillotson was serving in the cavalry in World War I. After returning from the war, he worked for a rubber company and soon started his own company, producing a cat-shaped balloon named the Tilly Toy. As his latex balloon company grew into the Tillotson Rubber Company, his fortunes grew.

In 1954, Tillotson reportedly acquired the 15,000 acre Balsams property for $185,000 at a bankruptcy auction. In 1960, Tillotson would proudly lead Dixville's first first-in-the-nation voting, in which the small town unanimously selected Vice President Richard Nixon. This tradition would make the Balsams and Dixville Notch nationally known.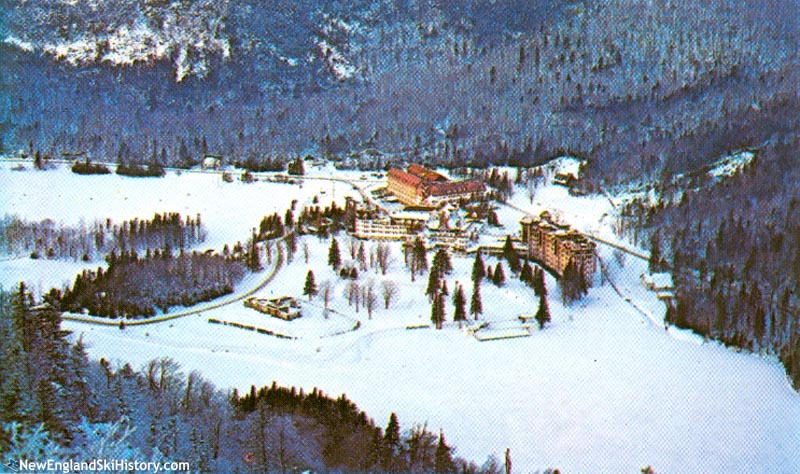 The Balsams Grand Resort Hotel circa the 1960s

Alpine Skiing at the Balsams

While the Balsams was a well-known summer vacation resort, its winter potential remained largely untapped as the popularity of alpine skiing started to grow.

The first known attempt at lift served skiing at the Balsams was in the winter of 1956-57, when a 1,000 foot long rope tow was installed serving an intermediate slope. It is not known where the slope was located, or for how long it operated.

As the 1960s arrived, future manager Warren Pearson commented that only two types of guests visited the resort, "the newly wed and the nearly dead." As destination ski resorts popped up around New England, a new ski area near Dixville Notch was proposed for 1962. Future Ragged Mountain general manager Earle Chandler led a survey for the Department of Economic Development, favoring the siting of the ski area on Rice Mountain or near Table Rock. The latter was developed four years later, bringing big mountain skiing to the Balsams.


Balsams Wilderness Ski Area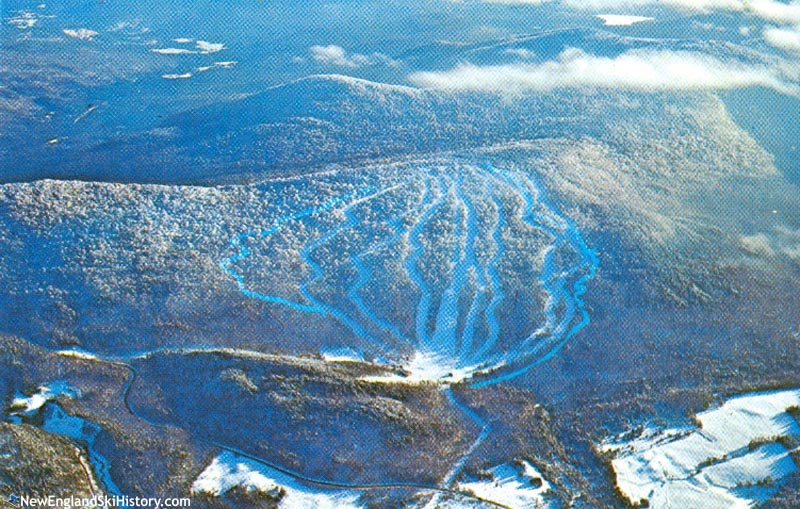 An early aerial view of Balsams Wilderness

Opening on December 26, 1966, the Wilderness ski area featured a 3,210 foot double chairlift and a 750 foot novice T-Bar. Managed by Merle Perry, the ski area featured 8 trails and a vertical drop of 1,000 feet. At the base, a two story lodge was built. Fresh off a tour of duty in Vietnam, 24 year-old Warren Pearson was hired to manage the Uel Gardner Ski School.

Advertised as being "on the rooftop of New Hampshire," the resort featured other winter activities, such as skating, tobogganing, sleigh rides, and snowmobiling. The ski area was reportedly dedicated prior to the 1967-68 season, with Governor John King on hand.

A second T-Bar was added for the 1969-70 season, serving the lower two thirds of the mountain.

In 1971, Warren Pearson was promoted to General Manager of the resort. In 1977, Pearson, Manager Steve Barba, Chef Phil Learned, and Maintenance Superintendent Raoul Jolin started the Balsams Corporation, which took over the operations of the resort. The ski area reportedly saw a 20% increase in business that season.

Around this time, there was word of expanding the ski area to the wooded 3,470 foot Dixville Peak. Had the expansion taken place, the ski area's vertical drop would have increased from 1,000 to 1,700 vertical feet, making it one of the largest in the state.

As the 1978-79 season arrived, the Balsams claimed to be the first ski area in the country to operate on wood-burning energy, as the resort's power plant was converted from oil to wood.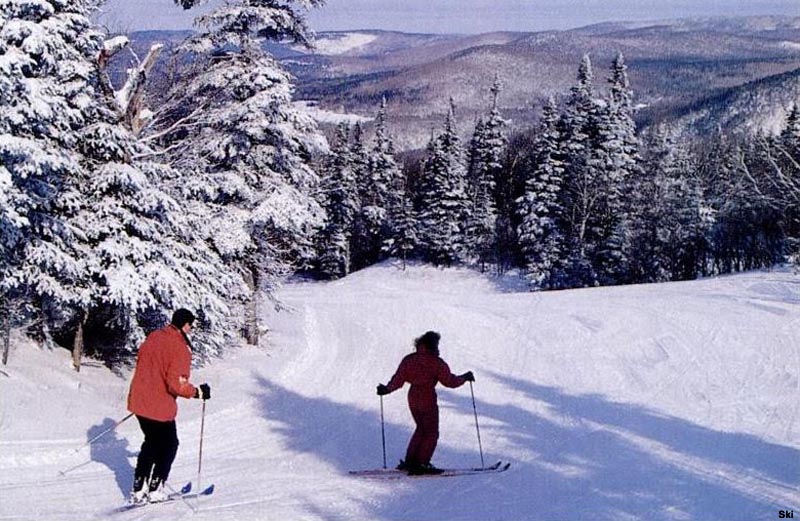 The Balsams Wilderness ski area circa the 1990s

Though there weren't many changes to the area in the 1980s, it still grew favorable reviews. In the mid-1980s, a Skiing magazine article declared, "the terrain is always interesting, and the vistas are always changing; and best of all, there is nary a flat spot nor a cat-walk in the entire trail system. Whether through luck or good design, Wilderness therefore provides a skiing experience equaling that of many an area with twice the vertical." The hotel's dining was described as "an entirely new perspective on the art and science of eating" that "is a sacramental experience, and you will find it nowhere else in the Northeast."

Circa 1988, Alyeska Resort Director Richard Harris took over management of Balsams Wilderness.

The snowmaking system was upgraded for the 1989-90 and 1993-94 seasons. Meanwhile, many trails were added to the nordic ski network throughout the early 1990s.

Though it didn't have the location, modern facilities, or ski terrain of growing ski resorts in the 1990s, the Balsams did have one advantage: return business. Four out of five guests returned to the resort. The resort capitalized on its inclusive winter experience by advertising that "one rate covers...everything."



Changes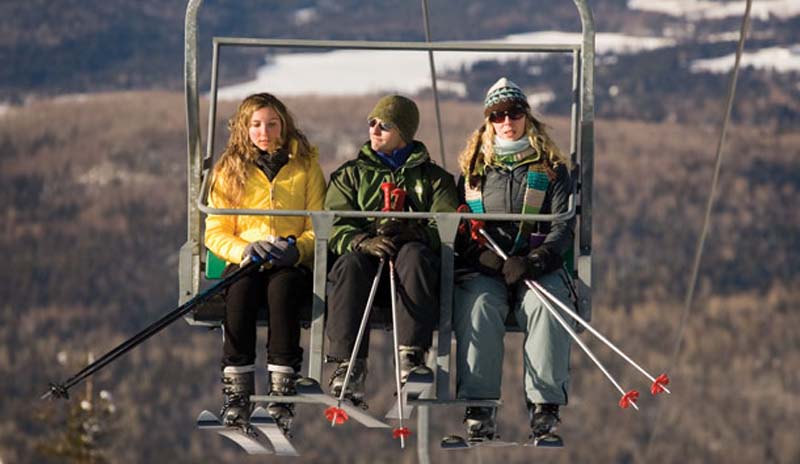 The Notch Triple circa the early 2000s

On June 28, 2001, Warren Pearson died of cancer. Meanwhile, Raoul Jolin retired to Florida. Finally, on October 17, 2001, Neil Tillotson passed away at the age of 102. Per his wishes, the Balsams Grand Resort would eventually be sold.

Following the 2001-2002 season, the aging lift system at the Balsams was modernized. Replacing the longer T-Bar was a new Partek triple chairlift, dedicated to the memory of Warren Pearson. In addition, the Bungy T-Bar was removed and replaced with a new Partek triple chairlift on a relocated Bungy slope adjacent to the base lodge.

After the 2004-05 season, the remaining active partners in the Balsams Corporation, Steve Barba and Phil Learned, announced their retirement. Delaware North Companies Parks & Resorts took over operational control of the resort.

Circa 2009, Warren Pearson's son Andy took over management of the Balsams Wilderness ski area.

In February of 2011, construction began on the 33 mountain top turbine Granite Reliable Wind Farm, located just southeast of the Balsams. The wind farm went into use at the end of the year.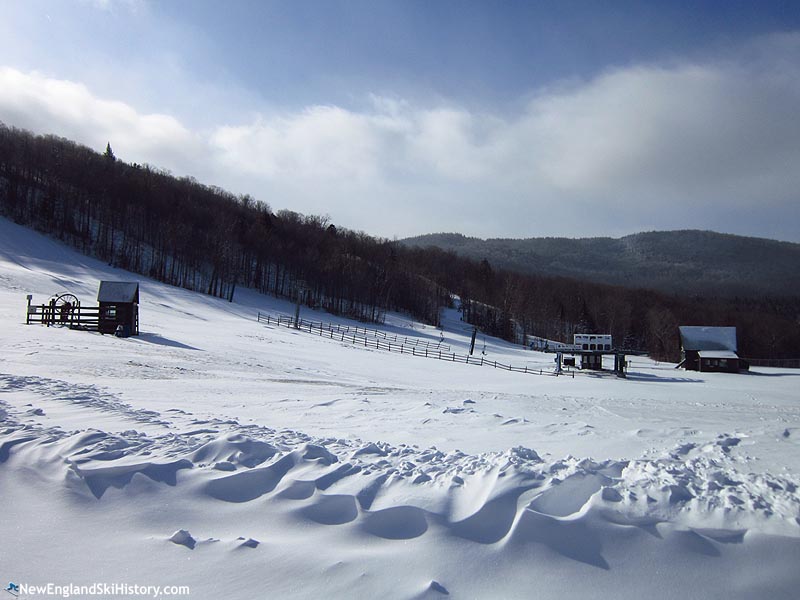 An idle Balsams Wilderness ski area in January of 2012

Closure

In March of 2011, the Tillotson Corporation announced it would be selling the Balsams to Ocean Properties Ltd. Hotels and Resorts. After multiple extensions, the deal fell through that summer, allegedly due to issues with subdivisions, renovations, and landfills relating to the former Tillotson rubber factory. The resort closed in September of 2011.

After the Tillotson Corporation reportedly turned down a $3 million offer from transmission line entity Northern Pass, it sold the resort to Daniel Dagesse and Daniel Herbert Jr.'s Balsams View, LLC for $2.3 million.

In early 2012, Society for the Protection of New Hampshire Forests used some $850,000 in anti-Northern Pass funds to purchase a 5,800 acre conservation easement to block development.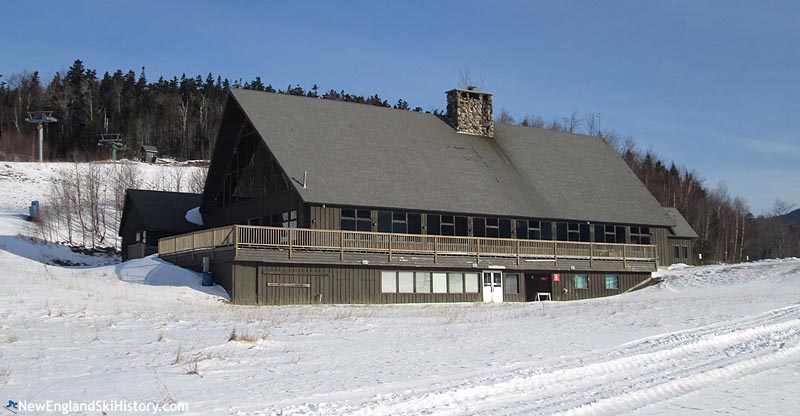 The base lodge in February of 2014

In early May of 2012, the new ownership was reported as saying local planning decisions had killed their Balsams renovation plans. On May 12, 2012, the owners auctioned 2,400 items from the property, including equipment from the original double chairlift. On May 22, 2012, the Colebrook planning board decided to allow the requested subdivision. Later that year, demolition work began on various buildings around the hotel. Additional portions of the facility were taken down in a controlled burn on January 6, 2013.

News emerged in July 2013 that the ownership had missed a deadline to obtain the federal New Market Tax Credits needed to continue renovations and hire staff. Meanwhile, Dagesse and Herbert were researching the federal EB-5 program for potential funding.

While the resort was initially projected to reopen in 2013 or 2014, it continued to sit idle in winter 2013-2014.


Planned Reopening and Expansion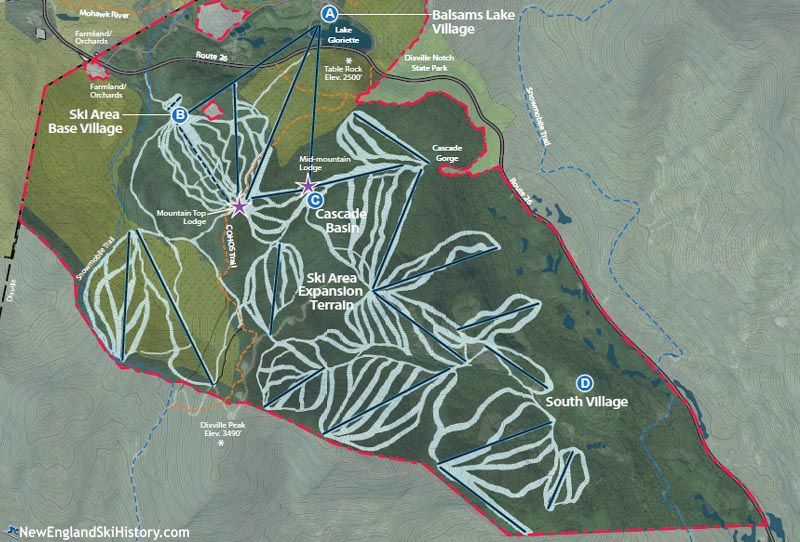 2015 Balsams Wilderness expansion map

On January 17, 2014, Les Otten's legal associate Lawrence Clough created Dixville LLC as a Maine business entity. In February 2014, the Union Leader reported that Balsams View LLC has entered into an agreement with Les Otten's firm with hopes of reopening the resort. Later that month, the Berlin Daily Sun reported a large expansion to the ski area was being explored.

In winter 2015, plans for a $143 million Phase 1 reopening emerged. Based upon the information released, the once-modest Balsams Wilderness ski area would quickly become the largest in New Hampshire, with a possible reopening in 2016-17. The area was to initially have eight lifts and six trail pods with a possible full build out of 26 lifts and 2,000 skiable acres.

In May 2015, Governor Maggie Hassan signed SB30 into law, which would provide up to $30 million in state backed bonds for the project. Despite the legislative victory, numerous delays were encountered, including issues with permitting and the state financing. By the end of 2018, Otten pulled the state financing application and declared the project to be in "grave time jeopardy."

Not wanting to see the project die, a North Country reporter-turned-legislator sponsored HB540 to create a local tax district to fund bonds for the project. Governor Chris Sununu signed HB540 into law in May 2019. Soon thereafter, the resort was placed on the market.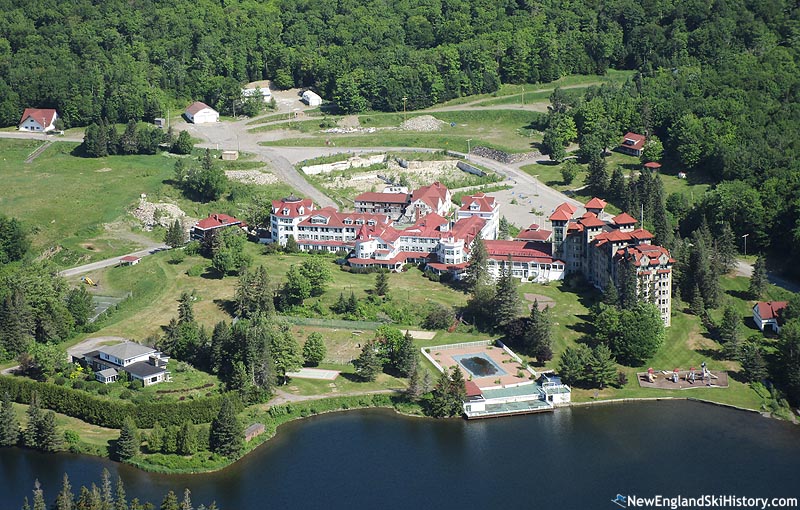 The hotel grounds (2020)

In late 2020, the Balsams began marketing its Hale House has an upscale vacation. Weeks later, the Balsams announced that Annmarie Turcotte had purchased Dan Hebert's share of the property. In a joint interview with the Colebrook Chronicle, Otten declared, "we're here for the long-term, and it's our intention to find a way to beat the odds, and to do with the property what we and most others believe should be done, which is to be a vibrant, year-round resort."



NewEnglandSkiIndustry.com News


Recent Articles
Balsams Resort Receives Key County Approvals - Mar. 24, 2023
Balsams Announces New Partner - Dec. 10, 2021
Les Otten Brings On New Balsams Partner - Jan. 8, 2021
Les Otten Seeks to Extend Balsams Permits - Dec. 9, 2020
Balsams Resort Placed on Market - Jun. 25, 2019
New Balsams Bill Signed into Law - May. 16, 2019
Les Otten Pushing for New Balsams Legislation - Feb. 4, 2019
Balsams Reopening in 'Grave Time Jeopardy' - Dec. 15, 2018
STUDY: Probability of Lost New England Ski Areas Reopening - Nov. 7, 2018
Balsams Pulls State Financing Application - Aug. 27, 2018
Balsams Wilderness Ski Area NewEnglandSkiIndustry.com News Page




Expansion History





Image Gallery





Lifts
Click on lift name for information and photos




Maps


Year by Year History
Adult Weekend Full Day Lift Ticket; Adult Full Price Unlimited Season Pass

2010s
Ticket Price
Season Pass Price

Pass Payback

Opening Day

Closing Day

Skier Visits

2010-11
$45.00
December 22
22,000
2009-10
$38.00
2000s
Ticket Price
Season Pass Price

Pass Payback

Opening Day

Closing Day

Skier Visits

2008-09
$38.00
December 20
2007-08
$38.00
$499.00
13.1 days
December 15
2006-07
$38.00
2005-06
$35.00
December 17
33,529
2004-05
$35.00
December 18
March 27
33,529
2003-04
$35.00
December 13
March 28
2002-03
December 14
2001-02
December 20
March 31
2000-01
December 16
1999-00
$30.00
December 18
March 26
1990s
Ticket Price
Season Pass Price

Pass Payback

Opening Day

Closing Day

Skier Visits

1998-99
$30.00
December 19
1997-98
December 13
1996-97
December 21
March 30
1995-96
December 16
1994-95
December 17
March 26
1993-94
March 27
1992-93
$23.00
1991-92
$23.00
December 20
March 29
1990-91
$23.00
1989-90
$22.00
April 1
1980s
Ticket Price
Season Pass Price

Pass Payback

Opening Day

Closing Day

Skier Visits

1988-89
$22.00
1987-88
$20.00
1986-87
$18.00
1984-85
$16.00
$240.00
15.0 days
1982-83
$14.00
1980-81
$12.00
1979-80
$11.00
1970s
Ticket Price
Season Pass Price

Pass Payback

Opening Day

Closing Day

Skier Visits

1978-79
$10.00
1977-78
$10.00
1976-77
$9.00
$120.00
13.3 days
1975-76
$8.00
1973-74
$8.00
1972-73
$8.00
1971-72
$7.00
1970-71
$7.00
$75.00
10.7 days
1969-70
$7.00
1960s
Ticket Price
Season Pass Price

Pass Payback

Opening Day

Closing Day

Skier Visits

1968-69
$7.00
$75.00
10.7 days
1966-67
December 26
Visitor Memories
"Thank you for including my dad's name in the Balsams history. So excited to see that! He was the first manager of the Balsams ski area and worked with Mr.Pearson also. Our family had the first ski passes issued when it opened. I still have mine so it would be great to see the ski area open again! Maybe I could still use it?!! Loved seeing the history written about the area. Mpj"
Marcia Johnson, Jul. 20, 2021
"As a young girl, my brothers and I skied at Wilderness. The trails were never crowded, our French Canadian neighbors brought their children, seemingly at home on skis since babyhood! The lodge was so inviting and the huge fireplace an excellent spot for toasting frigid toes and eating fondue. My grandfather had started a grand mountain hotel in the High Tatras, but was forced to flee in WW II.The Balsams was the closest my family came to recapturing the magical winter wonderland of my mother's youth."
Monika Sternecker, Feb. 10, 2021
"The memories here can never be replaced. I would be skiing here every weekend with Ann and John McGlaughlin. Trail 3 to 5A was the route we always took. 1975 - 1981 were the prime years. "
Gary Roy, May. 18, 2020
"This is and always will be a specialplace in our hearts The old Balsams has gone, but the memories live on💗💜💟"
Karl&Jeanie Maser, May. 27, 2018
"Enjoyed our stay at balsams for 30 years would love to come back!"
Lawrence Vollaro, Jan. 25, 2018
"We enjoyed several vacations there; some of my son's earliest ski experiences where at the Balsams when he was 3-4 years old. I took a lesson each time - I remember the instructors Donna Irwin, Sylvie Weber, and Phil (?). Donna made Ski Magazine (or maybe Skiing) top instructor list once!"
Ricky Chenenko, Nov. 28, 2017
"I am thrilled that the Balsams will be reopening ! I've spent many wonderful weekends there . The food and staff were always outstanding . I went on Columbus day weekend one year . It was 70 degrees sitting on the back porch. Watching the sun go down . When we awoke the next morning . There was 6 inches of wet snow on the flowers . Lol . The views from the clubhouse are second to none . I believe one can see all the way into Canada . Again . The food and staff were first class .I can't wait to ski that powder again ! "
Wayne Bradbury, Aug. 1, 2015
"I worked at the balsams resort in the late 1990's. was one of the best summers of my life. the resort,the visitors and the golfing were amazing. really sad to see the it closed down and has so much trouble reopening again. really miss mr.tillotson."
misty folz, May. 12, 2015
"In the summer of 2001, my wife Linda and I came to the Balsalms for our first wedding anniversary. I recall the majesty of the inn, its reflection on the lake and the surrounding 'notch'. My wife will never forget the scent of the lilac trees, her favorite. We took several memorable walks around the property, my wife appreciating each tree. We also played a couple rounds at Panorama - blissful silence. We took the kayak in the lake for some fly fishing. The resort and golf course were clearly in need of renovation but, much like the Mt Washington Hotel when I had visited years ago, you could envision the grandeur of old (and the possibilities capital improvements could bring). My family are huge skiers (Sugarbush and Mad River mainly). If Mr. Otten is able to build his ski resort which I hope, like Sugarbush, will include large areas of glade and 'tree' skiing, we will mostly come to visit. Best of luck."
Peter Bilowz, Mar. 13, 2015
"My family came up here from the concord area one winter weekend in 2008. We stayed at the grand hotel which was amazing thee breakfast was fabulous. I was only five and I wasn't to great of a skier as I am now. So my mom got lessons for my older sister and I.That day was really snowy and the powder was to deep for us beginners to ski in so we got to make shapes in the snow and build snowman. I didn't know they closed until last month and I was disappointed. I knew there was a fire at the resort but I didn't know it closed! I hope for this awesome ski resort re-opens soon!"
Holden Presti, Feb. 9, 2015
"The Balsams was the epitome of a true New England family-style vacation. In the 70s, my folks and I would head north to Dixville Notch every summer. You'd get that adrenaline flow when y got a glimpse of this magnificent place from Route 26 as you'd approach the notch. The wrap around porch, the curtains blowing in the evening wind, the wonderful food, the people, the view from the swimming pool, hiking up to Table Rock... I felt safe and at ease at this wonderful place. We as a family bonded here during out vacations. I learned to swim here, learned to dance here, met 2 life-long friends here. A definite icon in my life. The Balsams was and is a very special place. I'm not sure what the future holds and if it will ever hold the same sentiments as it did 35-plus years ago, but I do hope whoever purchases it will realize that there is something profound and very 'different' about this resort that sets it apart from any other place."
Paul Alan Dagres, Jan. 30, 2015
"have been xc skiing at this resort since forever....still have an old tag on one of my soft shells...the best trails and superb grooming! Just today was wondering if I will ever be on the Hare Highway or the Hare Highway Extender....makes me sad. Hope the new development if it ever occurs does not obliterate the xc area....the golf courses... n. pipits on them in the winter...what a view."
C Wyluda, Jan. 30, 2015
"Our family had a cottage on Route 26, just 3 miles from the resort. My parents built the place back in the 1970s. Our entire family enjoyed the resort and snowmobiling. I learned how to ski at this resort some years ago. I am now in my fifties and wish this place was still alive. The new developments planned will probably take away the 'family' oriented life style that this resort had. It was small, didn't offer 'double diamond' skiing but it certainly provided a family atmosphere which brought many people to Dixville. The lodge was just awesome with a huge stone fireplace at which kept me warm on those cold winter skiing days when it was below 20 on top of the mountain and I came into the log with frozen feet and hands ... BUT ... the skiing was just AWESOME! Memories I will never forget and will keep close to my heart and thank my parents for bring up us kids in such a nice place!"
Sue , Nov. 19, 2014
"11/9/2014 - Today was my first drive by past the Balsalms after living in NH since 1971. We arrived amidst the first 4" of snow to a lake not yet frozen. It was Cinderella like until we drove onto the property and saw the destruction close up of the windows and property. The people of Colebrook so desperately need jobs and this would provide such a beautiful opportunity to use all of our states beautiful resources, whether we are rich or poor."
Laura Starrett, Nov. 9, 2014
"My dad learned about The Balsams in 1968. Thus began a semi yearly trip for us. First for skiing, then for the summer social season. When we began Warren Pearson was the ski director of the ski school.Up til the closing I have been taking my family each year for skiing. We've enjoyed it to carry on the tradition since 1968. It's a shame to see whats become of one of the last few grand hotel left. Many of the people who we've gotten to know have moved on. Walter the door man always greeting you as your vehicle was unloaded, John Kennedy, Michele in reservations, and Andy at the ski school just to name a few. All the history and people that made The Balsams special for many families/people has disappeared. "
Marc Angers, Aug. 25, 2014
"I began my hospitality career at the Balsams in 1993. I later joined LBO Enterprises which became American Skiing Co. under the leadership of Les Otten. I worked for Mr. Otten in New England and California can attest to his expertise and passion for the ski, golf and lodging industry. If anyone can bring the Balsams back to life, it's Mr. Otten. I hope Mr. Otten will re-introduce the American Plan made famous by the Balsams and enjoyed by many of my former guests at the resort."
Neil Leddy, Jul. 17, 2014
"I played music at the Balsams in the winter of 74 with the Penny Carter band,many fond memories.I decided to take a drive down yesterday to see how the renovations were going,I was heartbroken.What a mess!And no sign of anybody working.I truly hope someone will save this treasure."
Chris Griffith, Jul. 8, 2014
"SKI AREA WASN'T OPEN WHEN I WORKED THERE,1947-1951.Yup,i was the youngest employee ever, they told me. I have many fine [5] summer memories of an eleven year old on my own in 1947 to 1951.Place was owned by Mr. Caulman at the time, and yes, the previous owner, CAPTAIN DuDeria lived in the still existing Log house each summer while I was there, only to find myself caring for his two Great Danes in my spare time. I revisit the Balsams each year, only to find a fallen treasure fading away, piece by piece. Wonder if anyone else is still around who could relate to my employment years and would share stories about the good old days at the Balsams. I plan to visit again this Fall, and on, and on, and on. [ YUP ] PAUL"
PAUL SMITH, Apr. 27, 2014
"I was a Bell Captain summer 1954 and the Doorman summers 1955-58. Had planned on stopping by this September for an overnight after a windjammer cruise in Camden, Maine. Tillie's partner was Captain DuDeria who won the hotel in a poker game in the 1930's. Tillie and the Captain bought it back in 1953. Is there any chance the hotel will be open for business this September?"
Edwin F. Foreman, Apr. 6, 2014
"I skiied in 1968 at Balsams Resort with the 'Swiss Alps of America' will still be with us thanks to Leslie Otten. He is the man that will keep her alive. Thank you, Leslie"
Diane OReilly , Feb. 24, 2014
"I have such great memories of visiting my Grandparents, Carolyn and Richard Hughes in Colebrook from the 70's-90's. We'd often travel the windy road to Dixville Notch to visit the Balsams and ski the family fun, perfect size Wilderness ski mountain. What a shame if this area doesn't come back in the future, it's such a quaint, under-rated ski area, I will think with the positive energy my G-parents taught me and hope for the best in such a beautiful area of NH! Today, Grampa Dick would have been 100-years old! "
Garth Field, Dec. 17, 2013
"My father did ski patrol for many years and as a result my sister and I went up almost every weekend growing up. I'll always remember the friendly people whom I grew close to, the Howard Johnsons in Colbrook center and the movie theater. Watching the ski instructor and ski patrol do the lighting over winter break was a blast. There's not a single memory I have of this place that I wouldn't go back to in a heart beat.I sure miss Jake, Sam and Nick."
Rich Casey, Dec. 17, 2013
"I received this in response to an inquiry I made to the management: 'The hotel is expected to reopen sometime late in 2014. The ski area will reopen once the hotel renovations are complete'"
Bill Tarkulich, Oct. 28, 2013
"How sad. I had no idea they had closed. We were going to go up next week for some late spring skiing, and thankfully checked the web site. Nice easy trails,lovely base lodge with food which we were told was prepared by the culinary students. I hope it reopens at some point."
Maureen Ferguson, Apr. 4, 2013
"Truly a sad state of affairs. We used to the visit Balsams almost every year (from the 1960's to 2011). it was a truly special place in our hearts. The Wilderness ski area was nice, typically well groomed and never busy. Some nice trails-nothing too too challenging, but a great family hill. I keep my fingers crossed... but think an era has unfortunately passed. too bad."
kc hughes, Mar. 21, 2013
"Our family misses our February vacations at The Balsams. We are lost without our annual trip! We miss the skiing, the dinners, seeing friends who also vacationed their from year to year. We also miss catching up with the staff especially Andy Pearson and John Kennedy who made us feel so welcome. Our boys grew up at the Balsams ...we hope that it will reopen soon!"
Janice Fairchild, Feb. 17, 2013
---
External Links
The Balsams Grand Resort - official site
Last updated: February 24, 2021