Cochran's Ski Area
Richmond, Vermont
Status:
Open
First Season:
1960-61
Vertical Drop:
500 feet
Standing Lifts:
Surface lifts
Past Lifts:
Left: Cochran's Ski Area
Recent NewEnglandSkiIndustry.com News:
Located southeast of Burlington, Cochran's ski area has been the launching pad for numerous young skiers for over half a century.

Start as Private Family Ski Area
Cochran's ski area likely dates back to the 1960-61 season, when General Electric employee Mickey Cochran built a small rope tow ski area for his family in their backyard. Before long, the area became popular amongst local kids.

Circa 1965, the Cochrans purchased a 140 acre lot adjacent to their home and expanded the ski area the following year.

Medals
Over the next half decade, all four of the Cochran children were named to the United States Ski Team. Numerous gold, silver, and bronze medals were won by the family in a variety of events, such as the World Cup, World Championships, and, Olympics in the late 1960s and 1970s, giving the small ski area quite a name.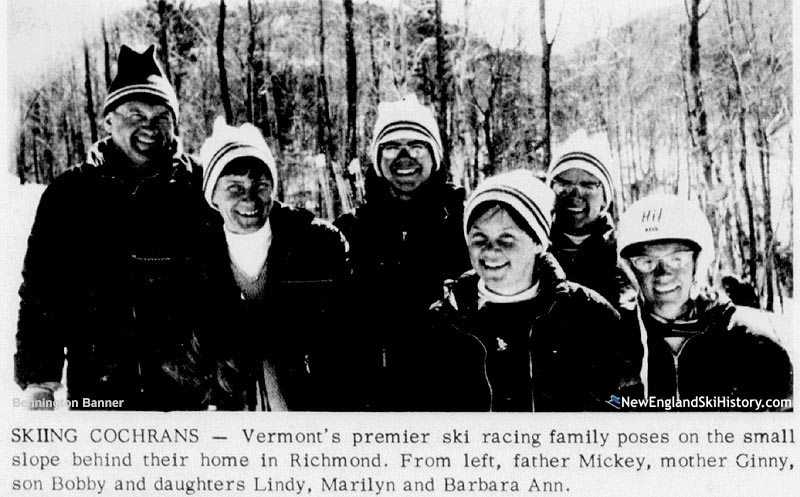 Giant slalom at Cochran's (2014)

Mickey Cochran took over as the Alpine Director of the U.S. Ski Team in 1974, whilst his wife Ginny continued to manage the ski area.

Uphill transportation was upgraded in 1979, when a used 1,600 foot long T-Bar was installed.

Snowmaking was expanded to cover 70% of the ski area for the 1982-83 season.

A new lodge was constructed circa 1984.

Non Profit Formed
Mickey Cochran passed away in 1998, triggering changes at the ski area. Following his death, the non-profit Cochran's Ski Area, Inc. was formed, procuring a 49 year lease to operate the ski area. Ginny Cochran passed away in 2005.

A new $400,000 snowmaking system was installed for the 2007-08 season.

Night skiing was added for the winter of 2010-11.

Cochran's Ski Area continues to operate to this day with the Cochran children and grandchildren still playing an active role.

Lifts
Click on lift name for information and photos
Maps

Year by Year History
Adult Weekend Full Day Lift Ticket; Adult Full Price Unlimited Season Pass

2020s
Ticket Price
Season Pass Price

Pass Payback

Opening Day

Closing Day

Skier Visits

2019-20
December 7
2010s
Ticket Price
Season Pass Price

Pass Payback

Opening Day

Closing Day

Skier Visits

2018-19
$25.00
$195.00
7.8 days
December 15
March 31
2017-18
December 16
April 1
2016-17
December 17
April 2
2015-16
December 27
2014-15
$20.00
December 19
March 22
2013-14
$20.00
December 20
2012-13
$20.00
December 26
2011-12
$20.00
2010-11
$20.00
2000s
Ticket Price
Season Pass Price

Pass Payback

Opening Day

Closing Day

Skier Visits

2008-09
$20.00
2007-08
$18.00
2006-07
$18.00
2005-06
$18.00
2004-05
$15.00
2003-04
$15.00
2002-03
$15.00
2001-02
$12.00
2000-01
$12.00
1999-00
$12.00
1990s
Ticket Price
Season Pass Price

Pass Payback

Opening Day

Closing Day

Skier Visits

1998-99
$12.00
1993-94
$10.00
1980s
Ticket Price
Season Pass Price

Pass Payback

Opening Day

Closing Day

Skier Visits

1983-84
$8.00
1970s
Ticket Price
Season Pass Price

Pass Payback

Opening Day

Closing Day

Skier Visits

1976-77
$45.00
1973-74
$2.00
Visitor Memories
---
External Links
Cochran's Ski Area - official site
Cochran's Ski Area - New England Lost Ski Areas Project
Last updated: July 8, 2015