Snow Valley
Winhall, Vermont
Status:
Lost/Defunct
First Season:
1941-42
Last Season:
1983-84
Vertical Drop:
900 feet
Standing Lifts:
Past Lifts:
1 double, surface lifts
Left: Snow Valley as seen from Bromley (2003)
Recent NewEnglandSkiIndustry.com News:
Located in the shadow of Bromley, Snow Valley was once a major ski area. Though eventually overshadowed by larger nearby areas, Snow Valley managed to operate for over four decades prior to closing in the mid 1980s. Twenty years later, the roots of a private ski area were developed, with hopes of reopening Snow Valley in the 2010s.


Snow Valley as a Major Ski Area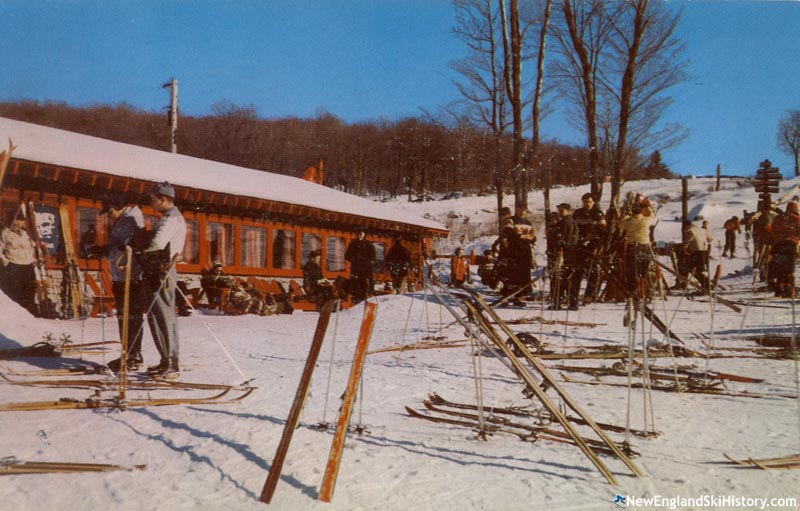 Snow Valley with Bromley in the background

Though there are multiple references to skiing starting at Snow Valley as early as 1936, the area likely first opened as a T-Bar serviced operation in January 1942. Designed by Walter and Dolph Rath, the ski area featured the $12,000 Snow Man's Rest lodge, the T-Bar, and two rope tows. Two new trails and another slope were added for the 1942-43 season.

Meeting postwar demand, a new lift was added for the 1946-47 season, increasing uphill capacity to 1,600 people per hour.

Transportation to Snow Valley was greatly improved between 1947 and 1949 when Route 11 and Route 30 were likely moved to their present location. Prior to this, a road leading from Manchester to Winhall passed through the base area of the ski area, often requiring chains for winter use.

Though Snow Valley's sheltered, high elevation location gave it quite an advantage in terms of natural snowfall, it was not immune from poor winters in the late 1940s. Snow Valley often took these periods in good humor, running ice skating exhibitions on the ski trails and reporting colorful conditions such as '[b]rown grass, peeping crocuses, four stumps, three boulders, one lift, three tows, four buildings, new road, and no skiers. O, the life of a ski area operator!'

John Stember likely succeeded the Raths as manager in 1950. While other ski areas were growing, Snow Valley was in a holding pattern. A new slope was added, however, for the 1957-58 season. Bromley countered this by adding a chairlift for the 1958-59 season, to which Snow Valley responded with plans for a new beginner surface lift.

Under new ownership, Snow Valley started the 1960s with the installation of a Pomalift. While plans were also made for a double chairlift, Snow Valley would remain a surface lift ski area for another decade.


1970s Expansion

In New Jersey attorney John Frohling's Vermont Enterprises, Inc. purchased Snow Valley from Marvin Parker and Avis Tifft prior to the 1972-73 season. A new beginner slope, a new mighty mite lift, a new parking lot, and a renovated base lodge were rolled out for the 1972-73 season.

Snow Valley took a big step forward for the 1976-77 season when a new double chairlift was installed. Extending to a point below the main lodge, the new lift increased the area's advertised vertical drop by 200 feet. The lift likely opened to the public in January of 1977.

Cross country skiing was added for 1978-79 season.

For the 1981-82 season, Snow Valley expanded its base lodge and installed snowmaking on the lower mountain.


Snowboarding Championship Venue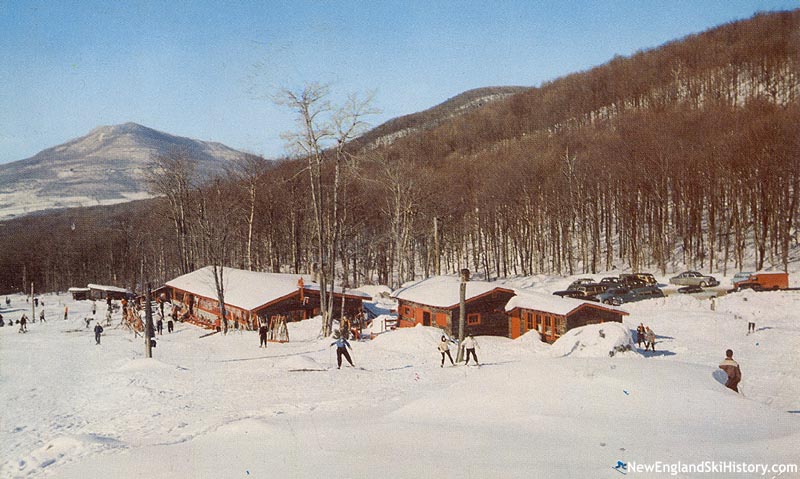 The 1984 National Snowboarding Championships at Snow Valley

Snow Valley found itself on the cutting edge in 1983 and when it hosted the National Snowboarding Championships. The 1984 competition featured downhill on Saturday, March 3, and slalom on Sunday, March 4. East Dorset resident Andy Coghlan won both men's events, while Marianna Fruhmann of Hinterstoder, Austria took the overall women's title.


Closure

While snowboard was up and coming, it was not enough to get the masses to return to Snow Valley. The area likely closed following the 1983-84 season.

After being idle for two decades, Snow Valley was sold in the early 2000s and some The trails re-cleared.

The base lodge burned in August of 2011.


Rebirth as Private Area?

In early 2013, plans emerged for the redevelopment of Snow Valley. The developers hope to reopen a few trails, refurbish the chairlift, and operate the ski area privately for home owners.

Image Gallery
Lifts
Click on lift name for information and photos
Maps

Year by Year History
Adult Weekend Full Day Lift Ticket; Adult Full Price Unlimited Season Pass

1980s
Ticket Price
Season Pass Price

Pass Payback

Opening Day

Closing Day

Skier Visits

1982-83
$15.00
1981-82
$14.00
1970s
Ticket Price
Season Pass Price

Pass Payback

Opening Day

Closing Day

Skier Visits

1978-79
$11.00
1977-78
$10.00
1976-77
$9.00
1975-76
$7.00
1972-73
$7.00
1969-70
$5.00
1960s
Ticket Price
Season Pass Price

Pass Payback

Opening Day

Closing Day

Skier Visits

1967-68
$4.50
1966-67
$4.50
1965-66
$4.50
1962-63
$3.50
1959-60
$3.00
1950s
Ticket Price
Season Pass Price

Pass Payback

Opening Day

Closing Day

Skier Visits

1949-50
$3.00
Visitor Memories
"Stratton lifts were closed due to high winds on a day where it had snowed 6" overnight. My buddy and I skin hiked up and skies down twice. The best run is not the main run, but a quick shot through the trees, lookers left of the main trail."
TJ Markey, Mar. 10, 2019
"Snow Valley was the home of the winter ski trip for Boy Scout Troop 10 out Medfield MA, in the late 60s. We would sleep on the floor in the lodge, great memories."
Reed Captain, Jan. 10, 2016
---
External Links
Last updated: December 28, 2016