Winhall Ski Bowl
Winhall, Vermont
Status:
Lost/Defunct
First Season:
1950s
Last Season:
1950s
Vertical Drop:
650 feet
Standing Lifts:
Past Lifts:
Surface lift
Left: Winhall Ski Bowl circa 1970
Recent NewEnglandSkiIndustry.com News:
Located between Stratton and Bromley, Winhall Ski Bowl was a mysterious, partially developed ski area. The area was reportedly initially constructed by James Stratton Parker as the Manchester Snow Bowl. John Jay later wrote that Parker "traveled across the country's snow belt like a modern Johnny Appleseed and ski tows sprang up wherever he tarried."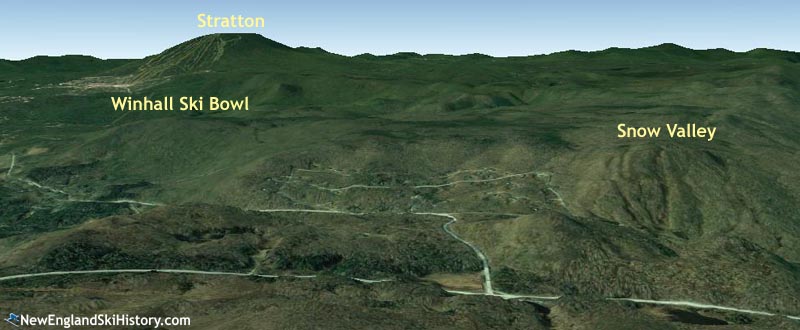 Google Earth rendering of the Winhall region ski areas

James Parker

Jim Parker was born in Cambridge, Massachusetts in October 1910 to economist Carleton Parker and author Cornelia Stratton Parker. Parker spent six years in Switzerland with his mother, where honed his skiing ability. After graduating from the University of Wisconsin, he became active with the Williams College ski team circa 1933, earning the nickname "Genial Jim." His time as coach may have been interrupted in the middle of the decade, when he became involved with an early Woodstock, Vermont rope tow ski area. Returning to Williamstown in the spring of 1936, Parker arranged for the development of a rope tow on Sheep Hill, which he constructed that fall. Unfortunately, the winter of 1936-37 was without snow, resulting in students nicknaming the lift "Parker's Folly."

In December 1936, Parker was a contestant at a International Ski Meet and Winter Sports Show at Madison Square Garden in New York. Many prominent ski figures attended or participated, including Strand Mikkelsen, Hannes Schneider, Charley Proctor, Sig Buchmayr, Lowell Thomas, and Otto Lang. Four months later, Parker boarded a train to Washington to become Lang's assistant ski instructor. In August, Parker co-founded Ski Lifts, Inc., which built and operated lifts at Paradise Valley at Mt. Rainier, Mt. Baker, and Snoqualmie Summit in the late 1930s. Parker also reportedly had some show business jobs in Hollywood around this time.

Following World War II, Parker taught at the Rippowam School in Bedford from 1946 through 1948.

Parker took over Brodie Mountain from Walt Schoenknecht in 1947, spending the off-season preparing the ski area while also building a rope tow area in Somers, Connecticut. With his teaching job at Rippowam, Parker operated the ski areas on weekends that winter. Though he only ran Brodie for a season, the Somers operation continued for a few years.

Parker served as assistant coach of the Williams College ski team during the winter of 1949-50. After the season, the Williams Record reported that Parker had departed to "open a ski resort in Manchester, Vt."


Manchester Snow Bowl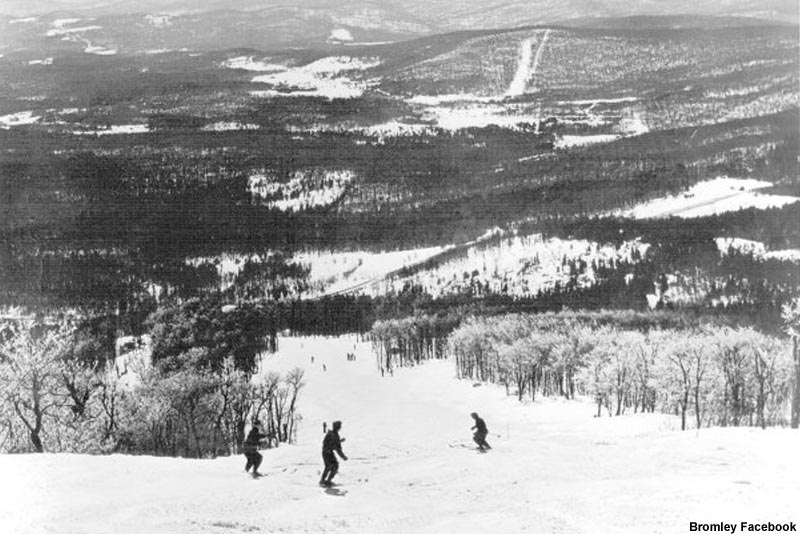 Manchester Snow Bowl as seen from Bromley circa the 1950s or 1960s

The site he likely chose was technically in the town of Winhall, on the same ridge as Snow Valley, across from Bromley. A lift line and adjacent trail were likely cut, possibly served by a 650 vertical foot J-Bar. The area was reportedly called the Manchester Snow Bowl.

It is not known if or when the Manchester Snow Bowl operated. It is possible that it could have been ready for operations as soon as the 1949-50 season, and could have been in existence as late as the mid 1950s. By 1957, the area was labelled by the United States Geological Survey as abandoned.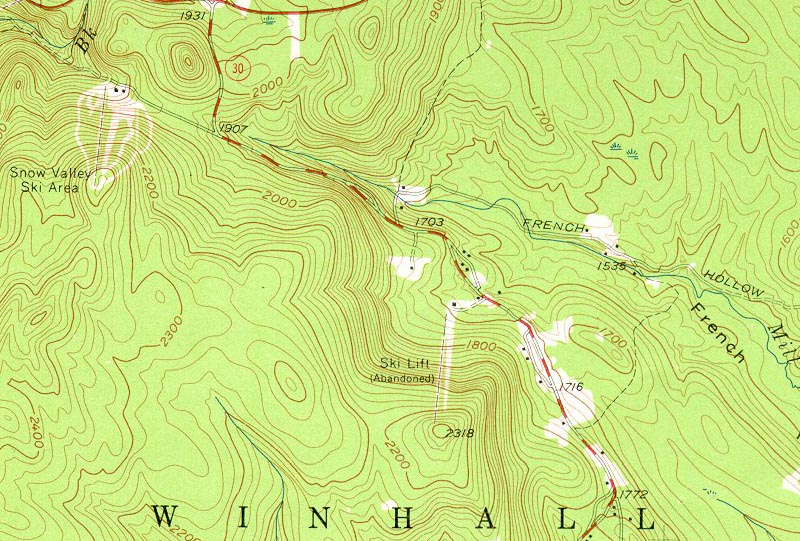 Manchester Snow Bowl depicted on the 1957 USGS topographic map

Parker spent time all over the world during the early to mid 1950s. In early 1952, the Scarsdale Inquirer reported that "when he returned to the east he established a series of tows in this area which were operating successfully until poor winters forced the abandonment of some of them." Around this time, he had reportedly recently returned from Sun Valley.

In the spring of 1953, Parker was described by the North Adams Transcript as "being associated with Big Bromley."

Parker moved to Aspen, Colorado in the spring of 1955, working as a carpenter that summer and then as a ski instructor. That winter, Lowell Thomas recruited him to star in his latest movie, directed by Otto Lang using the Cinerama process. Entitled Search for Paradise, the movie was set to be filmed in Nepal, Pakistan, and Kashmir.


Search for Paradise

One of the final shots of the movie was to be boating the rapids of the Indus River. A young camera man did not have a life preserver, so Parker gave him his. The boat capsized and, though the others on board managed to swim to shore, Parker was never seen again. The movie was posthumously released in 1957.

Following Parker's death, Fred and Mary Colclough, owners of Snow Valley, reportedly purchased the defunct ski area. It is not known if they had plans for the property, or were planning to salvage portions of the lift. They replaced the wooden towers of their T-Bar with steel towers in 1961.



1970s Attempt at Reopening as Winhall Ski Bowl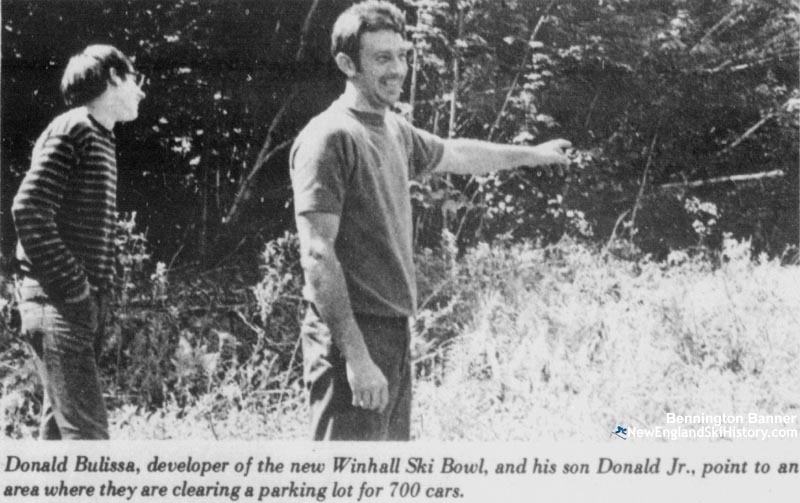 The Bulissas at the ski area circa 1970

After sitting idle for many years, Donald and Steven Bulissa acquired the 180-acre property and in 1970, announced plans to redevelop it as a four-season resort. Donald owned a supermarket in Brookfield, Connecticut, while his brother Steven was a California-based computer engineer. Bulissa had been searching for a Christmas tree farm to supply his store when he came upon the ski area property.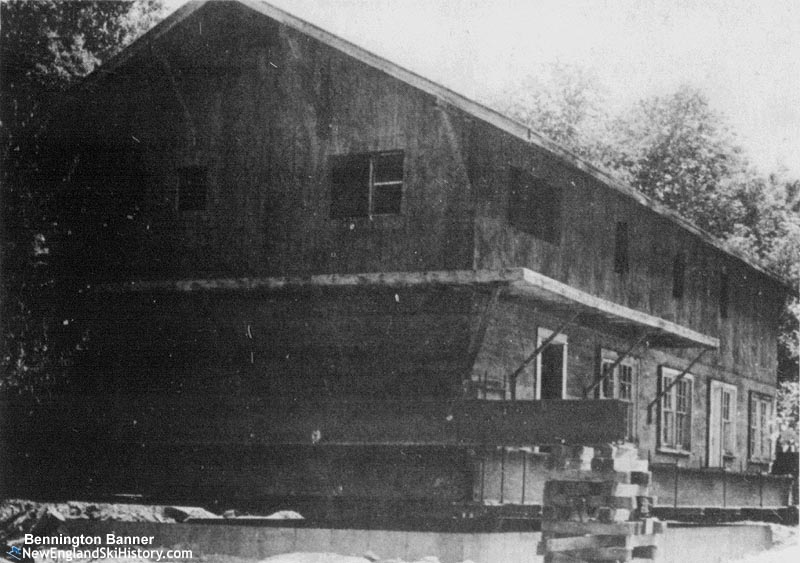 Base lodge renovations circa 1970

Lester Davis was hired to restore the base lodge, while the Bulissa family worked to reclaim the ski trails starting that spring. The family planned to install a T-Bar for the first year of operation, serving four trails with lights for night skiing. Subsequent plans included a nine-hole golf course, a swimming pool, and lodging.

Progress was slow, but a grand opening celebration with food and living music was advertised in December 1971. No downhill skiing facilities were in place at this time.

Plans evolved in early 1972, as the Bulissas approached the town for permission to construct a campground adjacent to the ski area. They proposed to truck the waste to the Manchester sewage treatment plan, a plan that was rejected by the town.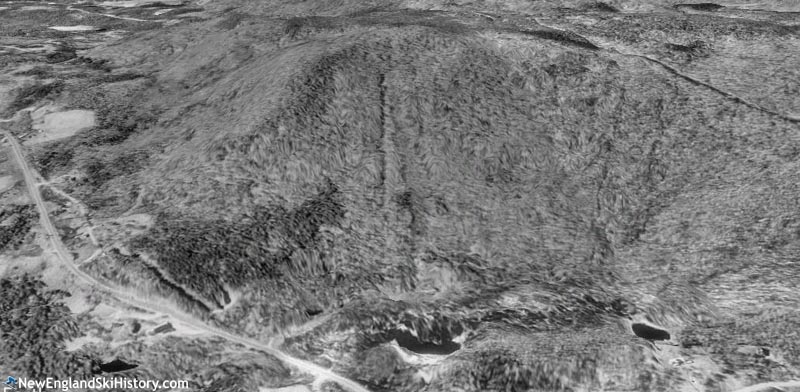 A Google Earth rendering of the remains of the Winhall Ski Bowl circa the 1990s

The area regrew in subsequent decades. According to the New England Lost Ski Areas Project, the lodge reportedly burned circa the late 1990s or early 2000s.



Image Gallery





Lifts
Click on lift name for information and photos




Visitor Memories


"My Dad knew Donald Bulissa and we went to visit him after a day at Bromley in '72 or '73 when I was 14. He showed us what he was planning for the ski area. He lived in a house, or maybe the old lodge, at the time. I remember it was off Rt. 30. Lost touch after that."
David Cristaldi, May. 26, 2020
---
External Links
Winhall Snow Bowl - New England Lost Ski Areas Project
Last updated: May 26, 2020