| | |
| --- | --- |
| | |
Located northwest of Hartford, Ski Sundown is a popular regional facility for skiers of all abilities.

Satan's Ridge

Ski Sundown's lift served ski history likely dates back to the 1963-64 season, when Satan's Ridge ski area opened by Russell Smith and Frank Linnell. While it is possible that the area had a soft start on surface lifts in December or early January, the double chairlift to the summit did not open until Saturday, January 11, 1964. Night skiing and snowmaking were also installed for the debut season.

Over $100,000 was invested into the area for its second season, including trail improvements, more night skiing, and expanded snowmaking.

While additional improvements were made to a top to bottom trail for the 1966-67 season, Satan's Ridge was running into trouble. The area closed after the 1967-68 season. The area, including the Mueller chairlift, Doppelmayr T-Bar, and a rope tow, headed to the auction block that August.


Butternut to the Rescue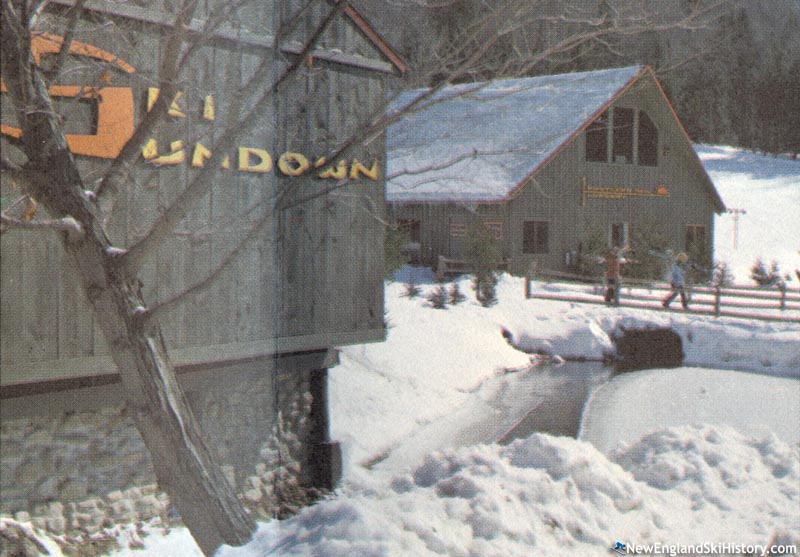 The base area circa the early 1970s

After sitting idle for a season, Satan's Ridge was brought back to life in 1969, when Channing Murdock of nearby Butternut Basin and his brother Robert Murdock purchased the 61 acre ski area from Harold Law, Russell Smith, and Frank Linnell. Shedding the Satanic name, the new ownership renamed the area Ski Sundown and quickly went to work on the snowmaking, lighting, and lifts for its reopening. In September of 1969, Richard Carter was named General Manager and Ski Sundown, Inc. was incorporated.

Operations were expanded to 7 days and 6 nights per week. To further enhance beginner offerings, a Pomalift was installed for the 1971-72 season. Two years later, Murdock made Carter part owner of the ski area.

Triple Chairlifts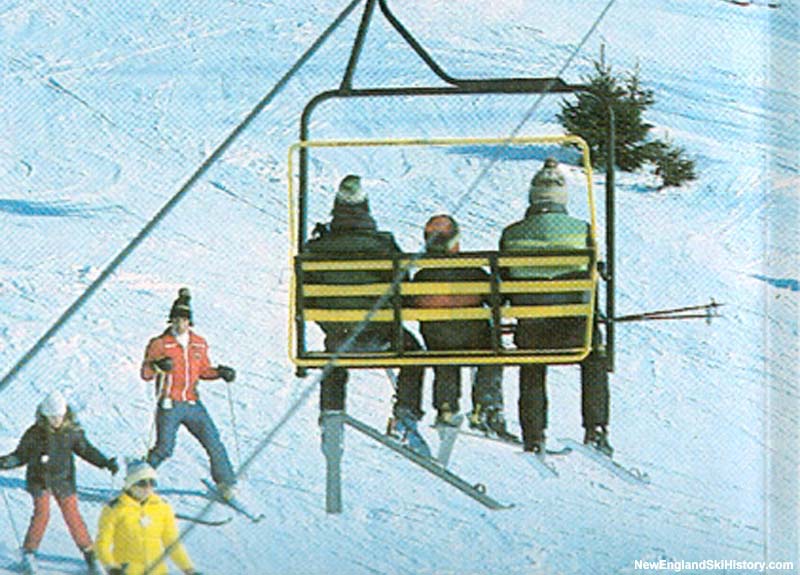 The Exhibition Triple circa the late 1970s

The area's first triple chairlift was installed in 1977, running next to the original double. Soon thereafter, Murdock transferred ownership of the area to Carter.

A second triple chairlift was installed in 1980, serving the new Sunnyside area. Seven years later, the original double chairlift was replaced with a new CTEC triple.

The Sunnyside complex was overhauled in 1994, when the Pomalift was replaced by the refurbished double chairlift. Two years later, an 8,000 square foot base lodge addition was constructed.

New Ownership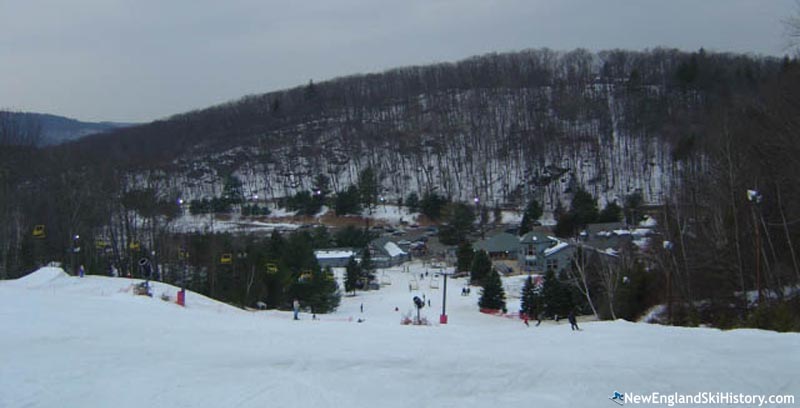 The Exhibition trail (2004)

After owning Ski Sundown for nearly quarter of century, Richard Carter sold the area to General Manager and long time employee Robert Switzgable in 2002.

The Sunnyside complex was once again overhauled in 2013, when the Little Joe Double was replaced with a conveyor lift.

NewEnglandSkiIndustry.com News

Expansion History

Image Gallery
Lifts
Click on lift name for information and photos
Maps

Year by Year History
Adult Weekend Full Day Lift Ticket; Adult Full Price Unlimited Season Pass

2020s
Ticket Price
Season Pass Price

Pass Payback

Opening Day

Closing Day

Skier Visits

2019-20
$62.00
$715.00
11.5 days
December 20
March 8
2010s
Ticket Price
Season Pass Price

Pass Payback

Opening Day

Closing Day

Skier Visits

2018-19
$62.00
$715.00
11.5 days
December 8
March 24
2017-18
$62.00
$650.00
10.5 days
December 21
March 25
2016-17
$60.00
$625.00
10.4 days
December 23
March 26
2015-16
$60.00
$625.00
10.4 days
January 8
March 9
2014-15
$58.00
$599.00
10.3 days
December 13
April 2
2013-14
$56.00
$589.00
10.5 days
December 13
March 29
2012-13
$55.00
$589.00
10.7 days
December 26
April 6
2011-12
$55.00
$589.00
10.7 days
December 17
March 17
2010-11
$589.00
December 10
March 27
2009-10
$52.00
$579.00
11.1 days
March 21
2000s
Ticket Price
Season Pass Price

Pass Payback

Opening Day

Closing Day

Skier Visits

2008-09
$50.00
$579.00
11.6 days
November 28
March 28
2007-08
$48.00
$579.00
12.1 days
March 30
2006-07
$46.00
$579.00
12.6 days
December 9
April 1
2005-06
$43.00
$549.00
12.8 days
December 3
2004-05
$40.00
$549.00
13.7 days
2003-04
$37.00
$549.00
14.8 days
2002-03
$35.00
$549.00
15.7 days
2001-02
$34.00
$499.00
14.7 days
March 9
2000-01
$33.00
$499.00
15.1 days
1999-00
$32.00
1990s
Ticket Price
Season Pass Price

Pass Payback

Opening Day

Closing Day

Skier Visits

1995-96
December 9
1992-93
$28.00
1991-92
$27.00
110,000
1990-91
99,000
1989-90
$26.00
$400.00
15.4 days
1980s
Ticket Price
Season Pass Price

Pass Payback

Opening Day

Closing Day

Skier Visits

1988-89
$24.00
December 11
1986-87
$20.00
1985-86
$19.00
1980-81
$13.50
1979-80
$11.00
1970s
Ticket Price
Season Pass Price

Pass Payback

Opening Day

Closing Day

Skier Visits

1978-79
$10.00
1977-78
$9.00
1976-77
$9.00
$150.00
16.7 days
1975-76
$8.75
1974-75
$8.50
1973-74
$8.00
1972-73
$7.00
1971-72
$7.00
$130.00
18.6 days
1960s
Ticket Price
Season Pass Price

Pass Payback

Opening Day

Closing Day

Skier Visits

1967-68
$6.00
1965-66
December 26
1964-65
$3.50
Visitor Memories
"I learned to ski here and feel very sentimental thinking about Ski Sundown. In the late 90's our after school ski program would make the weekly trip from West Hartford to New Hartford and we couldn't wait to return the following week. I am glad to see that this place still operates successfully and has since cut a new trail: Satan's Staircase which runs right alongside the Gunbarrel Trail. It is only moderately steep but extremely narrow, bumped up and shaded by the trees all day making for a challenging descent. It is a great place to bring the family and to teach future generations about the sport we all enjoy. Even though we have all moved on to bigger and less expensive mountains there is something about Ski Sundown that will never let me forget how special it is. "
Rusty Shackleford, Dec. 18, 2017
"I was the ski director of the ski school at Ski Sundown. My wife Maurie was a ski instructor and my two sons Scott and Todd learned to ski there. Both sons became freestyle competitors. We held a freestyle competition at Ski Sundown with Wayne Wong being a competitor."
Jack Harrington, Apr. 4, 2017
"I was Ski Sundown's first female lift attendant in the winter of 1973. My brother Jeff Pratt was already working there, and my parents Rod and Hala were both on the ski patrol. A family affair, you could say. Rick Carter called the house one day to ask Jeff to come in and cover a shift and my mother said, "Jeff's not here, but Sue is." Rick replied, "Put her on." And that was my hiring! Being the first woman to serve as a lift attendant was a responsibility I felt keenly, knowing that to complain about dragging heavy trash cans full of rain-sodden snow up the lift ramps would be the end of future women in the job. I never said a word. I think I saw this as my "gift" of sorts to the women lift attendants who would come along behind. I worked all that winter, and again the next winter during college breaks. It was a huge part of my life and meant (and still does) a great deal. "
Susan Pratt, Mar. 3, 2017
"I was a member of the freestyle team back in the 70's. Learned to ski at sundown. Great memories."
Geoff Shea, Mar. 2, 2017
"I learned to ski at Satan's Ridge in the '60s and skied Sundown many nights when I was in high school. The "hill" was great part of my youth!"
Sue Gentile, Mar. 2, 2017
---
External Links
Ski Sundown - official site
Last updated: March 1, 2017