| | |
| --- | --- |
| | |
Located southwest of the Lakes Region in New Hampshire, Ragged Mountain's 2,286 foot tall summit is one of the highest peaks in Merrimack County.


Early Attempts

Ragged Mountain had been considered for skiing dating back to initially boom of the sport in the 1930s. In December 1937, the Boston Globe mentioned a "Winter sports center" in Danbury on the "eastern slope of Ragged Mountain at about 1500 feet above sea level."

A potential major development almost started in 1955, when a Danbury-based corporation named Ragged Mtn. Ski Area, Inc. was registered. The corporation was dissolved in 1959. While it is known that former Ascutney manager George Dunning was part of the project, it is not known who else was involved, what was planned, or what was attained.

In early 1963, State Senator Arthur M. Drake sponsored a bill that funded the construction of access roads to two proposed ski areas, Willard Basin and Ragged Mountain. Of the two, only Ragged Mountain ski area would open.


Ragged Mountain Ski Area Finally Opens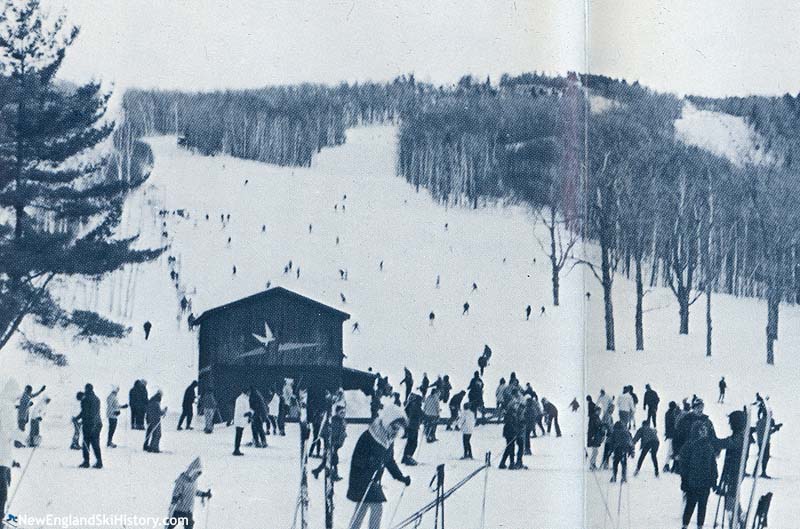 The present day Village Green slope in the 1960s

With Dick Guild as President and Earle Chandler as General Manager, about $300,000 was spent to develop Ragged Mountain ski area for the 1964-65 season. Part of a proposed 10 year, $3 million project, the initial phase of development included a Hall double chairlift and T-Bar. Described as a family area, two expert trails, two intermediate trails, a novice trail, and two novice slopes were expected for the debut season. Long term plans included developing a year round resort with a golf course.

Ragged Mountain likely opened at the beginning of January 1965. The area soon made regional headlines in February, as Boston Patriot star wide receiver Gino Cappelletti went skiing with Ragged Ski School Director Hans Jaeger.

While a second chairlift was planned for the Northeast Peak area soon thereafter, it would not come to fruition for decades. Instead, Ragged found itself in financial trouble. While ski patrol director Roger Pederson was promoted to General Manager for the 1967-68 season and would remain in that position for multiple years, the ownership would not. In 1968, Indian Head National Bank commenced foreclosure proceedings. That fall, James Foote acquired a controlling interest in Ragged Mountain Corporation, rescuing the ski area. In a letter to Danbury residents, Foote announced the corporation was studying the development "of a year round recreational community within Danbury." The town was apparently so enthused with the development that it put "Ski Ragged" on the cover of its 1968 Annual Report.

Apart from the addition of the Sunnyside Trail in 1970, no sizable developments took place in the subsequent years. Instead, without snowmaking, Ragged was forced into bankruptcy following the disastrous 1973-74 season.


Bankruptcy and Closure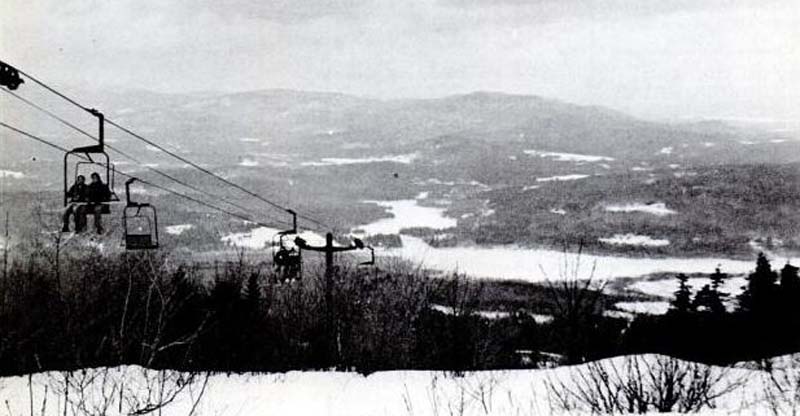 The Summit Double circa the 1970s

In July of 1974, the State of New Hampshire purchased Ragged Mountain at auction for about $231,000. That fall, the state sold Ragged Mountain to a group including Bob Dunn, owner of Boston Hill ski area in Massachusetts. Combined season passes were eventually offered.

Still lacking snowmaking, lean snow years in the early 1980s crippled the ski area. Operations likely ceased following the 1983-84 season. While an attempt was made to reopen the area for 1986-87, deferred maintenance was likely too big of a challenge to overcome.


Back from the Dead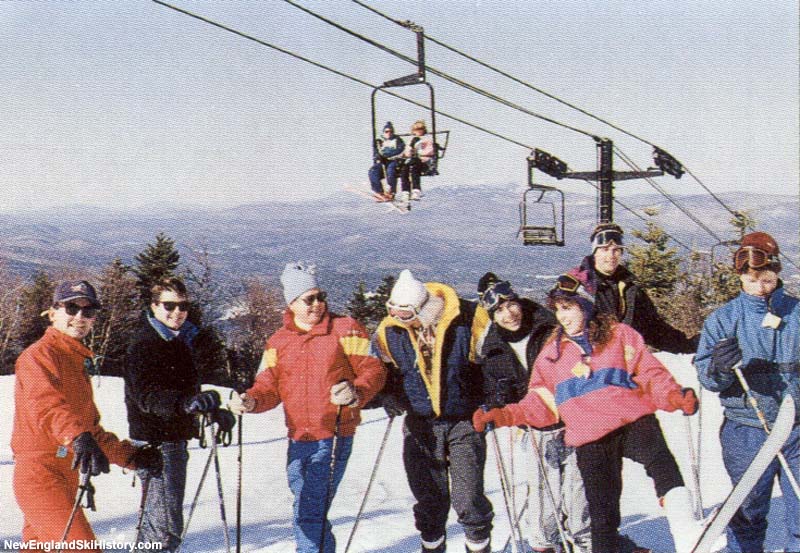 The summit circa the late 1980s or 1990

In 1987, the Endriunas brothers of Endriunas Brothers, Inc. purchased Ragged Mountain from Bob Dunn's Ragged Mountain Recreational Area, Inc. for $875,000. The new owners immediately spent a quarter of a million to get the summit double chairlift operational.

Snowmaking was finally installed for the 1988-89 season, reportedly reaching the top of the mountain. Though a new T-Bar was also advertised for the 1988-89 season, the T-Bar served Meadows beginner area was likely developed for the 1989-90 season.

The 1990s started off with a relative bang, as two double chairlifts were installed and lodge facilities were improved. Later in the decade, the Spear Mountain complex was developed to the west of the main mountain. Debuting for the 1996-97 season, the Spear Mountain dramatically expanded the size of the ski area, while also providing more sustained steeps.

Improvements continued in 1998, when a triple chairlift was installed serving the novice Barnyard complex, while barn-like base lodge expansion also took place.

In the summer of 1999, the hilly 18 hole Ragged Mountain golf course opened. Numerous wetlands, along with an 820 foot vertical change, quickly made the course known as one of the most challenging around. One year later, the Endruinas brothers took over Blue Hills, MA and attempted to market it as a feeder area for Ragged Mountain.

In the winter of 2002, Ragged opened the first high speed detachable six person chairlift in New Hampshire. Purchased at a discount after another ski area had cancelled an order, the new lift was seen as a key piece of a future expansion that would have made Ragged the largest ski resort south of the White Mountains. Foreshadowing future problems, the lift did not open until February, leaving the upper main mountain inaccessible for the first half of the season. The costs associated with the lift contributed to the eventual bankruptcy of the area.


More Financial Problems and a New Start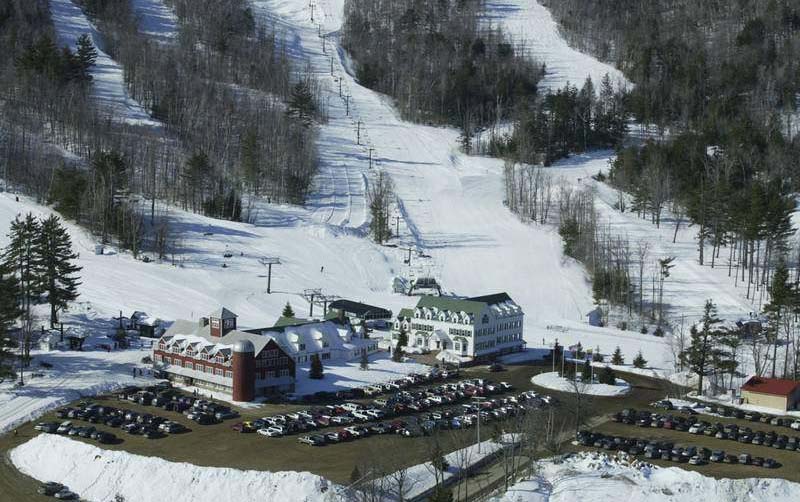 The base area circa the mid 2000s

The financial situation fell apart during the 2006-07 season, as the ownership defaulted on a $4.75 million loan. In addition, the resort had accumulated over a quarter of a million dollars in local and Federal back taxes. On top of that, the Spear Mountain and Northeast Peak chairlifts were inoperable. After narrowly avoiding multiple auctions, the ownership sold Ragged to RMR-Pacific LLC, a subsidiary of Pacific Group, in May of 2007.

With Bob Fries taking over as General Manager, RMR-Pacific invested nearly two million dollars in snowmaking, lift, and base area repairs for the 2007-08 season.

Bob Ashton assumed the title General Manager after Bob Fries departed for Waterville Valley following the 2009-10 season.

On October 11, 2011, the United States Citizenship and Immigration Services approved New Hampshire EB-5 Regional Center, LLC as a part of the EB-5 program. Under the EB-5 program, a foreigner can invest $1 million in an approved United States business (which must then create jobs), in exchange for a green card. With the region labeled a Targeted Employment Area, the minimum investment is cut in half to $500,000, making participating rural businesses such as Ragged Mountain more attractive. Jay Peak was used as a model for the development of the New Hampshire program. At the time of its offering, Ragged Mountain Resort hoped to raise $35 million from the EB-5 program.

Winter offerings were expanded for the 2013-14 season, as Ragged opened a brand new tubing area serviced by tower mounted fan guns and a magic carpet lift. The tubing facility operated sporadically in subsequent seasons.


The Spear Mountain Quad (2015)

For the 2014-15 season, Ragged Mountain replaced the Spear Triple with a new Doppelmayr high speed quad. In January, Ryan Schramm was promoted to General Manager, as Bob Ashton departed to start a consulting business.

A major snowmaking pond expansion took place in 2016.

Prior to the 2018-19 season, Ryan Schramm was named General Manager of Pacific Group's newest area, Powderhorn. Longtime Mt. Sunapee General Manager Jay Gamble took over the reins at Ragged.

NewEnglandSkiConditions.com Reports

Month
Average Percent of Terrain Open
December
24% (15 reports)
January
40% (17 reports)
February
61% (22 reports)
March
73% (15 reports)
April
81% (6 reports)

-- start conditions table -->

Recent Conditions Reports

Apr. 7, 2019 by macskier
Spring Snow, Bare Spots
Apr. 6, 2019 by beccam
Spring Snow, Frozen Granular
Apr. 6, 2019 by macskier
Spring Snow, Bare Spots
Apr. 1, 2019 by brianna
Frozen Granular, Variable Conditions
Mar. 30, 2019 by beccam
Spring Snow, Corn

Ragged Mountain Resort on NewEnglandSkiConditions.com

NewEnglandSkiIndustry.com News

Expansion History

Image Gallery

Lifts
Click on lift name for information and photos
Maps

Year by Year History
Adult Weekend Full Day Lift Ticket; Adult Full Price Unlimited Season Pass

2010s
Ticket Price
Season Pass Price

Pass Payback

Opening Day

Closing Day

Skier Visits

2018-19
$89.00
$499.00
5.6 days
November 30
April 7
2017-18
$79.00
$449.00
5.7 days
December 1
April 1
2016-17
$79.00
$449.00
5.7 days
December 8
April 2
2015-16
$79.00
$749.00
9.5 days
December 5
March 20
2014-15
$79.00
$749.00
9.5 days
December 5
April 5
2013-14
$73.00
$579.00
7.9 days
November 30
April 6
2012-13
$71.00
$529.00
7.5 days
December 1
April 7
2011-12
$71.00
$529.00
7.5 days
December 16
March 18
80,000
2010-11
$68.00
$499.00
7.3 days
December 4
April 3
80,000
2009-10
$62.00
$499.00
8.0 days
2000s
Ticket Price
Season Pass Price

Pass Payback

Opening Day

Closing Day

Skier Visits

2008-09
$59.00
$499.00
8.5 days
2007-08
$399.00
60,000
2006-07
$54.00
$815.00
15.1 days
December 26
March 18
2005-06
$52.00
$815.00
15.7 days
March 19
97,683
2004-05
$49.00
$815.00
16.6 days
December 11
April 1
97,683
2003-04
$49.00
$815.00
16.6 days
March 28
2002-03
$775.00
November 29
April 13
2001-02
$45.00
$775.00
17.2 days
April 7
2000-01
$675.00
April 15
1999-00
$38.00
April 2
1990s
Ticket Price
Season Pass Price

Pass Payback

Opening Day

Closing Day

Skier Visits

1998-99
March 28
1997-98
$30.00
March 29
1996-97
$30.00
1993-94
55,842
1992-93
$25.00
1991-92
$25.00
30,000
1990-91
$25.00
1989-90
$22.00
1980s
Ticket Price
Season Pass Price

Pass Payback

Opening Day

Closing Day

Skier Visits

1988-89
$22.00
1987-88
$20.00
1979-80
$10.00
1970s
Ticket Price
Season Pass Price

Pass Payback

Opening Day

Closing Day

Skier Visits

1978-79
$9.00
1977-78
$9.00
1976-77
$8.00
$135.00
16.9 days
1972-73
$8.00
1971-72
$8.00
1970-71
$7.00
$120.00
17.1 days
1969-70
$7.00
$120.00
17.1 days
1960s
Ticket Price
Season Pass Price

Pass Payback

Opening Day

Closing Day

Skier Visits

1968-69
$6.00
$100.00
16.7 days
1967-68
$6.00
Visitor Memories
---
External Links
Ragged Mountain Resort - official site
Ragged Mountain - FranklinSites.com Hiking Guide
Last updated: April 9, 2019