| | |
| --- | --- |
| | |
Located in northeastern Vermont, 3,267 foot Burke Mountain towers over the surrounding landscape.

Elmer A. Darling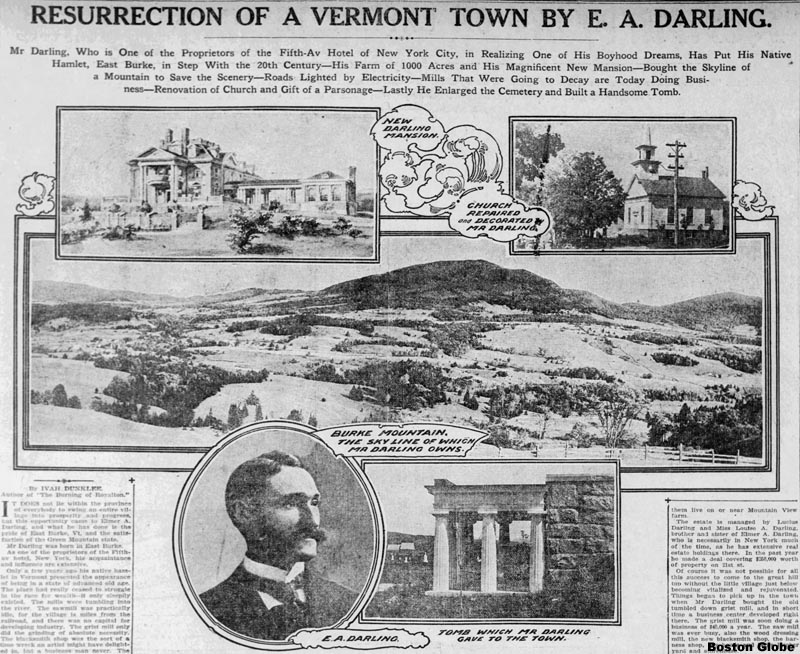 Elmer Darling (1907 Boston Globe feature)

The Darling family's Burke lineage reportedly dates back to the War of 1812, when Major Ebenezer Darling came to the small town. His grandson Elmer was born in East Burke in 1848 and eventually studied architecture at the Massachusetts Institute of Technology. Elmer then moved to New York City, where he started working for his uncle at the Fifth Avenue Hotel. By 1883, he reportedly had an ownership stake in the business.

Around that time, Darling began acquiring vast amounts of land in Burke, creating a working estate operated by his brother and sister called Mountain View. Circa 1904, work began on his dream mansion, overlooking Burke Mountain. Built to Darling's specifications, the three-story colonial included granite quarried from nearby Kirby, as well as locally sourced limestone and lumber. The name of the $300,000 mansion, "Burklyn," was "whimsically made up from the names of Burke and Lyndon" because it was situated on the town line.

By this point, Darling also owned thousands of acres of land on and around Burke Mountain. In 1906, work began on a carriage road to the top of Burke Mountain. At the time, the route was said to be "a little north east of where the present path is now" and was led by John Keach. The road was later described as being "for the daring to negotiate." A lookout tower was constructed atop that road circa 1912.

Elmer Darling passed away on April 11, 1931 at the age of 83. Having never married, he left his fortune to numerous local and regional entities and bequeathed his vast property to his brother Lucius and nephew Henry. Later that year, word emerged of plans to construct an auto road to the summit of Burke Mountain. The summit lookout tower collapsed under the weight of sleet and ice storms during the winter of 1931-32.



Darling State Forest Park

In June 1933, Governor Stanley Wilson accepted a gift of several hundred acres (later noted as 1,800 acres) from the Darlings for the development of a state forest. State forestry commissioner Perry Merrill announced the deployment of 200 Civilian Conservation Corps (CCC) members to East Burke to construct Camp 131. Work quickly started on an auto road to the summit, with one mile constructed by December. The initial gravel road and new 37 foot tall summit fire tower were likely completed in 1934. It is possible that this road was advertised as a ski trail during the winter of 1934-35. The paved road was completed in 1935 and formally opened in October with Governor Charles Smith and a crowd of 3,000 on hand. The road was officially commissioned as the "Perry Merrill Highway." Other features included picnic areas, log shelters, and foot paths.



CCC Ski Trails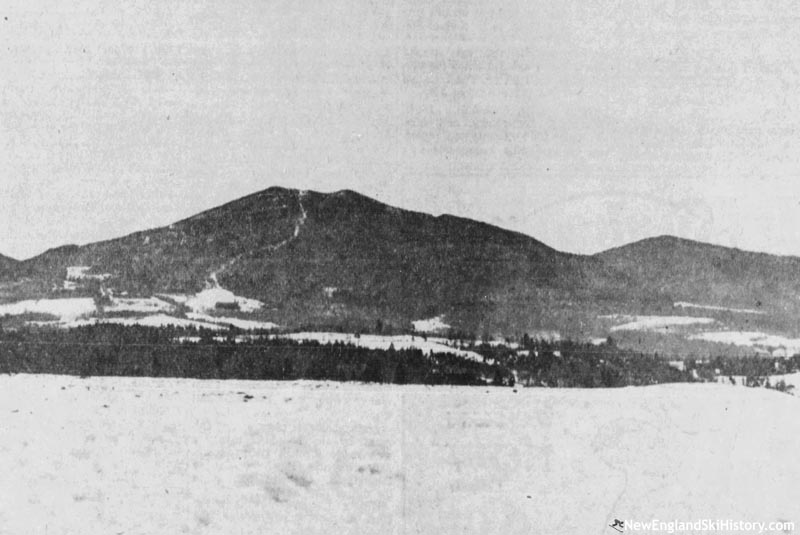 Burke Mountain before the clearing of the lift line

For the 1935-36 season, three ski trails were advertised. According to the Burlington Free Press, there were "three ski runs on the mountain with vertical descents of about 1200 feet besides the automobile road to the summit." According to the Montpelier Argus, the three trails were the "Bear Bend" (0.75 mile), the Amateur run (1.25 miles), and the Wilderness run (0.75 mile). Camp superintendent (and former state highway department engineer) Ray Estabrooks was credited leading the auto road and ski trail construction. The Caledonia Ski Association "tried out all these runs" just before Christmas 1935.

The new "13 Club" of St. Johnsbury hosted its first downhill race at Burke on January 12, 1936, with local student Chester Witters winning the race down the two mile auto road with a time of 4 minutes.

According to the Burlington Free Press, there were three downhill runs at Burke for the winter of 1937-38: Bear's Den (one mile long, 15-30 feet wide, 1,300 feet vertical drop), Wilderness Run (one mile long, 15-30 feet wide, 1,200 feet vertical drop), Automobile Parkway (1.75 miles long, 25-35 feet wide, 1,250 feet vertical drop). A 65 acre open slope was also advertised, with a 600 foot vertical drop. Though the 13 Club and Lyndon Outing Club co-sponsored racing that winter, the latter soon became the dominant force on the mountain.

The second tower atop Burke Mountain was likely destroyed by the September 1938 New England hurricane. A new tower was constructed circa 1939 or 1940.

The Lyndon Outing Club hosted the first annual Northeastern Vermont downhill competition during the winter of 1938-39. Initially planned for January, the race was postponed until mid-February, taking place on the Bear Den Trail. Though racing activity grew in subsequent years, momentum was lost with the onset of World War II, as many key Lyndon Outing Club members joined the war effort.

In early 1946, Perry Merrill pledged to help clear one of the ski trails to host the New England Interscholastic Ski Championships could be held the following winter. The race was held in February 1947 with Lyndon Institute taking first place. Though mild weather impacted subsequent racing activity, rumors began to emerge of further investments in the ski development.

A 90-foot communication tower was constructed atop the mountain in 1947 for the state police. For perhaps the first time, a snow cat was used on the mountain in early 1948, transporting equipment for the tower.


Ski Burke Mountain, Inc.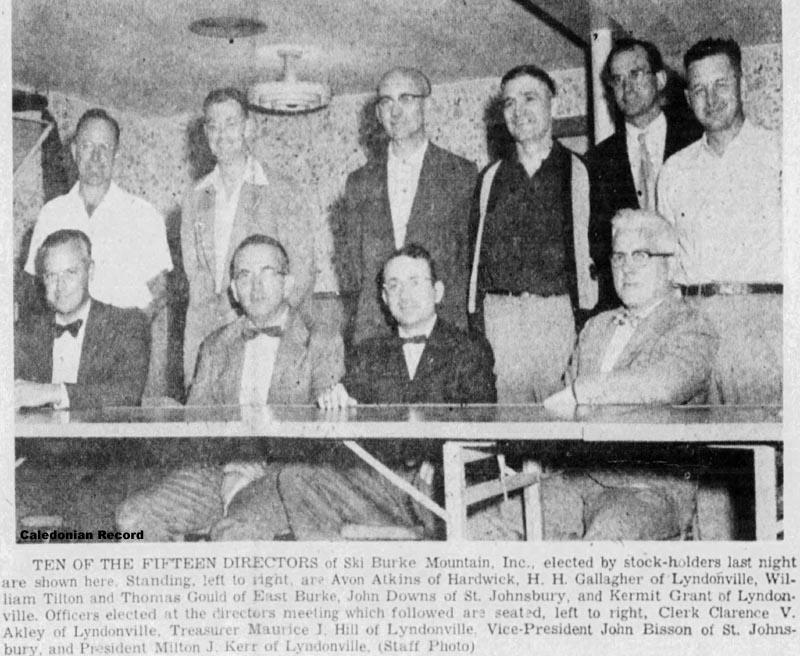 Ski Burke Mountain, Inc. Board of Directors (1955)

As the 1950s progressed, interest in a Burke Mountain development grew while the ski trails became overgrown. Though the Lyndon Outing Club did not want to lead the effort, it did pledge its support for the prospective development. The Burke Mountain Recreational Committee was formed in early 1953 to help drive the Burke project with Herbert Gregory serving as chairman, as well as the involvement of Cedric Sherrer, Clayton Rice, Crawford Davis, Howard Higgins, Albert Facteau, Robert Lewis, and William Stone. Soon thereafter, Representative Graham Newell introduced legislation to provide $10,000 to clear the Wilderness Run and convert Bear Den into a Class A racing trail. Charles Lord, who had laid out the original Bear Den trail, and Cedric Sherrer, an accomplished racer, surveyed the improvements that summer. Sherrer and Jerry Baril supervised the on-hill work. Governor Lee Emerson noted that the funding was the first step, "paving the way for the entrance of private capital into a project which some day will greatly enhance our facilities for expanded winter sports business, and hence additional income."

Related to this effort, in August 1953, Milton Kerr (former president of Lyndon Outing Club) and Clarence Akley filed to issue 12 shares of stock at $50 per share in a company named Ski Burke Mountain, Inc.

In late January 1955, Milton Kerr announced Ski Burke Mountain, Inc. had rented a snow cat and trailer to bring people to the top of the mountain. The goal of the rental was to test a snow cat on the mountain and to see if there was enough interest to proceed with development of a ski area. 175 people were transported via the snow cat during a late January weekend. By this point, the corporation had 14 stockholders.


Lift Served Skiing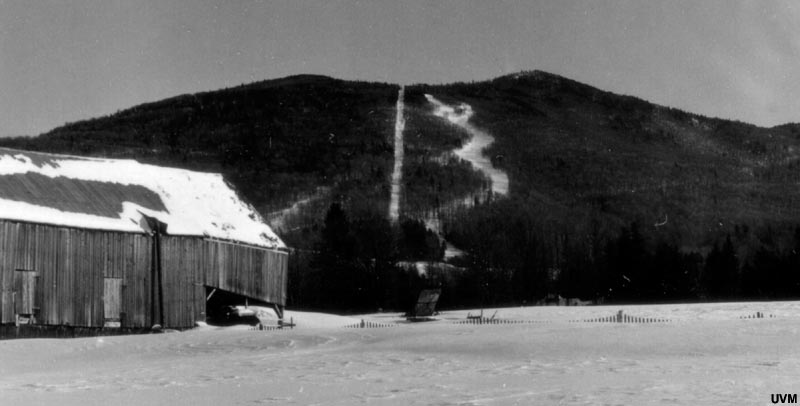 Burke Mountain circa 1956

On April 22, 1955, Ski Burke Mountain, Inc. announced plans to construct a Pomalift. A deadline of June 1 was set for raising $50,000 via the sale of stock ($10 per share), which could cover the cost of acquiring and installing the lift, as well as initial operating expenses. In addition to the 5,200 foot long, 1,520 vertical foot Pomalift, first-season plans called for a 1,200 foot rope tow and the purchase of at least one snow cat. Operations were premised on a 75-day season. Corporation officers made the rounds, enlisting local civic organizations in the sale of stock.

As the June 1 deadline approached, it was clear that Ski Burke Mountain, Inc. was woefully below its goal, with only $17,500 purchased or pledged. Adding to the difficulties, initial lift line surveys were found to be in need of revision, in part because the state did not want the lift interfering with the summit parking lot or views. Meanwhile, Governor Joseph Johnson approved allocating $7,500 for the construction of a lodge, with the state planning to lease the operations to a third party.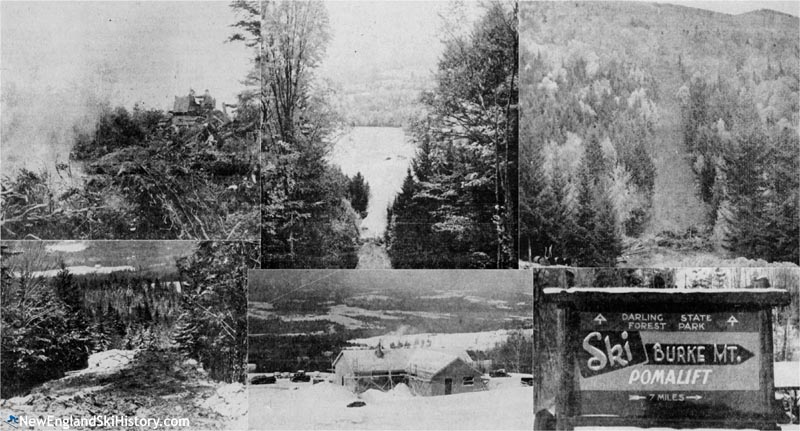 Development of Burke Mountain (1955-1956)

With sales and commitments still $12,000 short of the $50,000 goal, on July 18, Ski Burke Mountain, Inc. voted to order the Pomalift. The corporation formally signed a purchase agreement for the lift on August 12, 1955, providing a $8,700 down payment. Clearing and excavation commenced on September 16, followed by concrete work in November, both handled by Avon Atkins Construction Company. Realizing that $50,000 would not be adequate to complete the ski area, Ski Burke Mountain, Inc. voted to increase its capitalization to $200,000 in November.

By the end of November, the Pomalift parts were sailing across the Atlantic, while Douglas Wood and David "Duffy" Dodge installed the rope tow. Meanwhile, a new 7,200 volt electric line extension was constructed by Lyndonville Electric to power the lifts. The Pomalift parts began arriving at Burke in mid-December.

Construction of the Pomalift progressed into January, as Ski Burke Mountain, Inc. continued putting out pleas for additional stock sales as it felt the financial crunch. By late January, the corporation was said to be "in financial stress" with tens of thousands of dollars in outstanding bills. To augment stock sales, directors sought to sell notes carrying a 6 percent interest rate.

In mid-January, upon returning from Olympic tryouts, Cedric Sherrer was named trail supervisor and ski patrol director.


Burke Lifts Spin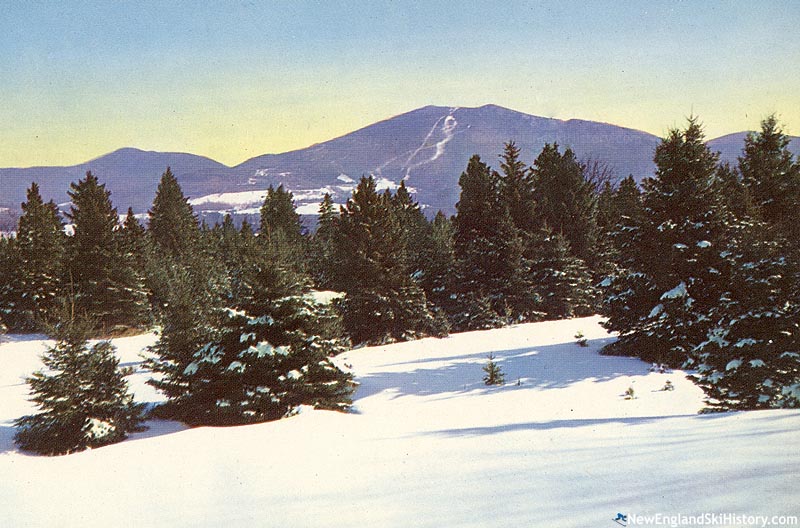 Burke Mountain circa the late 1950s

After some delays reportedly related to a lack of snow, the rope tow began operating on Saturday, January 28, 1956. The Pomalift opened one day later, serving some 400 skiers. John Bisson, a Ski Burke Mountain, Inc. director who had recently been awarded the food concession by the state, purchased the first lift-ticket book.

Trails during the first winter included the CCC-constructed Bear Den Trail, Wilderness Trail, and Skyline Run (the toll road), as well as three new trails named Center Trail, Little Dipper, and Big Dipper. To bolster interest, Ski Burke Mountain, Inc. offered free skiing to all local schools on Monday through Thursday afternoons.

Burke Mountain was formally dedicated on February 12, 1956 with a crowd estimated at 1,500 on hand. Governor Johnson, sporting a black eye from a recent skiing mishap at Stowe, took the first Poma ride for the official opening.

With its financial situation worsening, Ski Burke Mountain, Inc. doubled down on its stock sales drive that month, offering lifetime season passes anyone purchasing 100 shares. Even with the added incentive, the situation remained dire. Though the ski season extended into mid-April, it came to a close due to a "lack of skiers and not a lack of snow." Revenue for the season clocked in at $7,433.50.

Following the season, Avon Atkins Construction Company sued Ski Burke Mountain, Inc. for $50,000 for non-payment. Soon thereafter, it was disclosed that Ski Burke Mountain, Inc. had also missed payments to Poma. Former Burke Mountain Recreational Committee chairman released a public letter condemning the organization to "get someone mad and in hopes that the stockholders of Ski Burke Mountain, Inc. will rise up in arms and turn out in full force...and elect a brand new set of directors." Director Clarence Akley responded two days later, defending the board, but stating it would be "willing step down if others will step forward who are devoted to the project." Though Akley was re-elected in August, many new members were elected to the board. Leland Gray was elected as president. Cedric Sherrer remained as manager.

Following the board shake up, Ski Burke Mountain, Inc. reached a settlement with Avon Atkins Construction Company, paying a reduced amount with hopes of selling more shares of stock to cover the expense.

For the 1956-57 season, a warming hut was constructed at the top of the ski area, providing room for ski patrol and refreshments. A new bypass was cut on the Bear Den Trail (Roundhouse), while a new connector from the toll road to the base area was completed (Big Dipper Trail). Meanwhile, the Pomalift received new coats of orange and green paint.

The anticipation for the sophomore season had plenty of time to build, as natural snowfall did not enable opening until just before New Year's Day. A very cold January and a March closing did not help revenue, which came in around $10,000 for the season. Half of the season's take came from Washington's Birthday weekend, while an estimated 70% of skiers were from out of state. Meanwhile, Jay Peak opened for business, providing the Northeast Kingdom with another large ski area.

Continuing to suffer from a lack of capital, Ski Burke Mountain, Inc.'s 1957 off-season work was limited to maintaining existing trails and facilities. Meanwhile, work commenced on a new $126,000 access road to the ski area.



The base area circa 1958

The first earned turns of the 1957-58 season occurred after a small snowfall on November 1, with adequate snowpack eventually accumulating in time for a December 14 opening. A unique feature added to the area during the season was a "Friendship Arch" near the bottom of the Pomalift, which was decked out with a collection of bells that skiers could ring. Concession manager John Bisson's wife came up with the idea, describing it as a "singing mountain." Business improved as the area posted a record 1,029 skiers in one weekend in early March. The season likely concluded in early April.

Though the 1957-58 season was stronger than its predecessors, Ski Burke Mountain, Inc. was still dealing with financial issues. In November, it announced that it needed to raise $5,000 to open for the 1958-59 season. Clarence Akley took over as president of the corporation, which hired Richard Coney as the new general manager, since Cedric Sherrer had moved to the Lake Tahoe area to teach school and assist in the preparation for the 1960 Winter Olympics. A Bethlehem, New Hampshire resident, Coney had previously taught at the Sun Valley, Cannon Mountain, and Mittersill ski schools.

The new access road was completed in time for the 1958-59 season, which was slated to start before Christmas. However, on December 16, the maintenance garage burned, causing the loss of many tools, including those needed to complete lift maintenance. The season likely started either immediately before or immediately after Christmas and ran into mid-April, resulting in gross revenue of $17,000.

Still dealing with debt, Ski Burke Mountain, Inc. attempted to sell stock to retire mortgages and notes prior to the 1959-60 season, but was unsuccessful. New connector trails were cut between Wilderness and the Toll Road and from the lift line to Bear Den, as well as a bypass on Bear Den. Preston M. Leete, uncle of Killington founder Preston Leete Smith, was hired as general manager. A native of Connecticut, Leete was a graduate of Dartmouth College and had been previously employed at another Pomalift ski area, Okemo.

As the 1959-60 season unfolded, Burke was becoming a cautionary tale in ski area development due to its continued financial woes. During the season, a new plan to raise $40,000 was announced, with the agreement that bondholders would convert their $91,000 in notes to shares of stock if the sum could be raised to retire existing accounts payable. Though initially heavily promoted, the effort faded as the season drew to a close in the early spring. Meanwhile, after years of struggles, the French Pomalift motor was replaced with a new 120 horsepower General Electric motor during the season.

A Pomalift-served novice area was developed near the base lodge for the 1960-61 season. In addition, the Bear Den trail was widened and bypasses were cut for the Toll Road, Wilderness trail, and Big Dipper. Though the season started on minimal snow before Christmas, a New Year's weekend storm bolstered conditions. The novice Pomalift was not installed for the opening of the season, but the lift components were reportedly delivered to the area in January. Though the season extended into the first full week of April, full-year attendance reportedly dropped by 20%.

Off-season 1961 work was limited to trail maintenance and installing a new cable on the Pomalift. The 1961-62 season likely started just before Christmas and may have come to a close in late March. While most ski areas of size showed an increase in business, Burke saw yet another drop.


Restructuring and Near Closure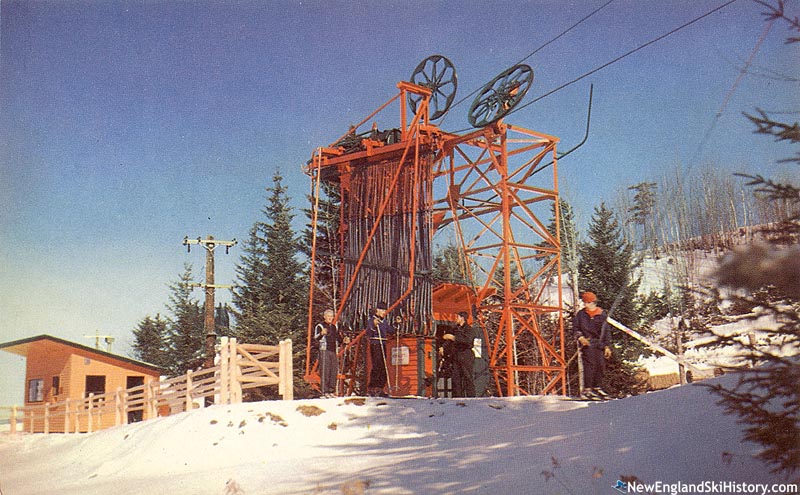 The Pomalift circa the late 1950s or early 1960s

Recognizing that Burke needed to expand in order to be a regional force, a new organization was formed with the intent of applying for an Area Redevelopment Administration (ARA) loan. Named the Northeast Kingdom Ski Club, Inc., the company was incorporated by Clarence Akley in October 1962 with Leland Gray serving as its first president. A contract was drawn up with Sno-Engineering to study installing a chairlift, constructing new trails, and expanding base facilities. Included was a proposal to tie the expanded ski area into a Victory Dam recreation area.

Though the novice Pomalift had been advertised since the 1960-61 season, it was listed as a new lift in some publications for the 1962-63 season.

Following the 1962-63 season, Ski Burke Mountain, Inc. approved the sale of the ski area to Northeast Kingdom Ski Club, Inc., which was still hoping to obtain an ARA loan. By this point, the organization was looking at a $2.2 million development that would include "six inter-related ski areas...each to be served by an aerial ski lift." The proposed sale price would be at least $150,000. The arrangement likely fell through, as Ski Burke explored leasing the area to former manager Richard Coney, but ultimately remained in control as the 1963-64 season arrived, with Coney returning as manager.

Following the 1963-64 season, Ski Burke announced two prospective buyers had been located. Facing continued financial woes and equipment problems, if a sale could not be arranged, Ski Burke would shut down the ski area.

Burke Mountain Recreation, Inc. emerged as a buyer, quietly funded by Doug Kitchel. Owner of a prominent local farm, Kitchel had become involved in state politics earlier in the decade, serving on the State Water Resources Board, chairing the St. Johnsbury Chamber of Commerce (where he was involved in efforts to develop the Victory Dam project), and soon as a Republican State Senator. The deal was completed on November 25, 1964, with the new ownership entity immediately starting a $25,000 rehabilitation project. Work included rebuilding the Pomalift, widening the Big Dipper trail, widening the open slope above the base lodge, and developing a new novice rope tow slope below the parking lot. The Little Dipper slope may have also been cleared, initially referred to as Twin Dipper. Richard Coney continued as manager, also serving as a director of the new organization. Long term plans for a gondola were publicized.

The 1964-65 season reportedly did not get underway until December 29th due to rain during Chirstmas week. Meanwhile, planning continued for a larger development, with Dan Kiley Associates attempting to incorporate a Bells for Peace museum as part of a chairlift installation. The season likely lasted into the start of April.


Construction of the T-Bar area (September 1965)

While Burke was operating as a sizable surface lift area for a decade, the growing Vermont ski industry threatened to leave it behind. That off-season, Burke announced a five-year master plan developed by Sno Engineering. The plan called for one new surface lift, six aerial lifts, and two base areas. Nearly 1,000 acres of land were acquired to facilitate the plan. The beginner rope tow was replaced with a new T-Bar, while a new lift line was constructed for a proposed future chairlift between Big Dipper and Twin Dipper. The Wilderness, lower Twin Dipper, and Bear Den trails were widened, while a new trail was cut down to the Old Bear Den trail. Meanwhile, the State of Vermont built an expansion to the base lodge to provide improved kitchen facilities.



From Surface to Aerial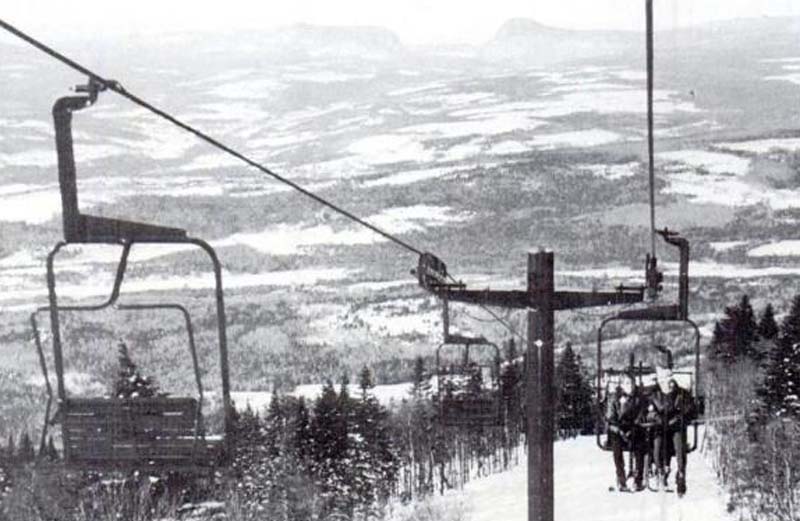 The summit double chairlift

Following the 1965-66 season, major work started at Burke. The State of Vermont was able to obtain matching Federal grants to fund the reported doubling of the base lodge. On the mountain, work began on a mile-long double chairlift that would serve 20 acres of new terrain. To facilitate the new chairlift line, the top quarter of the Pomalift was removed. In addition to the ski area construction, dozens of housing sites were surveyed. It is not known when chairlift construction was completed, but it was still not operating by mid-January 1967, resulting in a postponement of the grand opening until the following season. Richard Coney may have departed during the 1966-67 season, with John McHarg reportedly serving as interim manager.

Further improvements were made for the 1967-68 season, including widening some trails, cutting another connector, and acquiring a groomer. It is also possible that a new lounge opened in the base lodge, named B'ar Den. Olympic cross country skier Joe Pete Wilson was hired as general manager, with McHarg serving as mountain manager and Steve Cahill as ski school director.

On February 4, 1968, Governor Philip Hoff joined John McHarg for a ceremonial log cutting for the official opening of the new chairlift. Burke Mountain Recreation, Inc. chairman of the board and state senator Doug Kitchel proclaimed, "This is not the dedication of Burke Mountain. That was done many years ago. But the beginning of a new spirit, new chairlift and enlarged ski area." Future plans included snowmaking, night skiing, five more lifts, cluster-home developments, a lake, and a golf course. Business reportedly doubled during the 1967-68 season.

A new Pomalift was installed for the 1968-69, following the proposed chairlift line cleared between the Dippers. New sections of upper mountain trail were also cut, while yet another base lodge addition was reportedly constructed. Also gaining attention was a new 30-acre gladed area and a ski touring operation. Meanwhile, the Burke Mountain Ski Club was founded, hosting races, racing clinics, and social events. Skiers enjoyed a late November start to the season.

Four more trails were cut during the 1969 off-season, including a dedicated top-to-bottom race trail designed by Joe Pete Wilson and Ford Hubbard. In August, Burke announced that Warren Witherell would be developing a race training school (the precursor to Burke Mountain Academy). A native of Albany, New York, Witherell was a champion water skier, leveraging techniques from the sport for snow ski coaching. Most recently, Witherell had coached the United States Eastern Amateur Ski Team. Meanwhile, Burke acquired hundreds of acres of land near Camel's Hump and Groton State Forest, which it swapped with the state for about 80 acres of land at the base of the mountain, taking possession of the base lodge and parking lot in early 1970.


The '70s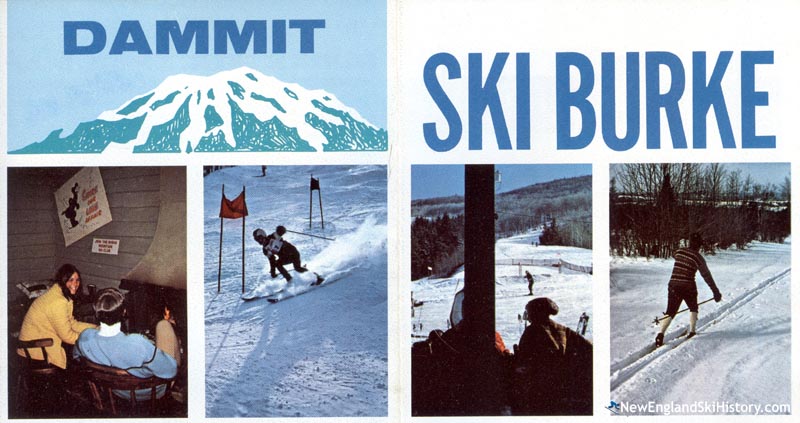 An early 1970s Burke advertising campaign

Following the 1969-70 season, Doug Kitchel announced he would not be seeking re-election to the state senate because he wanted to focus more time on Burke, noting "It's time demanding and money demanding as well as challenging, so now I'm giving full time to it." Meanwhile, Joe Pete Wilson departed for a marketing position at Glen Ellen. Improvements for the 1970-71 season included base lodge renovations, separate ticket and ski school buildings, and a new trail in the East Bowl. Meanwhile, Kitchel was focusing on real estate development, building model units as part of a long term plan that would include a series of villages connected by lifts. Kitchel noted that "There's always going to be more open land than buildings, with every effort being made to maintain the rural atmosphere and natural beauty." Plans were also announced for the development of what would eventually become the Shelburne Area, which would increase the vertical drop to 2,037 feet.

In December 1970, Burke Mountain Academy received its certification from the Vermont Board of Education. At the time, the program had 7 students enrolled with a converted farmhouse serving as campus headquarters. To help bridge the facility gap, the school had an agreement in place to use library, cafeteria, and gym facilities at nearby Lyndon State College.

Burke offered a "seven-minute lift line guarantee" for the 1970-71 season, drawing the interest of regional newspapers. Emphasizing how uncrowded the ski area was, if anyone was stood in a lift line for more than seven minutes, they would get free coffee and donuts and a free next-day lift ticket. The season was reportedly the first in which the number of out-of-state visits approached in-state visits. Kitchel noted that "We've tried to develop Burke as an area local people will like. Those who come here from out of state enjoy it because it is a distinctly Vermont area and because they enjoy what we enjoy."

The mid-1970s arrived with natural weather struggles for Burke. The 1972-73 season likely came to a close before the middle of March, while the following season didn't start until mid-January. Things didn't get much better, as Burke only operated for 55 days that winter resulting in business dropping by about half. 1974-75 had yet another difficult start, with at least one race being located to another mountain due to lack of snow.

Despite the struggles, Kitchel continued to push forward. With Interstate 91 slated to eventually pass through the area and north to Canada, Brisson Designs was hired circa 1974 to develop a long-term expansion and real estate development plan.

Trying something different, Burke hosted the Green Mountain Banjo Festival in July 1974. Though there were concerns of large scale problems seen with other music festivals, the Burke event went fairly smoothly, attracting 2,000 to 3,000 people on each of the three days.

Former general manager Preston Leete passed away on October 7, 1975 at the age of 65.

Snowmaking was advertised in advance of the 1975-76 season, however equipment was not procured. Instead, the area likely didn't open until just before Christmas and had to relocate the March Burke Mountain Trophy race to Stratton due to lack of snow.


Gloria Chadwick Comes to Burke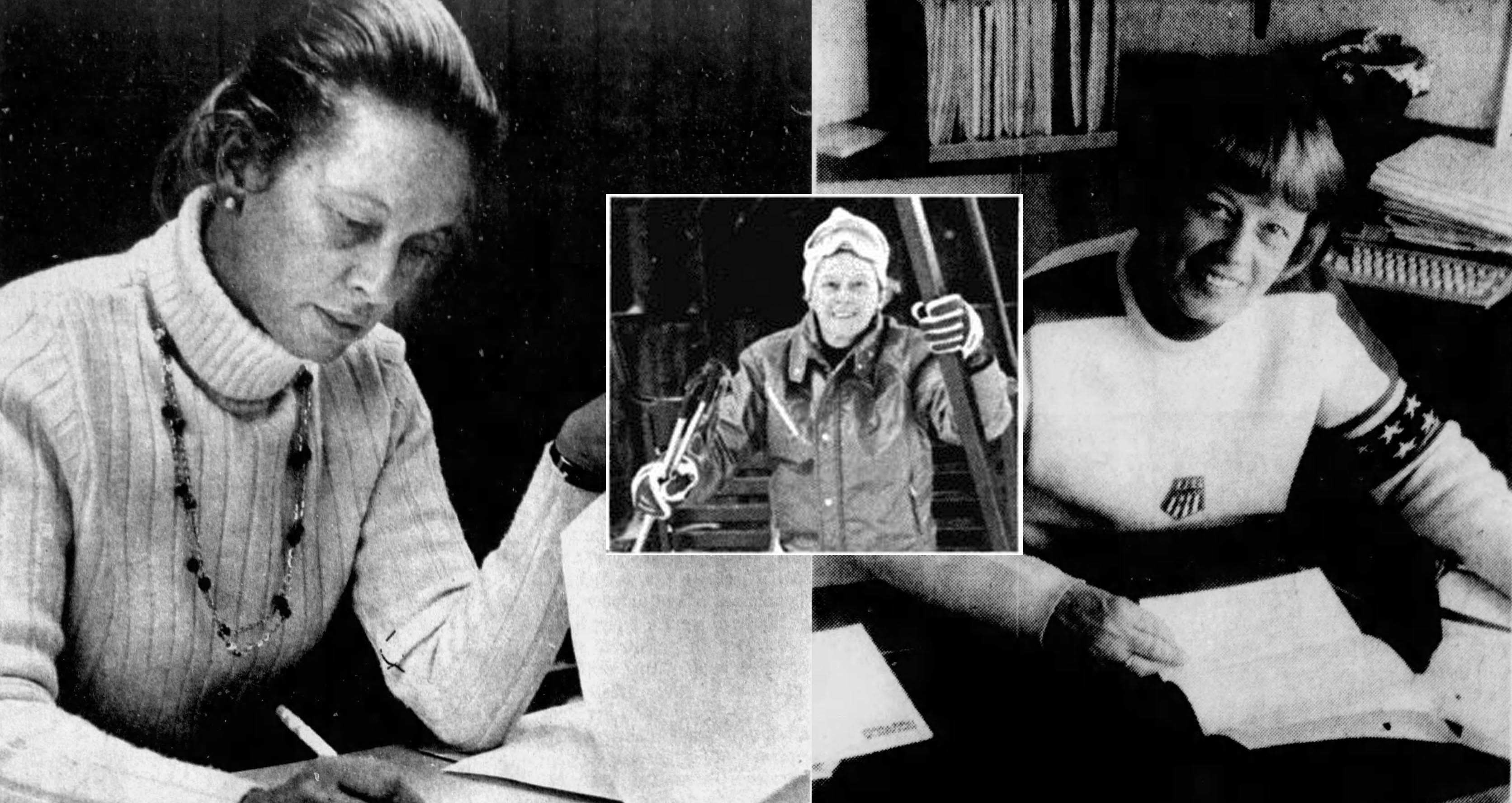 Gloria Chadwick

In January 1976, 44 year old Gloria Chadwick became president, general manager, and part owner of Burke. Born in Philadelphia, Chadwick grew up in the greater-Boston area, learning to ski at the age of 15 and eventually racing at Cannon. In 1955, Chadwick was named executive secretary of the U.S. Eastern Amateur Ski Association. Two years later, Chadwick and her mother were severely injured and her father killed in the Northeast Airlines Flight 823 crash on Rikers Island. Circa 1961, Chadwick became executive secretary of the United States Ski Association. In 1968, Chadwick left USSA to become administrative coordinator of NASTAR racing, also serving as assistant coach of the 1972 U.S. Olympic women's cross country ski team. Chadwick was hired as director of marketing for Chet Huntley's Big Sky development in 1971 and was promoted to vice president of operations in advance of the resort's grand opening in December 1973. Despite her prominent positions, Chadwick did not support the women's liberation movement, telling the Billings Gazette, "I believe in equal pay for equal work but I feel women's liberation has gone too far. I like being a woman. I'd just as soon have separate rest rooms and have men open doors for me." Chadwick decided to go to Burke because "the developing stage was finished at Big Sky. There was not another challenge there and I need a challenge."

Chadwick made her first goal "getting everything under control...completely reorganizing the company." Work quickly began on a multi-year development plan focused on making Burke a year-round resort, including a new base area and a golf course.

The first phase of the multi-year plan was to install top to bottom snowmaking. In September, the United States Economic Development Administration approved a $352,750 loan guarantee to Vermont Development Credit Corp. for a $415,500 snowmaking system, with Burke contributing the other 10% of the capital. Constructed by Peter Alford & Associates, the 25-acre snowmaking system covered Upper Willoughby, the training slope, and lower Bear Den. To provide capital, Chadwick set a goal of setting 200 acres of land for real estate development.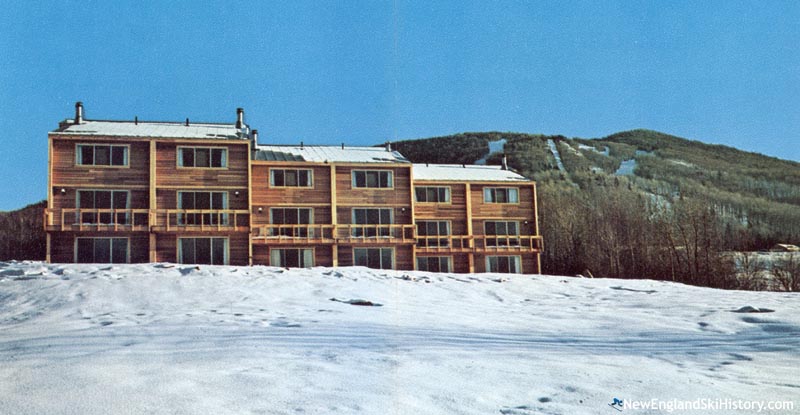 Burke circa the 1970s

The 1976-77 season started in December and kicked into gear with good snowfall in January. Later that month, Burke hosted the National Cross Country Championships. Skier visits reportedly increased by 63% that winter.

Following the 1976-77 season, Burke starting gathering approvals for its long term plan, including a four-trail lower mountain complex, a new base lodge, and major condominium developments. Long-term, Burke planned to triple skier visits to 150,000 and to have enough beds to host 2,000 people. The new trails were cut in 1977, though lift service was not yet in place.

The 1977-78 season got off to an early December start, but experienced Christmas Day rain and near-hurricane conditions during a multi-inch deluge in January. In March, Burke hosted the first Vermont Special Olympics ski meet, donating the use of the facilities. The season extended into early April.



Lower Mountain Expansion

In August of 1978, the Farmers Home Administration approved a 90% guarantee for a $1 million Vermont Development Credit Corporation loan to cover construction of a new lift, trails, and base lodge, which would elevate Burke's vertical drop past the 2,000 foot threshold. Due to the timing of the approval, construction got off to a late start. Though the chairlift (one-half of a planned double-double chairlift) was installed in time for the season, lodge construction dragged into 1979. A planned February opening for the structure may have been missed due to not having sewage treatment facilities and having the local health department reject a plan to truck effluence off-site. Warm, rainy weather ended the season in March. Meanwhile, Interstate 91 was completed in October 1978, providing faster access to Burke.

Though Burke struggled like other areas during the dismal winter of 1979-80, one bright spot was racing. Leveraging her Olympic connections, Gloria Chadwick was able to bring the Italian and Soviet Union ski teams to Burke in February for pre-Lake Placid training. Accomplished racers such as Gustavo Thoeni and Piero Gros trained at the mountain with Burke Mountain Academy students studying their technique.

The Novice T-Bar may have been relocated to the base of the lower mountain and converted to a J-Bar for the 1980-81 season.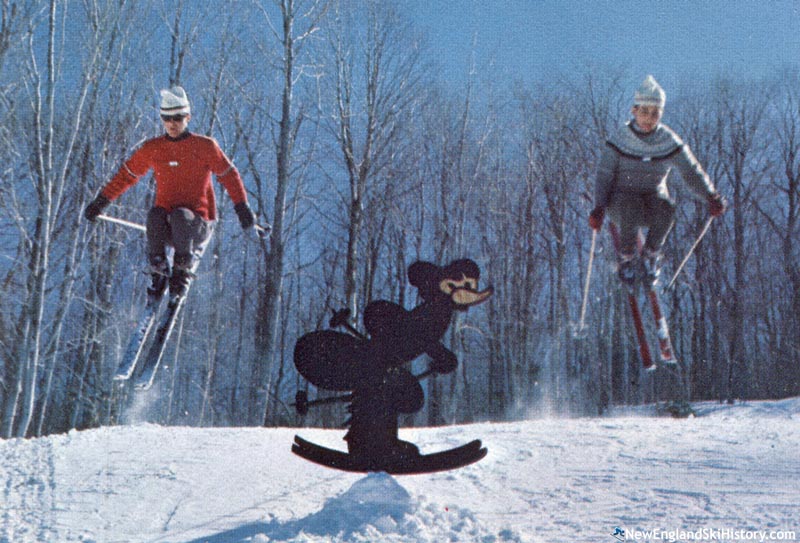 Burke circa the 1970s

Following another rough winter, the main improvement for the 1981-82 season was the installation of snowmaking on the connector trail between the lower mountain and upper mountain chairlifts. Burke enjoyed a strong start to the 1981-82 season, with sales reportedly up 50% by mid-January. Meanwhile, condominium construction continued.

Snowmaking improvements were announced for the 1982-83 season, which ended up being another struggle. Burke limped through much of the meager season with only three trails open until a moderate-sized storm hit in early February.

Two key figures announced their departure from Burke in 1983, as Warren Witherell announced his retirement from Burke Mountain Academy and Gloria Chadwick left the mountain to become Vermont's Commissioner of Economic Development. Dieter "Dixi" Nohl took over as Burke's general manager.

The snowmaking system was improved for the 1983-84 season, but an issue with it resulted in only one open trail in mid-December. A well-timed snow storm rescued the mountain just before Christmas.

In an interview in early January 1984, owner Douglas Kitchel stated, "we've been through hell" because of the string of bad winters, noting that Burke's debt burden "was very great" and that the Vermont Development Credit Corp. was "always looking over your shoulder." He added that, "I'm doing it alone when I never intended to. The problem is trying to do it alone." He also noted that concerns about Burke going out of business were not unfounded.

At some point in the early to mid 1980s, a Morroccan investor named Saad Gabr entered into negotiations to purchase Burke. Gabr had proposed constructing high tech businesses in the region, as well as acquiring a bank. His bold proposals for the Northeast Kingdom even caught the ear of Governor Richard Snelling. In the end, Gabr's plans did not come to fruition and some of his idle properties ended up on the auction block.

Burke's last chance at generating funds was to advance the development of condominiums. During the summer of 1984, 12 new units were constructed, increasing the total on the mountain to 84.

Unable to recover from the back-to-back poor seasons at the turn of the decade, Burke stopped making payments to Vermont Development Credit Corp. Owner Douglas Kitchel stated, "the seasons have never been good enough since to catch up." The company filed for Chapter 11 bankruptcy protection in May 1985, listing about $3.4 million in debts. General manager Dixi Nohl was forced to operate the area on a cash basis.

Still waiting for I-93 to be completed, Kitchel hired Sno-Engineering to develop a long term plan to make Burke a large ski area. Among the components included expanding into the East Bowl and doubling the area's skier capacity to 3,600 by 1990.

The 1985-86 season was reportedly decent, likely running from early December to early April.

Burke continued to operate under bankruptcy protection during the 1986-87 season. A Vermont Sunday Magazine article by Jules Older noted "shabbiness" that reflected the financial situation ("the lodge is finished in basic plywood"), adding, "there's no doubt about it, the area is struggling." The writer declared the trails to be "still a skier's dream" but "it's the only area I've skied anywhere that made me wish for longer lines, if only to ensure that the area continues to operate."



First Bankruptcy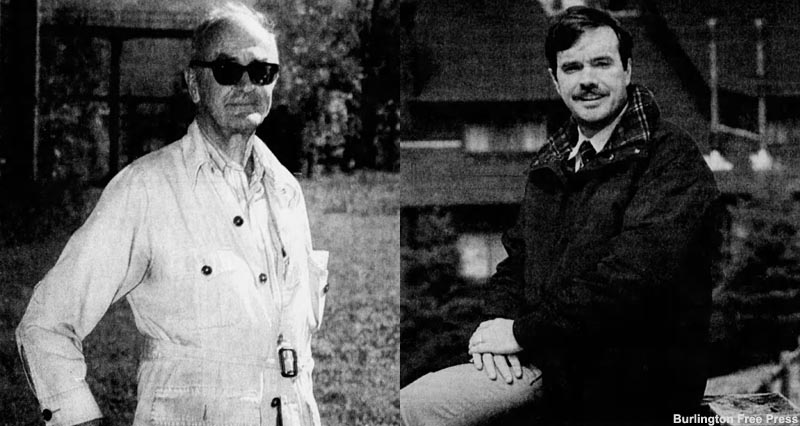 Changing of the guard: Doug Kitchel and Paul Quinn

Burke was put up for auction on September 10, 1987. Paul D. Quinn acquired the resort for $3.2 million, beating an unnamed Connecticut developer. A native of Lynnfield, Massachusetts, Quinn's father Edwin was part owner of Moose Mountain in New Hampshire, where Paul worked on occasion. Like his father, Paul became a developer. At the time of the acquisition, Quinn's Quinn Companies was reportedly grossing $30 million to $40 million per year.

With Interstate 93 being completed that fall, Quinn had bold plans for Burke. A six- to ten-year plan called for a four-season resort complete with a 36-hole golf course, relocating the summit double chairlift to the East Bowl, developing West Peak, installing a total of eight new chairlifts, a hotel, and 800 slopeside condominiums. Quinn stated that, "I want to keep the narrower, woodsy trails. In the '70s and '80s the push at many resorts was for more wide open, super slopes for speed and glitz. I don't want to do that here. I want to keep the old feeling. People coming here now tell me the mountain has returned to what it used to be and they like that."

Citing numerous lift breakdowns the previous season, Quinn reportedly upgraded the electrical systems on the chairlifts and acquired four new grooming machines for the 1987-88 season. The season likely ran from mid-December to the start of April. Despite subpar snowfall, Burke reportedly had a record year businesswise, though not posting a profit. Quinn told the Burlington Free Press that "It's not an income-producing venture now. I'm willing to wait a lot of years."

Investment started in 1988, when the summit double was converted to a fixed grip quad, the snowmaking was expanded by 20%, and construction commenced on 100 condominiums. The 1988-89 season got underway in mid-December and made it to the start of April, seeing an 8% increase in business despite poor natural snowfall.

Burke continued to push forward with its aggressive expansion plans during the 1989 off-season, attempting to get approval for 16 new trails, 6 new lifts, a new lodge, 90 million gallons of snowmaking ponds, a 27-hole golf course, and 940 condominium units. 48 units were under construction that off-season. Unfortunately, the real estate market was slowing.

The 1989-90 season had a promising start, thanks to a pre-Thanksgiving snowstorm. Another large storm hit just before Christmas, lifting skiers out of the doldrums of the string of poor winters. Though a March thaw all but eliminated spring skiing, skier visits were reportedly up 8% by the end of the season.



The Bank Takes Over


The Sherburne base area (1990s)

Unfortunately for Burke and Paul Quinn, lender Elliot Bank failed. Unable to get financing from First New Hampshire Bank, Quinn relinquished control of Burke to the bank in 1990, telling the Burlington Free Press, "I had mixed emotions, but by and large I made the right decision. The mountain will benefit and the work we did there will go on."

The bank's Hilco, Inc. took over operational control of the area in August 1990 and was able to commence snowmaking and launch the season in November. Linda Czajkowski was named general manager. The season was once again a struggle, coming to an end in mid-March.

On October 8, 1991, Bernd Schaefers agreed to purchase Burke after being chosen over four other bidders. A film producer from Germany, Bernd and his wife Karin had been living in New Jersey for a dozen years prior to the acquisition. Schaefers hired Dixi Nohl as general manager. The sale was reportedly completed in December for $2.3 million. Plans were announced to turn Burke into a center for film festivals, a la Sundance, as well as constructing a Bavarian castle themed hotel and microbrewery.

The 1991-92 season likely got underway just before Christmas, enjoying decent holiday business. The season extended into mid-April for the first time in years.

Investments for the 1992-93 season included extending Warrens Way and the Pomalift uphill by 800 feet as well as snowmaking improvements. Meanwhile, Burke was seeking Vermont Act 250 approval for a long-term plan to triple skier capacity, expand to 100% snowmaking capacity, add housing, construct a sports center, and open a golf course.

In hopes of attracting more skiers, Burke slashed ticket prices for the 1993-94 season from $32 to $22, its lowest price since the mid-1980s.



Bankrupt Again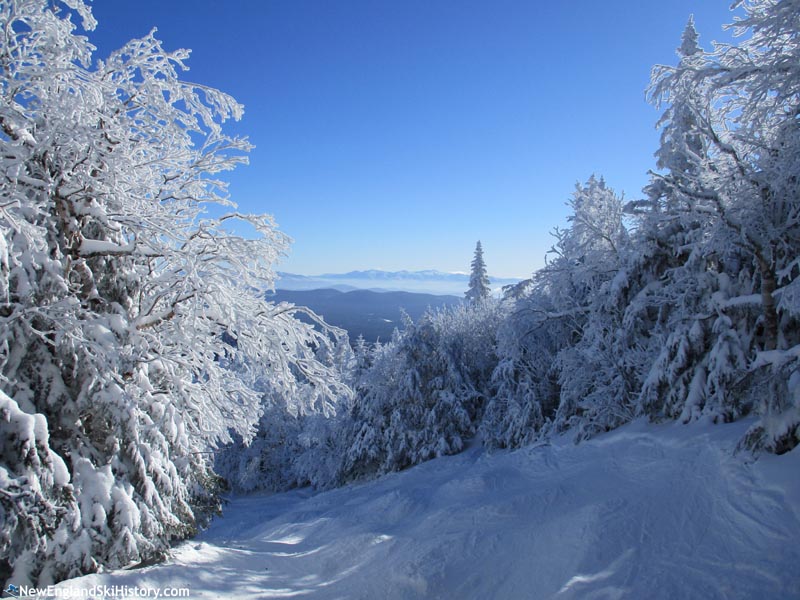 The top of East Bowl

In May 1994, word emerged that Burke's owner had bounced a check for the area's $97,374 bill for 1993 property taxes. A town attorney began arranging a tax sale, though the process was halted when partial payment was received a few weeks later. However, with $37,000 outstanding in September, the town selectmen voted to sell tracts of resort property to pay the remaining arrearage. In addition, the resort had fallen behind on federal tax payments.

Burke struggled through the 1994-95 season, including being closed for Martin Luther King weekend due to a thaw from record high temperatures. Weeks later, the town acquired tracts of land from the resort as the result of an auction due to back taxes. In August 1995, the Schaefers' Bear Kingdom Estates Partnership filed for Chapter 11 bankruptcy protection, claiming $2.7 million in debts.

With Burke hanging in the balance, locals pitched a plan for four local banks to lend $100,000 each to Bear Kingdom, Inc. The plan was vetoed by Norddeutsche Landesbank Girozentral, the resort's largest creditor. Months later, an arrest warrant was issued for Bernd Schaefers in Germany for allegations of fraud.

Burke Northern Star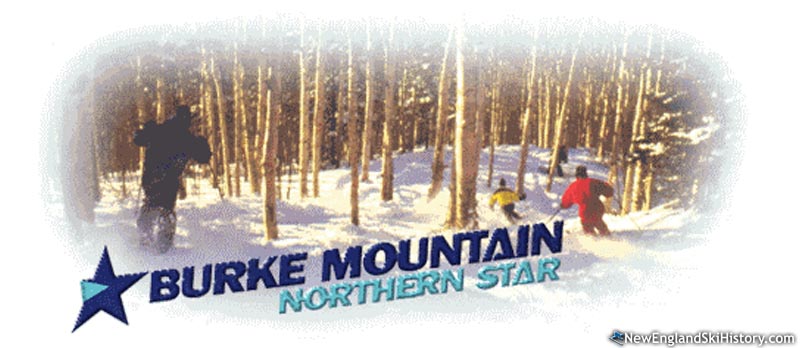 Burke Northern Star

In October 1995, a group called Northern Star Ski Corporation emerged with a proposal to purchase the ski area, expand snowmaking, and install a high speed quad chairlift. The company's five owners were Andrew "Andy" Holmes, Patrick Giles, and John Switzman of England, Francisco Soler of El Salvador, and John Murphy of Craftsbury, Vermont. Andy Holmes served as president of the company, which committed to investing in the project for five to ten years. The group pledged $400,000 in funding to keep the area operating during the 1995-96 season while the sale was being finalized. Northern Star acquired Burke on December 4, 1995 for $1 million. Governor Howard Dean attended the news conference, declaring, "We now have the people with the means and vision to make this mountain work."

Burke opened for the 1995-96 season on December 9 as Northern Star before quietly reverting to the traditional name in most media. By late December, the area reported that revenue was 25% better than average. The season went downhill from there, with Andy Holmes remarking, "They told me about the January thaws, but they never told me about the February thaw and all the others." Posting a loss of half a million dollars, Holmes stated, "We're not going to keep pumping money in at this rate."

As the season came to an end, Northern Star was applying for an Act 250 permit for a $3 million snowmaking proposal that included a 30-million-gallon reservoir and on-mountain infrastructure to boost capacity from 35% to 90%. A few months later, Northern Star received provisional approval for $3 million in state-backed financing for the project. Overall, Northern Star was proposing a 3-year, $12 million expansion, including the snowmaking projects, the high speed quad, 50 additional acres of skiable terrain, a hotel, and condominiums.

In August, Burke announced that the Passumpsic River snowmaking reservoir project was delayed due to the discovery of "potential artifacts" that resembled rock tools along the proposed pipeline route. Some snowmaking improvements reportedly took place in the spring of 1997.

8 kilometers of nordic trails were added to the cross country ski area for the 1996-97 season.

Former owner Doug Kitchel passed away on March 22, 1997 at the age of 82. Prior to his death, Kitchel had been instrumental in developing the Kingdom Trails mountain bike trail network.

In July, the Vermont Economic Development Authority approved a state financing guarantee, but added requirement that it had to be secured with all of the resort's assets, plus $3 million in additional collateral. State Treasurer James Douglas stated, "the statute says we shall not take an unreasonable risk," adding, "We loaned them a sizable amount of money and, given the loan we already made, the guarantee should be fully collateralized." As a result of the state's decision, Northern Star announced it was cancelling its snowmaking and terrain expansion plans. Andy Holmes reacted by saying, "We're intensely disappointed."

A petition soon circulated around the town of Burke, with more than 260 resident signatories telling Governor Howard Dean "how strongly we feel about the lack of positive assistance from VEDA for the recent application by Northern Star Ski Corporation for a guarantee."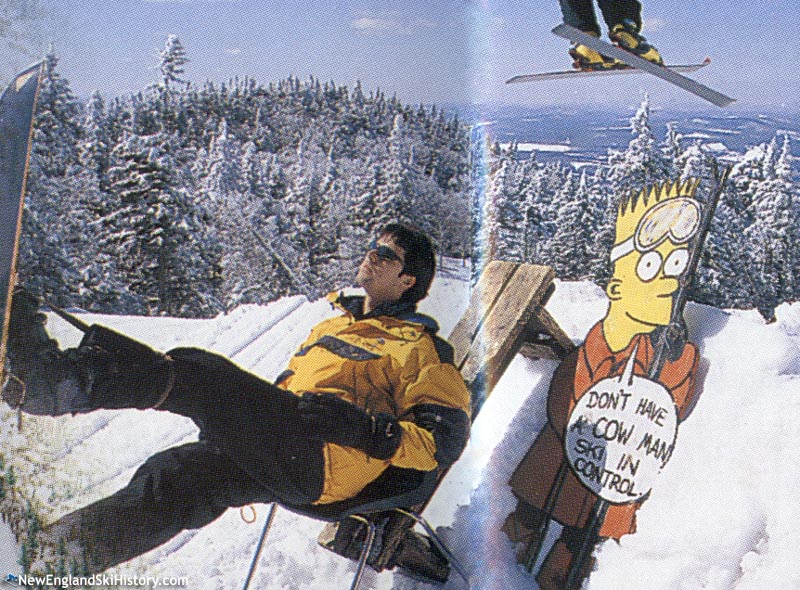 The 1990s at Burke

In September 1997, Northern Star laid off general manager Dixi Nohl. A spokesman stated, "The investors are still putting in money and things like that, but I won't kid you: times are tight; money is tight." Meanwhile, the ownership group announced it was seeking a loan guarantee from the United States Department of Agriculture.

Burke's weekend adult lift ticket price was set at $38, a 73% increase over Northern Star's three years of ownership. The season had a strong start thanks to early snowfall, debuting in November and reaching 100% of terrain open in mid-December. Though the region suffered through a devastating ice storm in early January, Burke nevertheless notched a record number of skier visits by the end of the season.

In the summer of 1998, Burke may have offered lift-served mountain biking on Saturdays.

Burke teamed up with Craftsbury to offer a joint nordic season pass for the winter of 1998-99. In addition, Burke advertised "Vermont's newest snowboard park," as well as expanded snowmaking. The winter was not as kind to Burke, as Christmas week business declined by at least 25% due to a lack of natural snow.



Northern Star Bankruptcy

The Big Dipper trail expansion was finished for the 1999-00 season, complete with snowmaking capabilities. The season was another tough one, held down by a mild start and a poor March, resulting in less than 50,000 skier visits. That spring, debt and liens began to pile up, worsened by Northern Star's inability to obtain a loan. Andy Holmes, who was no longer receiving a salary due to the financial woes, announced Burke was "for sale if someone would like to buy the place."

In late May 2000, B&I Lending started foreclosure proceedings after lending Burke a total of $4 million. In July, the bank announced it had a letter of intent from a potential buyer. An auction was scheduled for September.

With the future of Burke up in the air, Burke Mountain Academy made contingency plans to either privately operate the Pomalift or else relocate to New Hampshire. Stan Swaim, lessor of the cross country ski area for two decades, called the resort's latest financial collapse a "kick in the back." Jody Fried, owner of the Bailey's and Burke general store, attempted to assemble a group to purchase the area.

Burke hit the auction block on September 16, 2000, with Chuck Broeman of Miami placing an initial high bid of $1.8 million for the entire property. When he declined to raise his bid to $1.9 million, the property was auctioned as separate parcels, with Thomas O'Brien placing the winning $310,000 bid on behalf of an unidentified party for the 643-acre ski area tract. Peter Foukal, aligned with Stan Swaim, acquired 395 acres of the cross country ski tract for $195,000. Including subsequent bid tracts, the total price tag for the Burke auction was $1.8 million.



Burke 2000


The early 2000s at Burke

On September 26, 2000, Burke Mountain Academy acquired the ski area from the unidentified party, placing the area under control of Burke 2000 LLC. Headmaster Kirk Dwyer cautioned that the academy was "not in the business of running a ski area, and that's not what I see what our long-term future foreholds. We just want to do everything we can to ensure the future of the ski area and its operation."

In early October, Burke 2000 announced plans to open the ski area to the public if 1,570 season passes were sold (twice the previous season's total). Prices were reduced as compared to recent seasons. Jay Peak offered full reciprocity for passholders, while Cannon Mountain offered free and discounted tickets.

In mid-November, Burke 2000 announced it had achieved its sales goal and would open to the ski area to public that winter. Over 2,200 season passes were sold. Ford Hubbard returned as mountain manager, while Dick Andross departed from Cannon to become Burke's general manager. After months of uncertainty, Burke opened for the season in mid-December. Benefiting from a strong winter, the area closed for the season on April 1 with 100% of its terrain open, hosting a snowmobile race the following weekend.

Though Burke Mountain Academy's initial vision was "stabilizing the mountain's operations and then selling it to a developer," the academy decided the plan would put Burke "right back in the same situation that we all have historically experienced." As a result, Burke Mountain Academy decided to build the commercial ski operations and put any operating profits aside for future operational needs and capital improvements.

The 2001-02 season started with concern about snowmaking water, as levels were down due to a drought. Though there were plans for early season operations, the season did not kick off until mid-December on one trail. A subsequent snow storm allowed Burke to have more than half of the area open for Christmas. Though the area enjoyed a two-foot snow storm in late March, the season was plagued with mild weather, resulting in an operating loss.

Improvements for the 2002-03 season included increased air for its snowmaking system and adding four double diamond glades. The season ran from mid-December to late March, resulting in a second consecutive season in the red. Management publicized the need to change course, including possible price increases, expense reductions, and real estate development.

Gladed terrain was more than doubled to 110 acres for the 2003-04 season. After three seasons below $40, full day ticket prices were increased by 13% to $45. Following a snow storm, Burke had its fourth consecutive mid-December opening day. A subsequent early-season storm allowed Burke to open a majority of its terrain, however warm, wet weather moved in on Christmas Eve, resulting in the closure of most trails.

Meanwhile, a battle was brewing over wind power. In response to the proposed East Haven Wind project on nearby East Mountain, Burke Mountain Academy headmaster Kirk Dwyer told the Burlington Free Press that, "Our real estate partners said that if the towers are placed in our immediate view, the [slopeside vacation home] development would not be viable."

Lower mountain glades were added off the Sherburne Chair for the 2004-05 season.

In 2005, the area was transferred to Lubert-Adler and the Ginn Corporation.



A Major Ski Area Once Again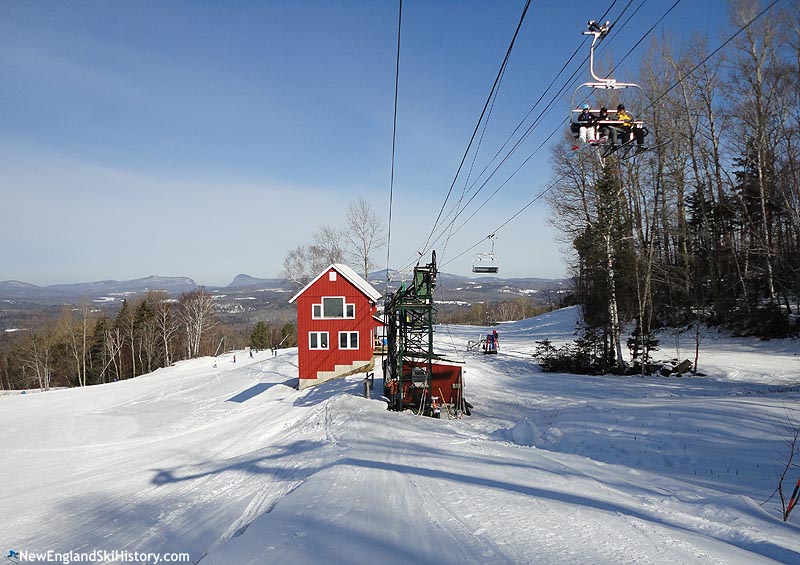 The Poma and Mid Burke Express (2013)

Following the acquisition, Burke underwent a significant transformation, as its first high speed quad opened on the lower mountain for the 2005-06 season.

Soon thereafter, the Ginn-Lubert-Adler partnership came under severe strain as the real estate crisis escalated. Burke 2000 was eventually placed under LRA BURSKI, LLC, which was in turn owned by Lubert-Adler's Legacy Resort Assets.

A second high speed quad was announced for the 2011-12 season, though installation hit some snags. Initially intended to be a refurbished lift from Ascutney, negotiations didn't work out. As a result, a new Leitner-Poma high speed quad was purchased, opening on Christmas Eve.



The Rise and Fall of Q Burke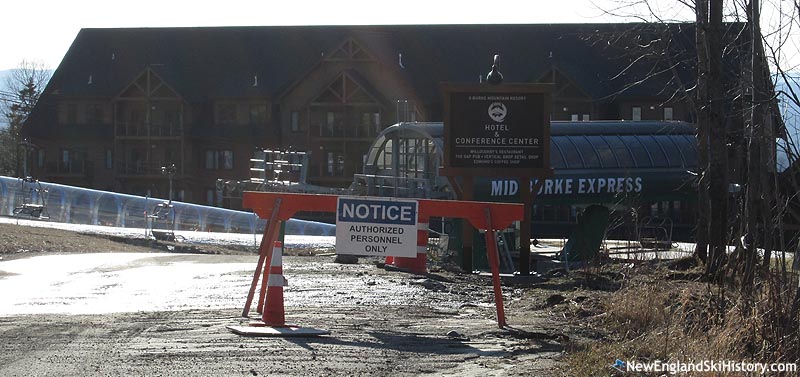 The last days of Q Burke (April 2016)

Perhaps in part due to the financial strain of the poor 2011-2012 winter, as well as the finances needed to install and operate the new lift, LRA BURSKI, LLC sold the ski area to Jay Peak owner Ariel Quiros in May 2012 for $7.26 million.

While on mountain investment was made into the snowmaking system, Quiros and business partner Bill Stenger quickly turned their attention to a $98 million investment plan involving a hotel, conference center, aquatic center, and tennis facility. Quiros and Stenger had previous experience with the EB-5 program, as they had raised hundreds of millions of dollars to fund projects at Jay Peak.

Quiros formally renamed the ski area to Q Burke Mountain Resort in 2013, prompting scorn from many longtime skiers and local residents.

In June 2014, ground was broken for the $50 million hotel, which was expected to open for the 2015-16 season. While construction was completed in early 2016, the hotel remained closed.

On April 13, 2016, the Securities and Exchange Commission raided and took control of Q Burke, alleging that Quiros and business partner Bill Stenger defrauded EB-5 immigrant investors with a complex Ponzi scheme. Leisure Hotels and Resorts was installed as the operator while the government appointed receiver worked to stabilize and eventually sell the ski area. Later that month, the Burke Mountain name was restored, coinciding with reassurances that the hotel would debut in the fall and that the ski area would remain operating. Quiros and Stenger were sentenced to prison in April 2022.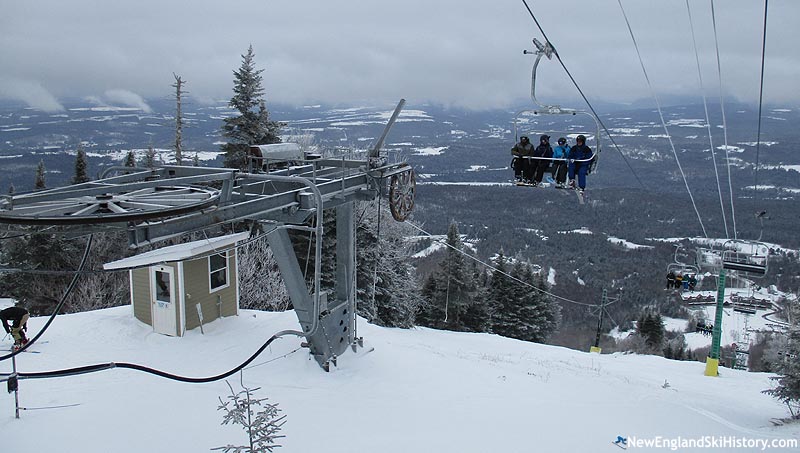 The last days of the Burke Poma (March 2017)

With the area now operating under a receivership, the Poma lift served its last skiers in the spring of 2017. The historic lift was removed that summer, making way for a new high-speed T-Bar.



NewEnglandSkiConditions.com Reports

Month
Average Percent of Terrain Open
December
5% (1 report)
January
69% (3 reports)
February
93% (2 reports)
March
100% (3 reports)

-- start conditions table -->

Recent Conditions Reports

Feb. 15, 2023 by tuckers
Loose Granular, Spring Snow
Jan. 8, 2022 by rocket21
Loose Granular, Packed Powder
Dec. 21, 2021 by rocket21
Loose Granular, Frozen Granular
Mar. 8, 2020 by nordicgal
Loose Granular, Frozen Granular
Feb. 17, 2020 by nhalex
Packed Powder, Frozen Granular

Burke Mountain Resort on NewEnglandSkiConditions.com
NewEnglandSkiIndustry.com News
Recent Articles
Burke Could Be Sold This Year - Jun. 14, 2023
Judge Approves Jay Peak Sale to Pacific Group Resorts - Sep. 17, 2022
Former Jay Peak Owner Sentenced to Prison - Apr. 29, 2022
Former Jay Peak CEO to Plead Guilty - Aug. 11, 2021
Former Jay Peak Owner Pleads Guilty to Federal Charges - Aug. 14, 2020
Former Jay Peak, Burke Owners Indicted - May. 22, 2019
Sale of Jay Peak and Burke Mountain Delayed - Aug. 14, 2018
Vermont Settles with Quiros, Stenger over Jay Peak, Burke Scheme - Jul. 12, 2018
Receiver: Jay Peak and Burke To Be Sold This Year - Feb. 15, 2018
Quiros Surrenders Jay Peak and Burke in SEC Settlement - Feb. 2, 2018
Burke Mountain Resort NewEnglandSkiIndustry.com News Page
Expansion History
Image Gallery
Lifts
Click on lift name for information and photos
Maps
Year by Year History
Adult Weekend Full Day Lift Ticket; Adult Full Price Unlimited Season Pass

2020s
Ticket Price
Season Pass Price

Pass Payback

Opening Day

Closing Day

Skier Visits

2023-24
$89.00
$1029.00
11.6 days
December 2
2022-23
$89.00
$1019.00
11.4 days
November 26
April 9
2021-22
$85.00
$1009.00
11.9 days
December 10
April 10
2020-21
$77.00
$999.00
13.0 days
December 19
April 4
2019-20
$75.00
$979.00
13.1 days
December 7
March 14
2010s
Ticket Price
Season Pass Price

Pass Payback

Opening Day

Closing Day

Skier Visits

2018-19
$73.00
$959.00
13.1 days
November 23
April 14
2017-18
$69.00
$929.00
13.5 days
December 1
April 15
2016-17
$64.00
$899.00
14.0 days
December 2
April 16
2015-16
$64.00
$899.00
14.0 days
January 1
March 27
2014-15
$64.00
$899.00
14.0 days
December 13
April 5
2013-14
$68.00
$799.00
11.8 days
December 14
April 13
2012-13
$68.00
$799.00
11.8 days
December 1
April 7
75,247
2011-12
$68.00
$699.00
10.3 days
December 17
March 24
61,140
2010-11
$66.00
December 11
April 10
76,405
2009-10
$59.00
$629.00
10.7 days
April 4
2000s
Ticket Price
Season Pass Price

Pass Payback

Opening Day

Closing Day

Skier Visits

2008-09
$57.00
April 5
2007-08
$54.00
December 8
April 6
2006-07
$54.00
$599.00
11.1 days
December 9
2005-06
$52.00
$599.00
11.5 days
December 20
April 2
2004-05
$47.00
$569.00
12.1 days
December 17
April 3
2003-04
$45.00
December 13
2002-03
$39.00
$579.00
14.8 days
December 14
March 30
65,000
2001-02
$39.00
$529.00
13.6 days
December 15
April 7
65,000
2000-01
$39.00
December 16
April 1
1999-00
$42.00
$725.00
17.3 days
December 4
March 27
1990s
Ticket Price
Season Pass Price

Pass Payback

Opening Day

Closing Day

Skier Visits

1998-99
$42.00
$725.00
17.3 days
December 12
April 4
1997-98
$38.00
$675.00
17.8 days
November 22
April 1
1996-97
$35.00
April 6
1995-96
$29.00
December 9
45,000
1994-95
$22.00
March 26
1993-94
$22.00
December 20
April 3
1992-93
$32.00
December 18
1991-92
$30.00
December 21
April 19
1990-91
$30.00
November 23
March 17
1989-90
$28.00
November 25
March 25
1980s
Ticket Price
Season Pass Price

Pass Payback

Opening Day

Closing Day

Skier Visits

1988-89
$26.00
$425.00
16.3 days
December 10
April 2
1987-88
$24.00
April 3
1986-87
$22.00
1985-86
$20.00
December 7
1984-85
$18.00
$350.00
19.4 days
April 7
1983-84
$17.00
$295.00
17.4 days
April 15
1982-83
$15.00
$250.00
16.7 days
1981-82
$15.00
December 5
1980-81
$14.00
1979-80
$12.00
December 22
1970s
Ticket Price
Season Pass Price

Pass Payback

Opening Day

Closing Day

Skier Visits

1978-79
$12.00
December 16
March 25
1977-78
$10.00
December 3
April 9
1976-77
$9.00
March 27
1975-76
$8.00
1974-75
$8.00
April 13
1973-74
$8.00
1972-73
$8.00
December 16
1971-72
$7.00
December 4
1970-71
$7.00
April 18
1969-70
$7.00
1960s
Ticket Price
Season Pass Price

Pass Payback

Opening Day

Closing Day

Skier Visits

1968-69
$6.50
November 28
1964-65
December 29
1960-61
December 17
1959-60
$4.50
December 15
1950s
Ticket Price
Season Pass Price

Pass Payback

Opening Day

Closing Day

Skier Visits

1958-59
April 12
1957-58
December 14
1956-57
$4.00
$75.00
18.8 days
December 29
March 30
9,000
1955-56
January 28
Visitor Memories
"Skied Burke '60's with a pack of siblings. How we loved the rope tow and poma! Coming down the Toll Road with fresh snow on the trees, that was heaven! One of the trails we called "Devil's Den" was where I first learned how to jump a tiny bit. So many memories of hot cocoa, sandwiches on homemade bread, delightful exhaustion after a full day of fun. Burke will always be a special place in my heart. Thanks for this informative history."
Jean Batchelder Ledoux, Jan. 16, 2023
"skied Burke between 1962 and 1966. Stayed with the Kolars at Winape in West Charleston every year between Christmas and New Years and at Easter, if there was still snow- great times with a bunch of friends. Loved the Poma, the Bear Den and Toll Road and just being in Vermont in the winter. Also one of the best weeks of Spring skiing ever for Easter vacation in about 1965/1966. After I moved to Cabot in 1973, I then brought my little sister to Burke in 1973 with her friend and we all had a great time at Burke. A wonderful place to ski. I haven't been back to ski Burke in many years, but glad Burke is still going strong."
David Tweed Reid, Feb. 13, 2021
"Love Burke! First skied there early 1970s, the addition of the detachable has been great, & now it's the last run of the poma as word is a t-bar will replace it next year. I'll miss the poma lift! Love the mid mountain lodge -- great blend of the old & new & the trails rock"
Stephen Garfield, Feb. 2, 2017
"First skied here in the 59/60 season. As I remember one long Poma platter pull lift to the top, and a rope tow just below the lodge. I was a member of the Lyndon Institute ski team. Although not very good at racing I enjoyed the skiing. Lyndon had the New England state champion high school ski team that year. The coach was Don Erskin. Team members included the Beattie brothers, all three of the Smith brothers, Art Sanborn, Dave Jenkins, Peter King, Greg Peck, Gary Cassidy, to name a few. We used to take the old 'red bus' up to the area for practice and meets. It was an old, maybe 47-48 Chevy sedan, chopped in half and a section added in the middle. Looked like an old fashioned limo. With no heat! I taught my future wife how to ski on the rope tow slope in the early 60's. We still take a run or two at Mt Baker here in Washington. Glad to see the area is still operating."
Ernie Hutchins, Jan. 23, 2014
"My Aunt and Uncle used to own a condo there at the base of the beginner chair, and I skied there several times in the 1980s, back when they still had just two double chairs and the two pomalifts too. Because we were by then Colorado skiers my 1st wife and I really liked the wide trails over by the Dipper poma and I thought that maybe they should have replaced that lift with a chair and possibly extended it further uphill too, which might have helped mitigate that really long walk back from the East Bowl somewhat too.Better yet, why not an East Bowl lift and snowmaking over there too?Back when the main mountain chair was a double it used to get pretty crowded, and then we would ride the school poma instead, which covered probably 2/3rds of the vertical anyway, as it never had any lift line either. I did ski there once after the fixed-grip quad was installed and that new lift did-in most of the waiting in liftlines too. My aunt and uncle sold their place there sometime in the 1990s and I haven't been back since. Maybe under Jay's ownership some of the long-promised improvements can be undertaken and Burke can realize all of the promise that so many people saw in the place over many years only to be left disappointed for so many years too. "
Mark Richardson, Mar. 2, 2013
"In the 60s and early 70s I lived in Littleton NH but used to ski Burke rather than Cannon Mt because of the lack of lift lines. Many a frosty morn my two daughters amd myself would get up early and load the car and off to Burke for a great day of sking. in the late 50s and early 60s I remember the poma lift. "
Barry Story, Feb. 5, 2013
"My entire childhood from third grade to graduation was wrapped around the ski season at Burke. Every year that season tickets were available I got an early Christmas present. Favorite trail then was The Powderhorn. I made lifetime friends riding the Saturday bus from St. J to the mountain and I fell in love there for the first time to my 8th grade sweetheart. What that really means is the chairlift ride became romantic. It still takes my breath away 37 years later when my husband and I (not the guy from the chairlift) drive to the top in the summer or fall while we're there visiting. It was a safe place then in the late 60's and 70's, where you could pack a lunch, leave it on a table and it would still be there when you got back. The french fries from the snack bar were "
Susan Ali Swain, Jan. 25, 2013
---
External Links
Burke Mountain - official site
Last updated: June 20, 2023