| | |
| --- | --- |
| | |
Located in the Green Mountains, Okemo is one of the most popular ski areas in New England.


Early Years

While skiing in Okemo State Forest dates back to the 1930s, lift served skiing was not developed on Ludlow Mountain until the 1955-56 season. A $200,000 development was rolled out for that season featuring two Poma lifts, including the longest one of its type in New England history (at 6,207 feet). Okemo officially opened on January 31, 1956, with Don Cutter serving as manager.

For its sophomore year, Okemo added another trail and some more open slopes. The base lodge was improved for the 1957-58 season.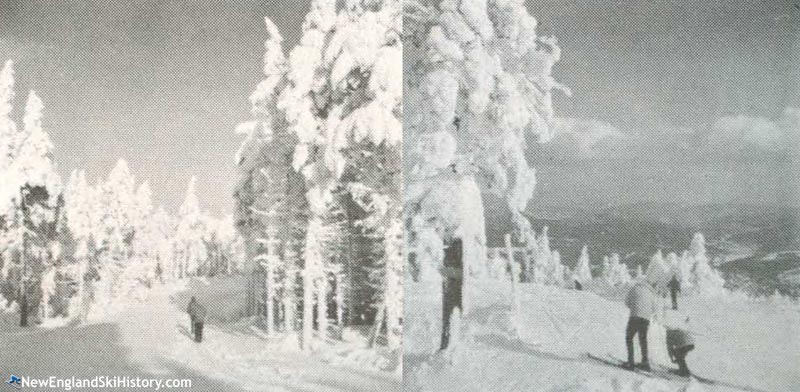 Okemo circa the early 1960s

Pomas, Pomas, and More Pomas!

A third Poma lift was likely installed for 1958-59 season, serving the lower mountain.

Two new Poma lifts were initially advertised for the 1960-61, however it is possible that only Black Poma was installed. Nonetheless, the new lift was opened in conjunction with additional trails, such as War Dance, Bow, and Arrow.

The Blue Poma was extended uphill for the 1961-62 season, providing easier connecting to the upper mountain lifts. In addition, a new trail was cut in the Glades area.

The base lodge was doubled in size for the 1962-63 season, while general trail improvements and expansions also took place. Taking Don Cutter's place as General Manager was Daniel J. Leary, who would later serve as the first manager of Enchanted Mountain in Maine.



A ski school lesson at Okemo circa the 1960s or 1970s

Finally, a Chairlift

Already considered one of the larger areas in the state, Okemo made advances in the mid 1960s when it cut a 4,600 foot long lift line trail in 1964. The expansion was completed in 1965, when the area's first chairlift was installed, the Sachem Double. Along with the chairlift and the installation of the F 10, Okemo's lift network had grown to 7 Pomas. John S. Anderson was General Manager by this time.

To help the ski area in lean seasons, a new snowmaking system was added for the 1966-67 season, covering 12 acres on the lower mountain's Papoose and ski school slopes. Meanwhile, the Board of Directors was putting together a new financing package.

In July 1967, Okemo announced that directors John Wadhams and Kingsley Smith had obtained financing from investors and local banks. Investments were to be made in a new lodge, more land, expanded parking, new trails, and another chairlift.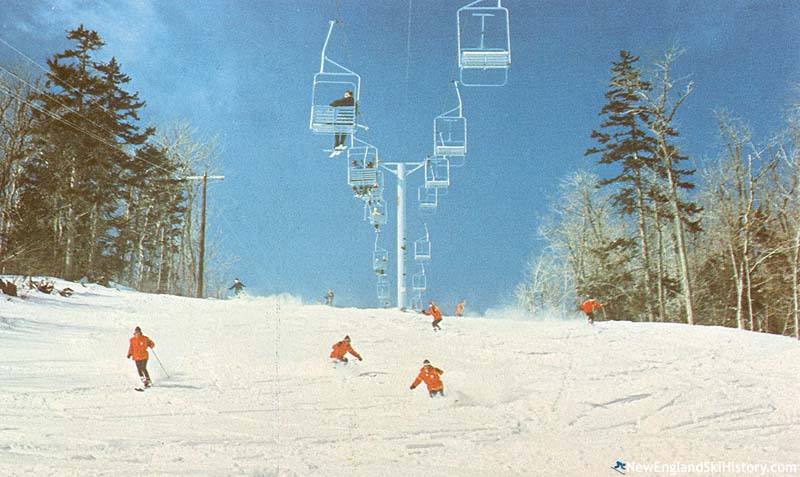 The Sachem Double circa the 1960s or 1970s

A $400,000 base lodge project debuted for the 1968-69 season, to be opened in conjunction with Okemo's second chairlift. Construction on the latter was halted due to an early season snowstorm. Combined with a lean 1969-70 season, the Northwest Summit double chairlift did not debut until February of 1970. John Bassette served as General Manager for the 1969-70 season, followed by David Rock in 1970-71. The Rim Rock Trail likely opened in 1970-71.



Financial Woes

The South Ridge double chairlift, Okemo's third, was installed for the 1971-72. With the new lift, Okemo now had top to bottom chairlift served skiing for the first time. Unfortunately for skiers, it would be more than a decade before the next installation, as Okemo was rolling into financial trouble. While Bromley manager Stig Albertsson attempted to purchase Okemo, he was unsuccessful.



The Muellers Take Over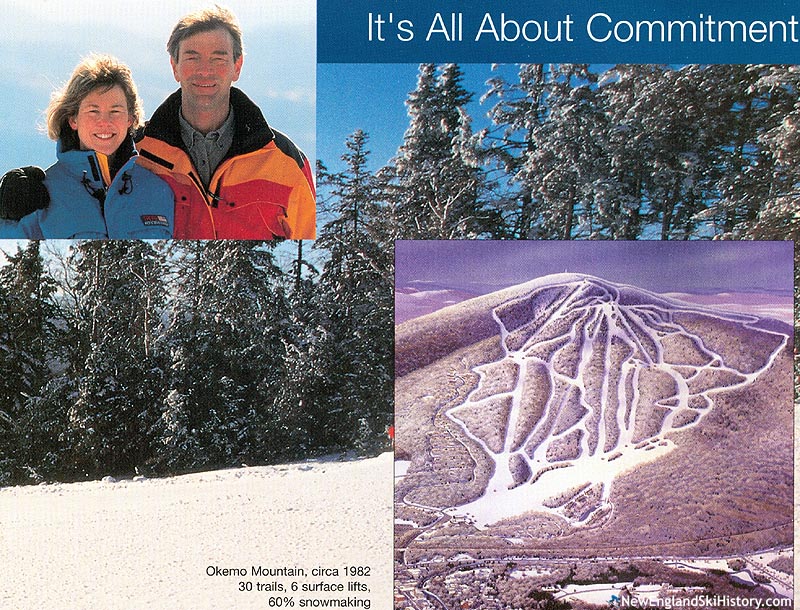 The Muellers

By the start of the 1980s, a planned expansion was shelved while debt increased. On August 2, 1982, Tim and Diane Mueller took a principal stake in the ownership of the mountain and began a campaign of dramatic improvements.

During their first full off season, the Muellers installed the area's first triple chairlift, ushering in an era of repeated record breaking skier visit figures. Tim Mueller later told the New York Times, "Our philosophy has been to improve and maintain a first-class ski resort and ski product, and the rest will come along."

After eclipsing 300,000 skier visits, a sizable expansion took place a few years later with 1987's Solitude development.

Okemo's first detachable quad was installed for the 1992-93 season, advertised as the world's fastest high speed quad. A $1.2 million summit lodge was constructed in 1993. Around this time, the Muellers became sole owners of Okemo.

Aided by a land swap with the state, the ski area expanded again in 1994-95 with the installation of a high speed quad at Solitude, the construction of a 70 million gallon snowmaking reservoir, and the new South Face complex. Skier visits soon surpassed 500,000.

A new snowboard park was constructed in 1996, served by a T-Bar. By the end of the decade, Okemo was launching its new nordic skiing and golf facility. Meanwhile, the Muellers became operators of Mount Sunapee, NH in 1998.


Jackson Gore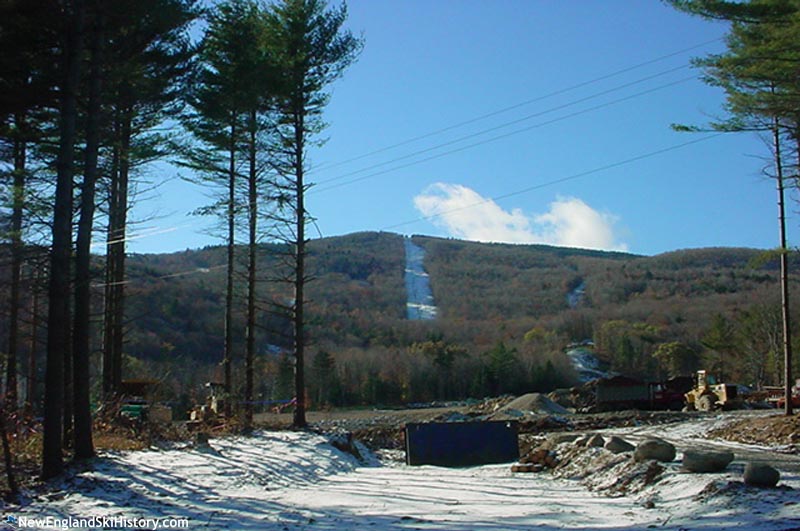 Jackson Gore, under construction in 2002

An ambitious project was rolled out in 2002, when a new base area and trail pod were developed on Jackson Gore. While original plans called for extensive developments such as a gondola, the implementation has been much more gradual. The main lift was installed for the 2002-03 season, whilst the base area and lower mountain lift were added for the 2003-04 season. Longtime departmental manager Bruce Schmidt was promoted to General Manager of Okemo in the summer of 2004.

On December 5, 2008, Okemo parent company Triple Peaks, LLC sold its developed ski area assets (including Okemo) to the Real Estate Investment Trust CNL Lifestyle Properties for $132 million. Triple Peaks, LLC then entered into an agreement to lease its three areas back from CNL for 40 years, therefore continuing operational control.

During the 2010 off season, the Snow Star Poma was replaced with a Magic Carpet lift, marking an end to Okemo's long Pomalift history.

More recently, Okemo has unveiled plans to develop South Face Village below South Face, providing new trails, lifts, and real estate opportunities.


Bubbles!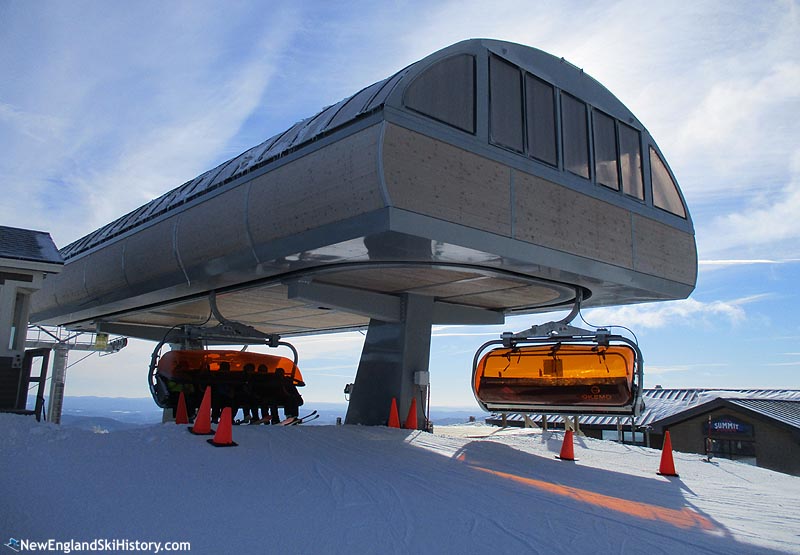 The Sun Burst Six (2016)

During the 2014 off season, Okemo installed a new high speed six pack bubble chair, replacing the Northstar Express Quad. The following year, bubbles were installed on the Jackson Gore Express, which became known as the Quantum Four. As a result, Okemo became the only ski area in New England with two bubble chairlifts.

In June of 2018, the Muellers announced they would be selling their ski areas to Vail Resorts, ending their 36 year ownership of Okemo. In their honor, Vail Resorts renamed the Defiance trail to Muellers' Run. That fall, Bruce Schmidt was transferred to Mt. Sunapee, while Kirkwood General Manager Doug Pierini took over as Okemo General Manager, as well as COO of Vail's Northeast resorts. One year later, following the Vail acquisition of Peak Resorts, Schmidt returned as Okemo General Manager, while Pierini became COO of Vail's Eastern Region.

NewEnglandSkiConditions.com Reports

Month
Average Percent of Terrain Open
December
31% (5 reports)
January
71% (7 reports)
February
92% (4 reports)
March
92% (6 reports)

-- start conditions table -->

Recent Conditions Reports

Mar. 30, 2021 by beartrap
Spring Snow, Corn
Feb. 25, 2021 by nhalex
Frozen Granular, Golf Balls
Dec. 13, 2020 by nhalex
Spring Snow, Loose Granular
Dec. 6, 2020 by nechairliftsandskiing
Variable Conditions, Variable Conditions
Mar. 7, 2020 by skiit
Loose Granular, Frozen Granular

Okemo Mountain Resort on NewEnglandSkiConditions.com
NewEnglandSkiIndustry.com News
Recent Articles
Lift Construction Continues as August Comes to a Close - Aug. 29, 2021
Vail Announces 2021-22 Capital Improvements - Dec. 12, 2020
Vail Resorts Cancels Capital Improvements, Slashes Payroll - Apr. 2, 2020
Vail Announces 2020-21 Capital Improvements - Dec. 9, 2019
Musical Chairs at Vail and Pacific Owned New England Ski Areas - Nov. 26, 2018
Vail Resorts Purchases Okemo and Sunapee - Jun. 4, 2018
Six Major Ski Areas Sold to Hedge Fund - Nov. 3, 2016
Vermont Re-approves Okemo South Face Village EB-5 Investment - Jul. 19, 2016
Vermont Halts Okemo South Face Village EB-5 Investment - Jun. 24, 2016
Okemo to Install New Quad Chairlift at Jackson Gore - Mar. 31, 2016
Okemo Mountain Resort NewEnglandSkiIndustry.com News Page

Expansion History

Image Gallery
Lifts
Click on lift name for information and photos
Maps

Year by Year History
Adult Weekend Full Day Lift Ticket; Adult Full Price Unlimited Season Pass

2020s
Ticket Price
Season Pass Price

Pass Payback

Opening Day

Closing Day

Skier Visits

2021-22
$142.04
2020-21
$126.14
$849.00
6.7 days
November 25
April 4
2019-20
$126.14
$739.00
5.9 days
November 22
March 14
2010s
Ticket Price
Season Pass Price

Pass Payback

Opening Day

Closing Day

Skier Visits

2018-19
$127.20
$709.00
5.6 days
November 16
April 14
2017-18
$110.00
$1375.00
12.5 days
November 11
April 22
2016-17
$101.00
$1619.00
16.0 days
November 23
April 16
2015-16
$97.00
$1599.00
16.5 days
November 24
April 3
2014-15
$92.00
$1529.00
16.6 days
November 16
April 26
2013-14
$89.00
$1499.00
16.8 days
November 13
April 13
2012-13
$88.00
November 8
April 14
2011-12
$84.00
$1419.00
16.9 days
November 24
March 25
2010-11
$81.00
$1379.00
17.0 days
November 23
April 17
2009-10
$1339.00
December 5
April 9
603,000
2000s
Ticket Price
Season Pass Price

Pass Payback

Opening Day

Closing Day

Skier Visits

2008-09
$77.00
$1299.00
16.9 days
November 21
April 12
2007-08
$74.00
$1249.00
16.9 days
November 16
April 20
640,000
2006-07
$72.00
$1229.00
17.1 days
November 23
April 22
2005-06
$69.00
$1199.00
17.4 days
November 18
April 9
2004-05
$67.00
$1325.00
19.8 days
November 12
April 10
2003-04
$65.00
$1375.00
21.2 days
November 13
April 11
2002-03
$62.00
$1240.00
20.0 days
November 2
April 20
604,000
2001-02
$59.00
$1200.00
20.3 days
November 14
April 14
2000-01
$56.00
$1150.00
20.5 days
November 17
April 29
593,000
1999-00
$54.00
$1150.00
21.3 days
November 11
April 16
1990s
Ticket Price
Season Pass Price

Pass Payback

Opening Day

Closing Day

Skier Visits

1997-98
$50.00
$1110.00
22.2 days
November 14
560,000
1996-97
$48.00
540,000
1995-96
$46.00
April 21
508,000
1994-95
$45.00
480,000
1993-94
$43.00
November 4
1992-93
$42.00
465,000
1991-92
$41.00
November 9
April 26
446,000
1990-91
$39.00
420,000
1989-90
$37.00
400,000
1980s
Ticket Price
Season Pass Price

Pass Payback

Opening Day

Closing Day

Skier Visits

1988-89
$35.00
November 23
1987-88
$32.00
1986-87
$30.00
320,000
1985-86
224,000
1984-85
$25.00
165,000
1983-84
$23.00
1982-83
$20.00
1981-82
$18.00
November 25
86,000
1980-81
$17.00
95,500
1979-80
$15.00
88,800
1970s
Ticket Price
Season Pass Price

Pass Payback

Opening Day

Closing Day

Skier Visits

1978-79
$14.00
November 23
1977-78
$12.00
December 2
176,000
1976-77
$12.00
$300.00
25.0 days
December 3
1975-76
$11.00
December 6
1974-75
$10.00
November 28
1973-74
$10.00
1972-73
$10.00
1971-72
$10.00
$170.00
17.0 days
1970-71
$8.50
1969-70
$7.00
132,170
1960s
Ticket Price
Season Pass Price

Pass Payback

Opening Day

Closing Day

Skier Visits

1968-69
$7.00
1967-68
$6.00
1966-67
$6.00
1964-65
$5.50
1963-64
$5.00
1962-63
$5.00
1961-62
$5.00
December 19
April 8
39,900
1960-61
$5.00
$65.00
13.0 days
1959-60
$4.00
1950s
Ticket Price
Season Pass Price

Pass Payback

Opening Day

Closing Day

Skier Visits

1958-59
30,000
1957-58
25,300
1956-57
11,800
1955-56
January 31
April 21
3,000
Visitor Memories
---
External Links
Okemo - official site
Ludlow Mountain - FranklinSites.com Hiking Guide
Last updated: January 29, 2020