New England Ski Industry Biographies
Jim Kelly Biography

Jim Kelly

Born:
March 4, 1935
Died:
September 4, 2022
New England Areas:
Brodie, MA
A native of Washington, Massachusetts, James W. Kelly was one of two sons (and four daughters) raised by lumber entrepreneur John J. Kelly and his wife Mary. A 1952 graduate of Pittsfield High School, Kelly served with the Navy Seabees for two years before joining the family business. He married Dorothy "Dot" Godek in 1955, with whom he had five children.

In 1963, a federal recreational study named Brodie Mountain as good spot for a commercial ski venture. Kelly's father had purchased much of the mountain, including a defunct rope tow ski area once owned by Gregory Makaroff, for logging purposes. Starting in the winter of 1964, Kelly built new ski trails, lifts, and base area buildings, opening Brodie for the 1964-65 season. A sizable snowmaking system would be added the following season.

In November of 1968, Kelly unsuccessfully bid to acquire Bousquet at auction.

John Kelly passed away in 1970, leaving his sons in charge of his properties. Jim Kelly continued his work of keeping Brodie as one of the top ski areas in the region, while his brother Donald served as president of Kelly Hardwood. Often garnering headlines for hosting the Irish Olympics and for challenging Killington for first-to-open honors, Jim Kelly was described by the Berkshire Eagle as being "the sort of guy who would sell refrigerators to Eskimos or a padded bra to Raquel Welch."

In 1971, Kelly nearly acquired the Cranwell golf course.

In the spring of 1974, Kelly reportedly connected to the possible acquisition of the Wenzel Farm in Adams for the creation of a nordic ski area and home development. Kelly also looked into acquiring the defunct Greylock Glen golf course.

Kelly diversified his holdings in 1978 when he acquired Ida & John's Restaurant in Lenox, reopening it as Kelly's Irish Inn. He sold the business the following winter, which became known as Three Gables Inn. Kelly also acquired the Berkshire Indoor Tennis Club in 1978, renaming it the Brodie Mountain Tennis and Racquetball Club.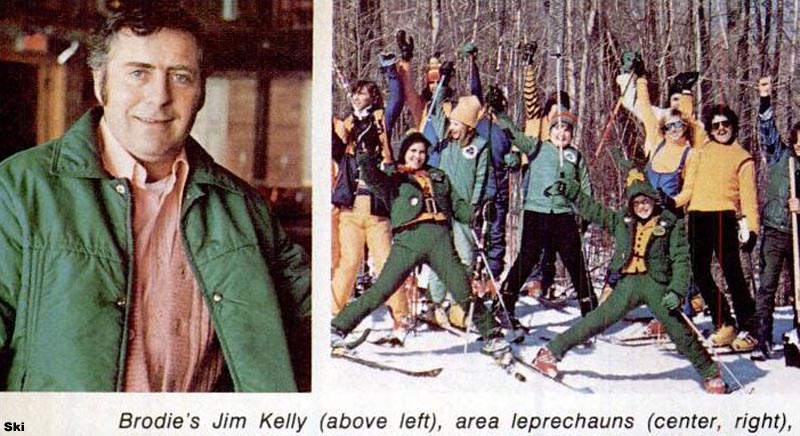 With a downturn in construction affecting the lumber industry, Jim Kelly took over Kelly Hardwood from his brother Donald in 1982. By integrating the lumber business, Kelly's company included the ski area, the lumber entities, the tennis club, Kelly's Diner, a Pizza Hut, and J.W.'s Lakeview Restaurant. Kelly hoped to achieve economic efficiency by putting the companies under one umbrella. Kelly's oldest son Matthew was promoted to general manager of Brodie.

In June 1983, Kelly announced the construction of a $3.8 million, 3.7 megawatt wood-burning cogeneration plant. Attending the announcement, Massachusetts Lieutenant Governor John Kerry told reporters, "It represents the very best of what we have in Massachusetts and the direction we ought to be going." Months after opening, the state shut down the plant, claiming it didn't meet clean air standards.

With the expensive new power plant idle and the lumber business continuing to decline, Kelly announced he would close the businesses and auction off the assets. The Pittsfield location was redeveloped as retail, including a Walmart.

Meanwhile, Kelly hoped to continue expanding Brodie to keep up with nearby Jiminy Peak, proposing to build trails and lifts on the north face of the mountain and developing more lodging. Town drama ensued, blocking development. Kelly and his family members spent subsequent years running for various town offices and in court, but were unable to break through the roadblocks. As a result, Jiminy Peak enjoyed significant growth in the 1980s and 1990s while Brodie ceded market share.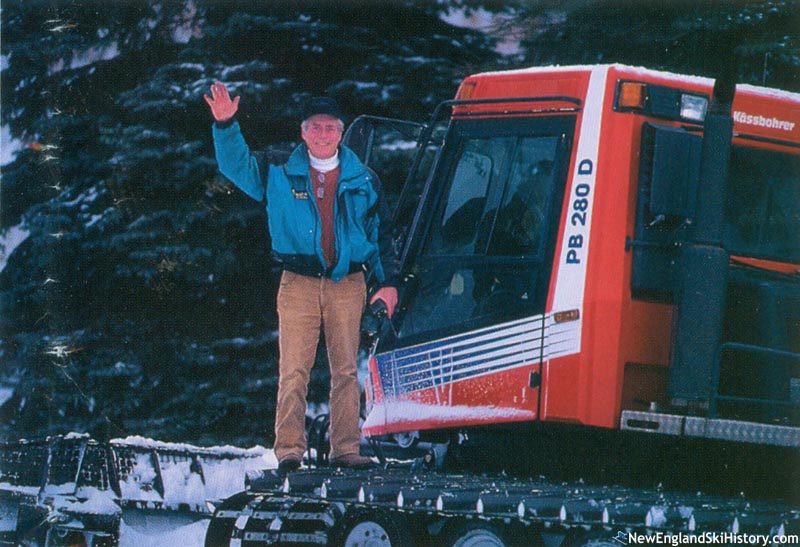 In November 1999, Kelly sold Brodie to Brian Fairbank and Joseph O'Donnell of rival Jiminy Peak. The new owners would close Brodie after the 2001-2002 season.

Meanwhile, Kelly and his sons began redeveloping the Brodie cross country ski area into a golf course. Kelly had acquired the land in the early 1970s, naming it Donnybrook Farm after the Irish word for "brawl." In constructing the course, Kelly remarked to the Berkshire Eagle, "I wouldn't have built this course if I didn't think it was going to be one of the best. The course is very unique, very natural." Adorned with green shamrocks, the 9-hole Donnybrook Country Club opened in the spring of 2008.

Kelly passed away on September 4, 2022 at the age of 87.

Jim Kelly Related Resources on NewEnglandSkiHistory.com:


Jim Kelly External Links:

Donnybrook Country Club - official site


Last updated: September 8, 2022