| | |
| --- | --- |
| | |
Located southwest of Pittsfield on the northern slope of Lenox Mountain and Yokun Seat, Bousquet Mountain is amongst the oldest ski areas in the country.


Earned Turns on a Farm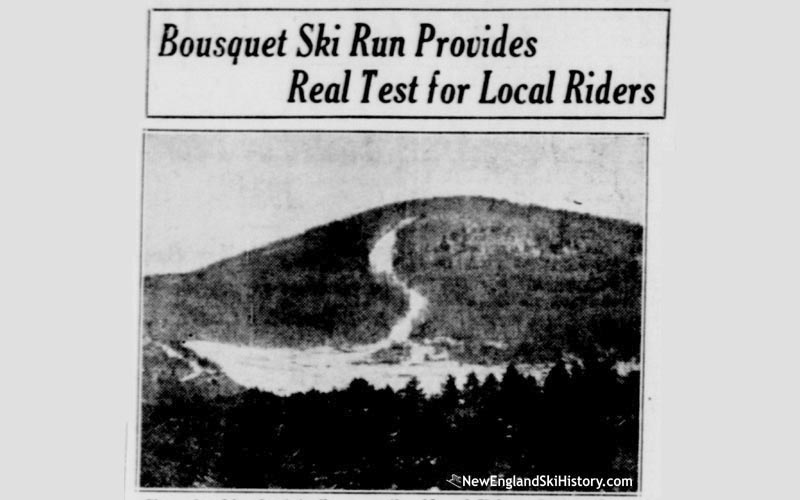 The new Bousquet Run (January 1935)

Bousquet ski area was founded by Clarence J. Bousquet in the mid 1930s at his Pittsfield, Massachusetts farm. A native of Spencer, Massachusetts, Bousquet served in the 329th Battalion Tank Corps in World War I, where he sustained severe injuries when he was blown out of a tank during battle. Dealing with the injuries after the war, he met a Pittsfield nurse named Margaretha Lehmann, with whom he became engaged in 1923. The couple was married for nearly 43 years prior to his death in 1966.

Following the war, Bousquet and his brothers operated a sporting goods store in the city named Charlie & Charlie. Bousquet also started an early airplane service and was involved in the founding of the Pittsfield Aero Club and the Pittsfield Airport.

Circa 1929 or 1930, Bousquet acquired a farm off Tamarack Road in Pittsfield, where he raised mink, which he later described as "a good business," but that he "didn't like farming." The farm made headlines in early 1931, when a cat brought two baby minks into its litter, drawing scores of sightseers.

In the spring of 1934, Bousquet and the Mt. Greylock Ski Club publicized plans to use his mink farm as a slope for the club. Bousquet reportedly hired woodsmen to clear the Bousquet ski run with ski club members helping to haul brush and take out stumps. The Bousquet ski run was the "only modern trail" in Pittsfield with a width of 25 to 45 feet and a vertical drop of 570 feet. The bottom three quarters of the trail was completed in time for winter. Open slopes at the bottom were available for novices.

Adequate snowfall finally arrived in late January, as the trail was inaugurated with an informal race on January 26, won by Mt. Greylock Ski Club president and future Jiminy Peak owner Bartlett Hendricks.

Winter sports in Berkshire County changed forever on February 10, 1935. Roughly five hundred New Yorkers boarded a New Haven Railroad train at Grand Central Station, arriving at Pittsfield at noontime. Locals gathered for the arrival, with some referring to it as a "bathing beauty parade" as skis smashed ceiling light bulbs. A half hour bus ride brought them to Bousquet's property for free skiing. Though slopes became overcrowded with an estimated 3,000 onlookers, the event was considered a success, with Bousquet selling 27 gallons of coffee and 500 hot dogs from a snack shack he had built. Bousquet also opened his house to the visitors, resulting in damage to his floors and some equipment.


Rope Tows and Snow Trains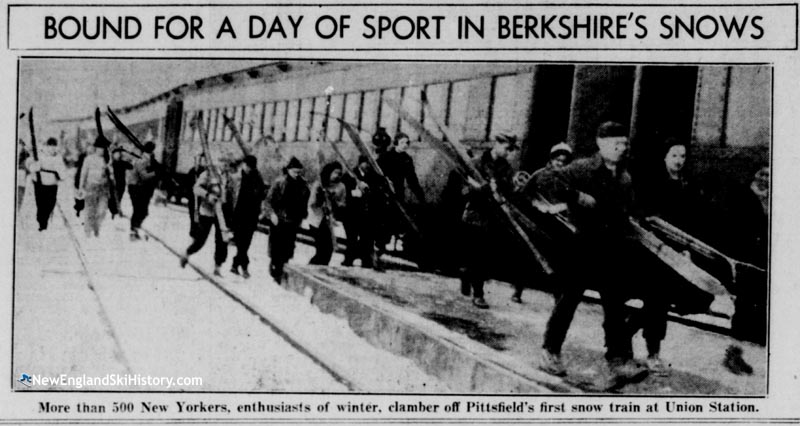 The first snow train unloads in Pittsfield (February 1935)

During that first winter of organized skiing, Bousquet was given descriptions of a ski tow that in Woodstock, Vermont that had begun operation a year earlier. Following the season, plans were announced for the construction of a rope tow at Bousquet, as well as more skiable terrain and possible non-ski activities. The Mt. Greylock Ski Club (including Hendricks and future Jiminy Peak manager George Maynard) was already at work in April, de-stumping the Bousquet ski run, as well as designing a new trail. Work was set to culminate with a Fourth of July bonfire stretching 600 feet down the slopes to be viewed from the city, however the thorn apple brush would not ignite.

The numerous improvements were publicized in November 1935, including plans for tiered rope tows serving much of the vertical drop. The Bousquet Run was extended further downhill with the relocation of a road. Two new upper mountain trails were cleared east of the Bousquet ski run, named the Yokun Trail and the Russell Trail. The latter trail was named after Bousquet's older son, while Paul's Clearing on the lower mountain slope was named after his younger son. In addition to the new trails, the long novice East Trail was improved.

Federal funds were used to improve Tamarack Road, making the ski area more accessible for bus and automobile traffic. A pond on the farm was expanded for ice skating, while a warming hut was constructed with the dual purpose of housing a rope tow engine. Charles Parker, co-founder of the Springfield Ski Club and the Mt. Greylock Ski Club and coach of numerous college racing teams, directed the ski school based out of the Hotel Wendell for the first season.

In constructing the rope tows, Bousquet chose to construct the lower lift first and to learn from that experience. After meager snowfall, there was finally enough base to welcome snow trains on January 12, 1936. An estimated 1,000 skied at Bousquet that day, arriving by train and automobile. The opening was not without issues, as the 1,400 foot rope tow broke down repeatedly and the new warming hut was found to be woefully undersized. Bousquet continued to tinker with the tow, adding a large gasoline engine later in the month to allow for more simultaneous riders.

With fresh snow, the second weekend proved to be even busier, with trains coming from New York and Springfield and automobiles coming from as far as Minnesota. The rope tow was more reliable, providing an estimated 2,500 rides on one day. Local police took notice of the crowds, only allowing busses on Tamarack Road on a busy day in February.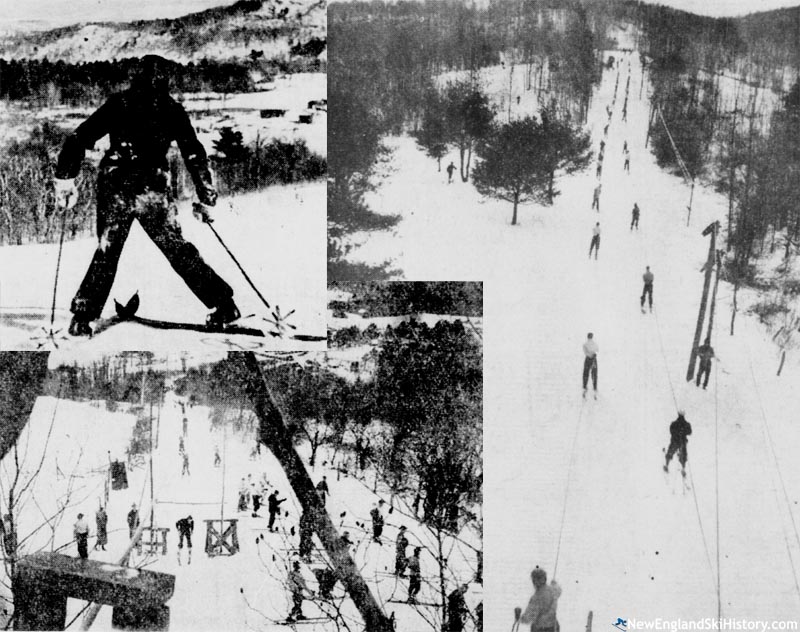 Late 1930s skiing at Bousquet

For the 1936-37 season, Bousquet put a focus on making the trails skiable with minimal snow by removing rocks, growing grass and hay, and planting trees to reduce wind. In addition, the upper mountain rope tow was finally constructed. Bousquet told The Berkshire Eagle, "Next year we will be able to tell them in New York that there's good skiing at Bousquet's after we have the first two inches of snow, and we'll continue to have skiing until all of the snow is off the ground." Unfortunately, the winter of 1936-37 was virtually snow free, as the first skiable snow didn't arrive until the middle of March. Skiing started during a blizzard on March 16, including night skiing under recently installed mercury vapor lights. Though snow was adequate for skiing for a few weeks, Bousquet often discouraged skiers from using the slopes on account of dangerously firm conditions.

A third rope tow was added for the 1937-38 season to serve the growing crowds. With concern for safety, Bousquet installed devices at the top of the lifts to automatically stop the machinery if a skier did not unload in time. At one point in early January, nearly 90% of the vehicles in the parking lot had out of state plates. By this point, Bousquet had a staff of 30 to operate the ski area. Though a late January day attracted 2,500 skiers, the subpar winter season ended on February 22.

A fourth rope tow was added for the 1938-39 season, giving Bousquet the claim of the "most mechanized ski center in the East" with its 7,200 person uphill capacity. The Hartford Courant declared the area "one of America's finest ski developments." The tows consumed 200 gallons of fuel on a typical busy day. In addition to the new lift, the ski area also featured improved parking in conjunction with a Works Progress Administration project that connected Tamarack Road with Barker Road. By allowing the road to be one-way, roadside parking could be allowed so that "no one will be required to walk more than five minutes from their cars to the trails."

Though the 1938-39 season had an early start thanks to a Thanksgiving blizzard, a subsequent lack of snow prevented any skiing until January 30.

A new upper mountain trail was cut for the 1939-40 season with the goal of better distributing skier traffic. The new trail was described as being located in a natural trough with a 22-degree maximum pitch for more advanced skiers. The popular ski area reportedly recorded as many 4,000 skiers in one day.

A fifth rope tow was added for the 1940-41 season, located between the Russell Slope and Paul's Clearing and geared toward improving night skiing operations.


World War II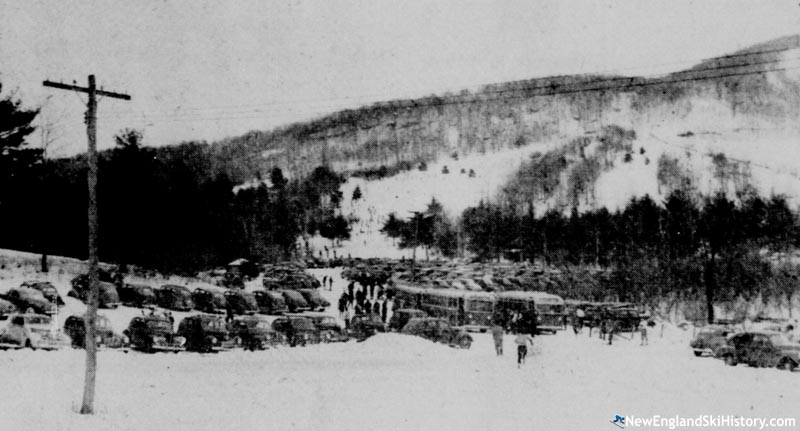 Bousquet circa 1941

Investments continued for 1941, including lengthening the East Slope rope tow and smoothing terrain. The largest investment was a new 41 by 61 foot base lodge, complete with a large fireplace built from bricks from old kilns on the farm. Bousquet was dealt a double-whammy that winter, with the United States entrance into World War II coinciding with poor snowfall.

As the 1942-43 season arrived, Bousquet was fighting to stay in business. Though it appeared he would be able to procure gas for the rope tows after a receiving initial word from the Office of Price Administration and Congressman Treadway, the Pittsfield Rationing Board rejected his application. As a result, Bousquet was forced to significantly scale back operations, running one rope tow on weekends and holidays using what little gas that remained. Meanwhile, with busses shut down and pleasure driving banned, Bousquet improved a cross country ski trail from the railroad station to the ski area. Other skiers arrived on foot, via horse and buggy, and by bicycle.

By this point, Bousquet's oldest son Russell had become his assistant mechanic at the ski area. Upon graduating high school in 1943, Russell Bousquet entered into naval cadet aviation training. He would not return until after the war.

The gas situation improved slightly for the 1943-44 season, as the local fairground loaned Bousquet a generator that ran off non-rationed bottled heating fuel. The area enjoyed another Thanksgiving weekend opening. Later in the winter, Bousquet resumed night skiing at the request of the Mt. Greylock Ski Club. Though pre-war numbers were not achieved, one February day saw 1,300 skiers enjoying four operating rope tows.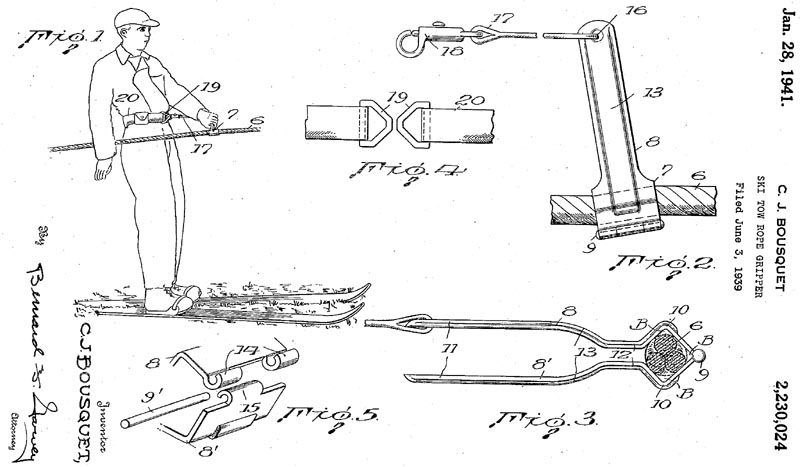 The Bousquet Ski Tow Rope Gripper Patent

Meanwhile, Clarence Bousquet was trying his hand as an inventor, designing a rope tow gripper. His 1939 filing was patented on January 28, 1941, publication number US2230024 A. The C.J. Bousquet Ski Tow Rope Gripper resulted in hundreds of thousands of sales, making rope tow riding dramatically easier for skiers all over.

With the end of the war nearing, improvements were made for the 1944-45 season, including the development of a new beginner area. Twin rope tows were installed, bringing Bousquet's total count to seven. George Maynard directed the ski school.

The first post-war season started with a foot of snow and a December 1 start. A thaw then took away the early snow, postponing subsequent operations until Christmas time. Business rebounded in late January, when the first snow trains since early 1942 arrived, giving Bousquet the opportunity to finally run all seven rope tows simultaneously. In addition to the hundreds of snow train skiers, over 400 vehicles arrived, resulting in 10 minute lift lines at times. Returning from serving in the 10th Mountain Division during World War II, James Snell took on the role of professional ski instructor.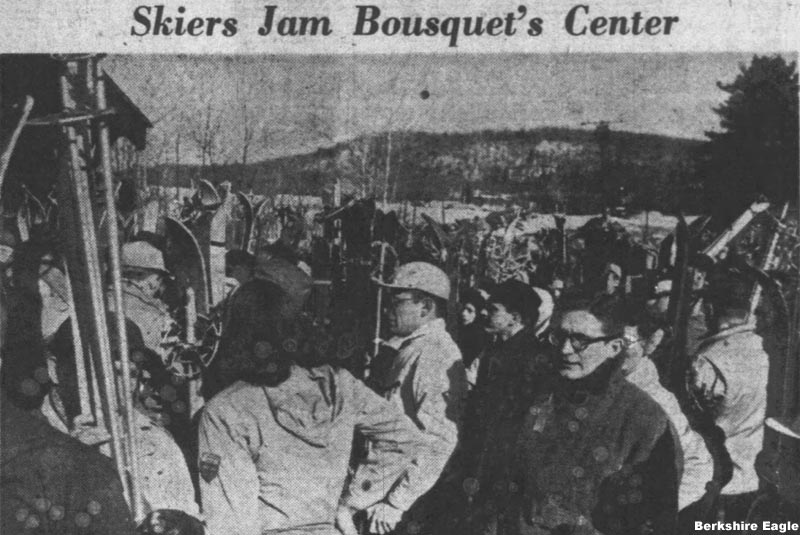 Snow trains return to Bousquet after World War II

Meanwhile, Beartown manager William O. Murthey brought forth a proposal to construct a ski area on an 80-acre tract east of Bousquet, adjacent to the highway. Zoning issues likely halted these plans, though it may have eventually evolved into the short-lived Quarry Ski Slope off South Mountain.

An eighth rope tow was added for the 1946-47 season, while new tow gear and sheave assemblies were developed. Unfortunately the winter was another poor one, with limited operations starting in early-January. Conditions didn't warrant running the new tow until mid-February. Nevertheless, when snow trains finally arrived, Bousquet notched 1,200 visitors in one day.

Two more rope tows were added for the 1947-48 season, giving Bousquet a reported world record of 10. The area even received acclaim in a Ford magazine, since six of the tows featured Ford engines. Crowds declined that winter, as Clarence Bousquet noted new areas in New Jersey and New York were siphoning off skiers. Commenting to the Berkshire Eagle, Bousquet stated, "that's O.K. with me...We'll see them next year, when the Berkshires get a lot of snow and New York doesn't have any."

New trails were announced for the 1948-49 season, however a lack of snow postponed opening day until late January. During these struggles, Bousquet was bolstered by growing sales of his rope tow gripper in the west.

Following the 1948-49 season, Clarence's youngest song Paul graduated from Pittsfield High School and headed to Dartmouth College. He later graduated from the University of Vermont, becoming a noted ski racer along the way.

Maintaining 10 rope tows for the 1949-50 season, Bousquet was surpassed when Catamount expanded to 11 that winter. Growth also continued at areas up north, which were installing chairlifts and T-Bars. Though there was pre-Christmas snow, the first half of the season reportedly had little skiing. When adequate snow finally arrived in mid-February, Bousquet had to hurry to get the rope tows set up. While rushing, he set one of them up backwards, resulting in the Berkshire Eagle joking, "Merrily it ran downhill!" The snow rescued the season, resulting in a late winter day that brought the largest crowd since pre-World War II days.

The stretch of short winters in the late 1940s and early 1950s took its toll on the ski area, particularly because it hastened the demise of the once-popular snow trains. Meanwhile, Bousquet became entangled in a legal battle with the Northeastern Gas Transmission Company. In court testimony, Clarence Bousquet testified that his property lost $35,000 in value when the company secured an easement to run a natural gas pipeline across the ski trails and parking lot. Though a jury agreed that Bousquet had suffered a loss from the taking, only $6,890 in damages were awarded. Due to the change in topography and winds related to the pipeline, Bousquet needed to purchase a snow blower to keep the lower slopes covered.

1952-53 marked the formation of the Berkshire Ski School. Led by Bousquet's ski school director Jimmy Snell and Win Gutmann, the ski school set up shop at Bousquet, Catamount, and Jiminy Peak, offering standard instruction and lesson books across the three areas. The multi-area organization likely lasted for three seasons. Unfortunately, the 1952-53 season was a bust, likely only running from early January to early February. Adding insult to injury, when the ski area was open, Tamarack Road was often impassable due to mud. Russell Bousquet, becoming more involved with the operation, started a petition for the town to pave the road. A manager of a local hotel noted that, "It is possible that after being stuck in the mud for an hour or two on Saturday afternoon the skier would decide to take his business to some place that at least provides good roads to and from the ski slopes."


The Next Generation Becomes Involved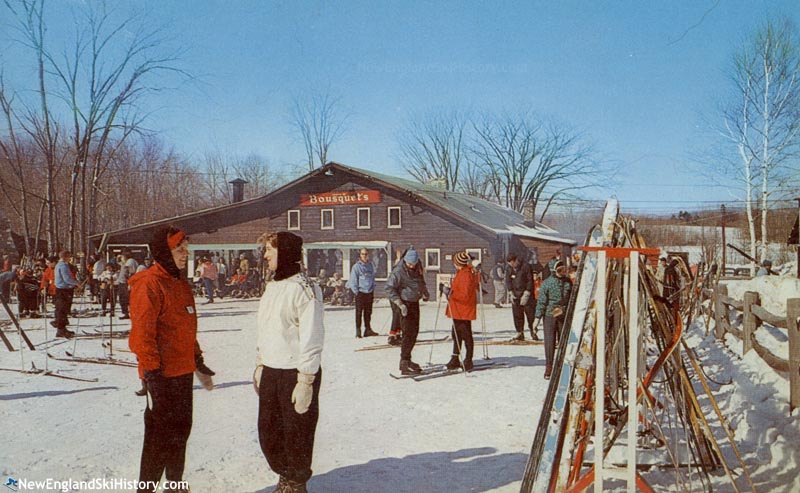 The base area

On June 23, 1953, recently-graduated Paul Bousquet announced that he and his brother Russell were purchasing the ski area and tow gripper business from their father. Slowed by heart problems, Clarence remained involved in the operation, while working on developing inventions for fishing, one of his many hobbies. The poor winters continued, with the 1953-54 season likely running from early January until mid February and the 1954-55 season likely running from late January until late February or early March. Considering Bousquet generally only operated on weekends and holidays, the seasons were only a few operating days each.

After a long run of poor winters, 1955-56 was a strong improvement, with late November snow resulting in an early opening. Bousquet was recognized for its continued commitment to helping people learn to ski, in particular how it stationed employees at novice rope tows to help riders. Though the season extended into late March, business was once again hampered by the poor condition of Tamarack Road. After offering to sell the area to the city, the family announced it was placing the ski area on the market for $140,000, as Clarence was suffering from poor health and Paul was now residing in New Jersey. Though the season could have continued into April, Tamarack Road became impassable.


Bousquet Sells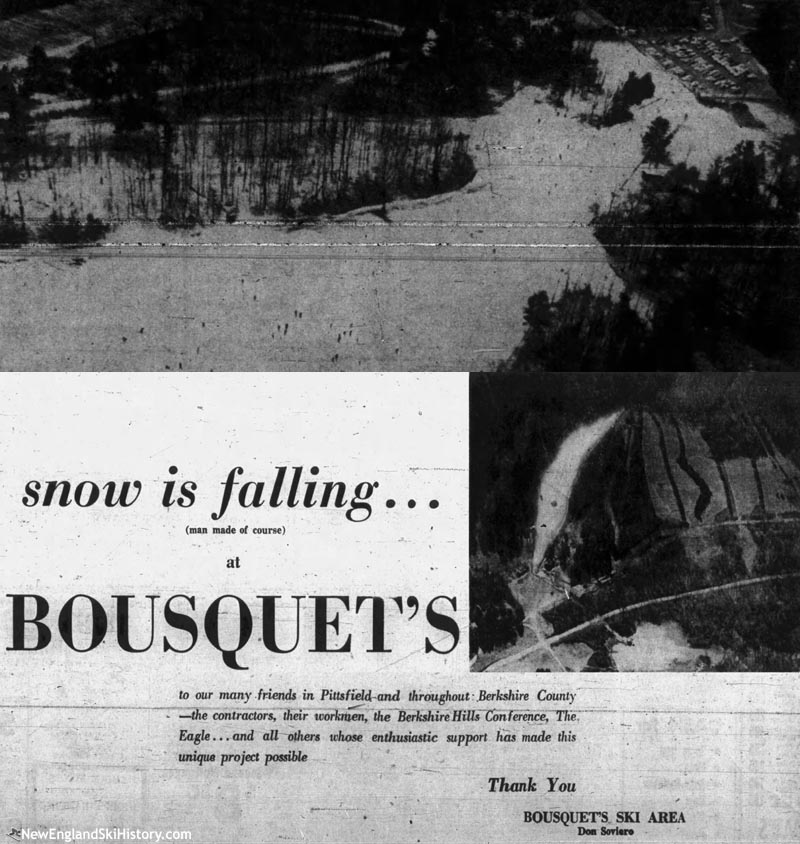 November 1956 snowmaking at Bousquet

On July 18, 1956, Donald Soviero and Stephen Jewett purchased Bousquet ski area (and the Bousquet home) for $90,000. A 28-year-old New York attorney, Soviero had met his wife while visiting Jug End at the turn of the decade. Soviero claimed a variety of careers, including wholesale, travel agencies, real estate, insurance, and being a private detective. Jewett was a 71-year-old New York psychiatrist.

Under the management of Soviero, a massive work effort began immediately, including the installation of a 2,500 foot long gasoline-powered Hall T-Bar (the state's second T-Bar), expansion of the base lodge, and construction of the region's first snowmaking system (on the Russell Slope). The expert Dino's Chute was cut from the top of the T-Bar, named after Soviero's son. The East Trail was widened and renamed Jewett Trail after the co-owner. Overall, including the purchase and improvements, Soviero claimed $250,000 was invested.

During the lead up to the acquisition of the mountain, Soviero claimed that Pittsfield Mayor Harvey Lake promised to pave Tamarack Road to resolve the access issues. The mayor later claimed he had pledged to continue to maintain the road, rather than to rebuild it, prompting a back and forth that resulted in the mayor banning Soviero from his office. Tamarack Road would not be paved for the upcoming season.

As the new ownership made headlines with its expansion and political feud, locals arranged a send-off for the Florida-bound Clarence and Margareta Bousquet. Among the reported 120 attendees included Bartlett Hendricks and Doc Maynard of Jiminy Peak, Henry Cairns of G-Bar-S, Webb Ottman and Madelon Mulroney of Dutch Hill, David Judson of Otis Ridge, and new owner Donald Soviero. In a parting letter to the Berkshire Eagle, Bousquet stated, "The Bousquet family have always felt that each skier, young or old, who visited our Tamarack Road ski slopes was a partner and a helper in the development of the area. To us, the wonderful dinner party was concrete evidence of the loyalty and friendship of the people of Pittsfield. This is something we will always cherish."

Construction progressed throughout the summer and fall, culminating in the operation of the Larchmont snowmaking system in late November. Running 11 snow guns on November 25, a crowd of 1,000 created a traffic jam as they attempted to catch a glimpse of the new technology.

The ski area opened on machine made snow on December 2, though business was once again stifled by the poor condition of Tamarack Road. Walter Stugger, future developer of Carinthia, was named ski school director, while Warren Sears continued as ski patrol director. Thanks in part to the snowmaking, as well as an expanded operating schedule, the area was open for 82 days that season.

Consistently reporting the largest number of skiers of all Berkshire areas that winter, some new concepts did not go as well as intended. At one point in January, the Berkshire Eagle noted, "Startling announcement other late afternoon over Bousquet's ski area address system, 'Tows are closed. Get ready for the Martini run.' Announcer didn't notice 90 per cent of skiers were kids, who wondered what he was talking about..." Papers also noted Soviero's prominent "brand new, plush office" in the lodge.

Bousquet also tried to resurrect the ski train concept by attempting a ski plane concept with Northeast Airlines. The tragic Northeast Airlines Flight 823 crash happened the day before the first scheduled ski plane trip, resulting in mass cancellations and the end to the program.

As the 1956-57 season progressed, rumors began to swirl about a year-round resort being developed at Bousquet. Famed architect Frank Lloyd Wright visited Soviero in March, taking a three-hour tour of the proposed resort property. After presenting his plans for a Sun Valley-like resort, Soviero reported, "Mr. Wright likes my idea and is ready to help." Frank Lloyd Wright passed away in 1959.


Leading the Berkshires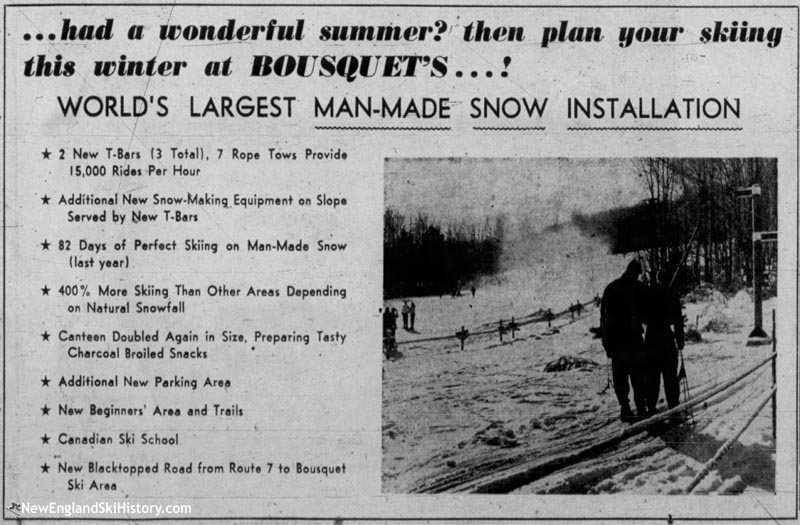 1957 Bousquet advertisement

Though Soviero was initially optimistic for the multi-million dollar development concept, he switched gears by the summer, choosing instead to "concentrate on making the best possible ski area out of Bousquet's." In July 1957, Soviero announced $100,000 of new spending at Bousquet, including two new T-Bars, a lodge addition, an enlarged beginner area, and the expansion of snowmaking onto the East Slope.

Corresponding with the aggressive expansion project, infrastructure to Bousquet was improved in 1957, including the installation of three-phase power (for the T-Bar and two new lifts) and the city finally paving Tamarack Road.

Construction was well underway by the fall, as a new 300 foot by 70 foot snowmaking pond was constructed at the base of the East Slope. Claiming the largest snowmaking system in the world, the pumping capacity was expanded to 300 gallons per minute and augmented with five compressors. Instead of the previously announced T-Bars, the new lifts instead followed the recent Vermont rage of Pomalifts. One of the lifts served the newly expanded East Slope, while the second was located on the upper mountain, serving the Yokum, Osceola, and Bousquet trails, the latter of which was combined with the North Slope and renamed Grand Slalom. The lodge expansion (five feet lower than the existing structure) was 50 feet by 60 feet and came with an improved sewage disposal system. A crowd of 3,000 turned out for an open house on December 1, which was bolstered with thousands of cups of free grog.

The 1957-58 season kicked off in mid-December, but quickly faced challenges as Christmas-week rain wiped out the snowpack. Subpar snowmaking weather furthered the struggles, with the Berkshire Eagle leading a late December story with the quote, "Never have so many people skied on so little snow." Cold weather finally arrived in mid-January, resulting in weekend day attendance of 1,500 to 2,000 skiers. With the season likely extending into the start of April, business recovered and exceeded 1956-57.

Bousquet hosted prominent Democrat political functions during the 1958 off-season, including a picnic for Governor Foster Furcolo and a reception for Senator John F. Kennedy. The latter function also allowed future Senator Edward M. Kennedy to make a splash, as Jackie Kennedy introduced her husband as "Ted's brother, Jack."

Though a new chairlift had been rumored for the 1958-59 season, Soviero focused instead on maintenance and smoothing trails. The season started off well with a December 7 opening, however it soon became a struggle. In January, a judge issued an arrest warrant for Soviero when he failed to appear on a parking violation. It was later revealed that the reason for the failure to appear was that Soviero was hospitalized in Boston and that his wife was running the ski area in his absence. After returning, snowmaking woes resulted in round-the-clock work in late January, when pipes froze, valves blew out, and a pump burned out.

In February, Pittsfield Public Health Department moved to close the lodge, claiming a new chlorination septic system was not functioning properly. As a result of the health department's assessment, victualter's and milk sales permits were not issued. Bousquet was eventually fined $110 for selling food and milk without a permit.


Avaloch

Following the 1958-59 season, Soveiro's Avaloch Realty Trust company acquired the nearby Avaloch Inn for $126,000. Renovations took place that spring, with the resort and associated 5 Reasons restaurant opening in June. Though record business was reported, the resort shut down in mid-August, as Soviero was ordered by doctors to rest before a major operation. Soviero had already undergone three medical procedures during his first months as owner. Later in 1959, Soviero sold Avaloch to Michael Bakwin, who subsequently expanded the resort to include a small ski area.

For the 1959-60 season, Bousquet's snowmaking system was upgrade with larger pipe, more air compressors, and increased pumping up to 650 gallons per minute. As part of the upgrade, a used fire engine was purchased to improve pumping. Meanwhile, with Walter Stugger departing to develop Carinthia, Court McDermott was named ski school director in September 1959. A native of Great Barrington, McDermott had previously worked as assistant ski school director at Mt. Tremblant.


Chairlift Age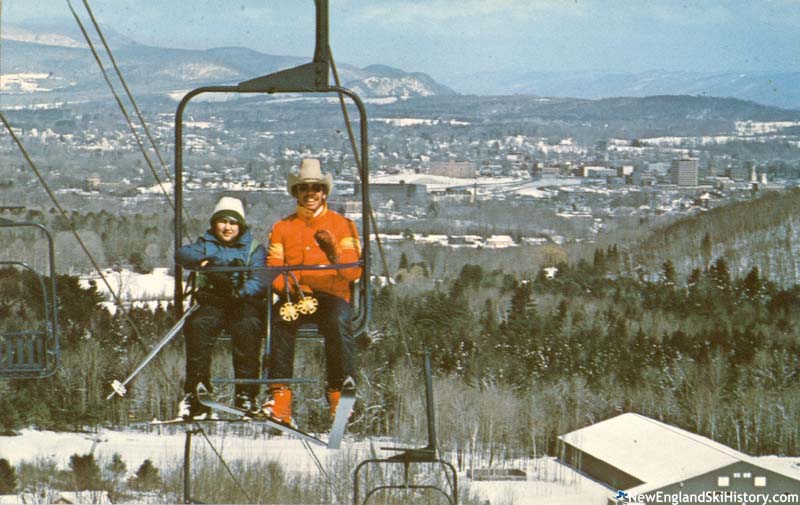 The Summit Double

Bousquet stepped into the chairlift age in 1962-63 with the installation of a Carlevaro & Savio double.

Clarence Bousquet passed away on October 22, 1966 at the age of 77.

Soviero likely sold the area prior to the 1967-68 season to a group of local businessmen. Paul Bousquet returned from Killington to purchase the ski area with a group of partners for the 1968-69 season.

A 2,600 square foot base lodge addition was constructed for the 1972-73 season.

A second double chairlift was installed for the 1980-81 season. Unfortunately for ownership, they soon found themselves foreclosed on by First Agricultural Bank.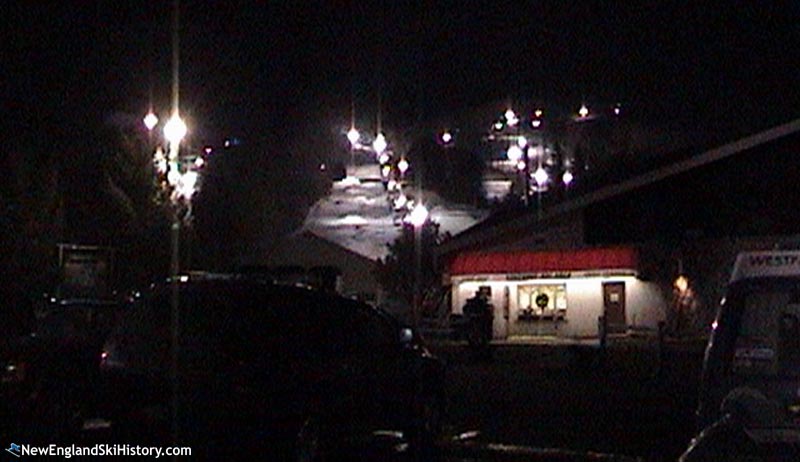 Night skiing (2004)

The Jervas Era

In 1981, Four Skiers Enterprises, led by former Butternut employee George Jervas, purchased Bousquet.

Jervas rolled out a summer operation circa the 1990s that included water slides, go carts, and a climbing wall. An aerial adventure park was added in the summer of 2011.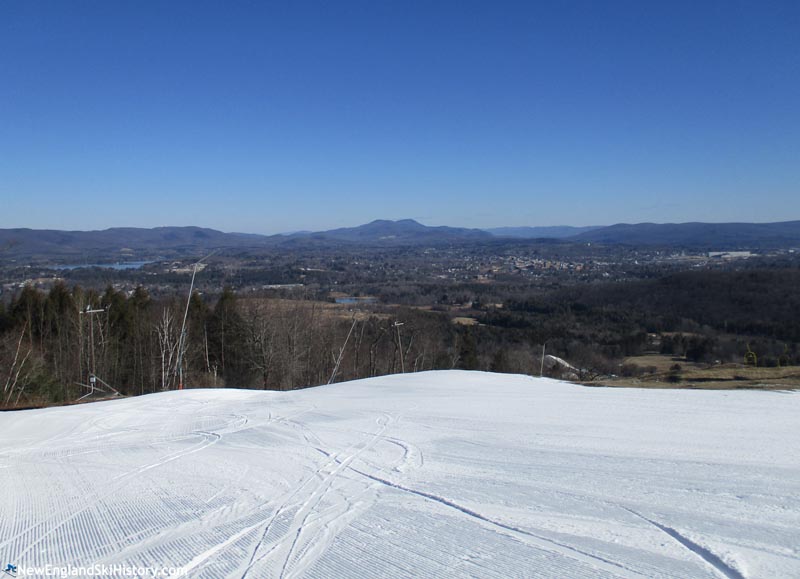 Mt. Greylock as seen from the top of the ski area (2016)

Circa 2002, a Hall double chairlift was purchased from nearby Eastover and gradually installed at Bousquet, eventually being completed for the 2004-05 season.

Around that time, Jervas suffered a stroke. Citing his health, he put Bousquet up for sale, but was unable to find a buyer. At the age of 76, Jervas suffered a fatal heart attack on August 20, 2012 while at work at Bousquet. His long-time partner Sherry Roberts inherited the ski area and was able to rally the troops to open the ski area for the 2012-13 season. Roberts vowed to keep Bousquet alive.

After years of struggling to keep Bousquet going, Roberts found a buyer. In the spring of 2020, Mill Town Capital acquired Bousquet, keeping the historic mountain in local hands. The owners of Berkshire East and Catamount were brought in to help transform and operate the area. Major investments were made that summer and fall, including massive snowmaking improvements and the replacement of the aging Summit Double with a more modern triple chairlift.

NewEnglandSkiConditions.com Reports

NewEnglandSkiIndustry.com News

Recent Articles
Western Massachusetts Construction Ramps Up - Jul. 28, 2021
Mill Town Capital Continues Investments in Bousquet, Pittsfield - Jun. 15, 2021
Bousquet to Construct New Lodge - Apr. 22, 2021
New Bousquet Lift Opens; New Magic Lift Delayed Again - Feb. 18, 2021
Lift Construction Continues Mid-Season - Jan. 16, 2021
Lift Construction Season Heading into Home Stretch - Oct. 8, 2020
Hayfever Triple at Haystack to Be Removed - Jul. 27, 2020
Bousquet Mountain to Install Triple Chairlift - Jun. 15, 2020
Bousquet Mountain Sold - May. 29, 2020
Multiple Ski Areas Remain Closed as the New Year Approaches - Dec. 27, 2018
Bousquet Mountain Ski Area NewEnglandSkiIndustry.com News Page

Image Gallery

Lifts
Click on lift name for information and photos
Maps

Year by Year History
Adult Weekend Full Day Lift Ticket; Adult Full Price Unlimited Season Pass

2020s
Ticket Price
Season Pass Price

Pass Payback

Opening Day

Closing Day

Skier Visits

2020-21
$67.00
$449.00
6.7 days
January 9
March 21
2019-20
$47.00
$399.00
8.5 days
December 19
March 14
2010s
Ticket Price
Season Pass Price

Pass Payback

Opening Day

Closing Day

Skier Visits

2018-19
$47.00
$399.00
8.5 days
January 8
March 17
2017-18
$47.00
$399.00
8.5 days
December 20
March 31
2016-17
$45.00
$399.00
8.9 days
December 15
March 26
2015-16
$45.00
$399.00
8.9 days
January 6
March 13
2014-15
$45.00
$389.00
8.6 days
December 3
2013-14
$45.00
$375.00
8.3 days
December 12
March 29
2012-13
$42.00
$350.00
8.3 days
December 22
2011-12
$42.00
$350.00
8.3 days
December 14
2010-11
$37.00
$325.00
8.8 days
December 9
April 3
2000s
Ticket Price
Season Pass Price

Pass Payback

Opening Day

Closing Day

Skier Visits

2008-09
November 21
2007-08
$37.00
$325.00
8.8 days
2006-07
$32.00
$325.00
10.2 days
2005-06
$32.00
$325.00
10.2 days
2004-05
$30.00
March 26
2003-04
$25.00
2001-02
$25.00
December 23
2000-01
$25.00
November 24
1999-00
$25.00
1990s
Ticket Price
Season Pass Price

Pass Payback

Opening Day

Closing Day

Skier Visits

1994-95
March 26
1993-94
$275.00
December 17
April 3
1992-93
$15.00
November 21
1991-92
$15.00
1990-91
$15.00
1989-90
$24.00
1980s
Ticket Price
Season Pass Price

Pass Payback

Opening Day

Closing Day

Skier Visits

1988-89
$24.00
December 10
1987-88
$22.00
1986-87
$21.00
1985-86
$18.00
1984-85
$16.00
November 23
1983-84
$16.00
1982-83
$16.00
1981-82
$15.00
1980-81
$15.00
1979-80
$12.00
1970s
Ticket Price
Season Pass Price

Pass Payback

Opening Day

Closing Day

Skier Visits

1978-79
$11.00
1977-78
December 6
1976-77
$9.50
1975-76
$9.00
1974-75
$9.00
November 30
1973-74
$8.00
1972-73
$8.00
1971-72
$7.50
$100.00
13.3 days
November 27
1970-71
$7.00
December 12
April 4
1969-70
$6.00
April 6
1960s
Ticket Price
Season Pass Price

Pass Payback

Opening Day

Closing Day

Skier Visits

1968-69
$6.00
$75.00
12.5 days
March 30
1967-68
$6.00
$75.00
12.5 days
1966-67
$6.00
$75.00
12.5 days
1965-66
$6.00
1964-65
$5.50
$75.00
13.6 days
1963-64
$5.50
$75.00
13.6 days
1962-63
$5.50
December 15
1961-62
$4.00
$45.00
11.3 days
December 17
March 29
1960-61
$4.00
December 17
1959-60
$4.00
December 21
March 27
1950s
Ticket Price
Season Pass Price

Pass Payback

Opening Day

Closing Day

Skier Visits

1958-59
December 7
March 29
1957-58
$4.00
$40.00
10.0 days
December 14
April 5
35,000
1956-57
December 2
March 8
30,000
1955-56
November 27
March 31
1954-55
January 22
1953-54
$2.00
January 9
1952-53
January 3
1951-52
December 16
1950-51
December 30
1949-50
December 10
March 26
1940s
Ticket Price
Season Pass Price

Pass Payback

Opening Day

Closing Day

Skier Visits

1948-49
January 22
1947-48
December 27
March 14
1946-47
January 4
1945-46
December 1
1943-44
November 27
1940-41
November 28
1930s
Ticket Price
Season Pass Price

Pass Payback

Opening Day

Closing Day

Skier Visits

1938-39
November 26
1937-38
$1.00
February 22
1936-37
March 16
April 4
1935-36
January 12
Visitor Memories
"Grew up in Pittsfield 3 miles from the mountain. Learned to ski there in 1969. Pass was 99.00 for season. Took my nephew to the top on chair when he was 2, tomorrow he turns 40 and enjoys jumping out of helicopters. Bousquet was a huge gift in my life for 16 years . I need to visit soon."
David Hunziker, Feb. 28, 2021
"Grew up in Pittsfield 3 miles from the mountain. Learned to ski there in 1969. Pass was 99.00 for season. Took my nephew to the top on chair when he was 2, tomorrow he turns 40 and enjoys jumping out of helicopters. Bousquet was a huge gift in my life for 16 years . I need to visit soon."
David Hunziker, Feb. 28, 2021
"I remember the Ski Trains; the station was down behind Lipton's. My Dad, Jack Seely and Warren Sears would pick up the donuts for Bousquet's and take me along during the asking attain days. I have skied 75 consecutive years at Bousquet's and looking forward to 76 years in January on my 78 Birthday! I certainly remember the Bousquet Tow Gripper and still have one!"
Bill Seely, Oct. 30, 2020
"This is where I learned to ski. We always had a good time. Need to get back out there again, just because....."
Jane Botelho, Feb. 7, 2018
"Wow. Memories. Worked fro Court McDermott , my mentor fro 1963 - 1976 ........had my infamous flip on March 12, 1967.. "
Jon Mahanna, Feb. 6, 2018
"I worked with George from the beginning for eight years and made a bunch of great friends George is missed"
Lawrence Lavelle, Jan. 2, 2018
"I grew up skiing and racing at bousquet, I'm now a back country guide for steamboat Powdercats. Great memories of friends!"
Kyle Pietras, Mar. 8, 2016
"growing up in Pittsfield in the 70's I could see Bousquet from my bedroom window. First place I ever skied and continue to do so to this day. Will always support Sherry and Bousquet."
Bill O'Gara, Mar. 8, 2016
---
External Links
Bousquet Mountain - official site
Last updated: July 27, 2021