Vail Resorts, Inc.
New England Ski Presence: 2017-


The heritage of Vail Resorts, Inc. dates back to March 1957, when two World War II veterans hiked to what would be called Vail Mountain. Peter Seibert of the 10th Mountain Division and Army engineer Earl Eaton spent the next half decade developing Vail, which opened on December 15, 1962.

The Vail Associates name was reportedly first used on October 1, 1965. Circa 1965 or 1966, the company was incorporated with Richard "Dick" Bass holding a seat on the Board of Directors. In January 1970, Dick Bass became a partner in the development of Snowbird, which would open in December 1971. In January 1972, he was replaced on the Vail Associates board by his brother Harry W. Bass Jr.

After Contran Corp. and Twentieth Century Fox nearly purchased Vail Associates, Harry Bass acquired a controlling stake via his family's Goliad Oil and Gas Corp. and became Chairman of the Board in February 1977. Soon thereafter, construction of a new ski resort went into full gear. After years of planning, Vail Associates opened Beaver Creek in Colorado for the 1980-81 season.

In 1984, the next generation of the Bass family through their trust removed Harry Bass as chairman and forced the sale of Vail Associates. In August 1985, George Gillett purchased Vail Associates for a reported $130 million.

Gillett Holdings filed for Chapter 11 bankruptcy protection in 1991, resulting in Apollo Advisors taking control stake in Vail Associates in 1992. A young Apollo executive named Rob Katz was assigned to the project.

In 1993, Vail Associates acquired Arrowhead Mountain in Colorado.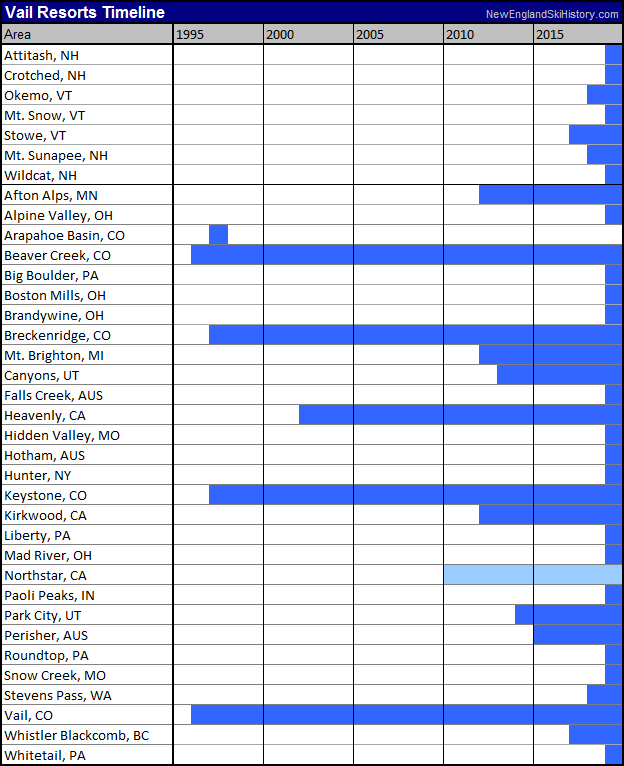 In July 1996, Vail Associates agreed to a merger with Ralston Resorts, in a stock purchase agreement work $310 million. Around this time, parent company Gillett Holdings, Inc. became Vail Resorts, Inc. The proposed Vail-Ralston merger resulted in an anti-trust lawsuit. Meanwhile, Arrowhead Mountain was connected to Beaver Creek for the 1996-97 season.

Vail Resorts became publicly traded corporation in February 1997.

Persuant to a Department of Justice order, the Vail-Ralston merger was allowed to proceed on the condition that Ralston's Arapahoe Basin was sold in 1997. At this point, Vail Resorts, Inc.'s portfolio was Vail, Beaver Creek, Breckenridge, and Keystone.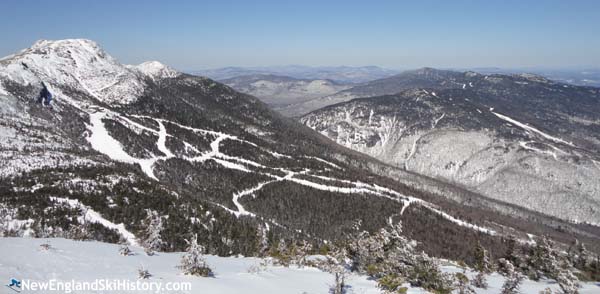 In May 2002, Vail acquired Heavenly from American Skiing Company for $102 million.

In October 2010, Vail Resorts acquired Northstar in California from Booth Creek and other owners for $63 million.

In April 2012, Vail Resorts acquired Kirkwood Mountain Resort for $18 million.

In December 2012, Vail Resorts acquired Afton Alps, Minnesota and Mt. Brighton, Michigan for $20 million.

In May 2013, Vail Resorts obtained a 50 year lease to operate the Canyons in Utah.

In September 2014, Vail Resorts announced the acquisition Park City Mountain Resort in Utah from Powdr Corp. for $182.5 million.

On July 1, 2015, Vail Resorts completed its acquisition of Perisher, Australia for an estimated $135 million.

For the 2015-16 season, the Canyons was connected to Park City Mountain Resort, creating the largest ski area in the country.

In October 2016, Vail Resorts purchased Whistler Blackcomb, the largest ski area in North America, for $1 billion in cash and stock.

In June 2017, Vail Resorts acquired Stowe for $41 million, marking the company's first east coast purchase.

In June 2018, Vail Resorts announced it would acquire Okemo, Mt. Sunapee, Crested Butte, and Stevens Pass, for an estimated $304 million. The Stevens Pass deal was completed for $64 million in August. In September, Vail announced the final Triple Peaks price was $74 million, while $155 million was paid to buy out the Ski Resort Holdings stake.

In April 2019, Vail Resorts Falls Creek and Hotham resorts in Australia for $127 million.

On July 22, 2019, Vail Resorts announced it was acquiring Peak Resorts for $264 million. The deal was completed on September 24, 2019, making Vail Resorts the largest operator of ski areas in New England.


Vail Resorts, Inc. Related Press Releases:

| | | |
| --- | --- | --- |
| Title | Date | Released By |
| Vail Resorts to Acquire Peak Resorts, Owner of 17 U.S. Ski Areas | July 22, 2019 | Vail Resorts, Inc. |
| Vail Resorts to Acquire Okemo Mountain Resort, Mount Sunapee Resort, Crested Butte Mountain Resort, and Stevens Pass Resort in Two Transactions | June 4, 2018 | Vail Resorts, Inc. |
| Vail Resorts Closes Its Acquisition of Stowe Mountain Resort in Vermont, Representing the Company's First Ski Resort on the East Coast | June 6, 2017 | Vail Resorts, Inc. |
| Vail Resorts to Acquire Stowe Mountain Resort in Stowe, Vermont | February 21, 2017 | Vail Resorts, Inc. |
Vail Resorts, Inc. Resources on NewEnglandSkiHistory.com:
Vail Resorts, Inc. External Links:
Last updated: November 24, 2019