| | |
| --- | --- |
| | |
Located in southwestern New Hampshire, the Sunapee region has been a well-known vacation destination for centuries. Key attractions in the region include Lake Sunapee and 2,726 foot Sunapee Mountain (also known as Mount Sunapee).


Early 1940s Aerial Tramway Proposal

Downhill skiing activity on Sunapee dates back to 1933, when the Civilian Conservation Corps constructed the Newport Ski Trail on the eastern side of the mountain. Built under the supervision of the Newport Ski Club, the trail dropped some 1,500 vertical feet to the Newbury railroad station. The trail was partially relocated in the late 1930s by the Society for the Protection of New Hampshire Forests and Newport Ski Club and was renamed the Newbury Ski Trail.

Meanwhile, following the installation of the aerial tramway on Cannon Mountain in 1938, Lake Sunapee area residents attempted to develop an aerial tramway served ski area on Sunapee Mountain. Though the lift project made significant strides in 1940 and 1941, the onset of World War II stopped it dead in its tracks.


A Chairlift on North Peak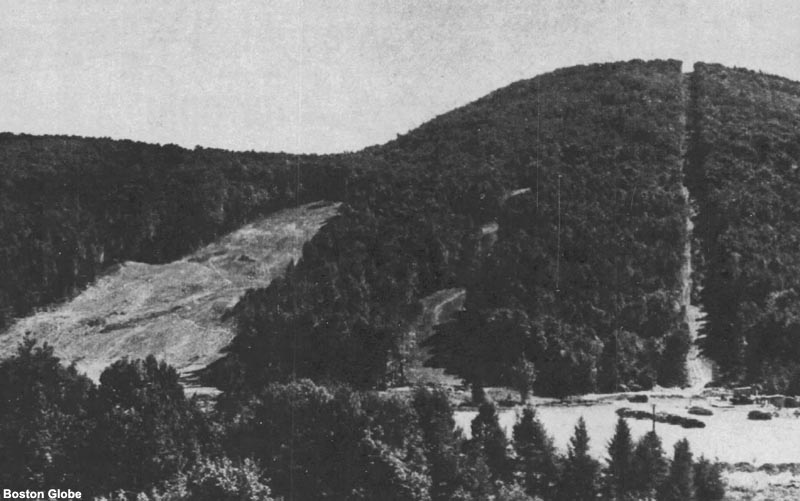 Mt. Sunapee in 1948

With development costs increasing, a scaled down version of the proposal of a state owned and operated ski area emerged following the war. Noting that an access road from Newbury was not ideal, the State Highway Department proposed constructing a road to the ski area on the northwest side of the mountain. A three-stage construction plan was introduced during the summer of 1947, starting with the construction of a 1,000 vertical foot single chairlift to North Peak. Stage two would involve relocating the chairlift to run from the top of North peak to the summit and installing a Skimobile in its place. Stage three would be construction of a T-Bar serving a bowl on the north side of the mountain. Stage one operations were forecast to generate a $37,000 per year profit.

By late fall, the state put the North Peak chairlift out to bid, receiving bids from Roebling and American Steel & Wire Company.

The $375,000 project moved forward in the spring of 1948, as the State of New Hampshire announced Roebling would fabricate the lift, while Hutchinson Building and Lumber Company of Concord would construct it. Allan Beck of Beck and Belluci head up installation of the lift towers. The Cyril J. Bernier Company of Contoocook cleared the lift line, while the New Hampshire State Highway Department began clearing trails in July of 1948 with engineers (and skiers) Malcolm Chase and Fred Hansen leading the project and Joe Kenick (who had worked the construction of Belknap and Cannon) serving as superintendent.

By the end of September, the access road and 350-car parking lot had been built, while the chairlift was two-thirds complete. At least one second-hand rope tow was procured later that fall (two rope tows were installed).

Manager David Heald scheduled an extravagant grand opening for the day after Christmas, with plans to have Walter Prager (former World Champion skier and Dartmouth ski coach) carried to the slopes via helicopter for a first descent.


Opening Struggles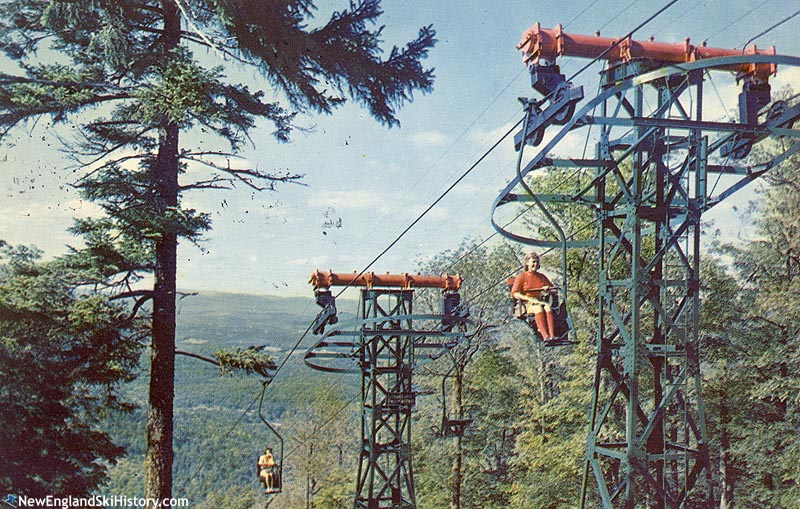 The North Peak single chairlift

Unfortunately for Sunapee, the opening coincided with the first of many winters of poor snowfall. With very little snow on the ground, Prager's ceremonial first run was cancelled. 5,000 people attended opening day, which was limited to scenic chairlift rides. Governor Charles Dale cut the ceremonial ribbon for the chairlift, which carried an estimated 500 riders that day. Parks and Recreation Commissioner Walter R. Brown was the first official passenger on the lift.

In addition to manager Dave Heald, opening season staff included Mal Mackenzie as ski school director, Warren Sanborn in charge of the restaurant, and Dick Parker in charge of the ski patrol. Skiing likely did not get underway until late January. The rope tow slopes were generally open, as was the Hansen-Chase trail, however the novice trail from the chairlift did not debut until later in the winter. The expert Flying Goose also struggled to stay open due to recurring rain.

Following the first ski season, a new picnic area debuted, as well as summer chairlift rides. Visitors could have refreshments on the top of the mountain, access a series of hiking trails, and even fish for trout in a pond near the bottom of the lift. Special clambakes on the summit were also a big draw. The tally for lift rides that summer and fall was 45,000.

Two more trails were added for the second season - the Beck Brook trail for novices and Lynx for experts (which may not have been complete that year) - while a 300 car parking lot was added and a snow cat procured. Ironically, the December 26th first anniversary bash was much like the grand opening - no skiing was possible. Nevertheless, a 6 foot, 14 layer birthday cake was cut and fireworks launched, with a crowd of 2,000 on hand. Skiing didn't get underway until January. Despite projections of profits, Mt. Sunapee had a cumulative $40,360 operating loss by the end of the 1949-50 season. Longtime employee Warren Ritchie later told the Concord Monitor that, due to the poor winters, there were discussions about abandoning the ski operations and focusing on the summer operations.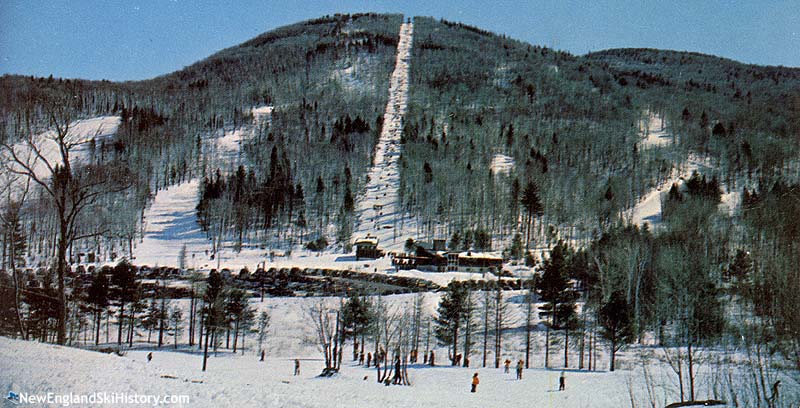 Sunapee circa the 1950s

The Lynx trail was completed for the 1950-51 season, while the Beck Brook trail was widened and regraded. The first half of that season was more of the same for Mt. Sunapee, as little quality skiing was to be had in December or January. Things were so bad that agricultural engineers Phil and Joe Tropeano set up an experimental sample snowmaking system on one of the slopes. Struggles with the experimental system included frozen valves in cold weather and the loss of snow in warm weather. Nevertheless, the Tropeanos would later form Larchmont Engineering and have success selling their systems across the region. Sunapee, on the other hand, would not have a permanent snowmaking system until three decades later.

Months later, during November 1951 maintenance, Mt. Sunapee staff learned the single chairlift needed significant repairs. A frantic effort was made to replace the haul rope and sheave components in time for the season, including a round-the-clock work schedule and a transportation effort by the highway department. Though the unexpected repair work seemed like an ominous start, the winter of 1951-52 had good natural snowfall, resulting in a record season extending into April. Following the season, manager Dave Heald was named executive director of the New Hampshire Publicity Bureau. Dick Parker, Heald's assistant manager for the past season, took over as area manager. Prior to Mt. Sunapee's lift served operations, Parker was involved with the Newport Ski Club when it constructed ski trails on the mountain. In addition to his ski patrol credentials, Parker worked as a ski instructor for Otto Schneibs and served overseas in the Army for 44 months during World War II.

Though the 1952-53 had another December opening, a trend of early springs started, resulting in the relocation of the Eastern Junior Championships to Pinkham Notch. Following the season, Governor Adams and the Executive Council approved $150,000 in state funds for the development of a new trail complex at Mt. Sunapee.


A Sno-Bowl in the Sun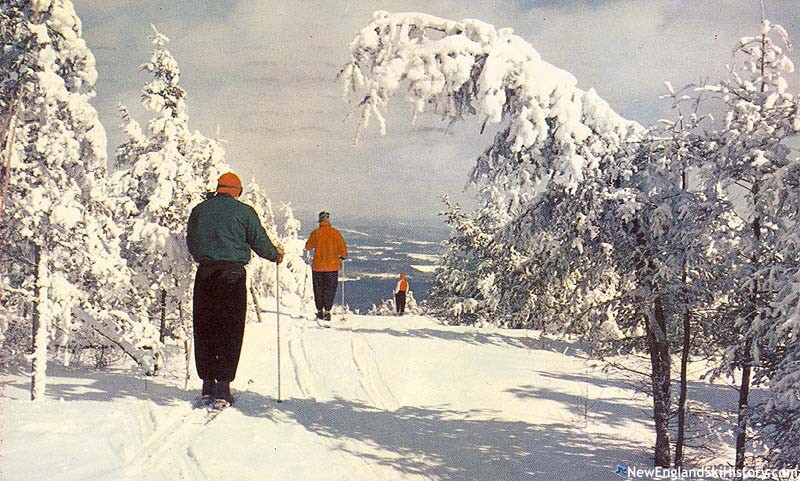 The Sno-Bowl circa the 1950s

Sunapee's first big expansion took place in 1953, when the Sno-Bowl, also known as the Hawes Hallett Slopes, and later known as the upper half of the Sun Bowl, was constructed. Designed in cooperation with the New Hampshire Department of Public Works and Highways, the new complex featured upper mountain terrain, accessible with a ride up the upgraded North Peak single chairlift. The full 700 vertical feet of new trails was served by a Heron-built Constam T-Bar, which was erected by the Sam Aceto Construction Company. A cafeteria "painted bright red" was also constructed in conjunction with the project, located at the base of the lift to enable skiers to "spend the whole day in the new development without returning to the park's base station area." Construction of the lift continued into late December, hampered material delays and by muddy conditions. The lift was dedicated on January 14, amidst another poor season with multiple rain-thaw periods. When conditions were favorable, Sunapee drew record crowds of 3,000 skiers. However, the season deteriorated quickly, with multiple races being postponed or cancelled due to a lack of snow. At times, season passholders were invited to ride the chairlift and walk between patches of snow. Nevertheless, the expansion helped boost Sunapee's profile, with the Boston Globe heralding the project as a "Skier's Dream Comes True." Art Keating served as ski school director.

The new T-Bar was considered as a savior during the first half of the 1954-55 season, as minimal snowfall once again prohibited most skiing on the rest of the slopes. The high elevation Sno-Bowl, on the other hand, was able to stay open through the holiday season. The area operated for 129 days that winter, though only 39 of those had "good" conditions. A new revenue record was set at $83,628.

The 1955-56 season had an early start on the rope tow slope, however a lack of snow delayed the opening of the main chairlift trails until January. Snow held thereafter, resulting in a season that lasted deep into April.

Sunapee started a three year trail-widening program in 1956, turning many of its original trails into boulevard slopes, starting with the lower Hansen Chase trail. Meanwhile, a new haul rope was installed on the single chairlift. The subpar 1956-57 season did not get underway until three days before Christmas. At times, some trails were kept closed to save snowpack for future weeks. By the start of March, little snow remained.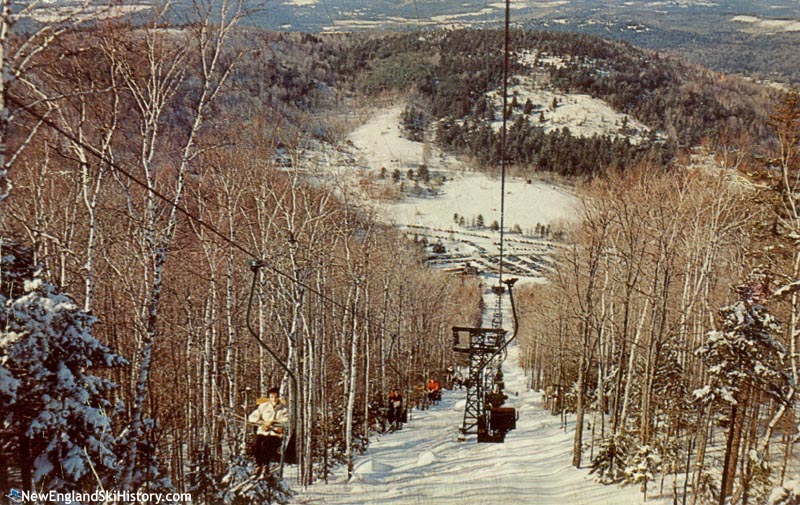 The North Peak single chairlift

A Pomalift was installed on the "Senior Slopes" adjacent to the Flying Goose trail for the 1957-58 season, replacing an old rope tow. In addition, a new novice slope was cleared to skier's right of new Pomalift that year, served by dual rope tows. A new warming hut was constructed atop of the single chairlift, replacing one that reportedly burned in 1956. An early start and a strong spring resulted in record revenue for the state operated ski areas.

To handle the increasing crowds, a new $65,000 lodge was constructed at the base of the Pomalift Senior Slope for the 1958-59 season, housing a cafeteria, tickets, and the ski school. The existing base building retained the ski shop and a lounge. Meanwhile, Cannon Mountain ski school director Paul Valar took over the ski school from Art Keating, naming Otti Farrer as head instructor. The season was another successful one, running from December into early spring. The season also marked the inauguration of Republican Governor Wesley Powell, who immediately advocated for more spending at Mt. Sunapee.

Though the 1959-60 season did not get underway until after Christmas, the area claimed 25,000 skier visits during the holiday week, including an all-time high of 3,200 on the Saturday after New Year's Day. Crowds continued to hit the slopes, resulting in a record $224,200 in revenue that winter.

For the 1960-61 season, a Roebling T-Bar was installed on the new 15 acre Elliott slope, boosting uphill capacity by 29 percent. The lift and slope were dedicated in February in honor Wilmer "Bill" Elliott, a prominent member of the Mt. Sunapee Area Ski Club who had passed away in April of 1958. Walter Graf took over as head instructor of the ski school for the 1960-61 season, which, aided by the continued construction of Interstate 89, once again set a record with $268,122 in revenue (despite below average snowfall).

The Summit T-Bar and North Peak Single were overhauled for the 1961-62 season, while the Beck Brook trail was widened and regraded. Meanwhile that fall, Governor Wesley Powell requested millions of dollars for upgrading key recreational facilities in the state, including Mt. Sunapee. In February, a two-year plan was unveiled that included significant upgrades in 1962, as well as plans to construct trails in the Johnson Farm Bowl to the east of North Peak. The proposal drew local opposition, as it included taking 140 acres of private land.

The proposal was briefly halted in March 1962, when Governor Powell suffered a heart attack. Nevertheless, he convened the Executive Council at his hospital at the end of the month and received unanimous approval for the first $1.2 million of state funds for what was to be a two-year investment in the state owned ski areas. Powell said he fought for the spending because the projects were "close to my heart."



Sunapee is Rebuilt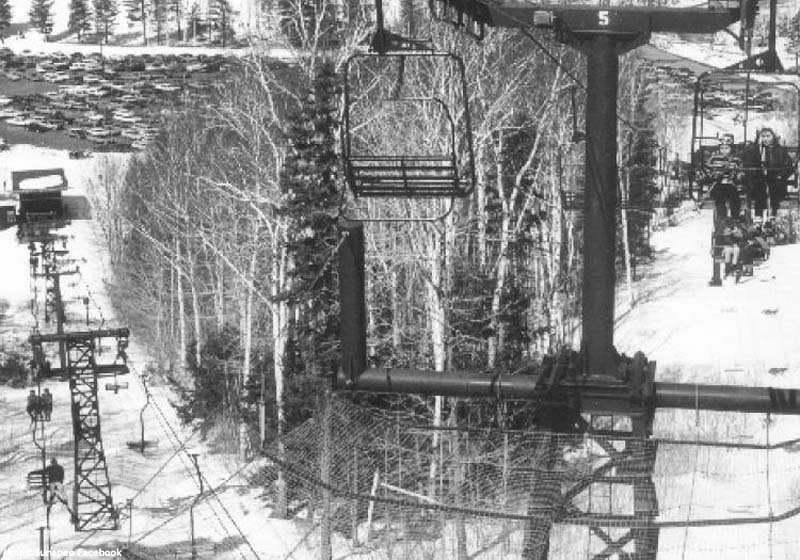 The Summit and North Peak chairlifts

For 1962-63, $887,128 was invested in Mt. Sunapee, mainly in lift improvements. A double chair (with four-person gondola cars stored for summer use), was installed as the area's first top to bottom lift, crossing over a newly upgraded North Peak double. In addition, a third double chairlift, the Duckling, and a J-Bar (in what would become known as the Province Bowl) were installed, leveraging a helicopter to accelerate construction. New trails cut from the top of the new summit chair included Bonanza, Blast-Off, and Ridge. Capping off the spending was a $250,000 base lodge expansion. Construction did not go smoothly, though, as Division of Parks and Recreation director Russell Tobey later reflected, "Phase 1 was the biggest and most complex job we ever tackled and everything went wrong."

The project was not without controversy, however. With the expanded facilities, the state proposed a 92% increase in the price of a season pass, drawing fire from elected officials. A compromise was made by putting in place a more gradual increase, augmented with family discounts and interchangeability with Cannon Mountain. Governor Powell defended the modified price increases by telling the Executive Council that "those who have screamed" for the upgrades shouldn't complain about the rates and that the state "should not backtrack any further on the prices." The expansion and new rate structure resulted in record season pass revenue.

Though two more new chairlifts were slated for installation in 1963, Governor Powell lost the 1962 gubernatorial primary to John King. Democrat John King was elected governor in the fall, signaling a change in ski area policy. In February 1963, Governor King stated he was "a little disappointed" with the State Parks Division, as "they've been dragging their feet on winter business." In March, he announced the halting of future expansion of Cannon Mountain and Mt. Sunapee, citing concerns about competition with private ski areas. In April, Sunapee announced the 1962-63 season was a new record in terms of skier visits and gross revenue.

In July 1963, Governor King stated his new policy toward the state-owned ski areas was "containment," as he looked into the possibility of leasing operations to private interests. Meanwhile, the scheduled conversion of the new summit chairlift into a gondola for summer operations was delayed due to design problems, resulting in lost summer income. The design issues reportedly related to the launching mechanism for the 32 gondola cabins, which prevented summer operations until 1966.

Though the expansion of ski facilities was halted, the state funded a new $160,000 road to the ski area, increasing capacity and improving access with four total lanes. Running from the day after Christmas to early April, the 1963-64 season was once again a record season in terms of revenue, though skier visits had plateaued. In April 1964, Division of Economic Development director Allan Evans predicted that Cannon and Sunapee would be leased to private operators within the next 10 years.

For the 1964-65 season, Division of Parks and Recreation director Russell Tobey requested funding for a new summit lodge and a $65,000 Sunny Slopes T-Bar. Though the lift plans were scrapped, as Governor King chose to instead fund the development of Pawtuckaway State Park, the lodge project moved forward. In March 1964, building materials were transported to the summit via the double chairlift. The $207,800 two-story structure included a snack bar, dining space, rest rooms, and first aid facilities.

As was the case across much of New England, the winter of 1964-65 was a struggle at Sunapee. Nevertheless, Division of Parks and Recreation director Russell Tobey told the press that Mt. Sunapee did not need snowmaking, as areas with snowmaking systems were "closed the same as we are." With sporadic ski operations, crews were already working on cutting new trails in February 1965.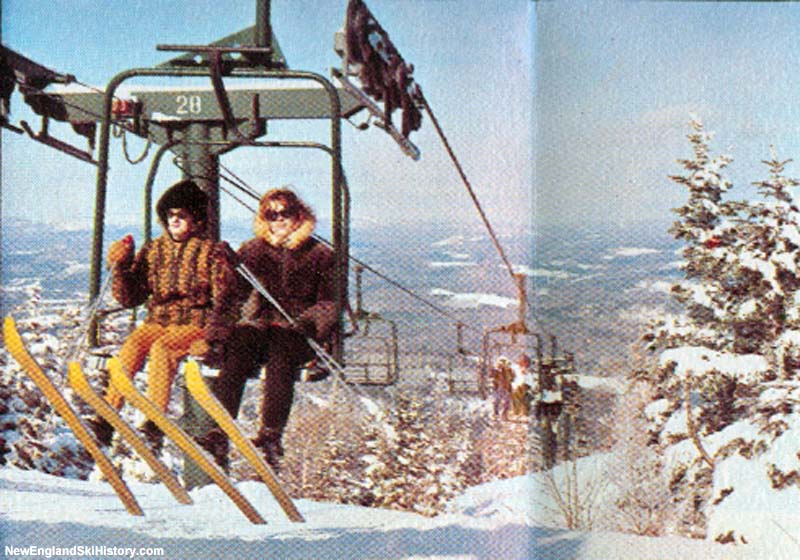 Summit chairlift in the 1960s

In what Governor King called "an insult" and "the worst type of capital budget ever presented to a governor," the 1965 capital budget included $250,000 for the development of the Province Snowbowl area, including a new double chairlift. Named after the historic Province Road (a major road constructed in the 1700s to connect to Fort No. 4 in Charlestown), the expansion provided an isolated area for novices. Designed by manager Dick Parker and Department of Resources and Economic Development engineer Robert E. Sullivan, the new trails were named with a Revolutionary War-era motif, including Province, Papoose, Ranger, and Explorer. The area likely opened in January 1966.

Heading into the 1965-66 season, the now self-funded Division of Parks and Recreation was in a deficit situation due in part to the poor 1964-65 ski season. Though $100,000 was appropriated to keep parks operational, concerns mounted, as did calls to lease Cannon and Sunapee. Further cuts were made to parks operating expenses and maintenance to bridge the gap, drawing more press coverage of the situation. Controversy grew when the state Fiscal Committee found that Cannon and Sunapee had failed to implement corrective measures from an internal audit, which had identified improper handling of ticket inventory, as well as irregularities in check and payment systems.

Rates were increased by about 16% for the 1966-67 season, drawing more criticism and calls to lease the facilities to private operators amidst concerns that the growing public ski areas were resulting in a decrease in taxable property for the corresponding towns. Furthermore, the New Hampshire Ski Operators Association questioned the value of state investments in Mt. Sunapee, as it alleged not a single new lodging facility had been built in the region in two decades. Nevertheless, the state moved forward with plans for a $500,000 expansion of the Sno-Bowl down into the Johnson Farm Bowl.

Using matching funds from the Federal Land and Water Conservation, Sno-Bowl expansion was constructed for the 1967-68 season. The T-Bar was replaced by a much longer chairlift, climbing to a point adjacent to the summit lodge (the T-Bar had terminated on the present-day Skyway Ledges trail, making for an uphill trek to access the new summit lodge). As with the Province Snow Bowl, the new terrain was designed by Dick Parker and Robert Sullivan. Thanks to its elevation and exposure, the complex was used in early season operations, when the state budget allowed. Advertised as the Northeast Bowl, the area is known today as the Sun Bowl.

The 1967-68 season got underway over the long New Year's weekend, with the Portsmouth Herald declaring that the new Northeast Snow Bowl "will do much for the state area. But for the skier who dislikes bunnies and schussboomers en masse, Sunapee remains taboo on weekends." The season came to a close in mid-March, falling short of the revenue budget.

Snowmaking was installed at Cannon Mountain for the 1968-69 season, prompting in a rate increase at both state-owned ski areas. Early snowfall resulted in a November 23 opening and conditions held into April, resulting in record revenue.



Struggles Without Snowmaking

Another rate increase was announced for the 1969-70 season, drawing more ire. To lessen the blow, a state resident discount was instituted. Meanwhile, the push to turn the ski areas over to private operators gained momentum, with Division of Parks and Recreation director Russell Tobey announcing he now favored the concept. The Concord Monitor agreed, stating that "two of New Hampshire's greatest tourist attractions have a third-rate bedraggled look. Food service is awful; the open slopes are pocked with moguls and icy patches; the trails are unpacked and the tourists are treated as invaders." The increased ticket prices, coupled with poor weather, resulted in a significant drop in business. In addition, the installation of Styrofoam on all 604 chairs at the ski area did not go as hoped, as vandals damaged more than 100 of the seat pads. Dick Parker exclaimed, "the good guys will be paying with cold, wet backsides for the senseless destruction of chairlift pads by thoughtless vandals." Ski season wasn't Sunapee's only struggle, as the Nashua Telegraph noted in early 1970 that "summer activity has fallen off a great deal."

Further controversy erupted during the 1970 gubernatorial race, when candidate Meldrim Thomson released a list of free ski passes that had been issued. Candidate Roger Crowley said he and sitting governor Walter Peterson "sinned" in giving away numerous passes to politicians, relatives, and influential people. State Resources Commissioner George Gilman later revealed that "when I took office as commissioner, I found that the old system of abuses was still around. Clearly the issuance of more than 400 season passes last winter violated the intent of the General Court." Peterson prevailed in the 1970 election, however Thomson defeated him in the 1972 primary, becoming the next governor.

The upper parking lot was paved for the 1970-71 season. Perhaps in part due to tightening of ticket policies, as well as economic problems limiting travel, Sunapee posted record revenue that winter, despite incurring three major ice storms in February.

The 1971-72 season started with more controversy, as the Executive Council approved beer and wine sales at the ski area. State Representative Stanley Williamson lamented, "there are enough irresponsible and reckless skiers on the slopes without adding the inevitable beer-happy schussers to the mix." Reckless skiing became a bigger issue that winter, resulting in Sunapee enacting more strict enforcement of rules. Director of State Parks George Hamilton noted it "seems to be worse this year." Weather was again a struggle, with an early February rain storm briefly closing the area with revenue down nearly 40% at that point.

Sunapee struggled again in 1972-73, as it registered its first early-March closing date. The mild weather continued, resulting in a 10 month break in skiing activity until the 1973-74 season debuted in January. Combined with gas shortages, Sunapee struggled mightily. As the February vacation week arrived, Sunapee reported "mostly brown grass showing."

Following the disastrous 1973-74 season, the state approved a $14,000 Sno-Engineering snowmaking feasibility study. When the study recommended a $1.25 million system, Department of Resources and Economic Development Commissioner George Gilman announced his opposition, declaring it was "unnecessary and would not be a wise commitment of public funds."

The 1974-75 season got off to a better start, as Cannon and Sunapee passed their 1973-74 total revenue mark by mid-January. As the season came to a close in late March, Sunapee reported its third-best season in terms of revenue, grossing $630,000.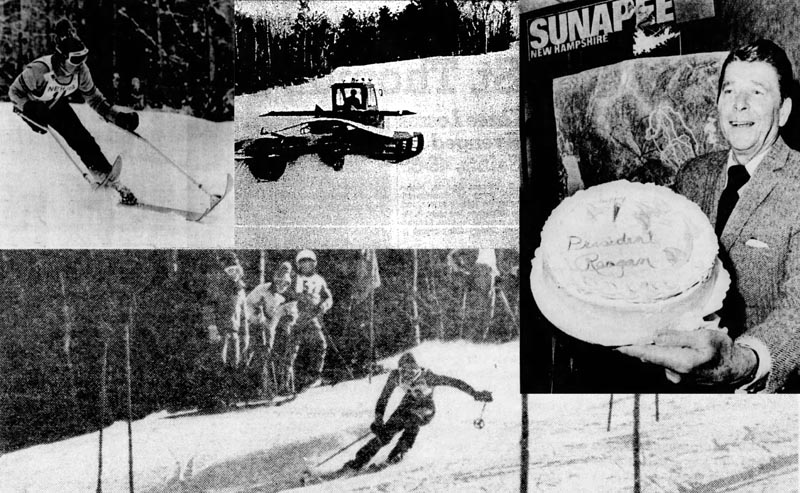 Sunapee in the mid to late 1970s

Following the season, the state legislature passed legislation for a $1.5 million snowmaking system, with half of the funding to come from the Federal government. Soon, the New Hampshire Ski Area Operators Association announced its opposition to the proposal, objecting to the funds that weren't available to private areas and questioning the results of the snowmaking study. Vermont ski areas soon joined the opposition. In late 1976, the Bureau of Outdoor Recreation denied New Hampshire's request, stating the application did not provide adequate information on the impact of the project on other ski areas. Though the state was able to produce a Sno-Engineering report that stated snowmaking at Sunapee would have no significant impact on other nearby ski areas, the Bureau of Outdoor Recreation formally rejected the project in 1978.

Meanwhile, facing a budget crunch, Governor Meldrim Thomson proposed selling Cannon and Sunapee in 1977, adding that the state should not be competing with private enterprise. Department of Resources and Economic Development Commissioner George Gilman announced his opposition, stating, "I don't think there's any organization that could run the parks better."

Sunapee made national headlines in February 1976, when presidential candidate Ronald Reagan celebrated his 65th birthday with a visit during the lead up to the first-in-the-nation primary. Though he was narrowly defeated by President Ford, Reagan won New Hampshire by a large margin four years later.

While there were many rough seasons, others in the 1970s were decent, including another year of record revenue in 1976-77.

Bill Ulinski likely took over as area superintendent for the 1979-80 season, which had Mt. Sunapee's worst start yet: mid-February. The area limped through February, seeing a little more than half of the trails finally open after a March snow storm. The area only operated 24 days that winter. Revenue plunged to one-tenth of what it was two years earlier, landing at $116,000.

While other areas went bankrupt with the 1979-80 season, the state doubled down on its ski areas, running the first ever television ad campaign for Cannon and Sunapee in advance of the 1980-81 season. Ads were reportedly run as far away as Baltimore and Philadelphia. Meanwhile, a new aerial tramway debuted at Cannon, which saw its ticket price decoupled from that of Sunapee.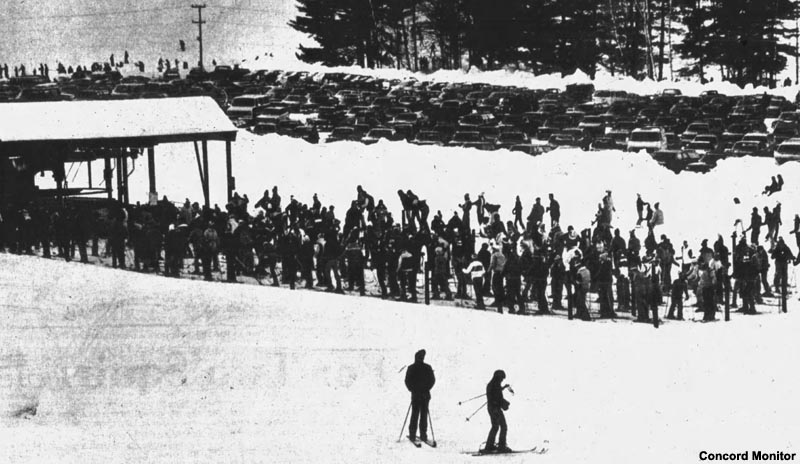 A rare busy day in the early 1980s

The 1980-81 season was not much better, though it did get underway with limited terrain just before Christmas. An early February storm washed out what snow Sunapee had, leaving Bill Ulinski to lament, "You put your personal life into a ski area. You build up adrenaline for six months before each ski season. One year, okay. But two years?" The season limped into the end of March, doubling gross revenue from the previous season, but still coming in at a mere fraction of a normal winter.

With Sunapee struggling to survive, Governor Hugh Gallen included $1.9 million on the state capital budget for a snowmaking system, plus $400,000 for a snowmaking expansion at Cannon. Hoping that the project would be funded from Sunapee funds rather than the general fund, local ski areas such as King Ridge (which was posting significant losses due to not having snowmaking), did not actively oppose the project this time around, though general manager William Bardsley lamented that "it is much easier for the state to raise $2 million than for me, at King Ridge." Crotched Mountain owner Tim Gannett was critical of the project, noting that it was funded by "our taxes" and that "their rates are unfair to private ski areas. The state doesn't care if its areas lose money." Environmental opposition did emerge, with a town health officer expressing concern that snowmaking runoff could impact Lake Sunapee and drinking water. Others criticized the premise of the project, noting that the state was paying for it despite not having adequate funds for social services.

Though Cannon received its snowmaking expansion in time for the 1981-82 season, Sunapee had to wait one more year. The area likely opened just before Christmas on natural snow. A New Year's storm gave Sunapee a boost it hadn't seen in years, resulting in 2,500 skiers. Natural snow actually stuck around for a change, allowing Sunapee to operate through the winter and host the Eastern Handicap Ski Championships in late February. The season wrapped up after the first weekend in April, clearing the $1 million mark in gross revenue for the first time since 1977-78.



Snowmaking Era Begins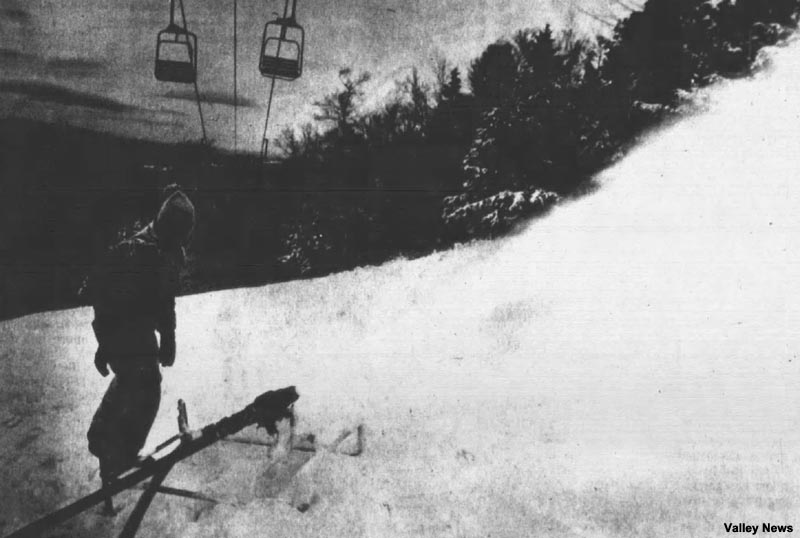 The debut of Sunapee's snowmaking system in December 1982

Following the 1981-82 season, the state announced the receipt of a quarter of a million dollars in federal funds for snowmaking projects at Sunapee and Cannon.

Sunapee finally received its $2.2 million snowmaking system for the 1982-83 season, supplied via an 8,000 foot pipeline from Lake Sunapee. Top-to-bottom coverage was installed, including lower Beck Brook, Blastoff, Bonanza, Duckling, Eggbeater, and Hansen-Chase. The novice Province chairlift and Sunny Slope J-Bar areas remained natural snow only.

The first December with snowmaking had a less than savory start, with Bill Ulinski noting that "it's not an absolute solution. You still need cold temperatures, and so far Mother Nature has been a negative factor." After fifteen days of snowmaking, Sunapee kicked off the 1982-83 season on Christmas Eve. Unfortunately, warm rain came right behind it, wiping out Sunapee's manmade snow. The warm up was so intense that even Mt. Washington was without snow on Christmas for the first time in 50 years. Bill Ulinski lamented that "We put a lot of time and effort into the snowmaking. Now the critics of snowmaking are laughing at us."

Despite having the snowmaking system, January was not much better, as the combined revenue of Cannon and Sunapee stood at one-third of its prior year mark. The season rebounded in time for Washington's Birthday weekend, with a Sunday sell-out crowd of 4,000, mostly from Massachusetts.

Base lodge improvements were made for the 1983-84 season, in effort to provide a better family experience. Once again, the season kicked off just before Christmas. March snow helped to boost spring business, bringing the largest late-season crowds in years.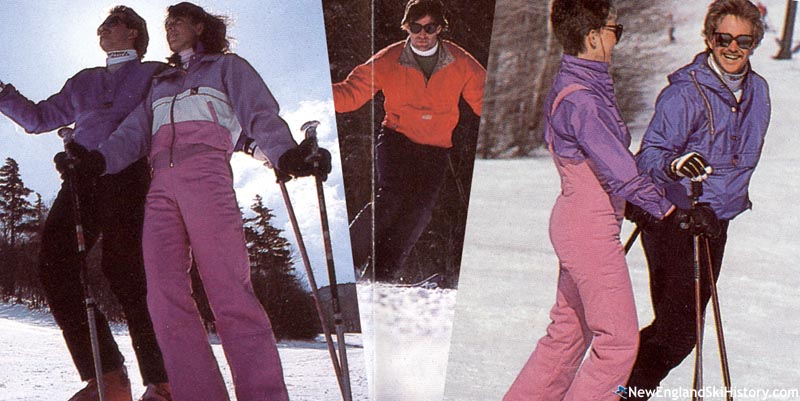 Mt. Sunapee in the 1980s

For the 1984-1985 season, the state spent $125,000 on a new maintenance building, pony lift replacing the Sunny Slopes J-Bar, and the installation of snowmaking on Lower Flying Goose. The season got off to a slow start with limited terrain open due to mild weather. In addition, the main chairlift reportedly did not open until late January. By the time the season came to a close, Sunapee's revenue had plunged 36%.

Meanwhile, a legislative report was issued recommending that Cannon and Sunapee be leased to private operators, or in the very least become profitable. Sunapee had lost money in three of the last five years, and its "profitable" years did not include the cost of debt service or overhead costs, according to the study. A subsequent report from the state's park planner found the system in horrible shape due to deferred maintenance and payroll cuts, while Mt. Sunapee and Cannon Mountain were found to be the best maintained parts of the system. At a hearing about the area in February, the Lake Sunapee Business Association told a state committee that the area had inadequate marketing, subpar snowmaking, and rude employees.

Shortly after starting his second term, Governor John H. Sununu announced he was "recommending the allocation of $4.4 million in capital funds for lifts and expansion of snow-making facilities at both Cannon and Sunapee" with hopes that the areas could break even while keeping prices at a reasonable cost. The state subsequently hired Sno-Engineering to develop master plans for the ski areas.



A Lift and a Lawsuit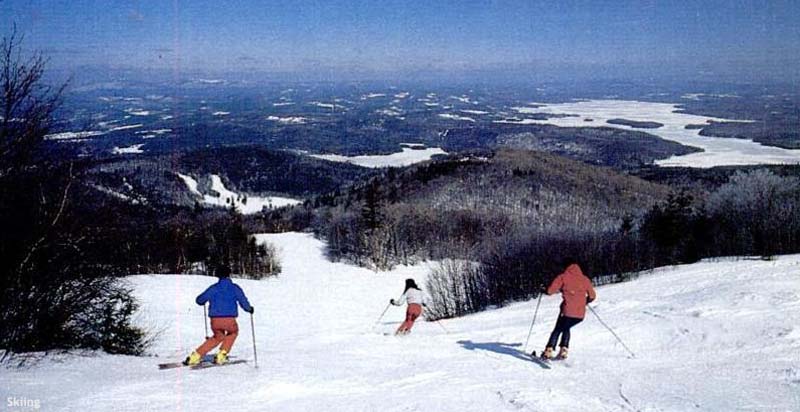 Mt. Sunapee in the 1980s

In September of 1985, the State of New Hampshire awarded a $1,997,500 contract to Riblet for the construction/retrofitting of three triple chairlifts at Mt. Sunapee, despite opposition from Public Works, a ski lift engineer, and Governor Sununu. The project was set to be Riblet's first using clamp grips, instead of its typical woven grip. CTEC had bid $2,067,000 for the job.

With millions of dollars in state funds flowing into Sunapee, improvements advertised for the 1985-86 season included adding snowmaking to the novice Province Bowl area and replacing the Elliott T-Bar with a triple chairlift. In addition, the state doubled its skiing advertising budget. Though the chairlift was to be completed in December of 1985, it was not ready until March of 1986. After the lift reportedly failed inspection, the state cancelled the contract for the other two chairlifts. A lawsuit resulted, which was not settled until 1993.

Compounding the issue, insurance costs nearly quadrupled in advance of the 1986-87 season. As a result of the lift contract fiasco, Sunapee would not have its new North Peak and Summit triple chairlifts as scheduled, and the Spruce Triple remained idle.

In March 1987, a bill introduced by Representative Thomas Behrens of Sunapee to build a hotel and conference center at the ski area was debated. The reported intent was to make Sunapee competitive with private areas, upgrade the ski area, and boost economic development in the region. State Parks Division Wilbur LaPage supported the proposal, noting that private-public partnerships "can be an effective way of restoring our parks and providing high-quality outdoor recreation experiences for all at less cost to the taxpayer." The bill was referred to a study group.

Meanwhile, citing $2.6 million in losses during a five-year period, another group of Senators proposed to establish a commission to manage Cannon and Sunapee. The bill was also subsequently referred to a study group.

Following the 1986-87 season, the State of New Hampshire Executive Council authorized a $1,550,000 contract with Doppelmayr to construct the North Peak and Summit triple chairlifts. An additional $67,000 contract with Doppelmayr was authorized later that year for work on the Duckling chairlift. Beyond the major lift projects, Sunapee also saw the installation of new power infrastructure, expanded snowmaking, and base lodge renovations.

The 1987-88 season got off to a slow start a week before Christmas, transitioning into a "topsy-turvy" winter according to Bill Ulinski. The season likely ran to the end of March.

In June of 1988, the State of New Hampshire Executive Council authorized a $148,000 increase in a contract with Sno-engineering for evaluation, upgrading, and expansion at Mt. Sunapee. Later that year, an $45,000 was approved for the study and design of a potential new lodge. Meanwhile, snowmaking was likely expanded to the Sun Bowl and some trails were widened for the 1988-89 season.

Meanwhile, the growing sport of snowboarding had been catching on at other areas in the region, such as King Ridge and Pats Peak. Nevertheless, the state continued to prohibit snowboarding at Mt. Sunapee for the 1988-89 season, with Department of Resources and Economic Development Commissioner George Jones adding, "Maybe in the future we might change our policy, but we still would not allow snowboarders on regular ski slopes. It would have to be a special designated area."

The 1988-89 season suffered from rain and thaw events, with Bill Ulinsky noting, "We've been on the warm side of too many of the cold fronts coming through." Natural snowfall was as meager as the 1979-80 season, and 70-degree weather drew it to a close in late March, resulting in a "considerable loss."

In August of 1989, King Ridge general manager John Vorel was named director of ski operations of Sunapee and Cannon. The legislature allocated $300,000 for a two-year marketing campaign for the two ski areas.



Private Investment and Management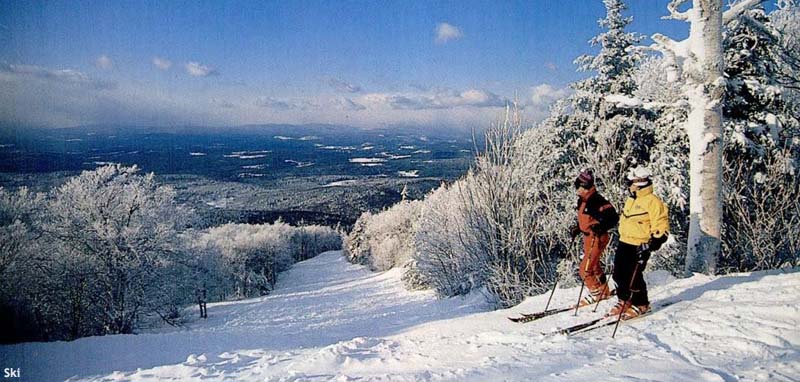 Mt. Sunapee in the 1990s

After spending millions of dollars and sustaining many operational losses, the State of New Hampshire started to explore getting out of the ski business during the 1990s. In September of 1996, the State of New Hampshire Executive Council authorized a $14,850 agreement with Sno-Engineering for development of a potential lease for Cannon Mountain and Mt. Sunapee.

While initially leases for both state owned ski areas were put out to bid, the proposal was narrowed to just Sunapee in the spring of 1998. At this point, Governor Jeanne Shaheen endorsed the plan. Finalists for Mt. Sunapee included the Muellers, owners of Okemo, VT; the Crowleys, operators of Wachusett, MA, and CSK International, connected with Jay Peak, VT. As part of the agreement, initial lease revenues would be used to fund improvements at Cannon Mountain.

The Mueller family, best known for building Okemo into a major resort, was awarded a lease of the ski area in the summer of 1998. As soon as the ink was dry on the lease agreement, the Muellers began a $14 million improvement campaign over the next half decade. Improvements began immediately, as snowmaking was improved and two quad chairlifts were installed, including the area's first high speed detachable quad. Jay Gamble was hired as general manager.

For 1999, a new lodge was built adjacent to the base of the detachable quad. For the following season, the aging Province chairlift was replaced with a new fixed grip quad. The new lift, along with a magic carpet, revolutionized the beginner area. By 2000-2001, skier visits at Mt. Sunapee had more than doubled under the private ownership.

The area became part of the Muellers' Triple Peaks company circa 2002. To help disburse crowds and keep the area growing, expansions were planned into the East Bowl and West Bowl, the latter of which was on private land owned by the operators and would potentially involve real estate development. These plans came to a screeching halt when John Lynch was elected Governor in 2004. Despite supporting a publicly funded expansion onto Mittersill Peak at Cannon Mountain, Governor Lynch promised to stop any attempt to expand the area.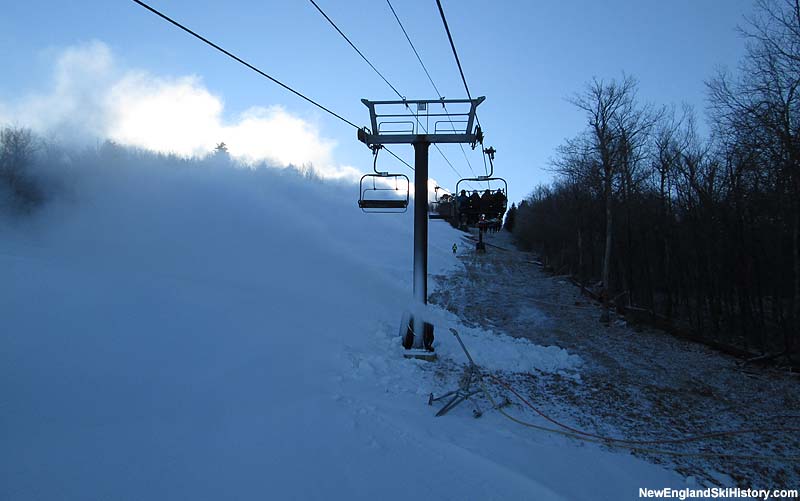 Snowmaking in 2013

As the banking crisis unfolded, many ski areas across the country transferred their debt into Real Estate Investment Trusts (REITs). On December 5, 2008, Triple Peaks transferred its privately held Mt. Sunapee assets to CNL Lifestyle Properties, Inc.. Triple Peaks then entered into a long agreement with CNL to maintain operational control.

Though Mt. Sunapee was unable to expand due to the political climate, it continued to improve its existing facilities, as well as its snowmaking and grooming. For the 2014-15 season, the Sun Bowl Quad was replaced with a high speed detachable quad (from Okemo).

On July 11, 2014, a judge decided in favor of Mt. Sunapee's operators to potentially clearly the way for the long proposed West Bowl project. Two years later, the State of New Hampshire approved the West Bowl expansion.

On June 4, 2018, the Muellers announced they were selling their ski area holdings to to Vail Resorts. After completing the purchase, Vail transferred Bruce Schmidt from Okemo to take over as general manager. One year later, Vail transferred Schmidt back to Okemo and transferred Tracy Bartels from Keystone to take over as general manager at Sunapee. Following the 2019-20 season, Bartels was transferred to Mt. Snow, with Peter Disch subsequently being transferred from Wilmot Mountain to take over as general manager at Sunapee.



NewEnglandSkiConditions.com Reports

Month
Average Percent of Terrain Open
December
30% (12 reports)
January
83% (7 reports)
February
88% (5 reports)
March
86% (8 reports)
April
61% (9 reports)

-- start conditions table -->

Recent Conditions Reports

Apr. 11, 2021 by nhalex
Corn, Bare Spots
Apr. 9, 2021 by nhalex
Corn, Bare Spots
Apr. 2, 2021 by nhalex
Frozen Granular, Bare Spots
Mar. 21, 2021 by nhalex
Spring Snow, Frozen Granular
Jan. 18, 2021 by nhalex
Loose Granular, Frozen Granular

Mount Sunapee Resort on NewEnglandSkiConditions.com
NewEnglandSkiIndustry.com News
Recent Articles
Sunapee Retires the Duckling Double - Jan. 3, 2019
Mount Sunapee West Bowl Expansion Re-Approved - Dec. 20, 2018
Musical Chairs at Vail and Pacific Owned New England Ski Areas - Nov. 26, 2018
Vail Acquisition of Sunapee Lease Approved - Sep. 26, 2018
Real Estate Development Fears Raised at Sunapee Hearing - Jul. 26, 2018
New Hampshire to Hold Sunapee Hearing in Late July - Jul. 7, 2018
Vail Resorts Purchases Okemo and Sunapee - Jun. 4, 2018
Initial Lift Construction Continues in Two States - May. 18, 2018
Cannon Mountain Posts Large Loss as Cumulative Deficits Exceed $9 Million - Oct. 31, 2016
Mount Sunapee West Bowl Expansion Approved - Apr. 6, 2016
Mount Sunapee Resort NewEnglandSkiIndustry.com News Page
Expansion History
Image Gallery
Lifts
Click on lift name for information and photos
Maps
Year by Year History
Adult Weekend Full Day Lift Ticket; Adult Full Price Unlimited Season Pass

2020s
Ticket Price
Season Pass Price

Pass Payback

Opening Day

Closing Day

Skier Visits

2022-23
$119.00
$557.00
4.7 days
November 23
April 9
2021-22
$109.00
$499.00
4.6 days
December 3
April 3
2020-21
$83.00
$639.00
7.7 days
December 12
April 11
2019-20
$99.00
$739.00
7.5 days
November 27
March 14
2010s
Ticket Price
Season Pass Price

Pass Payback

Opening Day

Closing Day

Skier Visits

2018-19
$98.00
$709.00
7.2 days
November 29
April 7
2017-18
$93.00
$1375.00
14.8 days
November 22
April 13
186,000
2016-17
$84.00
$1269.00
15.1 days
December 6
April 9
222,000
2015-16
$82.00
$1249.00
15.2 days
November 27
March 27
179,000
2014-15
$79.00
$1199.00
15.2 days
November 28
April 19
261,000
2013-14
$76.00
$1149.00
15.1 days
November 29
April 13
254,000
2012-13
$74.00
$1119.00
15.1 days
November 30
April 14
255,000
2011-12
$72.00
$1089.00
15.1 days
December 11
March 22
214,000
2010-11
$70.00
November 30
April 10
288,000
2009-10
$68.00
December 8
April 8
265,000
2000s
Ticket Price
Season Pass Price

Pass Payback

Opening Day

Closing Day

Skier Visits

2008-09
$66.00
$999.00
15.1 days
November 28
April 5
273,000
2007-08
$64.00
$969.00
15.1 days
November 23
April 20
280,000
2006-07
$62.00
$929.00
15.0 days
December 6
April 22
230,000
2005-06
$58.00
$899.00
15.5 days
November 25
April 3
234,000
2004-05
$56.00
$995.00
17.8 days
December 5
April 10
257,000
2003-04
$54.00
$965.00
17.9 days
December 4
April 11
229,000
2002-03
$51.00
$920.00
18.0 days
November 29
April 13
272,000
2001-02
$49.00
$890.00
18.2 days
December 10
April 7
231,000
2000-01
$47.00
$865.00
18.4 days
November 23
April 22
258,000
1999-00
$44.00
November 19
April 2
189,000
1990s
Ticket Price
Season Pass Price

Pass Payback

Opening Day

Closing Day

Skier Visits

1998-99
$41.00
December 11
April 11
165,000
1997-98
$37.00
109,183
1996-97
$37.00
November 30
April 6
107,467
1995-96
April 7
119,880
1994-95
March 26
72,719
1993-94
$34.00
December 10
April 2
122,500
1992-93
$32.00
December 11
April 11
115,000
1991-92
$31.00
November 29
April 5
95,000
1990-91
$29.00
March 24
1989-90
$27.00
November 25
March 18
120,000
1980s
Ticket Price
Season Pass Price

Pass Payback

Opening Day

Closing Day

Skier Visits

1988-89
$24.00
December 16
March 26
56,000
1987-88
$22.00
$440.00
20.0 days
December 19
1986-87
$20.00
March 30
1985-86
$18.00
December 14
March 30
85,000
1984-85
$18.00
$370.00
20.6 days
December 22
55,000
1983-84
$18.00
December 22
April 8
1982-83
$16.00
$330.00
20.6 days
December 24
1981-82
$15.00
$330.00
22.0 days
December 18
April 4
1980-81
$12.00
December 20
March 30
1979-80
$11.00
February 17
1970s
Ticket Price
Season Pass Price

Pass Payback

Opening Day

Closing Day

Skier Visits

1978-79
$11.00
December 16
1977-78
$11.00
$300.00
27.3 days
December 10
1976-77
$10.00
$240.00
24.0 days
December 30
1975-76
$10.00
$240.00
24.0 days
December 23
1974-75
$9.00
$200.00
22.2 days
December 18
March 30
1973-74
$9.00
$200.00
22.2 days
January 10
1972-73
$9.00
$200.00
22.2 days
March 11
1971-72
$9.00
$175.00
19.4 days
December 11
April 9
1970-71
$9.00
$175.00
19.4 days
December 19
April 11
1969-70
$9.00
$145.00
16.1 days
April 12
1960s
Ticket Price
Season Pass Price

Pass Payback

Opening Day

Closing Day

Skier Visits

1968-69
$8.00
$115.00
14.4 days
November 23
1967-68
$7.00
December 30
1966-67
$7.00
$115.00
16.4 days
December 16
1965-66
$6.00
$100.00
16.7 days
April 3
1964-65
$6.00
December 12
1963-64
$6.00
December 26
April 5
124,000
1962-63
$6.00
$100.00
16.7 days
December 24
124,000
1961-62
$5.00
$65.00
13.0 days
December 21
April 8
100,850
1960-61
December 16
April 2
116,574
1959-60
$4.50
December 28
April 17
97,478
1950s
Ticket Price
Season Pass Price

Pass Payback

Opening Day

Closing Day

Skier Visits

1958-59
$4.50
December 13
1957-58
December 7
April 22
1956-57
December 22
1955-56
December 10
April 22
1954-55
December 4
April 6
1953-54
December 17
1952-53
December 14
1951-52
December 16
April 13
1949-50
January 22
1940s
Ticket Price
Season Pass Price

Pass Payback

Opening Day

Closing Day

Skier Visits

1948-49
January 22
March 27
Visitor Memories
"I learned to ski at Sunapee in 1960. The lift ticket was $4.50. I remember how shocked we all were when it went up to $5.00 the following year. In those days families of modest means could afford to go skiing. Not possible today."
David Mann, Aug. 5, 2023
---
External Links
Last updated: June 6, 2023