| | |
| --- | --- |
| | |
Located in southwestern New Hampshire, the Sunapee region has been a well-known vacation destination for centuries. Key attractions in the region include Lake Sunapee and 2,726 foot Sunapee Mountain (also known as Mount Sunapee).


Early 1940s Aerial Tramway Proposal

Following the installation of the aerial tramway on Cannon Mountain in 1938, Lake Sunapee area residents attempted to develop an aerial tramway served ski area on Sunapee Mountain. While the lift project made significant strides in 1940 and 1941, the onset of World War II stopped it dead in its tracks.


A Chairlift on North Peak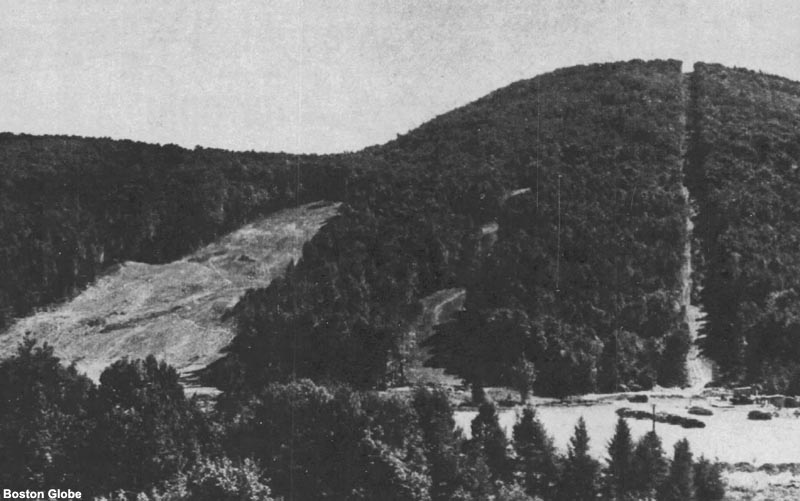 Mt. Sunapee in 1948

With development costs increasing, a scaled down version of the proposal of a state owned and operated ski area emerged following the war. Plans called for the installation of a temporary chairlift, which would later be replaced with a Skimobile. The Skimobile plans were later abandoned, and lift line clearing was underway during the winter of 1947-48 as workers prepared for the installation of a Roebling single chairlift.

The New Hampshire State Highway Department began clearing trails in July of 1948 with Malcolm Chase and Fred Hansen leading the $375,000 project. Allan Beck of Beck and Belluci head up installation of the lift towers. David Heald was named manager of the ski area.

The 3,200 foot single chairlift, running from the base area to the summit of North Peak, was to initially serve a trail for each ability level. In addition, a pair of rope tows (at least one of which was purchased second hand), and slopes were built for novices.


Opening Struggles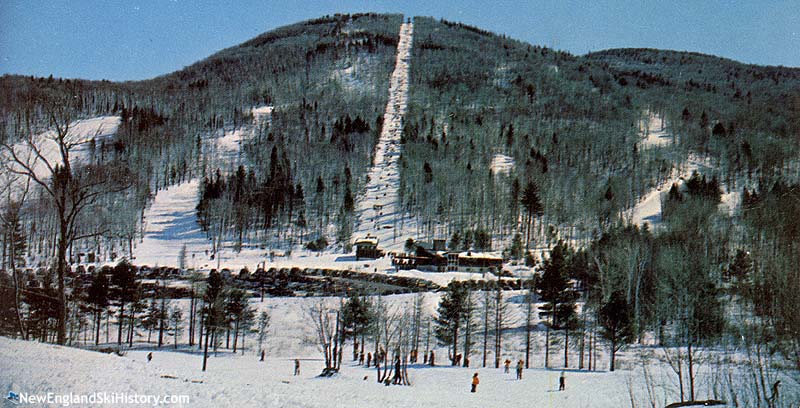 Sunapee circa the 1950s

Governor Charles Dale was present for the grand opening of the new facility on December 26, 1948. Unfortunately, very little snow was present, resulting in scenic chairlift rides without skiing.

Skiing likely did not get underway until early to mid-January. The rope tow slopes were generally open, as was the Hansen-Chase trail, however the novice trail from the chairlift did not debut until later in the winter. The expert Flying Goose also struggled to stay open due to recurring rain.

Following the first ski season, a new picnic area debuted, as well as summer chairlift rides. The tally for rides that summer and fall was 45,000.

Two more trails were added for the second season - the Beck Brook Trail for novices and Lynx for experts. Ironically the December 26th first anniversary bash was much like the grand opening - no skiing was possible. Nonetheless, a 6 foot, 14 layer birthday cake was cut and fireworks shot off. Skiing didn't get underway until January.

The first half of the 1950-51 season was more of the same for Mt. Sunapee, as little quality skiing was to be had in December or January. Things were so bad that agricultural engineers Phil and Joe Tropeano set up an experimental sample snowmaking system on one of the slopes. The Tropeanos would later form Larchmont Engineering.

Sunapee's luck changed with the 1951-52 season, as natural snow lasted well into April. Dick Parker took over as area manager for the following season.


A Sno-Bowl in the Sun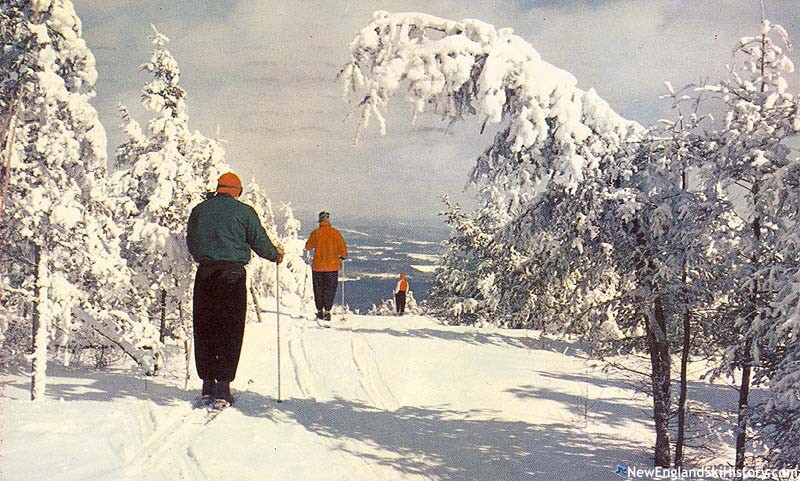 The Sno-Bowl circa the 1950s

Sunapee's first big expansion took place in 1953, when the Sno-Bowl, later known as the upper half of the Sun Bowl, debuted. Part of a $150,000 investment, the new complex featured a 2,500 foot T-Bar, accessible from the single chairlift. Unfortunately, the 1953-54 season brought with it multiple rain-thaw periods.

The new T-Bar was heralded as a savior during the first half of the 1954-55 season, as minimal snowfall once again prohibited most skiing on the rest of the slopes. The high elevation Sno-Bowl, on the other hand, was able to stay open through the holiday season.

Sunapee started a three year trail-widening program in 1956, turning many of its original trails into boulevard slopes. A Poma lift was installed on the "Senior Slopes" adjacent to the Flying Goose trail for the 1957 season, replacing an old rope tow.

As the 1960s neared, Mt. Sunapee was outgrowing its infrastructure. For the 1960-61 season, a Roebling T-Bar was installed on the new 15 acre Elliot slope.



Sunapee is Rebuilt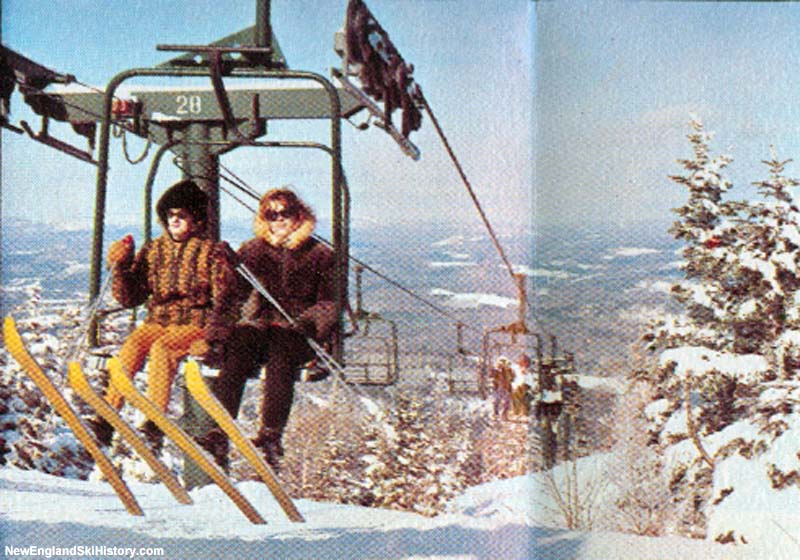 Summit chairlift in the 1960s

In the fall of 1961, Governor Wesley Powell requested millions of dollars for upgrading key recreational facilities in the state, including Mt. Sunapee. In March of 1962, the Executive Council approved the first $1.2 million of what was to be a two year investment in the state owned ski areas.

For 1962, $887,128 was invested in Mt. Sunapee, mainly in lift improvements. A double chair (with gondola cars stored for summer use), was installed as the area's first top to bottom lift, crossing over a newly upgraded North Peak double. In addition, a third double chairlift, the Duckling, and a J-bar were installed. Capping off the spending was a $250,000 base building expansion.

While two double chairlifts were planned for the 1963-64 season, the phase two expansion was scaled back to cover a new access road. For 1964-65, $210,000 was spent on a new summit building.

For 1965-66, $175,000 was spent to develop the Province area, complete with a double chairlift. Named after the historic Province Road, the expansion provided an isolated area for novices.

Using matching Federal funds, the state spent a quarter of a million dollars to expand the Sno-Bowl for the 1967-68 season. Replacing the T-Bar was a longer double chairlift. Thanks to its elevation and exposure, the complex was used in early season operations, when the state budget allowed. Advertised as the Northeast Bowl, the area is known today as the Sun Bowl.



Struggles Without Snowmaking

In 1969-70, a 29% increase in lift ticket prices, coupled with poor weather, resulted in a significant drop in business.

While Cannon Mountain received state funds for snowmaking expansion, a double chairlift, and a new tramway in the 1970s, Sunapee retained its existing lift infrastructure and continued without snowmaking. In 1973, the state legislature allocated $14,000 for a snowmaking feasibility study at Cannon. Even after a mid-January opening day in 1974 and a Sno-Engineering conclusion that a snowmaking system would be worthwhile, New Hampshire's Department of Resources and Economic Development commissioner George Gilman deemed the project unnecessary. When talk of leasing Sunapee came up later that decade, thus allowing for a private entity to finance snowmaking, Gilman was also opposed.

The early 1980s were not kind to Sunapee, as the lack of snowmaking was magnified by bad winters. Sunapee was only open for 24 days in 1979-80 and only a few dozen more the following season. Even when there was natural snow, skiers were going elsewhere for more reliable conditions. As a result, the state purchased a $2.2 million snowmaking system for Sunapee in 1982.

For the 1984-1985 season, the State of New Hampshire spent $125,000 on a new maintenance building, pony lift, improved snowmaking equipment at Sunapee.


A Lift and a Lawsuit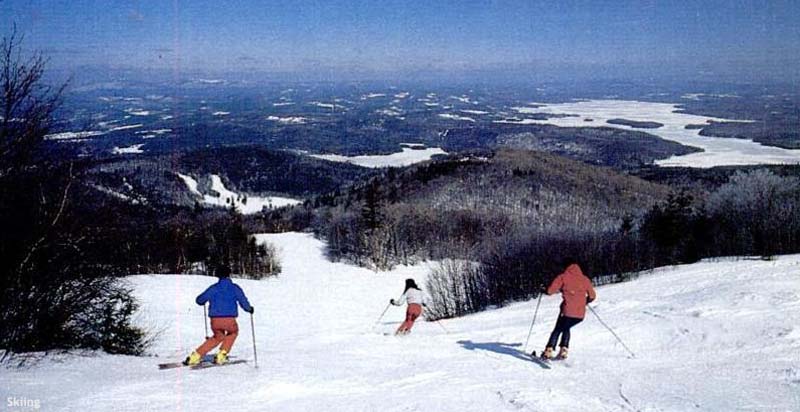 Mt. Sunapee in the 1980s

In September of 1985, the State of New Hampshire awarded a $1,997,500 contract to Riblet for the construction/retrofitting of three triple chairlifts at Mt. Sunapee, despite opposition from Public Works, a ski lift engineer, and Governor Sununu. While the first lift was to be completed in December 1985, it was not ready until the following March, when the State cancelled the contract. A lawsuit resulted, which was not settled until 1993. Due to the fiasco, the North Peak and Summit triple chairlifts were not installed until 1987, when the State of New Hampshire Executive Council authorized a $1,550,000 contract with Doppelmayr. An additional $67,000 contract with Doppelmayr was authorized later that year for work on the Duckling chairlift.

In June of 1988, the State of New Hampshire Executive Council authorized a $148,000 increase in a contract with Sno-engineering for evaluation, upgrading, and expansion at Mt. Sunapee. Later that year, an $45,000 was approved for the study and design of a potential new lodge. The following year, snowboarding was allowed at Sunapee for the first time.


Private Investment and Management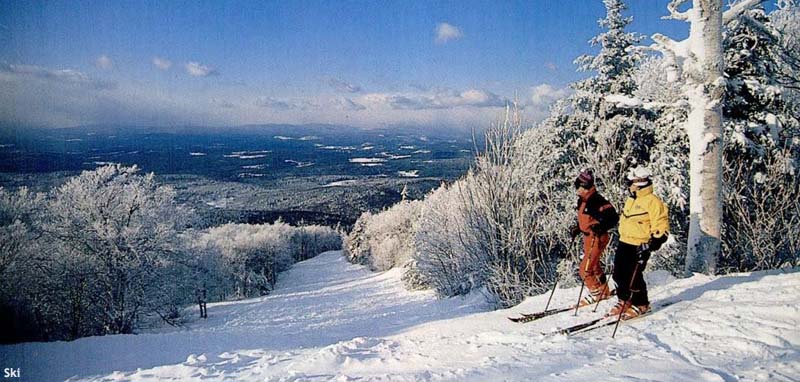 Mt. Sunapee in the 1990s

After spending millions of dollars and sustaining many operational losses, the State of New Hampshire started to explore getting out of the ski business during the 1990s. In September of 1996, the State of New Hampshire Executive Council authorized a $14,850 agreement with Sno-Engineering for development of a potential lease for Cannon Mountain and Mt. Sunapee.

While initially leases for both state owned ski areas were put out to bid, the proposal was narrowed to just Sunapee in the spring of 1998. At this point, Governor Jeanne Shaheen endorsed the plan. Finalists for Mt. Sunapee included the Muellers, owners of Okemo, VT; the Crowleys, operators of Wachusett, MA, and CSK International, connected with Jay Peak, VT. As part of the agreement, initial lease revenues would be used to fund improvements at Cannon Mountain.

The Mueller family, best known for building Okemo into a major resort, was awarded a lease of the ski area in the summer of 1998. No As soon as the ink was dry on the lease agreement, the Muellers began a $14 million improvement campaign over the next half decade. Improvements began immediately, as snowmaking was improved and two quad chairlifts were installed, including the area's first high speed detachable quad.

For 1999, a new lodge was built adjacent to the base of the detachable quad. For the following season, the aging Province chairlift was replaced with a new fixed grip quad. The new lift, along with a magic carpet, revolutionized the beginner area. By 2000-2001, skier visits at Mt. Sunapee had more than doubled under the private ownership.

The area became part of the Muellers' Triple Peaks company circa 2002. To help disburse crowds and keep the area growing, expansions were planned into the East Bowl and West Bowl, the latter of which was on private land owned by the operators and would potentially involve real estate development. These plans came to a screeching halt when John Lynch was elected Governor in 2004. Despite supporting a publicly funded expansion onto Mittersill Peak at Cannon Mountain, Governor Lynch promised to stop any attempt to expand the area.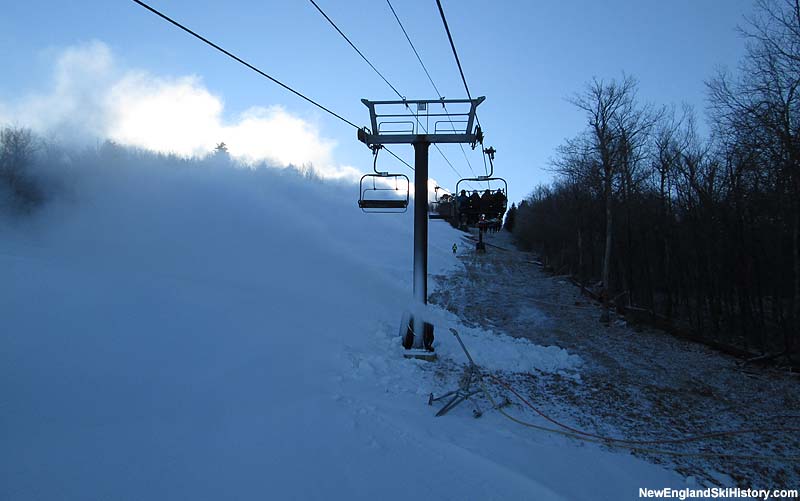 Snowmaking in 2013

As the banking crisis unfolded, many ski areas across the country transferred their debt into Real Estate Investment Trusts (REITs). On December 5, 2008, Triple Peaks transferred its privately held Mt. Sunapee assets to CNL Lifestyle Properties, Inc.. Triple Peaks then entered into a long agreement with CNL to maintain operational control.

Though Mt. Sunapee was unable to expand due to the political climate, it continued to improve its existing facilities, as well as its snowmaking and grooming. For the 2014-15 season, the Sun Bowl Quad was replaced with a high speed detachable quad (from Okemo).

On July 11, 2014, a judge decided in favor of Mt. Sunapee's operators to potentially clearly the way for the long proposed West Bowl project. Two years later, the State of New Hampshire approved the West Bowl expansion.

On June 4, 2018, the Muellers announced they were selling their ski area holdings to to Vail Resorts.

NewEnglandSkiConditions.com Reports

Month
Average Percent of Terrain Open
December
30% (12 reports)
January
83% (7 reports)
February
88% (5 reports)
March
86% (8 reports)
April
61% (9 reports)

-- start conditions table -->

Recent Conditions Reports

Apr. 11, 2021 by nhalex
Corn, Bare Spots
Apr. 9, 2021 by nhalex
Corn, Bare Spots
Apr. 2, 2021 by nhalex
Frozen Granular, Bare Spots
Mar. 21, 2021 by nhalex
Spring Snow, Frozen Granular
Jan. 18, 2021 by nhalex
Loose Granular, Frozen Granular

Mount Sunapee Resort on NewEnglandSkiConditions.com
NewEnglandSkiIndustry.com News
Recent Articles
Sunapee Retires the Duckling Double - Jan. 3, 2019
Mount Sunapee West Bowl Expansion Re-Approved - Dec. 20, 2018
Musical Chairs at Vail and Pacific Owned New England Ski Areas - Nov. 26, 2018
Vail Acquisition of Sunapee Lease Approved - Sep. 26, 2018
Real Estate Development Fears Raised at Sunapee Hearing - Jul. 26, 2018
New Hampshire to Hold Sunapee Hearing in Late July - Jul. 7, 2018
Vail Resorts Purchases Okemo and Sunapee - Jun. 4, 2018
Initial Lift Construction Continues in Two States - May. 18, 2018
Cannon Mountain Posts Large Loss as Cumulative Deficits Exceed $9 Million - Oct. 31, 2016
Mount Sunapee West Bowl Expansion Approved - Apr. 6, 2016
Mount Sunapee Resort NewEnglandSkiIndustry.com News Page

Expansion History

Image Gallery

Lifts
Click on lift name for information and photos
Maps

Year by Year History
Adult Weekend Full Day Lift Ticket; Adult Full Price Unlimited Season Pass

2020s
Ticket Price
Season Pass Price

Pass Payback

Opening Day

Closing Day

Skier Visits

2020-21
$83.00
$639.00
7.7 days
December 12
April 11
2019-20
$99.00
$739.00
7.5 days
November 27
March 14
2010s
Ticket Price
Season Pass Price

Pass Payback

Opening Day

Closing Day

Skier Visits

2018-19
$98.00
$709.00
7.2 days
November 29
April 7
2017-18
$93.00
$1375.00
14.8 days
November 22
April 13
186,000
2016-17
$84.00
$1269.00
15.1 days
December 6
April 9
222,000
2015-16
$82.00
$1249.00
15.2 days
November 27
March 27
179,000
2014-15
$79.00
$1199.00
15.2 days
November 28
April 19
261,000
2013-14
$76.00
$1149.00
15.1 days
November 29
April 13
254,000
2012-13
$74.00
$1119.00
15.1 days
November 30
April 14
255,000
2011-12
$72.00
$1089.00
15.1 days
December 11
March 22
214,000
2010-11
$70.00
November 30
April 10
288,000
2009-10
$68.00
December 8
April 8
265,000
2000s
Ticket Price
Season Pass Price

Pass Payback

Opening Day

Closing Day

Skier Visits

2008-09
$66.00
$999.00
15.1 days
November 28
April 5
273,000
2007-08
$64.00
$969.00
15.1 days
November 23
April 20
280,000
2006-07
$62.00
$929.00
15.0 days
December 6
April 22
230,000
2005-06
$58.00
$899.00
15.5 days
November 25
April 3
234,000
2004-05
$56.00
$995.00
17.8 days
December 5
April 10
257,000
2003-04
$54.00
$965.00
17.9 days
December 4
April 11
229,000
2002-03
$51.00
$920.00
18.0 days
November 29
April 13
272,000
2001-02
$49.00
$890.00
18.2 days
December 10
April 7
231,000
2000-01
$47.00
$865.00
18.4 days
November 23
April 22
258,000
1999-00
$44.00
November 19
April 2
189,000
1990s
Ticket Price
Season Pass Price

Pass Payback

Opening Day

Closing Day

Skier Visits

1998-99
$41.00
December 11
April 11
165,000
1997-98
$37.00
109,183
1996-97
$37.00
November 30
April 6
107,467
1995-96
April 7
119,880
1994-95
March 26
72,719
1993-94
$34.00
April 2
122,500
1992-93
$32.00
115,000
1991-92
$31.00
November 29
95,000
1990-91
$29.00
1989-90
$27.00
120,000
1980s
Ticket Price
Season Pass Price

Pass Payback

Opening Day

Closing Day

Skier Visits

1988-89
$24.00
March 26
56,000
1987-88
$22.00
December 19
1986-87
$20.00
1985-86
$18.00
1983-84
$18.00
1982-83
$16.00
December 24
1981-82
December 18
1980-81
$12.00
1979-80
$11.00
February 17
1970s
Ticket Price
Season Pass Price

Pass Payback

Opening Day

Closing Day

Skier Visits

1978-79
$11.00
1977-78
$11.00
$300.00
27.3 days
1976-77
$10.00
$240.00
24.0 days
1975-76
$10.00
1974-75
$9.00
December 18
1973-74
$9.00
January 10
1972-73
$9.00
1971-72
$9.00
1970-71
$9.00
1969-70
$9.00
1960s
Ticket Price
Season Pass Price

Pass Payback

Opening Day

Closing Day

Skier Visits

1968-69
$7.00
$115.00
16.4 days
1967-68
$7.00
1966-67
$7.00
$115.00
16.4 days
December 16
1965-66
$100.00
1964-65
$6.00
1963-64
$6.00
December 26
124,000
1962-63
$6.00
December 24
124,000
1961-62
$5.00
December 21
100,850
1960-61
December 16
1959-60
$4.50
December 28
1950s
Ticket Price
Season Pass Price

Pass Payback

Opening Day

Closing Day

Skier Visits

1958-59
$4.50
January 3
1955-56
December 10
April 22
1954-55
December 4
1953-54
December 17
1952-53
December 14
1951-52
December 16
April 13
1949-50
January 22
1940s
Ticket Price
Season Pass Price

Pass Payback

Opening Day

Closing Day

Skier Visits

1948-49
January 22
March 27
Visitor Memories
---
External Links
Last updated: November 16, 2018