Loon Mountain Resort
Lincoln, New Hampshire
Status:
Open
First Season:
1966-67
Vertical Drop:
2100 feet
Standing Lifts:
1 gondola, 8 pack, 3 high speed quads, 1 quad, 3 doubles, surface lifts
Past Lifts:
1 gondola, 1 high speed quad, 2 triples, 3 doubles, surface lifts
Left: Loon as seen from South Kinsman (2011)
Recent NewEnglandSkiIndustry.com News:
3/20/2023: Loon Mountain Coaster Proposal Approved...
3/4/2023: Loon South Peak Expansion Underway
10/24/2022: Loon Announces South Peak Expansion
10/23/2022: Loon and Waterville Valley Lift Projects...
Located in Lincoln, New Hampshire, Loon Mountain Resort is one of the largest and most popular ski areas in New England.


Development of Loon

In the early 1960s, old mill town Lincoln, New Hampshire was on the verge of a drastic change. Spurred by President Dwight Eisenhower's Federal Aid Highway Act of 1956, Interstate 93 was being constructed from Boston to Lincoln. At the same time, the winter sport of alpine skiing was exploding in popularity.

President Eisenhower's former Chief of Staff Sherman Adams grew up in Lincoln and went on to become President of the Dartmouth Outing Club and Governor of New Hampshire. Following his time in Washington, he returned to the White Mountains in search of a mountain on which to build a ski area.

While Sawyer River Skiway looked like a compelling place to build a ski area, his longtime home of Lincoln seemed more promising due to improvements to the Kancamagus Highway, the expansion of Interstate 93, and the urging of his wife Rachel. The $700,000 project started in the fall of 1965 with a trail and lift system designed by Sel Hannah, who aimed to provide novice and intermediate terrain primarily served by what would be New Hampshire's third gondola. While some had suggested building expert terrain east of the gondola, Hannah claimed the area would be too steep to hold snow.

A veteran of the logging industry, Adams was hands on during construction, working nearly every day on the mountain. Adams even worked in a neck brace for weeks after being hit by a tree trunk in a dynamite mishap. Logging was handled by French Canadians in just two months, as 66 year old pushed them by being "the first on the mountain in the morning and last off at night." Adams often lamented, "I'm just a damned lumberjack."

Loon Opens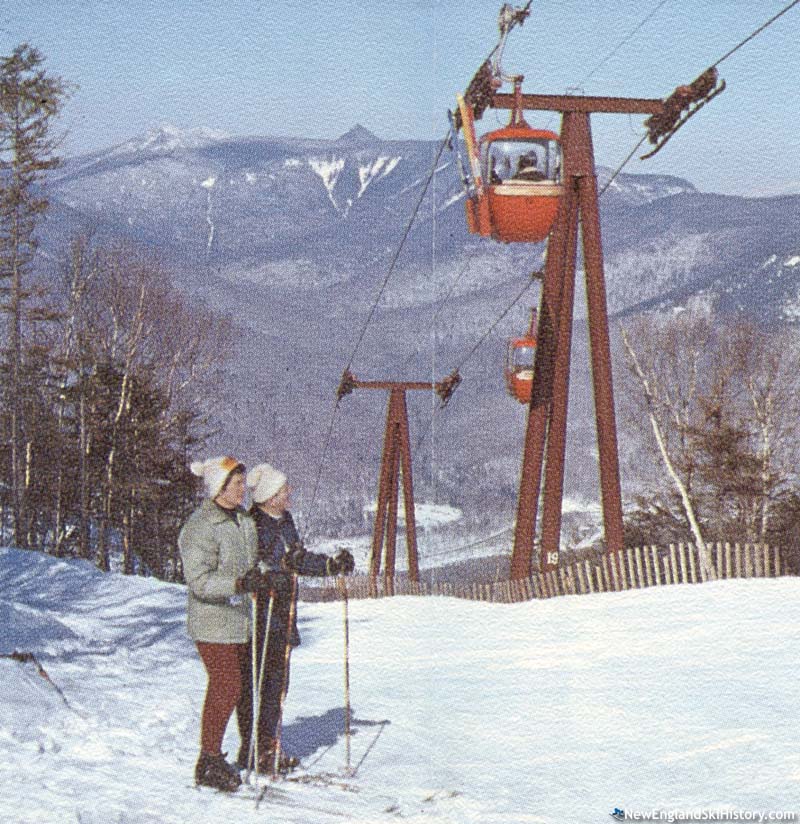 The Loon Gondola in the circa 1966-67

Alongside Waterville Valley, Loon debuted in December of 1966 with a dozen trails spanning 80 acres, served by a four person gondola and two double chairlifts. The 1,744 vertical foot gondola opened on December 27. The new area featured a Carroll Reed ski shop and a Jon Putnam ski school.

A new 45 room hotel debuted for the 1967-68 season adjacent to the base area, complete with a restaurant, lounge, and indoor swimming pool.

After sometimes being referred to as 'Medicare Mountain' due to its largely intermediate and novice trail network, Loon expanded into the East Bowl (later known as the East Basin) for the 1968-69 season. A Hall double chairlift was installed to serve three new trails, as well as to provide an alternative way to get to the summit.



The 1970s Loon base area

Following a rough winter in 1969-70, Loon installed the first portion of its snowmaking system. Billed as a 'computer-controlled automatic operation,' the initial $200,000 installation covered 23 acres. Other changes for the 1970-71 season included the hiring of Colby Russell as General Manager and John Wilson as ski school director, taking the place of Jon Putnam who decided to return to school.

The snowmaking system was expanded to 40 acres for the 1971-72 season. The capstone of the expanded system was a prayer rug with a snowflake and arrow design, created for Adams' office by his wife and daughter.

To help transport skiers from distant parking spaces to the base lodge, as well as to provide an off season attraction, Adams acquired a wood burning locomotive named Old Pufferbelly in the early 1970s.


Expansion West, North, and South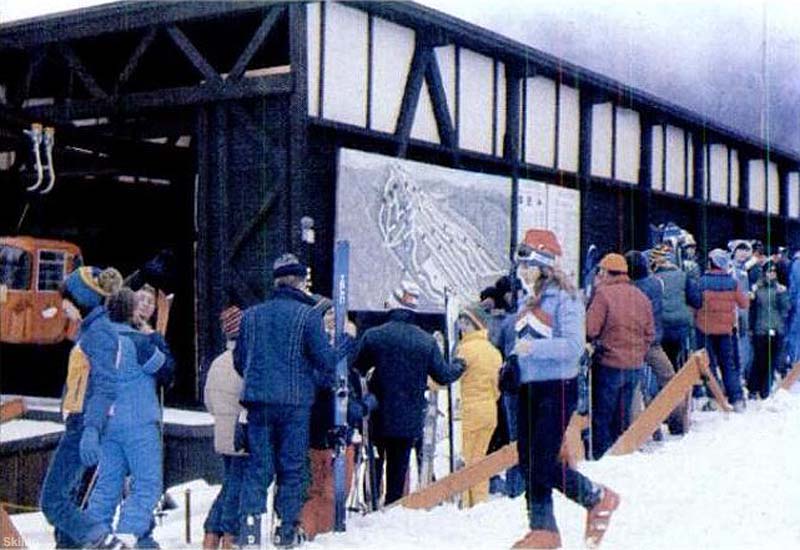 The Loon Gondola (1970s)

Peek'n Peak and Gore Mountain manager Phil Gravink was named General Manager of Loon in 1977. The area's next big expansion took place starting in 1978-79, when the first phase of the West Basin was rolled out. Initially consisting of new terrain served by a new chairlift, a base lodge was constructed at the foot of the chairlift for the 1979-80 season, followed by a second West Basin chairlift for 1980-81.

For the 1984-85 season, the $1.7 million North Peak area debuted, served by a triple chairlift. The new area also featured snowmaking and a lodge. Meanwhile, condominium development was in full swing with 730 units built by that time.

Additional lower mountain chairlifts were installed for the 1985-86 and 1986-87 seasons. The 1986-87 season wound up being bittersweet, starting with the death of founder Sherman Adams in October. A few months later, on March 10, Loon crossed the 300,000 skier visit mark for its first time ever, putting it neck and neck with rival Waterville Valley.

The two decade old gondola was replaced with a new Doppelmayr model for the 1988-89 season. Also around this time, Loon was working on what originally was to be a $27 million expansion project that included 7 lifts and 39 trails. While the 1986 proposal was scaled down in 1990, the eventual South Peak project was delayed for nearly two decades due to continued red tape, personal threats, and lawsuits.

Phil Gravink departed in 1991, initially for Cannon and Sunapee and later Attitash. Sherman Adams' son Sam took on the title of President at Loon.


New Ownership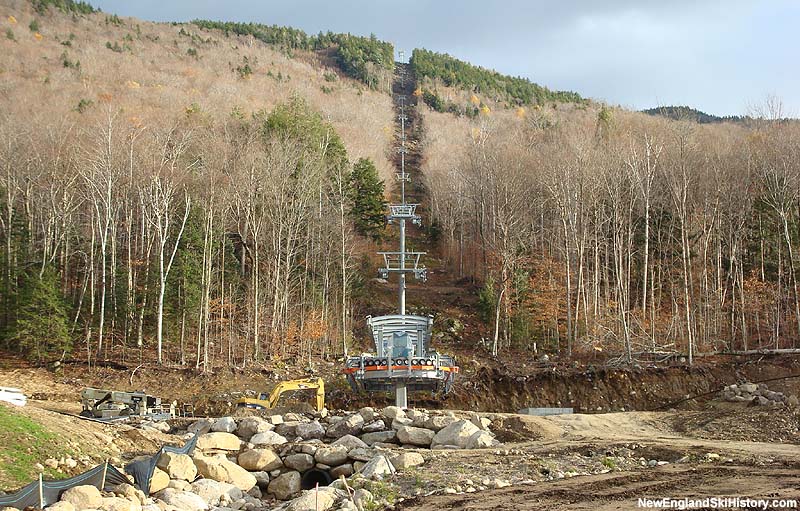 The Lincoln Express Quad under construction on South Peak (2007)

Further modernization efforts took pace in the 1990s, including the replacement of the West Basin lifts with the area's first high speed detachable quad in 1995. Night tubing was added for the 1996-97 season. On February 26, 1998, Booth Creek acquired Loon Mountain for $29 million, bringing it under the same ownership as Cranmore and Waterville Valley. Longtime Loon employee Rick Kelley was named General Manager.

North Peak received a new high speed detachable quad for the 2004-05 season. In January of 2007, Booth Creek sold Loon to CNL Income Properties, Inc., retaining operational control. Later that year, Boyne USA Resorts took over operational control and opened the long awaited South Peak complex. Though slowed due to economic issues, improvements were gradually deployed at South Peak in subsequent years. Meanwhile, the snowmaking system was greatly improved with more snowguns and a greater overall pumping capacity, allowing Loon to be a state leader in terms of early season terrain open.

In June of 2014, the proposed new beginner area at South Peak was approved by the White Mountain National Forest, paving the way for future expansion.

In April 2017, Ski Resort Holdings acquired the assets of Loon from CNL. Later that year, Jay Scambio was named General Manager of Loon. In May 2018, Boyne purchased the Ski Resort Holdings stake in Loon, placing the assets and operational control under one entity for the first time in a decade.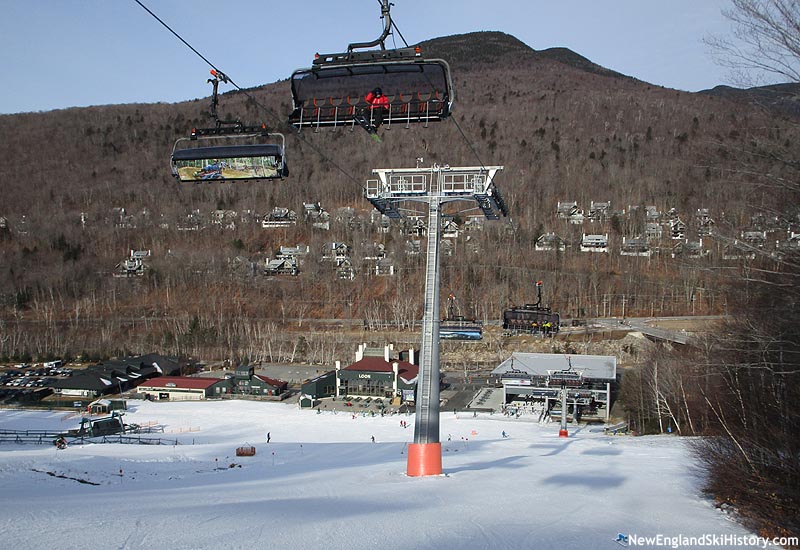 Kanc8 (December 2021)

In May 2019, Loon broke ground on a network of downhill mountain bike trails. The first phase of the project debuted in September, served by the Seven Brothers chairlift.

In January 2020, Loon announced it would be installing New England's first eight person chairlift in the West Basin. Though the lift was purchased, construction was postponed for a year due to COVID-19 restrictions. The lift debuted in December 2021.

NewEnglandSkiConditions.com Reports

Month
Average Percent of Terrain Open
November
17% (15 reports)
December
61% (45 reports)
January
80% (48 reports)
February
92% (30 reports)
March
89% (41 reports)
April
52% (25 reports)

-- start conditions table -->

Recent Conditions Reports

Mar. 26, 2023 by nordicgal
Wet Packed Powder, Frozen Granular
Mar. 5, 2023 by nordicgal
Packed Powder, Powder
Mar. 5, 2023 by rhodeislandskier
Powder, Packed Powder
Mar. 5, 2023 by snowphoenix
Packed Powder, Packed Powder
Feb. 8, 2023 by tuckers
Frozen Granular, Ice

Loon Mountain Resort on NewEnglandSkiConditions.com
NewEnglandSkiIndustry.com News
Recent Articles
Loon Mountain Coaster Proposal Approved by Forest Service - Mar. 20, 2023
Loon South Peak Expansion Underway - Mar. 4, 2023
Loon Announces South Peak Expansion - Oct. 24, 2022
Loon and Waterville Valley Lift Projects Taking Shape - Oct. 23, 2022
New Hampshire Lift Construction Makes Progress - Oct. 1, 2022
New Hampshire Lift Construction Projects Progressing - Aug. 16, 2022
New Hampshire Lift Construction Projects Progressing - Jul. 10, 2022
New Hampshire Lift Construction Projects Progressing - May. 22, 2022
Loon, Mount Snow Name New General Managers - Mar. 16, 2022
Loon Planning to Install Mountain Coaster - Jan. 8, 2022
Loon Mountain Resort NewEnglandSkiIndustry.com News Page

Expansion History

Image Gallery

Lifts
Click on lift name for information and photos
Maps

Year by Year History
Adult Weekend Full Day Lift Ticket; Adult Full Price Unlimited Season Pass

2020s
Ticket Price
Season Pass Price

Pass Payback

Opening Day

Closing Day

Skier Visits

2022-23
$129.00
November 23
2021-22
$120.00
$1599.00
13.3 days
November 26
April 17
2020-21
$104.00
November 30
April 18
2019-20
$104.00
$1419.00
13.6 days
November 15
March 15
2010s
Ticket Price
Season Pass Price

Pass Payback

Opening Day

Closing Day

Skier Visits

2018-19
$98.00
$1389.00
14.2 days
November 16
April 14
2017-18
$96.00
$1349.00
14.1 days
November 17
April 15
2016-17
$95.00
$1309.00
13.8 days
November 23
April 16
2015-16
$85.00
$1245.00
14.6 days
November 25
April 10
325,000
2014-15
$83.00
$1245.00
15.0 days
November 15
April 19
333,809
2013-14
$81.00
$1210.00
14.9 days
November 8
April 20
322,698
2012-13
$79.00
$1175.00
14.9 days
November 16
April 14
427,611
2011-12
$78.00
$1149.00
14.7 days
November 20
April 10
320,517
2010-11
$76.00
$1079.00
14.2 days
November 23
April 17
386,306
2009-10
$73.00
$1049.00
14.4 days
December 11
April 10
360,684
2000s
Ticket Price
Season Pass Price

Pass Payback

Opening Day

Closing Day

Skier Visits

2008-09
$73.00
$1049.00
14.4 days
362,053
2007-08
$69.00
$849.00
12.3 days
April 21
425,433
2006-07
$67.00
$569.00
8.5 days
December 8
April 15
355,013
2005-06
$65.00
November 25
April 17
301,000
2004-05
$59.00
April 17
301,000
2003-04
$54.00
$459.00
8.5 days
April 18
322,000
2002-03
$54.00
$489.00
9.1 days
November 15
April 20
359,000
2001-02
$51.00
$489.00
9.6 days
301,000
2000-01
$49.00
November 22
April 29
385,000
1999-00
$47.00
November 19
April 23
304,000
1990s
Ticket Price
Season Pass Price

Pass Payback

Opening Day

Closing Day

Skier Visits

1998-99
$46.00
April 11
297,000
1997-98
$45.00
$1080.00
24.0 days
November 14
April 19
350,000
1996-97
$45.00
$1080.00
24.0 days
May 5
340,077
1995-96
November 10
337,503
1994-95
$41.00
May 1
301,500
1993-94
April 18
331,000
1992-93
$38.00
November 14
347,000
1991-92
$36.00
340,000
1990-91
$38.00
279,000
1989-90
$36.00
November 22
April 22
344,646
1980s
Ticket Price
Season Pass Price

Pass Payback

Opening Day

Closing Day

Skier Visits

1988-89
$35.00
November 19
331,700
1987-88
$32.00
329,138
1986-87
$28.00
343,700
1985-86
November 27
April 6
279,249
1984-85
$22.00
$410.00
18.6 days
November 23
232,578
1983-84
$20.00
$490.00
24.5 days
188,000
1982-83
$20.00
146,158
1981-82
$18.00
November 27
222,602
1980-81
140,023
1979-80
$14.00
April 6
126,730
1970s
Ticket Price
Season Pass Price

Pass Payback

Opening Day

Closing Day

Skier Visits

1978-79
$13.00
December 1
124,620
1977-78
$11.00
December 9
130,000
1976-77
$10.00
December 4
1975-76
$10.00
December 6
1974-75
$10.00
1973-74
$10.00
1972-73
$10.00
1971-72
$10.00
1970-71
$9.00
1969-70
$9.00
1960s
Ticket Price
Season Pass Price

Pass Payback

Opening Day

Closing Day

Skier Visits

1968-69
$7.50
$150.00
20.0 days
1967-68
$7.50
$150.00
20.0 days
November 18
1966-67
$7.00
$135.00
19.3 days
December 27
Visitor Memories
"I worked at Loon in the 80s ,worked at the top of the first gondala. Smitty hughs was my boss Had good times there.but now live in STL.mo. "
James Dauphine, Jan. 4, 2022
"I was born in 61, some find early life memories of my dad teaching me to ski at loon,🤗"
Edward Sefner, May. 11, 2021
"I worked at Loon from '67 -'69. I taught in the ski school with Jon Putnam and coached kids in the race program. During the off season I worked on the trail crew, did construction and anything Sherman Adams needed done. It was the beginning of my 40 year career in skiing. Great memories."
Chip Woods, Dec. 23, 2018
"I so loved Loon Mountain when it first opened. I was six years old our first winter going there. My parents were avid skiers. They would drive my brother, sister and I to Loon early on Saturday morning. We would ski our hearts out the entire day, and then get back the back for the very long ride home. Then we would do the same thing again on Sunday. Thx mom and dad! I have the best memories of those days!"
Tang Boche, Oct. 8, 2015
---
External Links
Loon Mountain - official site
Last updated: December 21, 2021