Jug End
South Egremont, Massachusetts
Status:
Lost/Defunct
First Season:
1940s
Last Season:
1980s
Vertical Drop:
350 feet
Standing Lifts:
Past Lifts:
Surface lifts
Left: The Jug End Barn T-Bar in the early 1960s
Recent NewEnglandSkiIndustry.com News:
Located on the northeastern slope of Sterling Mountain, Jug End Resort is an increasingly distant memory. In the middle of the twentieth century, however, Jug End Barn was a destination resort that comprised 1,600 acres.


Jug End Starts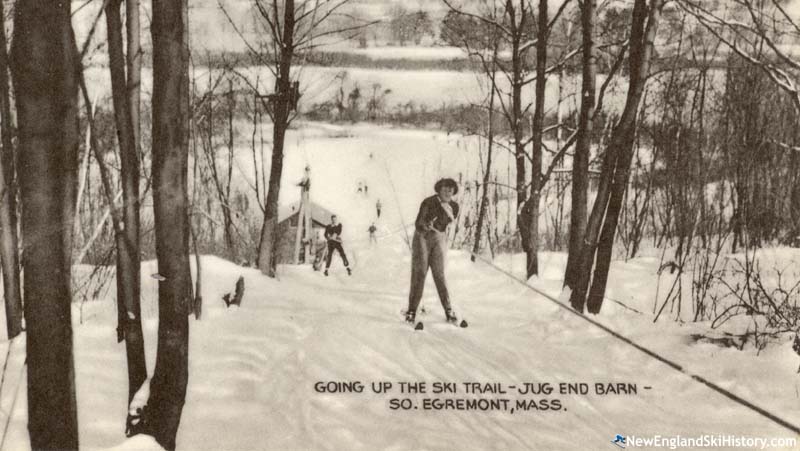 A Jug End rope tow circa the 1940s or 1950s

In 1935, Major Hugh Smiley converted a dairy barn at the foot of Mt. Sterling into a singles bar. That winter, he marketed his growing resort as the region's ski headquarters. By the time the 1941-41 season started, the Jug End Trail was descending from Sterling Mountain, while the Skekut and Guilder Hollow Trails provided novices shorter runs nearby.

In 1947, Spencer Logan and Robert Wheeler formed Jug End Barn, Inc. Around this time, one or two rope tows were likely installed on the slopes behind the growing resort.


The Rise of Jug End Barn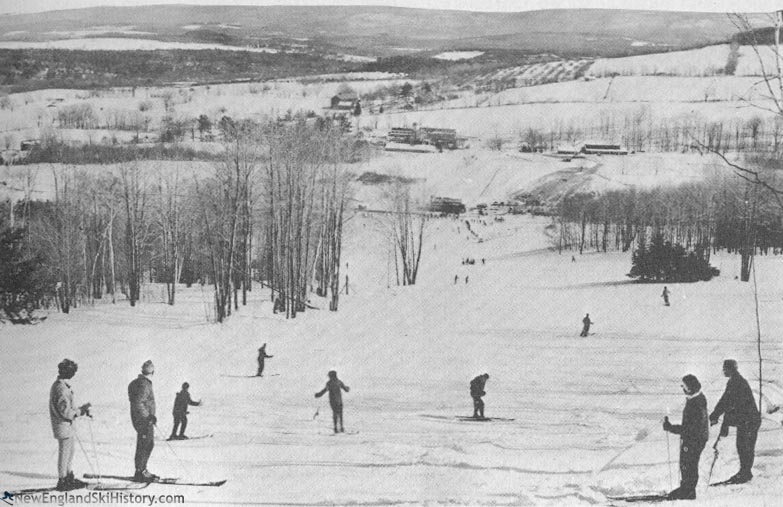 One of the slopes in the 1950s or early 1960s

In 1950, Jug End Barn purchased the popular ski destination G-Bar-S Ranch. Jug End sold G-Bar-S in 1954, after which the area operated for two seasons. Robert Wheeler then purchased the defunct area at auction in 1956 and resold it in 1960. In 1963, G-Bar-S Ranch became Butternut Basin.

In 1957, Angus MacDonald, nephew of Robert Wheeler and son in law of Spencer Logan, became President and General Manager of Jug End. That fall, Jug End made regional headlines when it installed one of New England's first snowmaking systems. A $15,000 installation, the system covered the lower 1,000 foot slope.

For 1958-59, Jug End finally addressed the long walk guests had to make from the ski slopes to the nearest full facilities. That fall, a new ski lodge was constructed at the base of the ski area, complete with a cafeteria, lounge, ski shop, first aid center, and rest rooms.



Keeping Up With the Pack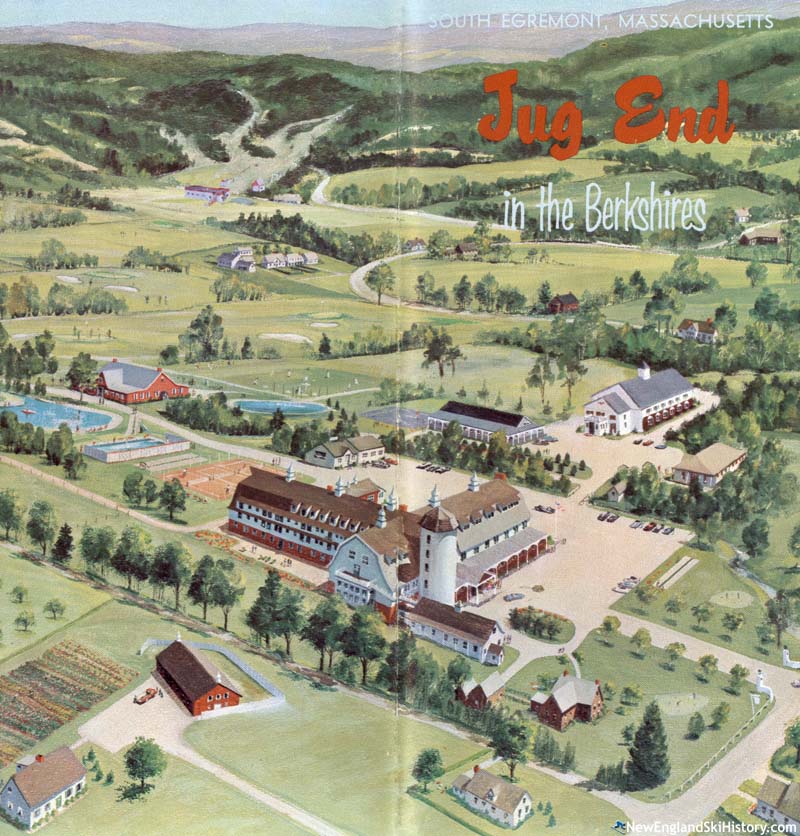 An artist's rendering of the Jug End premises in the late 1960s

While Jug End's ski area was growing, other areas were popping up at a fast rate nearby. Jiminy Peak installed its second T-Bar for 1959-60, while Catamount was on the verge of installing a chairlift.

To keep up with the changing industry, Jug End installed a Mueller T-Bar for the 1961-62 season. The new lift provided a continuous ride up the area's 350 vertical feet (later rounded up to 500 feet), which remained complemented by a series of rope tows. This would be Jug End's last big ski area investment.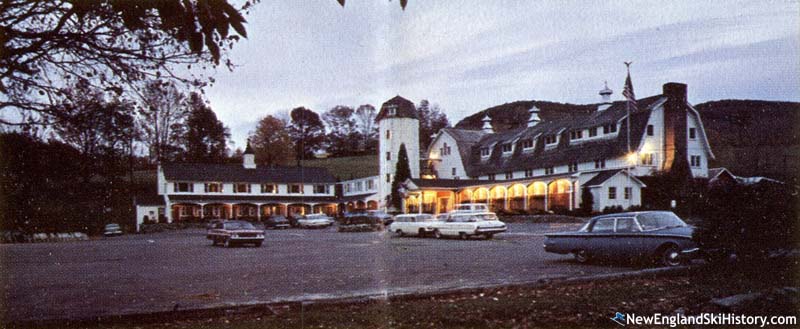 Jug End Barn in the 1960s

In 1963, Jug End promoted plans to expand to the summit of Mt. Sterling for 1964. These plans would never come to fruition. Night skiing was improved for 1964-65, however.

By the late 1960s, Jug End was advertised as a popular, year round resort. Winter activities included the alpine ski area, a toboggan chute (built on the ski lodge), a skating rink with music, and ice fishing.

Two new rope tows were installed for the 1971-72 season, as Jug End attempted to appeal to beginners with a one-day-learn-to-ski guarantee.


The End of Jug End

The main slope (2003)

Significant debt was accumulated in the mid 1970s, as multiple mortgages and loans were taken out.

In August of 1976, Angus MacDonald and his wife Mimi sold their stock in Jug End to Joseph and Kendra Bruno. At this point, Jug End Resort included the ski area, bubble covered tennis courts and swimming pool, a golf course, and the famous barn.

Heavily loaded with debt and deferred maintenance, Jug End fell into hard times in the late 1970s. The swimming pool facility closed in 1979, while the tennis courts closed in 1980. Continuing in this pattern, the resort was closed during the winter of 1981-82.

In the fall of 1982, Kendra Bruno suffered an illness what would keep her out of work until mid 1983. With deficits growing, Jug End filed for Chapter 11 bankruptcy in August of 1983. The resort closed soon thereafter.

A group of investors attempted to build hundreds of houses throughout the property a few years later, however their efforts were halted. The land eventually ended up in the hands of the State of Massachusetts and is today known as the Jug End Reservation.

Expansion History

Image Gallery


Lifts
Click on lift name for information and photos
Maps

Year by Year History
Adult Weekend Full Day Lift Ticket; Adult Full Price Unlimited Season Pass

1970s
Ticket Price
Season Pass Price

Pass Payback

Opening Day

Closing Day

Skier Visits

1971-72
$4.00
1970-71
$4.00
1969-70
$4.00
1960s
Ticket Price
Season Pass Price

Pass Payback

Opening Day

Closing Day

Skier Visits

1968-69
$4.00
1967-68
$4.00
1964-65
$4.00
1963-64
$4.00
1959-60
$2.00
Visitor Memories
"I worked there in the main barn in 1979 as the night shift front desk auditor. The grounds were beautiful and I even lived there for a month or so while looking for an apartment. The property was magnificent in the fall with the leaves turning and the winter was grand. Since I worked 11pm-7am I would get off in the mornings and go for a walk on the property. The owner Joe Bruno drank more coffee than any person I have ever met and daily I would take his empty coffee cups from his office and van back to the kitchen in a milk crate. "
Jim Brites, Aug. 2, 2018
"Visited for a week in mid-to-late August 1967 with stepfather and mother, Luke and Mary Esther Sweeney, when I was 11 and remember well the family-style dining plans (sharing tables with other families), the horseback riding, swimming and waterskiing instruction on a nearby lake. I remember the date because of the breaking TV news of the Soviet invasion of Prague, Czechoslovakia. Also visited at least once around the same time during winter and wore out gloves on the tow ropes. Remember a breakfast horseback ride in the snow with adults enjoying mimosas on the mountain before heading back."
Mark Donovan, Jul. 28, 2018
"I proposed to my wife of 53 years in Feb, 1958 sitting in front of the fireplace at Jug End Barn. Best move I ever made. We were married in Nov that year and had a wonderful married life. She passed away six years ago and I often think of that magic night she said yes. I also still have one of those small Little Brown Jugs on my night stand. "
Bill Savage, Jan. 28, 2018
"I have very fond memories of attending 2-3 Junior Achievement Conferences, from CT, in winter of 1978-80 at Jug End Resort. The Conferences were called "SNOJAC". Had a blast there! "
Denise Terry, Jan. 3, 2018
"My mom and dad stayed at jug end barn around 1959 and 1960. They aways went with at least three other couples.i remember they purchased the jug end barn record album with the jug end barn cha cha as one of the songs.i still have the album.they have both passed and I always remember them saying how much they enjoyed their stay. They have been there quite a few times.thank you for giving my parents such a great time. Tom centone junior "
Tom centone, Apr. 19, 2017
"I was a waitress at Jug End the summer of 1965. It was a fabulous summer for a 17 year old. I enjoyed my duties and responsibilities and when off duty got to use all the amenities. I enjoyed horseback riding and waterskiing the most. I lived in the bunkhouse and felt like I was at camp. The older waitresses were so kind and trained me well. I really enjoyed the Jug. "
Susan Jensen, Nov. 5, 2016
"My husband and I spent our honeymoon at Jug end Barn in late June 1964. We were married in New York city but I was working in Hudson Ny and we would stay in Hudson for the summer. Still have the set of glasses gifted to us when we checked in."
Judie Byndas, Oct. 11, 2016
"Hi everyone, I grew up about a half mile from there in the 40 and 50s Used to go skiing there free after school! Was a lot of fun. I would love to hear from anyone who remembers it. Thank you kindly."
Preston Mardenborough, Sep. 17, 2016
"We used to ski at Jug End in the 60's with our neighbors. Loved it there. It was the only place I remember my Mom ever skiing, but she only lasted half the day. It was not a far drive, and never really overcrowded. A little jewel. Great memories of skiing there."
Eileen Finn-LeMatty, Mar. 15, 2016
"Although I never skiied at the Jug, I remember having lunch there with my parents & how impressed we were with the ambiance & food. I didn't realize how many years of gone by- I had heard the Jug had closed. Sad but the Jug's memory lives on!"
richard gross, Jan. 16, 2016
"I remember attending Northeastern University's Senior Week outing at the Jug End Barn in 1965. I have the pottery jug memento that was given to those who attended and am about to gift it to the Northeastern University Libraries Archives."
Peter Manson, Dec. 29, 2015
"My son's father, the late Paul Bischoff, was a member of Pipe and Bowl and always told us how he learned ski at Jug End Barn. hH had happy memories of that place. "
Anita Maier-Bischoff, Sep. 18, 2015
"my family took two winter vacations in the 74 75 or so range . What a wonderous place we towed up three snowmobiles but we made use of the ski slopes the skeet shooting rollerskateing fireplace and much more shure wish I could take my wife there for a long weekind many many fond memories !!! thanx RHH"
rich hochberg, Aug. 30, 2015
"I worked for three weeks Prior to my September 29, 1967 entry into the Navy. I worked 6 am Breakfast, 3 or 4 morning coffee breaks, 11 to 2 Lunch, 3 or 4 afternoon coffee breaks, 4 to 8 dinner. I was one of 30 to 50 staffers that made some of these memories possible. What I remember most is the $300.00 I had in the bank when Uncle Sam called.I had met the owner at a previous job. He remembered me the day I was his waiter. He was vary upset with me that I was going into the Navy. He said he remembered me and told me to come bake after my hitch was up. "
THOMAS STEVENS, Feb. 2, 2015
"We spent our honeymoon at Jug End June 25, 1966. We had 1 night. We were so young and had to go to work on Monday. Everyone knew we were just married. We danced to I Left My Heart In San Francisco and everyone clapped. We were so embarrassed!! "
Deborah Eisel, Aug. 30, 2014
"Beautiful memories of Jug End Barn when I was in my early twenties. Really enjoyed it there so much. Met a lot of nice kids there from New York and other places. I often wonder where they are today. Thanks for the memories. "
Anna McGowan[Aquilino], Aug. 9, 2014
"Myself and my 4 siblings would not be here if it weren't for Jug End Barn! My mom from the Bronx and my dad from Green Point, Brooklyn, met there in 1951-52ish. They were happily married over 50 years before my dad passed. 15 grandchildren, 5 great grandchildren and 2 on the way. We all love hearing about the night they met at Jug End. My parents took us there when we were younger to see it. Maureen Doherty Long Beach, NY"
Maureen Doherty, Jun. 29, 2014
"I am now 80 years old. My high school class of about 25 people stayed at the Jug End Barn for our Senior trip,in 1951. We stayed in the Bull and Cow Pens. Played and snooped. There was an Irish Stable Master with whom we all went on a trail ride. I believe we had the thrill of seeing a Badger. On our downhill return some lead horses ran into wires between posts at the skiing slope,almost invisible. A few were unhorsed! I held on, also clutching the saddle. No one was hurt. The horses were also extra frisky as they had sped up to get back to their barn. That same Irishman had a Pony he showed off as a jumper. Great place , we all had fun and generally all smelled like sweaty horses. I seem to recall the owners had a penchant for making Birch beer."
Wesley Lent, May. 8, 2014
"I was a Queens College student (member of Pipe and Bowl Fraternity) and went to Jug End on two winter break (1958 and 1959) trips organized by Queens College. It was a great place and the trips were a blast. The skiing was fine for beginners but not much of a challenge for an experienced skier - but that didn't stop us all from having memorable times."
Bill Tannler, Jan. 22, 2014
"Jug End Resort was beautiful at entrance gate.Huge weeping willow tree, blue spruce beautiful white fence with huge lantern type light on top and a flag pole in parking lot that was dwarfed by mountain. The pool was fabulous. The people were wonderful including Carol Mathie, Judy Keever, Frankie Gale Palmer vacationing from Connecticut and New York."
Kay Molochko, Jan. 5, 2014
"Jug end has everlasting fond memories for me as the Acreage is still renown for its wildlife and Abundant white tailed deer population . The whit-tailed Deer proliferate in the acorn oak rich Mountainsides. The area is plentiful in which the Mountain Laural Bushes grow a lush protection barrier that is the mainstay for protection for the whitetail deer . As a young Boy I remember first whitetail hunt with my father brother and uncle at age 15 I and i just turned 50 and can honestly say i have not missed a hunting Season at the jug end since that first successful deer hunt 35 years ago. "
Chris DErrico, Dec. 29, 2013
"Every winter, my wife and and I would we look forward to Christmas and to be able to spend Christmas at the Jug Inn...a full day of skiing and then looking forward to a wonderful dinner and retiring to be in front of the that wonderful large fireplace with the logs ablaze where we all had eggnog and welcomed in Christmas with a group of wonderful people who returned it each just to stand or lay in front of the fire and feel the warmth fire and the friendship that reestablished. I am now eighty-three and I still think of great and wonderful times that we spent at the jug Inn at Christmas timeI hope the youth of today, have the same enjoyment that we of the past enjoyed back in those days, we drank of the future, as he listened to the logs slowly blurring signifying the day was done, and there was the next year to look forward to as we did this yearDr. Robert E Nielsen"
robert Nielsen, Dec. 24, 2013
---
External Links
Jug End Barn - New England Lost Ski Areas Project
Jug End Reservation - Massachusetts DCR
Last updated: April 4, 2017