Red Hill Ski Club
Moultonborough, New Hampshire
Status:
Open
First Season:
1956-57
Vertical Drop:
210 feet
Standing Lifts:
Surface lift
Past Lifts:
Left: Looking down the main slope (2014)
Recent NewEnglandSkiIndustry.com News:
2/9/2015: New Hampshire Rope Tow Struggles
Located on the southeast side of Red Hill in Moultonborough, New Hampshire, the Red Hill Outing Club ski area has been serving locals for over half a century.


Red Hill Ski Area

While lift served skiing on Red Hill likely dates back to 1950, the original Red Hill ski area was located north of the present day rope tow area. The original Red Hill ski area, served by a platter lift, ceased operations in the early 1950s.



Red Hill Outing Club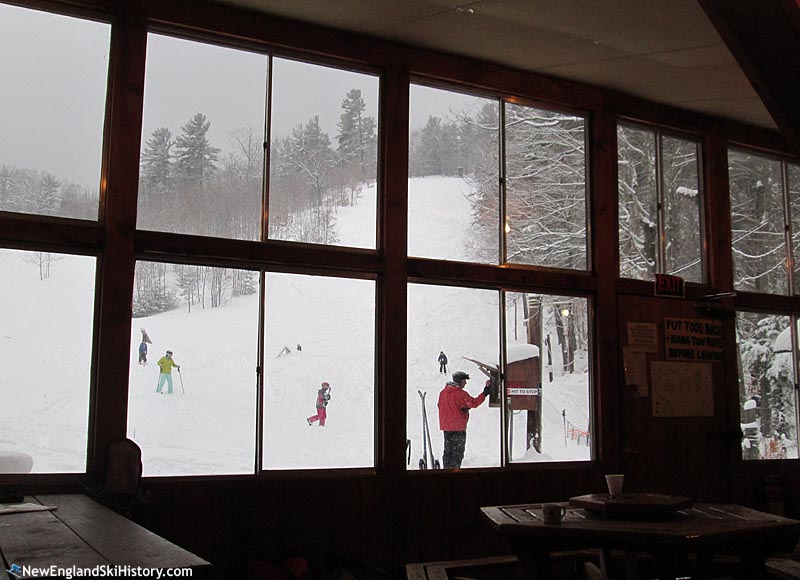 The view from the base lodge (2014)

The Red Hill Outing Club area likely dates back to 1956, when Robert and Elizabeth Hammond purchased land off Sheridan Road, cleared a slope, and installed a rope tow. The Hammonds also participated in helping to organize a club to operate the slope for locals.

The Hammond leased the operation to the club from 1969 through 1979. During this period, the Red Hill Outing Club offered free lessons to club members and town residents.

In 1979, the Hammonds transferred the facility to the club, with the stipulation that if the club failed to provide skiing facilities to residents for two consecutive years, then the property would revert back to the Hammonds.

The slope reportedly increased in popularity following the transfer. It may have been during this time in which an upper mountain expansion was proposed, reportedly involving a possible acquisition of a used chairlift from Waterville Valley. A lack of snowmaking slowed things down, however. Free lessons were discontinued after 1989.


Red Hill Outing Club v. Hammond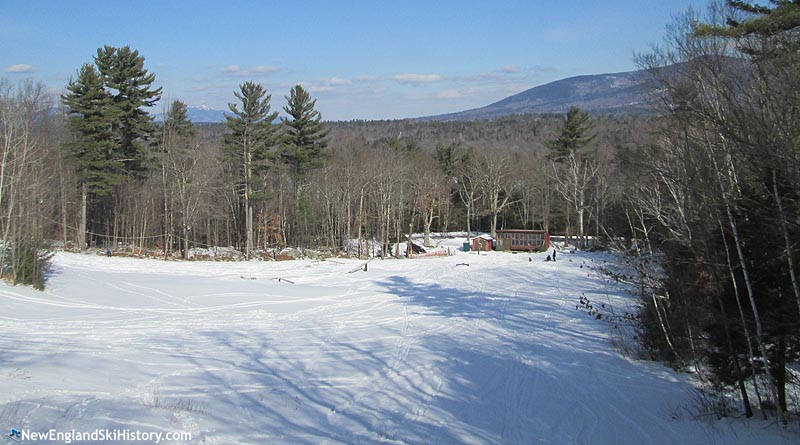 Approaching the base area (2014)

The Red Hill Outing Club did not obtain a permit to operate the rope tow for the 1992-93 and 1993-94 seasons, resulting in the Hammonds exercising the clause in the 1979 agreement in October of 1994. The club then filed suit, resulting in a multiple year legal battle. In the end, the courts decided that, while the ski area had not operated, the club remained in existence and had maintained the facilities. As a result, the club was able to retain the ski area.

In 2009, the Red Hill Outing Club registered Red Hill Ski Club as a trade name with the State of New Hampshire, in hopes of better capturing the mission of the facility.

The Red Hill Ski Club has continued to operate since then, generally when snowfall and local interest warrant. Night skiing is offered during peak times of interest. The 686 foot long tow moves skiers and snowboarders up the hill as fast high speed detachable chairlifts operate, allowing for significant skiing.

Due to the organization of the entity, the Red Hill Ski Club does not sell lift tickets. It does, however, offer seasonal membership (valid whenever the area is open) for a fraction of the price of modern lift tickets. One can apply for membership at the lodge or via postal mail.



NewEnglandSkiConditions.com Reports





NewEnglandSkiIndustry.com News





Expansion History





Maps


Year by Year History
Adult Weekend Full Day Lift Ticket; Adult Full Price Unlimited Season Pass

2020s
Ticket Price
Season Pass Price

Pass Payback

Opening Day

Closing Day

Skier Visits

2022-23
January 29
2021-22
January 17
2020-21
February 6
2019-20
December 31
2010s
Ticket Price
Season Pass Price

Pass Payback

Opening Day

Closing Day

Skier Visits

2018-19
November 23
2017-18
December 12
2016-17
December 12
2014-15
November 27
2013-14
December 30
Visitor Memories
"rope tow was so much fun"
michael flynn, Dec. 26, 2021
"I Taught here in 1975 and 1976 while in high school. I was an instructor for Egan Zimmerman ski school out of Gunstock. They offered the program forMoultonborough residents at Redhill. I loved it because the people who came here or here to ski. They were not into flashy equipment or fancy ski clothing that you see in some of the New Hampshire areas now. "
Thomas Mason, Apr. 7, 2015
"My whole family skied here for at least a decade in the 70's and 80's. I remember in the 70's wooden skis and poles with nets and in the 80's red jackets with those tight ski pants! Also memorable were our ski fest weekends and each family being in charge of opening one weekend a season. Actually I have so many good memories I am glad to see it is still in operation. I have explained to many people how and where I first started skiing so Red Hill is always alive in my memory."
Heather Forrest, Oct. 10, 2014
"I skied here on a Sunday afternoon in February 2014. Due to the organization of Red Hill, day tickets are not available. A season pass could be purchased for $25 ($60 for a family), which was well worth an afternoon of skiing (nevermind a whole year).The base lodge has no running water (Port-A-Potty available), but is comfortable. The rope tow is really fast (but not as hard to grip as the one at Abenaki). Though the vertical drop is listed as only 181 feet, the area skis bigger and has nice variety. The views of Garland Pond, Mt. Chocorua, and the Ossipee Mountains are excellent."
Jeremy Clark, Feb. 9, 2014
"While searching for Ossipee Mountain Ski Area in 2004, I spotted a slope in the distance which turned out to be Red Hill. While it was rumored to be closed, the area seemed to be in operating condition."
Jeremy Clark, Feb. 8, 2014
---
External Links
Last updated: October 23, 2016