Diamond Hill
Cumberland, Rhode Island
Status:
Lost/Defunct
First Season:
1940s
Last Season:
1980s
Vertical Drop:
275 feet
Standing Lifts:
0
Past Lifts:
2 doubles, surface lifts
Left: A lift footing in the base area (2010)
Recent NewEnglandSkiIndustry.com News:
Located on 481 foot Diamond Hill in Cumberland in northeastern Rhode Island, Diamond Hill ski area was in operation for nearly four decades.

Early Years

The groundwork for skiing at Diamond Hill likely dates back to 1935, when Philip Allen, C. Faulkner Kendall, and Henry Munroe Rogers offered 235 acres of land to the State of Rhode Island. It is possible that a steep ski trail may have been cut as soon as 1936 or as late as 1938. A novice slope was added for the 1939-40 season.

Plans for a rope tow may have been in place as early as 1938, however it is unlikely that Diamond Hill had lift served skiing in the 1930s. A rope tow may have been installed in either 1940 or 1941, at which point the parking area was improved.

Growth and Lease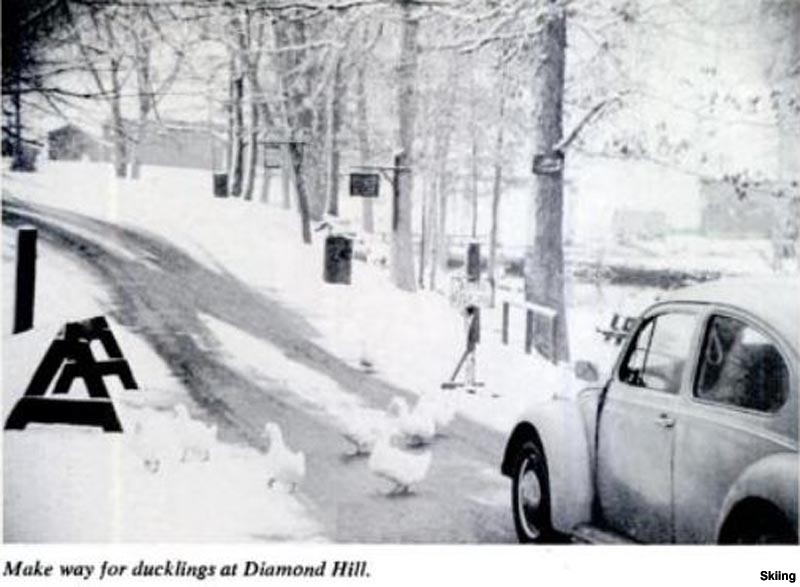 Ducks crossing the Diamond Hill access road (1960s)

With the skiing boom taking place all over New England in the 1960s, Diamond Hill was no exception. Ski Valley opened on the back side of Diamond Hill for the 1961-62 season. Meanwhile, at some point in the early 1960s, the state likely invested significant funds in a snowmaking system at Diamond Hill ski area. While one or more seasons may have seen operations in excess of 90 days, the red ink was accumulating. After decades of losses, the State of Rhode Island leased Diamond Hill to private operators for the 1965-66 season. A T-Bar may have been installed for the 1966-67 season. While a new chairlift was rumored for the 1967-68 season, it was still a few years away.

A sizeable expansion took place for the 1970-71 season, when a new trail was cut, snowmaking was expanded, and two double chairlifts installed. Unfortunately for Diamond Hill, the expansion coincided with multiple bad winters.

Stanley Marszalkowski, owner of nearby Klein Innsbruck in Massachusetts, likely leased Diamond Hill in 1976-77. It is thought that the chairlifts were removed soon thereafter, one of them likely finding its way to Mt. Watatic, MA and later Temple Mountain, NH.



Closure

Diamond Hill may have been operated by the state or town as a rope tow area in the late 1970s and early 1980s, though with limited success due to poor winters. The ski area likely ceased operations prior to 1982. Neighboring Ski Valley closed following the 1984-85 season.

The Town of Cumberland acquired Diamond Hill State Park from the State of Rhode Island in 1997. Since then, Diamond Hill Park has been gradually improved to provide residents with many outdoor activities, such as baseball, hiking, and the CumberlandFest.



Image Gallery





Lifts
Click on lift name for information and photos




Year by Year History
Adult Weekend Full Day Lift Ticket; Adult Full Price Unlimited Season Pass

1970s
Ticket Price
Season Pass Price

Pass Payback

Opening Day

Closing Day

Skier Visits

1970-71
$6.00
1969-70
$3.50
1960s
Ticket Price
Season Pass Price

Pass Payback

Opening Day

Closing Day

Skier Visits

1967-68
$3.50
1962-63
$1.50
Visitor Memories
"I lived in Warwick RI , my beau, DD, took me to ski for my first time. I have not forgotten the lessons of how to ride the T-bar. I have since learned to ski at Stowe Vermont, Hunter Mountain NY, Rose Mountain Nevada , Heavenly Mountain Lake Tahoe California, to name a few. "
Lisa George, Jan. 23, 2023
"Remember the toboggan run. An icy chute with wooden rails. You had to keep your hands away from the rails . Splinters. Scary and fun !"
Jim Conway, Jan. 30, 2022
"I learned to ski on a plywood ramp put up in the parking lot of Diamond Hill. Ray Costigan oversaw the lessons. I still look back in fear at "the big hill". I went back a couple years abo and it didn't look anywhere near as daunting. It had closed by the time I was in high school in the late 70's and early 80s. We used to go sledding there with friends. Also had decent trout fishing in the stream and pond."
Bradley Mitchell, Jan. 7, 2021
"Watched snowmaking at night in fall of 1959. Had a tow rope. In the 1960's,skied at night at Pine Top with a T-Bar."
Joan Tubman, Nov. 27, 2020
"I recently asked my 90-year-old father, A. Gordon Clarke Jr., about his earliest skiing and he told me it was Diamond Hill circa 1943. He went there during high school with friends from North Attleboro. He remembers there was a rope tow and that they skied Saturdays and some weekday afternoons/evenings with some form of artificial light."
Amanda Shipley, Apr. 27, 2020
"We happened upon DH on November 12,1964 while on Our honeymoon .while killing time till we could go to a restaurant at 400 pm Sunday November 10,2019 we ended up at DH.Just 55 years later and we got to enjoy a wonderful ice cream shop that wasn't there in 1964.What a wonderful way to rekindle a beautiful memory ."
Paul&Maureen Reiser, Nov. 10, 2019
"I lived across from the Park rock face on Mount view Drive from 1965 until 1969. I went to Community School from 2nd through 6th grade. I used to ski at DH when I was a kid. I could get there on foot from my house while it took my parents to drive me to Ski Valley. Some of the names I read in these posts, Benz, Costigan and even the names on the post bring back memories. I remember hanging on the the T-bar while night skiing as it would lift you off the ground. I read the posts on Ski Valley and remember the Egans too. "
Jose Suarez, Nov. 13, 2018
"i lived in Cumberland from 1969 to 1973 and learned to ski at diamond hill. DH had night skiing and my brothers and I would ski after school every night they were open. Still remember skiing laps while the popular songs of the day were playing on their PA system. DH wasn't much but us kids loved it. And, with all the practice, we improved rapidly. Everyone wanted to "wedel" with skis together. "
Bob Clark, May. 18, 2018
"The Pelletier kids all had season passes. This is where we learned how to ski. My brother Richard worked in the ski shop with the Benz family. Richard used to race down the big hill. We thought he was so cool! Wonderful childhood memories!"
Patty Pelletier, Dec. 7, 2016
"I grew up across from the ski area. One of my best memories.are looking out my bedroom window at the slopes with all the lights on making snow. My bad memory is looking out my bed room window and seeing the old lodge ablaze and Mr Costigan trying to save his little dog.Now about the big hill. If you could ski that you could ski anywhere"
Ron Schofield, Dec. 29, 2015
"I grew up in Pawtucket, RI and learned to ski at Diamond Hill in the early 60's. We first went to Diamond Hill to rent toboggans. They had toboggan chutes. This was after Squaw Valley Olympics but before the Innsbruck Olympics. There was the 'Big Hill' and the 'Little Hill'; they only had rope tows. The little hill was all we little kids could handle. To take the Big Hill to the top you had to be heavy enough and strong enough to take it to the top. The rope, without skiers, would be perhaps 10-15 feet above the ground at the point where the slope went up 'the steep part'; so kids would sit on the rope to stay in contact with the snow. Once you were going up 'the steep part', you were holding on for dear life as the rope was now trying to drag you up 'the steep part' while the rope twisted in your hands. Toward the top if you were still holding on you now had to fight the rope as it tried to pull you down to the level of the snow. It was a real triumph to ride the tow to the top. I recall a rope tow ticket costing $1.25 for night skiing."
Rudy Jaworski, Nov. 27, 2015
"I remember my brothers walking to Diamond Hill to ski after school from the plat across the street many winters ago, in the 1960s. Always amazed by their conquering the 'Big Hill', I soon followed, as their younger kid sister. The stories of the rope tow tearing up our mittens, falling off of the J and Tbars with the embarrassment of stopping the lift, and the memorable aroma of the 'warming hut' with the wood stove and hot chocolate for sale and wet wool socks in rubber boots are enough to make an 'old lady' revel in the good ole days. Thanks, Diamond Hill, Ski Valley (the only night skiing) and for friends and family that made those years amazing. So sorry to hear that these areas are now closed down."
Kim (Black) Upton, Jul. 18, 2015
"Diamond Hill was on the back side of Ski Valley. As a child, we skied at Ski Valley because Diamond Hill was too steep for us. On the way to Ski Valley, we would drive by Diamond Hill, which probably had a chairlift and, to us, looked like a huge mountain with a main, wide trail as steep as a cliff. I think I may have skied there once or twice while in high school college, though we mostly went to Klein Innsbruck on Thursday nights at the time, but I do remember my brother, at least once, taking on the 'beast' of Diamond Hill with a friend."
Jeff M, Feb. 3, 2015
"I didn't ski enough to dare the 'big hill', but in the 50's there was definitely a rope tow on the smaller hill. The tow was right beside the toboggan shute."
Nancy Smith, Oct. 8, 2014
"I learned to ski at Diamond Hill and remember the rope tow pulling me up into the air between the gentle part and the steep part. My goal was always to follow someone with some heft to hold down the rope. I loved Diamond Hill."
Sharon Tomaselli, Feb. 24, 2014
---
External Links
Diamond Hill - FranklinSites.com Hiking Guide
Diamond Hill Reservation Ski Area - New England Lost Ski Areas Project
Last updated: June 13, 2016