Sunapee Mountain
Newbury, New Hampshire
Proposed in the 1940s
Overview
With much of the country still trying to emerge from the Great Depression, parts of New Hampshire turned to tourism. After the opening of the Cannon Mountain Tramway, people in the Lake Sunapee region looked to capitalize on the big mountain nearby.

A proposed tramway was surveyed in late 1940. Shortly thereafter, the state passed the Mt. Sunapee Tramway Bill in 1941. While the tramway was primarily proposed to be a sightseeing lift, it was likely that it would also serve skiing (such was the case with the Cannon tramway). In order to help boost steamboat business, the bottom terminal of the tramway was proposed to be located near Newbury Harbor.

World War II would soon delay plans. The proposal was extended in early 1945, however as the decade progressed, funds were inadequate for a tramway lift.

Mt. Sunapee Ski Area would eventually open on December 26, 1948 with a single chairlift to the North Peak area.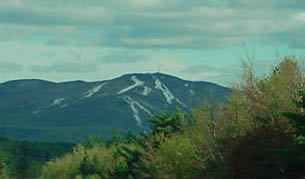 Mt. Sunapee (2002)



1955 USGS Topographic Map



Today
The Mt. Sunapee Ski Area was eventually expanded to the summit of Sunapee Mountain and continues to operate today.

Quotes

| | | |
| --- | --- | --- |
| " | Mt. Sunapee also has an extensive skiing history. The Newport Ski Club was started in the 1890's by a Finnish community located in Newport. The club was active through the 1920's & 30's. In the early 1940's residents took notice of the financial success Cannon was enjoying & persuaded their political representatives to push for legislation which eventually became the Mt. Sunapee Tramway Bill in 1941. The Sunapee Tram was initially going to be used as a summer attraction but the war delayed construction and by 1946 the amount allotted for construction was judged to be not enough to purchase an aerial tram, but was enough to purchase a chairlift. Mt. Sunapee opened for skiing in 1948. | " |
| | SkiNH | |
Resources
Last updated: December 17, 2012