| | |
| --- | --- |
| | |
Located on a 2,006 foot tall mountain, Wachusett Mountain Ski Area is one of the most popular ski areas in the Northeastern United States.


CCC Days

The origins of Wachusett Mountain Ski Area date back to trails cut by the Civilian Conservation Corps starting in 1934. While these trails were popular venues for ski races during the 1930s and 1940s, skiing on Wachusett would soon focus around lift service. Due to its eastern location, the Pine Hill Trail was not incorporated into the ski area.



Lift Served Skiing

Loading a T-Bar circa the 1960s

With the rise of lift served skiing, Wachusett Mountain Ski Area may have had humble beginnings circa 1960, likely operating with a rope tow.

The Commonwealth of Massachusetts authorized a quarter million dollar taxpayer funded ski development in 1962, designed by Sel Hannah. With Earle Vickery as area manager, Wachusett operated two T-Bars for the 1962-63 season, serving some 625 vertical feet.

In late 1964, a new chalet was dedicated, as well as a trail. The popular Smith-Walton Trail was named after two local men who died while mountain climbing in Wyoming.



The Crowleys Begin Operating Wachusett

Wachusett Mountain Associates, Inc. was formed as a Massachusetts corporation by Polar Beverages' Ralph Crowley and ski instructor Normand Letarte on August 16, 1968. The Massachusetts Department of Natural Resources awarded them a 5 year lease of the ski area starting that month, reportedly for a $16,002 bid. Bob Mignone was hired from Otis Ridge to manage the ski area.

With Letarte running the ski school, one of the first changes was to develop a new beginners area, as the area was perceived as lacking adequate novice terrain. In addition, sights were set on skiing from the summit, initially served by snowcat.

While Wachusett Mountain Associates was looking to expand in the early 1970s, subsequent leases were awarded in one year increments, making it virtually impossible to install a chairlift. This changed in the early 1980s, however, as the area was awarded a longer term lease.


Major Expansion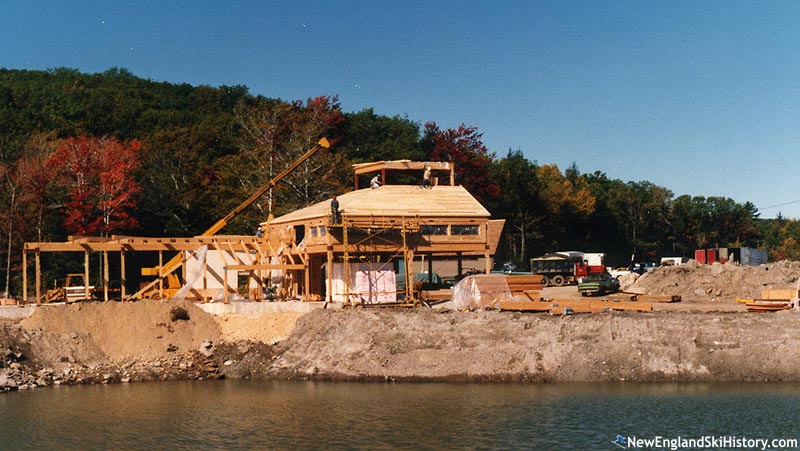 Construction of the base lodge (1982)

A $7 million expansion project kicked off in 1982, initially with the installation of two double chairlifts. Further improvements took place for the 1982-83 season, as the Summit Area was finally opened, served by a double chairlift. In addition, the Nor'Easter double chairlift was upgraded to a triple chairlift, and a 24,000 square foot base lodge was opened, making Wachusett the largest ski area east of the Connecticut River in Massachusetts. The expansion was perhaps a knock out blow to nearby rival Mt. Watatic.

A new round of expansion took place in the mid 1990s, starting with the installation of Massachusetts' first high speed detachable chairlift, the Polar Express. Five years later, the state's second high speed quad was installed at Wachusett, replacing the Nor'Easter Triple.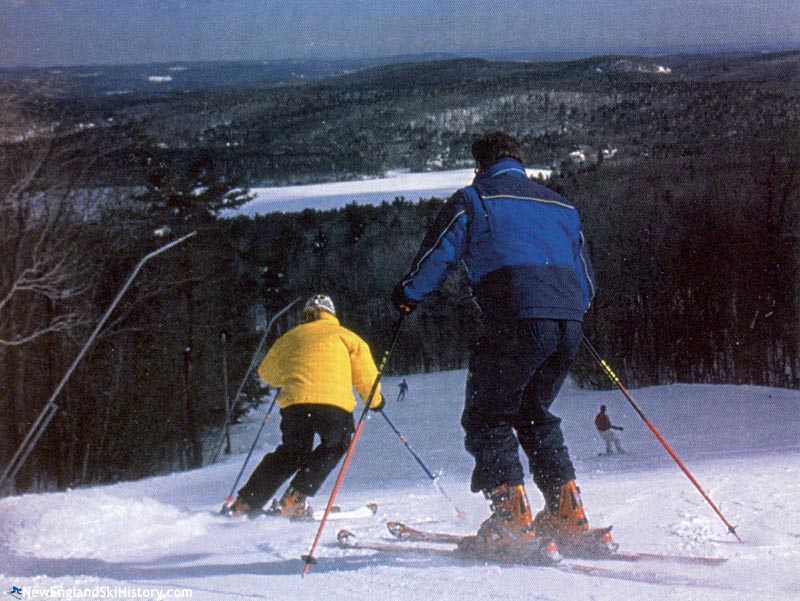 Skiing at Wachusett circa the late 1990s or early 2000s

After years of red tape and protesting, Wachusett was able to open the Vickery Bowl in 2003, ushering in new terrain and a triple chairlift.

The state's third detachable quad chairlift, the Monadnock Express, was installed for the 2011-12 season.

Following an amazing winter of natural snowfall, Wachusett surprised skiers by operating the Vickery Bowl chairlift for skiing on May 2, 2015.

NewEnglandSkiConditions.com Reports

Month
Average Percent of Terrain Open
November
20% (3 reports)
December
63% (6 reports)
February
95% (5 reports)
March
89% (6 reports)

-- start conditions table -->

Recent Conditions Reports

Dec. 8, 2018 by equinox
Packed Powder, Variable Conditions
Nov. 24, 2018 by equinox
Packed Powder, Variable Conditions
Nov. 21, 2018 by rhodeislandskier
Packed Powder, Variable Conditions
Nov. 17, 2018 by equinox
Wet Packed Powder, Variable Conditions
Mar. 20, 2018 by rocket21
Loose Granular, Loose Granular

Wachusett Mountain Ski Area on NewEnglandSkiConditions.com

NewEnglandSkiIndustry.com News

CCC Trails

Expansion History

Image Gallery

Lifts
Click on lift name for information and photos
Maps

Year by Year History
Adult Weekend Full Day Lift Ticket; Adult Full Price Unlimited Season Pass

2010s
Ticket Price
Season Pass Price

Pass Payback

Opening Day

Closing Day

Skier Visits

2018-19
$71.00
$679.00
9.6 days
November 17
2017-18
$71.00
$669.00
9.4 days
November 12
April 14
2016-17
$69.00
$669.00
9.7 days
November 25
April 9
2015-16
$65.00
$669.00
10.3 days
November 27
March 22
2014-15
$63.00
$649.00
10.3 days
November 21
May 2
2013-14
$60.00
$649.00
10.8 days
November 16
April 13
2012-13
$58.00
$649.00
11.2 days
November 30
April 7
2011-12
$58.00
$649.00
11.2 days
December 12
March 18
2010-11
$51.00
$625.00
12.3 days
November 28
April 3
335,855
2009-10
$49.00
December 8
April 3
323,398
2000s
Ticket Price
Season Pass Price

Pass Payback

Opening Day

Closing Day

Skier Visits

2008-09
$49.00
$599.00
12.2 days
April 5
2007-08
$49.00
$629.00
12.8 days
April 6
2006-07
$49.00
$629.00
12.8 days
April 1
2005-06
$48.00
$629.00
13.1 days
November 25
April 2
2004-05
$46.00
$619.00
13.5 days
April 10
2003-04
$45.00
$639.00
14.2 days
December 4
April 4
2002-03
$44.00
$619.00
14.1 days
November 9
April 13
403,000
2001-02
$43.00
$619.00
14.4 days
December 18
March 31
320,000
2000-01
$42.00
$619.00
14.7 days
405,000
1999-00
$39.00
290,000
1990s
Ticket Price
Season Pass Price

Pass Payback

Opening Day

Closing Day

Skier Visits

1998-99
$37.00
1997-98
$35.00
1996-97
$35.00
1994-95
$32.00
1992-93
$29.50
375,000
1991-92
$29.50
1989-90
$29.00
1980s
Ticket Price
Season Pass Price

Pass Payback

Opening Day

Closing Day

Skier Visits

1988-89
$28.00
1987-88
$25.00
1986-87
$21.00
325,000
1985-86
$20.00
1983-84
$16.00
1982-83
$14.00
1981-82
$9.00
1980-81
$8.00
1970s
Ticket Price
Season Pass Price

Pass Payback

Opening Day

Closing Day

Skier Visits

1976-77
$75.00
1971-72
$6.00
1970-71
$5.00
1969-70
$5.00
1960s
Ticket Price
Season Pass Price

Pass Payback

Opening Day

Closing Day

Skier Visits

1964-65
$4.00
$35.00
8.8 days
January 22
1963-64
$4.00
1962-63
$4.00
$35.00
8.8 days
December 28
Visitor Memories
---
External Links
Wachusett Mountain Ski Area official site
Last updated: September 22, 2016