Smugglers Notch
Smugglers' Notch, Vermont
Status:
Open
First Season:
1950s
Vertical Drop:
2610 feet
Standing Lifts:
6 doubles, surface lifts
Past Lifts:
Surface lifts
Left: Madonna and Sterling as seen from Morse (2015)
Recent NewEnglandSkiIndustry.com News:
1/8/2015: Smugglers Notch Snowmaking Pump House Burns
Located north of Stowe, Smugglers Notch is a unique resort that features plentiful family learning terrain, aggressive expert trails, and a chairlift infrastructure composed solely of fixed grip doubles.


Early Years

Smugglers' Notch ski area possibly dates back to the early 1950s as a small rope tow ski area. Not much is known about this development, but it is possible it was not located within the footprint of the present day resort.

In 1956-57, a group of local Jeffersonville residents financed the development of a new ski area in Smugglers Notch. Led by Dr. Roger Mann and former Okemo manager Warren Warner, Smugglers Notch Ski-Ways, Inc. enlisted the help of the Vermont Department of Forests and Parks as well as nearby Stowe.

The state of Vermont built a 300 car parking lot and a 1,600 foot warming hut, while the ownership built a smaller building to host a ski shop and ski patrol. The Southwest Passage trail was cut to provide a connection from the new ski area's Sterling Mountain to Spruce Peak at Stowe, while the Northeast Passage trail provided a link from the top of Spruce Peak back to Sterling Mountain.

The lower mountain was served by a 2,000 foot long Poma lift. From the top of that lift, skiers could ski over to a 3,300 foot long Poma, which then carried them to the top of Sterling Mountain. Trail names such as "Rum Runner," "Hangman's Noose," and "The Black Snake" were derived from smugglers who frequented Smugglers Notch during the War of 1812. The combined ride time of the two lifts was billed as 8 minutes.

By 1958-59, Smugglers Notch sported 6 trails ranging from beginner to expert, served by the two Pomalifts.

Also during the 1950s, IBM CEO Thomas Watson Jr. and his family had a ski home in nearby Stowe. In 1957, IBM opened a facility in nearby Essex Junction.


Becoming a Major Ski Area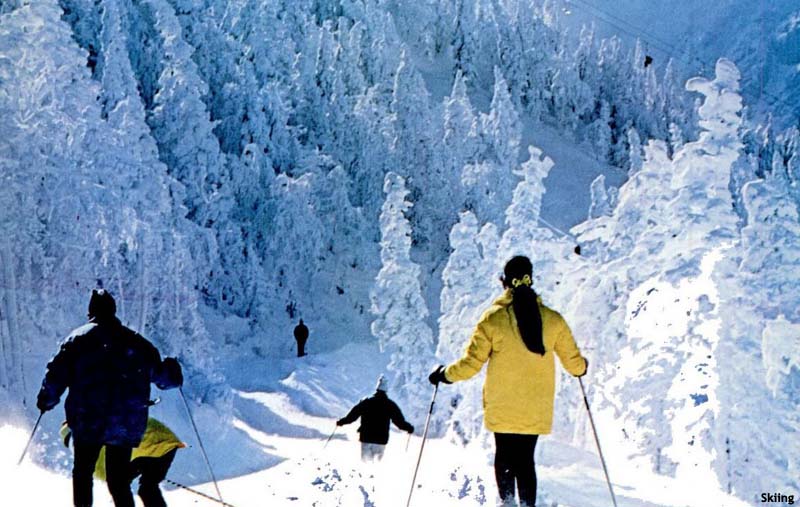 Madonna Mountain in the late 1960s

Allegedly a minority Stowe shareholder, Watson became frustrated with a real estate issue. As the legend goes, one day Watson skied around to Sterling Mountain from Spruce Peak and saw the potential for a massive ski development in Smugglers Notch.

A third Pomalift was installed for the 1960-61 season, serving the Sterling Practice Slope.

For the 1963-64 season, a double chairlift was installed by helicopter on Madonna Mountain. One of the longest chairlifts in the world, the new lift expanded the ski area's vertical drop from about 1,500 feet to 2,150 feet. Three new trails were expected for the start of the season, with a few more soon to follow.

In 1964, Thomas Watson Jr. and his brother, IBM World Trade Corporation President Arthur "Dick" Watson, likely acquired a majority ownership stake in the ski area. Big changes were in store for their first full season in charge of the ski area.

For the 1964-65 season, a double chairlift was installed on Sterling Mountain, providing skiers with a modern ride to the summit as compared to the two Poma lifts. Now a major area, Watson decided to change the name of Smugglers Notch ski area to Madonna Mountain in honor of Madonna di Campiglio, Italy.

Three more trails were added for 1966-67, while larger changes were working their way through the pipeline.


Becoming a Major Resort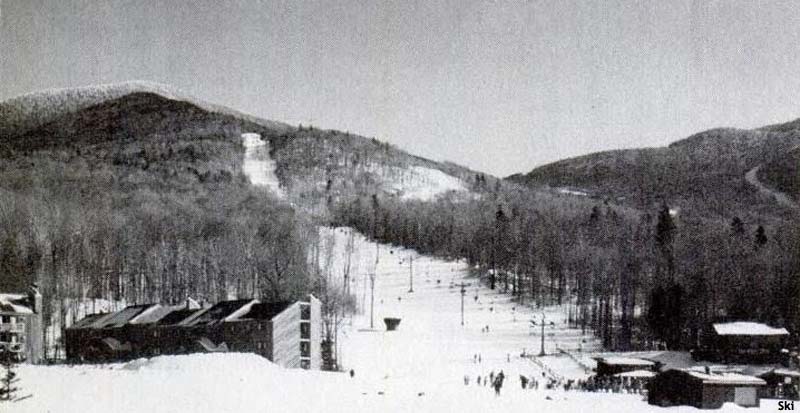 Morse in the 1970s

Rumors of a large 2,000 acre land acquisition via a Watson agent spread around New England in January 1967. In April of 1967, General Manager Rolland Vautour announced a dramatic 10 year, 8 phase expansion plan, which was expected to quadruple the size of the ski area. The first phase of this plan was realized immediately, as about $750,000 was spent to develop the Morse Mountain area.

The initial Morse Mountain development included a 5,155 foot Hall double chairlift, four new trails, and a two million gallon snowmaking pond. At the bottom of the new area, a large four season village was started. $300,000 was invested in Morse snowmaking infrastructure for 1968-69.


Watson Steps Down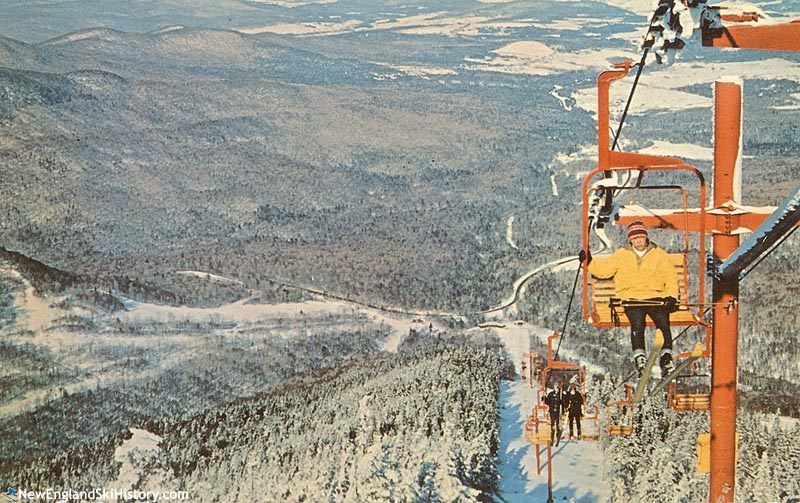 Madonna Mountain circa the 1970s

In November of 1970, owner Thomas Watson suffered a heart attack. Though he recovered from it, he cut back on his business interests, first stepping down as CEO of IBM in June of 1971. Three years after his heart attack, Madonna Mountain Corporation sold the ski area to a subsidiary of Stanmar, Inc., called Smuggler's Notch Corp. While Thomas Watson would still have more adventures ahead of him, such as becoming US Ambassador to the Soviet Union, Arthur Watson would die a few years later as a result of a fall at home.

Headed up by Stanley Snider, Smuggler's Notch Corp. focused on Snider's specialty, resort development. One of the first changes took place immediately, as the ski area was renamed Smuggler's Notch for the 1973-74 season.

Its first noticeable on-mountain addition took place in 1979, when the Madonna II chairlift was installed.

In January of 1987, former AT&T Vice President William P. Stritzler became Managing Director at Smugglers' Notch.

A second double chairlift, purchased from defunct Timber Ridge-Magic Mountain ski area, was installed on Morse Mountain for the 1993-94 season. The following year, a T-Bar was installed on the Sterling Practice Slope.


New Ownership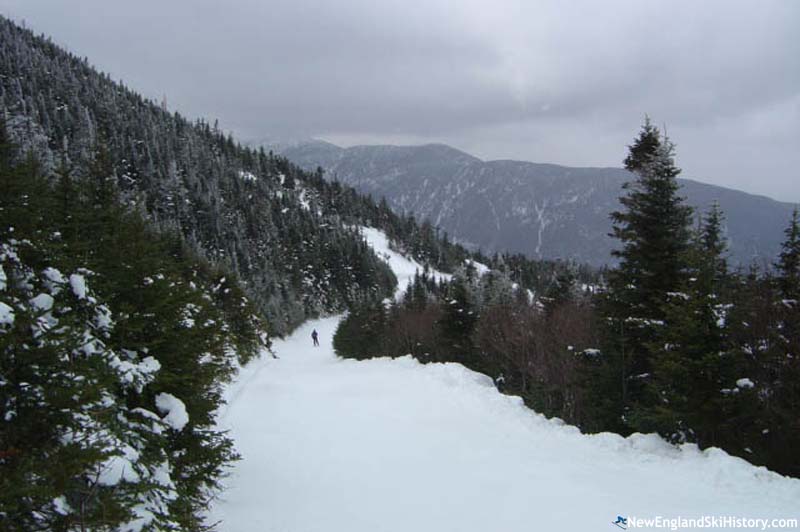 The Catwalk trail on Madonna Mountain (2004)

Deciding to retire, Stanley Snider sold Smugglers' Notch to Stritzler in late 1996. Former Stanmar Comptroller Robert F. Mulcahy remained on board in upper management.

Three years later, the Morse Highlands complex was developed, served by a small double chairlift.

Though one of the largest ski areas in the state, Smugglers' Notch has had relatively modest lift infrastructure for decades. In fact, Smugglers' Notch is the only ski area in New England with a 2,000 foot vertical drop that has not replaced any of its original aerial lifts. To date, all of the chairlifts at Smuggler's Notch are Hall doubles, which have been kept in excellent condition thanks to modifications with Doppelmayr-CTEC parts.

NewEnglandSkiConditions.com Reports

Month
Average Percent of Terrain Open
November
10% (1 report)
December
58% (23 reports)
January
73% (41 reports)
February
85% (36 reports)
March
78% (31 reports)
April
79% (12 reports)

-- start conditions table -->

Recent Conditions Reports

Feb. 12, 2018 by jomogul
Variable Conditions, Loose Granular
Feb. 10, 2018 by jomogul
Packed Powder, Variable Conditions
Feb. 9, 2018 by jomogul
Packed Powder, Powder
Feb. 8, 2018 by jomogul
Packed Powder, Packed Powder
Feb. 7, 2018 by jomogul
Powder, Packed Powder

Smugglers Notch on NewEnglandSkiConditions.com

Expansion History

Image Gallery
Lifts
Click on lift name for information and photos
Maps

Year by Year History
Adult Weekend Full Day Lift Ticket; Adult Full Price Unlimited Season Pass

2010s
Ticket Price
Season Pass Price

Pass Payback

Opening Day

Closing Day

Skier Visits

2018-19
$79.00
$659.00
8.3 days
November 23
2017-18
$81.00
$649.00
8.0 days
November 24
April 15
2016-17
$72.00
$669.00
9.3 days
November 25
April 16
2015-16
$72.00
$669.00
9.3 days
November 27
April 3
2014-15
$70.00
$649.00
9.3 days
November 22
April 19
2013-14
$68.00
$649.00
9.5 days
November 29
April 20
2012-13
$66.00
$619.00
9.4 days
November 23
April 14
2011-12
$66.00
$619.00
9.4 days
December 4
March 25
2010-11
$64.00
November 27
April 17
2009-10
$62.00
$599.00
9.7 days
December 8
April 6
2000s
Ticket Price
Season Pass Price

Pass Payback

Opening Day

Closing Day

Skier Visits

2008-09
$62.00
$619.00
10.0 days
November 28
April 12
2007-08
$60.00
$599.00
10.0 days
November 23
April 13
2006-07
$58.00
$579.00
10.0 days
December 5
April 15
2005-06
$58.00
November 25
April 16
2003-04
$54.00
$559.00
10.4 days
April 11
2002-03
$54.00
$559.00
10.4 days
2001-02
$48.00
$519.00
10.8 days
November 23
April 15
2000-01
$48.00
$499.00
10.4 days
April 22
1999-00
$48.00
April 9
1990s
Ticket Price
Season Pass Price

Pass Payback

Opening Day

Closing Day

Skier Visits

1997-98
$44.00
1995-96
$36.00
April 21
1992-93
$36.00
1991-92
$36.00
1990-91
$33.00
1989-90
$33.00
1980s
Ticket Price
Season Pass Price

Pass Payback

Opening Day

Closing Day

Skier Visits

1988-89
$30.00
1987-88
$30.00
1983-84
$24.00
1982-83
$23.00
1981-82
$21.00
1980-81
$19.00
1979-80
$16.00
1970s
Ticket Price
Season Pass Price

Pass Payback

Opening Day

Closing Day

Skier Visits

1978-79
$15.00
December 15
1977-78
$13.00
November 25
1976-77
November 25
1975-76
$11.00
November 25
1974-75
$11.00
November 25
1972-73
$7.50
1969-70
$8.50
1960s
Ticket Price
Season Pass Price

Pass Payback

Opening Day

Closing Day

Skier Visits

1968-69
$7.50
1967-68
November 23
1964-65
$6.00
$90.00
15.0 days
1963-64
$5.00
1962-63
$5.00
35,813
1961-62
December 15
April 14
31,760
1960-61
December 21
27,740
1959-60
$5.00
December 19
April 16
37,650
1950s
Ticket Price
Season Pass Price

Pass Payback

Opening Day

Closing Day

Skier Visits

1958-59
December 6
April 12
35,000
Visitor Memories
"My Childhood memories 95% start with "While at Smuggs".... My parents moved back to VT when I was 4, in the shadow of the mountain in Cambridge. Unfortunately my first year memory skiing is breaking my left leg on the Sterling Practice slope. This was before the lift was put in and was a tow-rope. How we hated the rope..... My mom would drop off my 3 older brothers and I in the AM with a bag lunch and pick us up at when the lifts closed. A season's pass for Cambridge residents was $25 and my parents wanted their money's worth.....seriously. Tree skiing while being chased by the ski patrol, building jumps, first tracks when it snowed heavy, and so much more fun. This continued through LUHS, VTC/UVM and working at IBM in Essex. While I may ski a bit slower now and then....my favorite trail combo is still Upper FIS, Lower Glades, Goat Path, Lower lift line. Back in the day, I would head to the chair for more. Now I head to the bar...:) I hope the next generation enjoys as much as I did. JW"
John Wyckoff, Feb. 13, 2017
"I worked as a cocktail/food service waitress back in the late 60's when the restaurant on Morse was called the 'SnowSnake Lounge'. Dixie Noll was the operator back then.I had a wonderful time working for the mountain..I was there for 3 Winters. Nice memories and lots of fun...I'm now 70 years old...and still remember the people I worked with."
Marlou Ordelt, Feb. 13, 2016
"smuggs is amazing. I'm 15, and my family has been going since I was I don't know, 5 maybe? Maybe younger! I have a ton of fantastic memories! Here's a few :) 1. To this day, I met a girl when I was about 7 I believe... Smuggs is where I met my first best friend!2. Johanna and Eric! So my brother and sister started snow boarding before me with Johanna and I would go with Eric ( they both don't work there any more) but they are amazing!!!! They showed me So much! 3. Rob!!! Now, I have rob as my instructor, he is so nice!! 4. EVERYONE is friendly. Doesn't matter where you live, when you get to smuggs, be ready to have a ton of friendly people looking to help you or assist you for whatever you need! That's just 4 reasons why I love smuggs. Here, I'm 15 and smuggs is 5 hours away from my house. I am stuck with my older brother and sister in a car for 5 hours. But honestly? For smuggs, I would PROBLEY drive all day! It's totally worth it!!! "
Molly Cooper, Jun. 1, 2015
"My memories skiing Madonna Mt. go back to the early 1970's Skied Madonna several times. Loved that it was not like other places where the NYC sophisticates invaded (Stowe and the like.) If you wanted to be challenged there were plenty of minimally groomed trails back then. I recall having a fantastic basket lunch at the mountain top where what appeared to be a frozen lake oe bowl. There was a narrow trail that connected Madonna to Stowe, You literally could go up slope at Madonna and ski down Stowe ( though I never tried it.) I remember lodging at the Smugglers Notch Inn. Their breakfast was fantastic; home made cinnamon buns were out of this world. A small bar in the basement decorated in alpine wood was a perfect place to tell tales of the runs we took during an afternoon of skiing Madonna. WOW talk about a time travel through memory lane ! Forever a warm spot in my heart. "
Ron Zeman, Nov. 30, 2014
"my grandparents owned a house in Jeffersonville in the 60's and seventies. they were among the origioal plank owners when it was started. someone came around selling shares door to door the push was that the jeff high school ski team shouldn,t practice at thier opponents hill[stowe] the first year they opened I was 5 through the 50's and 60's vacations were a week at acadia and a week or two at jeff I learned to ski at the notch and will always consider this as my 'home hill' i'm 62 now and when I die I want my ashes scattered on the rum runner I want to spend eternity on sterling mountain '"
eric laier, Oct. 11, 2013
"My husband Steve and I met at Smugglers 36 years ago while working at the Red Fox Ski Dorm. Life "
Grace McKearin, Feb. 22, 2013
---
External Links
Smugglers' Notch - official site
Last updated: January 13, 2018